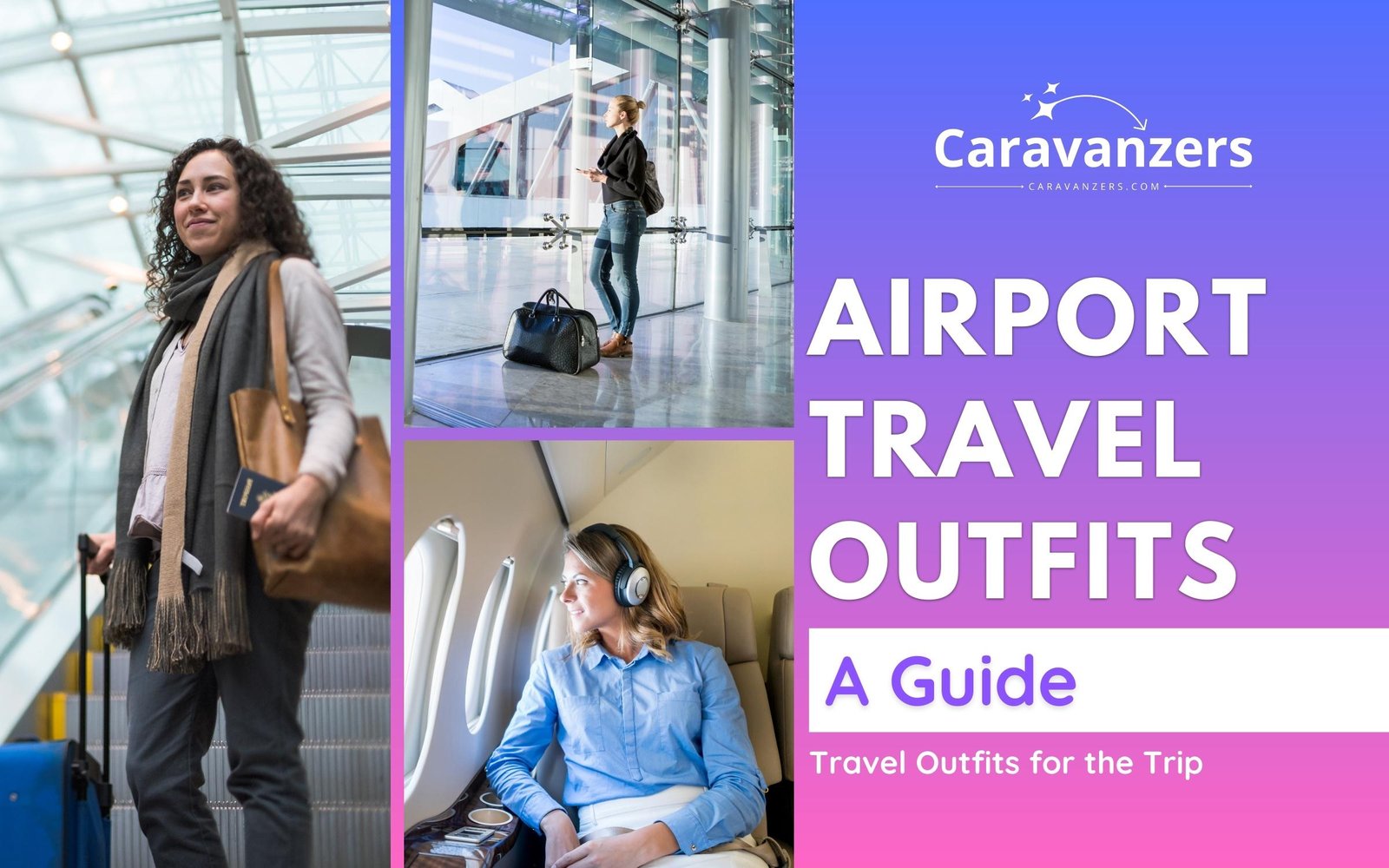 Airport travel outfits for long flights. Here's a guide to help you look your best at the airport and beyond.
As someone who loves to travel, I understand the importance of dressing comfortably and appropriately for the airport.
In this guide, I will share with you general tips on choosing practical and stylish clothing for your journey.
We will explore options that prioritize comfort while keeping you looking fashionable.
Whether aiming for a chic and trendy airport outfit or seeking maximum comfort during long flights, I've got you covered.
Let's make your airport experience a stylish and comfortable one!
This post features affiliate links at no cost to you. Commissions from these programs help us build our content. Thank you for your support!
Airport Outfit Overview
Dressing up for the airport is a matter of personal preference.
While there are no strict rules, it is generally advisable to dress comfortably and appropriately for the journey.
Opt for comfortable clothing and footwear, and consider practicality, especially during security checks and long flights.
Steer clear of restrictive or tight-fitting clothing, high heels, and elaborate accessories that could trigger additional security screening.
Likewise, avoid clothing with excessive metal or intricate details that could trigger metal detectors.
To ease the process of going through security, opt for slip-on shoes or ones with minimal laces.
Avoid shoes with intricate buckles, zippers, or metal embellishments, as they can cause delays during screening.
Wearing socks or carrying disposable foot covers can provide comfort and hygiene while walking barefoot through security checkpoints.
Choosing comfortable and practical clothing for the airport doesn't mean sacrificing style or fashion.
There are plenty of stylish, chic, and fashionable options that prioritize comfort.
Opt for well-fitting jeans, breathable fabrics, and trendy sneakers, and accessorize with statement pieces.
It's possible to strike a balance between fashion and practicality for a stylish airport look.
Meanwhile, I've got you several options below.
Airport Outfit for Style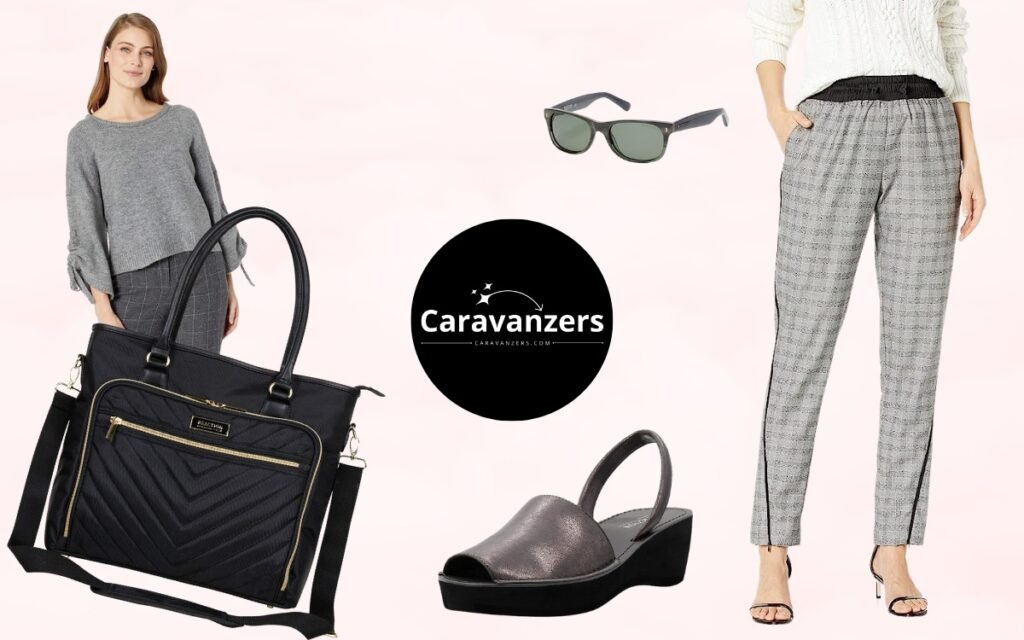 This Kenneth Cole outfit is perfect for the airport with its comfortable and functional elements, while still maintaining a stylish appearance.
This entire outfit is Kenneth Cole and is well-suited for an airport environment due to its comfort, functionality, and stylish elements.
This top offers both style and comfort.
The boatneck neckline adds a fashionable touch, while the gathered drawstring sleeves provide a unique detail.
The fabric composition of Acrylic, Polyester, and Spandex ensures flexibility and ease of movement, which is important for long hours of travel.
Joggers are an excellent choice for airport travel because they combine comfort with a trendy look.
The glen plaid pattern adds a touch of sophistication, while the satin trim piping provides a luxurious detail.
The blend of Polyester, Viscose, and Elastane in the fabric makes the joggers stretchy and breathable.
Platform sandals offer both style and practicality.
The wedge heel adds height without sacrificing comfort, and the slingback ankle strap ensures a secure fit.
The cushioned footbed provides all-day comfort, and the traction outsole offers stability while walking through the airport.
A laptop backpack is essential for carrying your belongings while keeping your hands free.
The polyester twill material offers durability, and the chevron quilted detail adds a stylish touch.
The padded compartments provide protection for your laptop and tablet, while the water bottle holder and additional storage space ensure convenient organization.
Sunglasses are a must-have accessory for any outdoor activities, including traveling.
The plastic frame provides durability, and the non-polarized lenses offer protection against harmful UV rays.
The sizing dimensions mentioned ensure a proper fit, and the full retail package guarantees you're getting a quality product.
So, yeah, this airport outfit combines comfort, functionality, and style.
Get This Entire Look
You can get this entire look on Amazon.
>> Top – Check Availability.
>> Pants – Check Availability.
>> Shoes – Check Availability.
>> Bag – Check Availability.
>> Sunglasses – Check Availability.
---
Comfy Airport Outfit
This complete Calvin Klein look creates a fashionable and practical outfit, perfect for long flights.
This entire look is Calvin Klein.
The Calvin Klein women's long sleeve hoodie dress, Chanse sneakers, and Reyna North/South Tote create an ideal outfit for long flights.
Made from a blend of Rayon, Polyester, and Spandex, the hoodie dress offers a comfortable and stretchy fit, allowing for unrestricted movement during travel.
Its cozy and warm design, featuring long sleeves and an attached hood, provides extra comfort for fluctuating cabin temperatures.
With its pull-on closure, the dress is effortless to wear, perfect for changing into something more comfortable mid-flight.
The trendy Calvin Klein logo adds a stylish touch, making it versatile for various occasions.
The rubber sole and lace-up design of the Chanse sneakers ensure a secure and comfortable fit, ideal for walking around airports and during layovers.
The tote, crafted from high-quality vegan leather, includes multiple interior pockets for easy organization of essentials.
Get This Entire Look
You can get this entire look on Amazon.
>> Dress – Check Availability.
>> Sneakers – Check Availability.
>> Bag – Check Availability.
Chic Airport Outfit
This outfit combines comfort and style, ensuring a pleasant and enjoyable plane journey.
This outfit is perfect for a plane journey because it combines comfort and style.
The Michael Kors Logo Jacquard Fringed Poncho Cape Sweater has a comfortable and chic look, made with 100% acrylic for easy maintenance.
I would have to say that this is really one of the most comfortable items to bring on the plane.
You can wear it over your sweats or anything else, and it doubles as a cuddly blanket and sweater.
It's absolutely lovely.
The Bose Headphones 700 provide powerful noise cancellation, allowing you to enjoy your music or movies without distractions.
Plus, they're wireless, which means you won't have to worry about those tacky airplane headphones.
With its comfortable design and long battery life, you can relax and stay entertained throughout your flight.
The Bose SimpleSync technology also allows for a personalized TV listening experience, making it a great choice for in-flight entertainment.
Get This Entire Look
You can get this entire look on Amazon.
>> Poncho – Check Availability.
>> Headphones – Check Availability.
Warm Plane Outfit
This Ralph Lauren jacket is a perfect choice for plane rides for those of you who tend to feel cold during flights.
The POLO RALPH LAUREN Collection Purple Label Cashmere Shawl Sweater Jacket is an ideal outfit for plane rides, especially for individuals who tend to feel cold.
The jacket is made of 100% cashmere, which is known for its exceptional softness and warmth.
Cashmere is derived from the fine hair of cashmere goats, making it an excellent insulator.
The shawl collar design adds an extra layer of warmth around the neck area, which is particularly susceptible to drafts and cold air on planes.
It helps to trap body heat and prevent it from escaping, providing additional insulation.
The jacket features half-length sleeves, which allow for easy movement and flexibility.
This design choice is beneficial during plane rides, as it prevents the sleeves from getting in the way while performing tasks such as reading, using electronic devices, or eating.
The exposed arms also provide an opportunity to wear long-sleeve layers underneath if desired.
The pull-on closure makes it easy to put on and take off the jacket, which is convenient during security checks or when adjusting to temperature changes on the plane.
You can quickly layer or remove the jacket as needed without hassle.
The jacket's origin in Italy is synonymous with craftsmanship and attention to detail.
Italian fashion is highly regarded for its quality and style.
The fact that this jacket is made in Italy indicates a commitment to excellent craftsmanship, ensuring that you receive a high-quality product designed to withstand the test of time.
While the retail price may seem steep, it reflects the jacket's high-quality materials, construction, and brand reputation.
Investing in a premium cashmere jacket ensures that you are purchasing a durable and luxurious piece that will last for years.
Get This Entire Look
You can get this entire look on Amazon.
>> Jacket – Check Availability.
Final Thoughts
Travelers often get nervous about what to wear to the airport due to concerns about comfort, security checks, long flights, and striking a balance between style and practicality.
I shared all the information in this guide with you to ease any concerns you may have had about what to wear to the airport.
My goal was to provide guidance and suggestions on choosing comfortable and appropriate clothing while still maintaining your personal style.
I wanted to help you feel more confident and prepared for your journey.
I want to emphasize that in sharing this information, I'm not promoting any specific brand or endorsing particular products.
The outfit suggestions and tips provided should be seen as a guide rather than strict rules set in stone.
Feel free to explore different options and adapt them to your personal preferences and style.
The aim is to provide you with general ideas and considerations to help you make informed choices when selecting your airport attire.
Remember, it's ultimately about finding what makes you feel comfortable, confident, and ready for your travel experience.
Enjoy the airport!
Lena Wilson writes about fashion, beauty, and more for Caravanzers.
Follow us on Pinterest.