Amsterdam travel is an experience that will leave you feeling fulfilled and will certainly quiet any wanderlust needs.
Visiting Amsterdam gives you a chance to explore iconic canals, amazing Dutch culture, and a variety of other things that tourists love.
In this guide, I will share with you my experiences traveling through this amazing city.
From when to go to where to stay, and from what to eat and to what to do, I've got you covered.
So, if you're ready, grab a pen and paper, and let's plan your trip to Amsterdam!
VIDEO – Amsterdam Travel
Amsterdam, the capital of the Netherlands, is a vibrant city known for its picturesque canals, historic architecture, and progressive culture.
With its charming bike-filled streets, world-class museums, bustling markets, and diverse culinary scene, Amsterdam offers a unique blend of history, art, and modern urban living.
Amsterdam is a vibrant and diverse city known for its picturesque canals, historic architecture, and cultural richness.
Amsterdam Travel Basics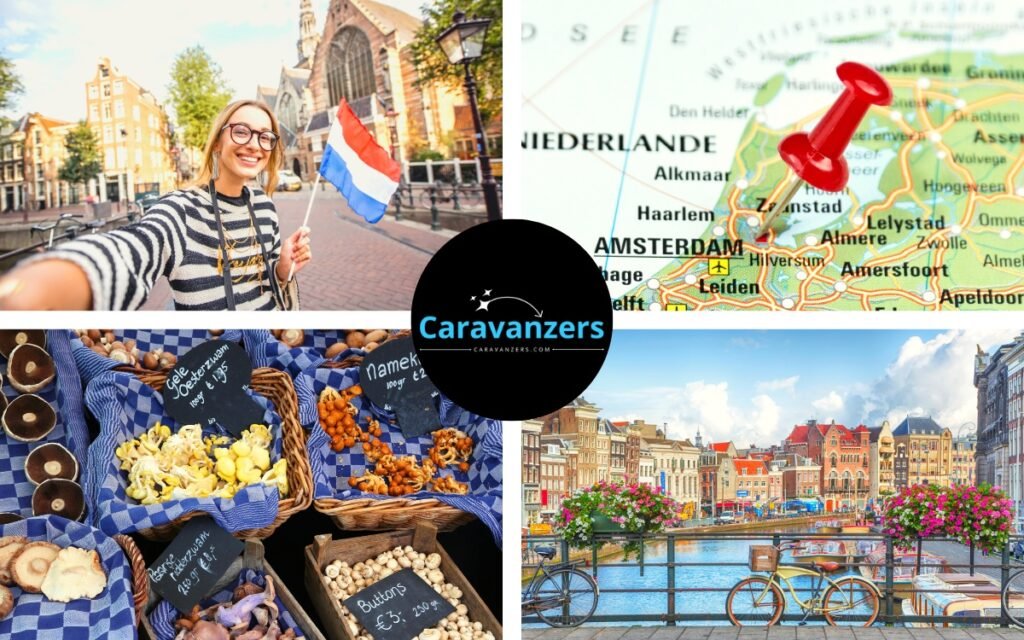 To go there, you will need a visa. Visa requirements depend on your nationality and the duration of your stay.
If you're from a non-EU country, you may need to apply for a Schengen visa in advance, which allows you to visit Amsterdam for up to 90 days within a 180-day period.
Americans do not need to apply for a visa as the passport is stamped on arrival.
Amsterdam Airport Schiphol is the main international airport serving the city. From the airport, you can easily reach the city center by train, which takes around 15 minutes.
There are also taxis and buses available for transportation to and from the airport, as well as a host of rideshare apps, including Uber.
In the Netherlands, the currency is the Euro (€). You can exchange your currency for Euros at the airport, banks, or currency exchange offices throughout the city.
Meanwhile, credit cards are widely accepted in most businesses, although it's a good idea to carry some cash for smaller shops or local markets.
Finally, the city is in the Central European Time (CET) zone. This is a UTC+1 normally and UTC+2 during daylight saving time.
So, yeah, Amsterdam is pretty standard in its tourism.
When to Go to Amsterdam
The best time to visit Amsterdam largely depends on your preferences and what you'd like to experience during your trip.
Spring (April to May) is a popular time to visit as the city bursts into colorful blooms and the weather starts to warm up. It's a lovely time to explore the city's parks, such as the famous Keukenhof Gardens.
Summer (June to August) is another great time to visit if you like pleasant weather and outdoor activities. The days are longer, and you can enjoy strolling along the canals, visiting the numerous parks and gardens, or even renting a bike to explore the city like a local.
That said, though, you should know that summer is a busy season for tourism.
The fall season (September to November) has mild weather, and the crowds are generally smaller compared to the summer months.
Winter (December to February) brings a magical atmosphere to Amsterdam with its festive decorations and cozy ambiance. This is the perfect time to visit museums, indulge in Dutch comfort food, and explore the city's lively Christmas markets.
So, basically, the best time to visit Amsterdam depends on your interests, preferred weather, and tolerance for crowds.
Where to Stay in Amsterdam
Amsterdam is truly a great city, and no matter where you stay, I think you will love it.
That said, when it comes to choosing the best neighborhoods to stay in Amsterdam, it really depends on the preferences and needs of different types of travelers.
For couples and singles looking for a vibrant and lively atmosphere, the city center neighborhoods like Jordaan and De Pijp are excellent choices.
Jordaan has picturesque canals and charming streets, as well as a romantic ambiance with plenty of trendy cafes, boutiques, and art galleries to explore.
De Pijp, on the other hand, is a vibrant neighborhood with a lively market, diverse dining options, and a vibrant nightlife scene.
Families might prefer neighborhoods that have a balance of family-friendly attractions, green spaces, and convenient amenities.
The Museum Quarter, with its proximity to major attractions like the Van Gogh Museum and Vondelpark, is a popular choice for families.
The Oud-Zuid neighborhood is also worth considering, as it has a residential feel along with parks, playgrounds, and access to the tranquil Amsterdam Forest.
Seniors might prefer neighborhoods that are relatively quiet and have easy access to key attractions.
The Canal Belt area has historic charm and scenic canals, and the Plantage neighborhood is also a great option for seniors who appreciate a calmer pace.
So, you just need to decide what you really want out of a neighborhood.
What to Eat in Amsterdam
When it comes to dining, you're in for a treat! Amsterdam has a diverse culinary scene with a range of delicious options, from traditional Dutch cuisine to European flavors and global delights.
Let's start with Dutch food. I would say you don't miss the chance to try some iconic Dutch dishes. Start with "bitterballen" (deep-fried meatballs served with mustard).
Another popular dish is "stamppot" (a hearty combination of mashed potatoes and vegetables). For seafood lovers, "haring" (raw herring) is a unique local specialty that you can try at fish stands throughout the city.
And of course, you can't forget about the famous Dutch cheese, such as Gouda and Edam.
Moving on to European flavors, Amsterdam has a wide range of options to satisfy your taste buds.
In many neighborhoods, you will find numerous trattorias serving up delicious pasta and wood-fired pizzas, elegant bistros offering classics like escargots and coq au vin, and cozy tapas bars and savor a variety of small plates with flavors like albondigas.
When it comes to global cuisine, Amsterdam truly embraces its multicultural atmosphere. You can find a huge selection of international flavors, from Asian fusion to Middle Eastern delights.
I would encourage you to visit an Indonesian restaurant to experience the Dutch-Indonesian fusion cuisine known as "rijsttafel."
For a taste of the Middle East, head to the neighborhood of De Pijp and indulge in falafel, hummus, and shawarma.
Yeah, this city loves food.
What to Do in Amsterdam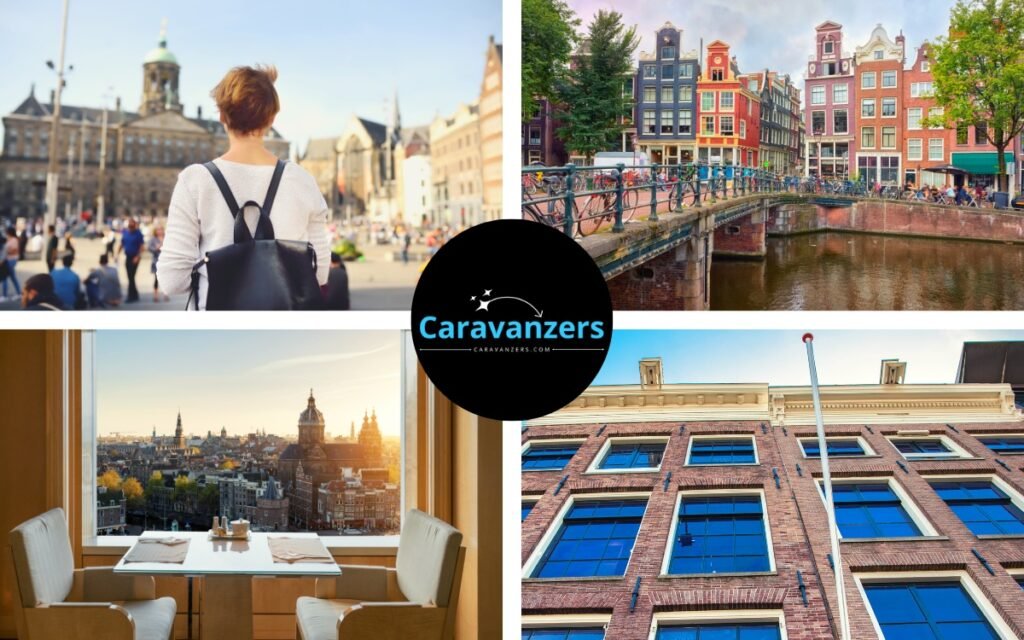 In Amsterdam, there is an abundance of exciting activities and attractions to keep you entertained throughout your visit.
A visit to the Anne Frank House is a powerful and thought-provoking experience. This historic site provides insight into the life of Anne Frank and her family during World War II.
Another iconic location in Amsterdam is Dam Square, a bustling hub that offers a vibrant atmosphere and serves as a central meeting point.
For those interested in exploring Amsterdam's unique character, a visit to De Wallen, also known as the Red Light District, can be quite intriguing.
No visit to Amsterdam would be complete without experiencing the city's famous canals. Take a leisurely stroll along the canals or opt for a boat tour to admire the beautiful architecture and picturesque views.
Art enthusiasts love Amsterdam. You really should not miss the opportunity to visit the Van Gogh Museum, which houses the largest collection of this artist's works in the world.
If you're traveling with family, a visit to ARTIS, Amsterdam's oldest zoo, is a fantastic choice.
The city also has exceptional museums, beautiful parks like Vondelpark, fascinating markets, and a vibrant nightlife scene, and don't forget to explore the neighborhoods on foot or by renting a bike to navigate the city like a local.
There are unique experiences that create lasting memories in Amsterdam!
Day Trips from Amsterdam
If you're itching to explore beyond Amsterdam's borders, there are several fantastic day trip options that will let you uncover more of the Netherlands' beauty and charm.
One beloved day trip is a visit to the captivating city of Haarlem, which is just a short distance from Amsterdam. Haarlem enchants visitors with its rich history, picturesque streets, and stunning architecture.
Another delightful option is a trip to the picturesque town of Zaanse Schans, renowned for its iconic windmills, wooden houses, and traditional crafts. It's like stepping into a postcard.
If history tickles your fancy, consider a visit to the historic city of Leiden. With its prestigious university, scenic canals, and well-preserved architecture, Leiden offers a captivating glimpse into the past.
For nature enthusiasts, a journey to the Hoge Veluwe National Park is a must. This vast natural reserve boasts diverse landscapes, including heathlands, woodlands, and sand dunes. It's the perfect escape into the beauty of the outdoors.
And if you're up for an international adventure, why not head to Antwerp? This charming Flemish city in Belgium is a mere 83 miles (133 km) away from Amsterdam, making it an accessible and intriguing option for a day trip.
These are just a taste of the delightful day trips you can embark on from Amsterdam. Each destination offers its own unique allure and experiences.
7-Day Amsterdam Itinerary
There is a lot to do and see in Amsterdam, but I believe 7 days will give you more than enough.
On Day 1, you can start by exploring the heart of Amsterdam – the city center. Stroll around Dam Square, visit the Royal Palace and the National Monument, and take a canal boat tour to get a sense of the city's layout.
Day 2 can be dedicated to art and culture. Visit the Rijksmuseum and marvel at the Dutch Masters' paintings, then head to the Van Gogh Museum to see some of the world's most famous art.
On Day 3, you can take a day trip to the historic city of Leiden or Haarlem or visit the charming town of Zaanse Schans, known for its windmills and traditional crafts.
Day 4 can be spent at the Anne Frank House, a poignant and powerful tribute to one of the darkest moments in history.
On Day 5, you can visit the beautiful ARTIS Amsterdam Royal Zoo, home to over 900 animal species and stunning botanical gardens.
Day 6 can be dedicated to exploring Amsterdam's nightlife scene. Head to the Leidseplein or the Rembrandtplein areas, where you'll find a variety of bars, clubs, and music venues to choose from.
Finally, on Day 7, you can visit De Wallen, Amsterdam's famous red-light district, and take a guided tour to learn about the history and culture of this unique neighborhood.
Of course, this is just one possible itinerary, and there are countless ways to explore and experience Amsterdam.
Amsterdam FAQs
Although this guide gives you everything you need to go an enjoy Amsterdam, there are still some questions travelers ask that I would like to cover.
Some of these questions I already addressed indirectly, but now I can actually answer them.
That said, keep in mind that these answers are based on one traveler's experience, and your experience may vary.
So, let's answer some of them.
Is Amsterdam Good for Tourists?
Is Amsterdam good for tourists? Yes, Amsterdam is an excellent city for tourists. It has a combination of things that any tourist will like it. For example, it has beautiful canals, historic architecture, famous museums, vibrant nightlife, and a welcoming vibe, making it an enjoyable destination for a tip.
What is Amsterdam Famous for?
What is Amsterdam famous for? Amsterdam is famous for many things. For example, the city has picturesque canals, historic architecture, world-class museums such as the Rijksmuseum and Van Gogh Museum, vibrant nightlife, coffee shops, and liberal attitudes towards topics such as drugs and social issues. It's also super diverse!
Is 3 Days Enough for Amsterdam?
Is 3 days enough for Amsterdam? While 3 days can give you a taste of Amsterdam's highlights, more time would allow for a deeper exploration of the city. I think 7 days gives you the opportunity to visit additional (and important) attractions. That said, 3 days is doable, too.
Is Amsterdam Expensive?
Is Amsterdam expensive? Yes, Amsterdam can be relatively expensive, especially in terms of accommodation and dining. That said, there are budget-friendly options available, too. For example, exploring the city by foot or bike can help save on transportation costs. It's possible to enjoy Amsterdam on a range of budgets.
How Much Does it Cost to Go to Amsterdam for 7 Days?
How much does it cost to go to Amsterdam for 7 days? The cost of a 7-day trip to Amsterdam can vary depending on many factors. On average, though, a budget of around $1,000 to $1,500 per person, excluding flights, should cover accommodation, meals, attractions, transportation, and other expenses.
Final Thoughts
To sum up, going on a trip to Amsterdam typically leads to a satisfying experience that caters to diverse tourist interests.
The city's famous canals, vibrant Dutch culture, and captivating attractions make it an essential destination.
This guide has given you valuable insights on timing, accommodation, culinary delights, and activities.
What that will do is ensure an unforgettable and personalized adventure. Now, all you have to do is get started on planning your remarkable trip to Amsterdam.
Have a safe journey!
Sebastian Clark is a traveler from the UK and writes about Europe for Caravanzers.
Follow us on Pinterest.