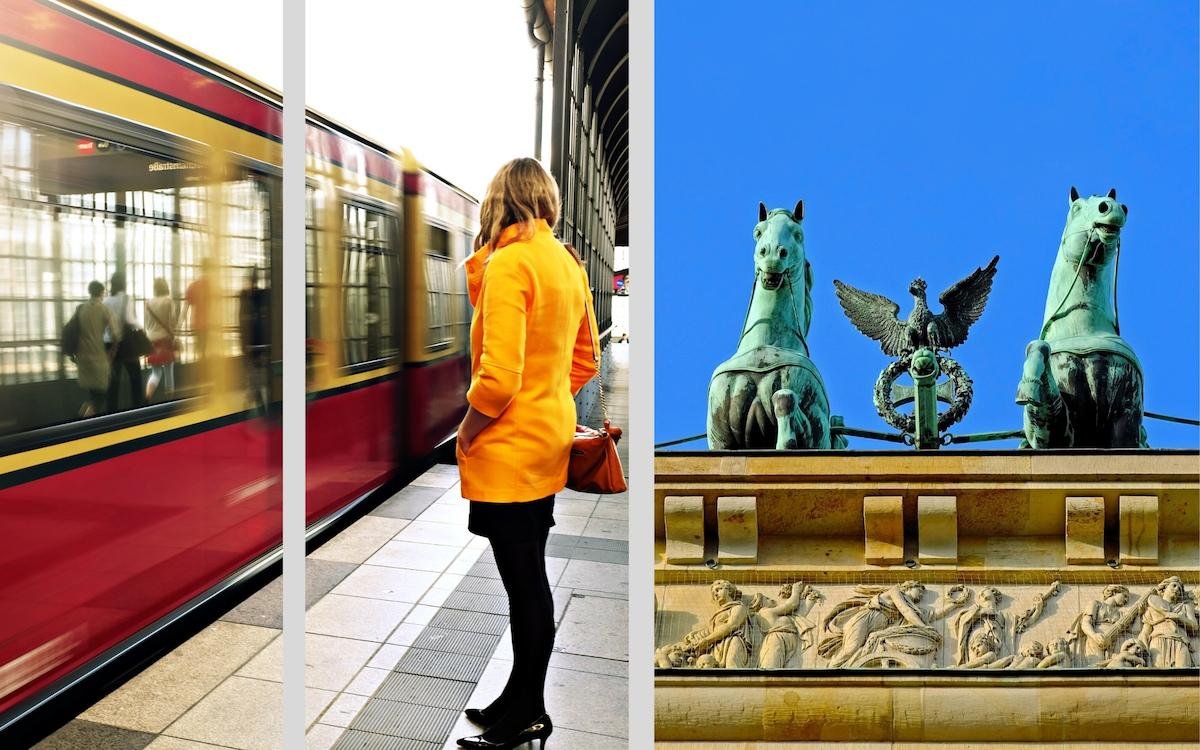 Berlin travel is sure to give you tons of things to do and see because the German capital is fantastic. In this article, we invite you into the heart of Europe.
So, Berlin is amazing.
"According to the locals, Berlin is a city that never is but is always becoming," says Julian Tompkin, the author Wanderlust in Berlin.
As you will see in this article, there are several reasons for this.
First of all, there is a long history here.
Likewise, the neighborhoods are unique and always growing.
Finally, because it is the capital of the country, it brings together a diverse group of people!
As a result, the Berlin culture is incredibly cool!
So, let's explore this city.
VIDEO – Berlin Travel
Berlin History
The history of Berlin dates back to the 13th Century when Slavic people settled the area.
After the Prussian Kingdom moved its capital to Berlin 1701, the city became a global player.
Of course, the city was also the capital of the Nazi Germany regime.
Afterward, East Berlin became the capital of East Germany, and West Berlin was occupied by the Allies.
As a result, West Germany moved its capital to Bonn.
In fact, it was only in 1991 that the government voted to move back its seat to Berlin.
Meanwhile, although around 30% of the government employees still work in Bonn, Berlin enjoys being the country's capital.
Brian Ladd, the author of The Ghosts of Berlin, says the history of the city is full of ghosts.
"Berliners—especially those typical Berliners who come from somewhere else—love to talk about their city," says Ladd.
Of course, these days, Berliners will talk about the rising costs more than anything else.
Berlin was the most affordable capital in Europe until a host of issues skyrocketed its costs of living.
"As Germany became a stronger European Union economy, more Europeans came here," says Alex, an American resident. "I have more and more non-German European friends," he adds. "And, then, of course, there is the refugee problem."
So, over the last 10 years, rental prices increased by more than 75 percent.
As a result, in 2019, the city passed a law to keep rental to just 1.3% per year.
Today, the city is one of the most diverse cities in Europe, with hundreds of global languages spoken here.
Therefore, you go ahead and feel at ease in Berlin because everyone is welcome!
Berlin Neighborhoods
Because of the 2001 administration reforms, the city's existing districts were condensed into twelve.
For example, districts like Charlottenburg-Wilmersdorf, Friedrichshain-Kreuzberg, and Tempelhof-Schöneberg were separate districts before they were united and hyphenated.
Meanwhile, the city is home to several exciting neighborhoods—dispersed across the districts.
Old City
For example, alt-berlin ("Old Berlin" in German) is a neighborhood in Mitte District, dating back to the 13th Century.
It is home to the city hall, ruins of a mansion, and the Nikolaikirche, the oldest church in the city.
"It is a fantastic area to taste German food," says Nina Walker, our food writer. "For example, try the 'Grand Feast Berlin-style' at Zur Gerichtslaube," she adds. "The restaurant is in a 13th-Century building, too!"
So, Walker says the meal is composed of a meatball, grilled sausage, roast pork, sauerkraut, and potatoes.
This is Berlin!
Meanwhile, the address for the restaurant is Poststraße 28.
African Quarter
Likewise, afrikanisches viertel (African Quarter) is a neighborhood with many streets that are connected to Africa.
It is part of the Wedding district and memorializes the country's colonies in Africa.
"However, it is not as African as you think," says Hendrik. "It's a mixed area, but you will find a lot of Arabs and Turks," he adds.
Africans, it turns out, are all over the place.
"I live in Kreuzberg," says Mamadou, from Senegal. "I know many Senegalese in this area, but there are also other Africans," he adds.
Meanwhile, Driss, from Morocco, says there are also many North Africans in Kreuzberg.
"Everyone cool is in Kreuzberg," says Driss. "There are also some Moroccans, Algerians, and Tunisians in Neukölln," he adds.
In other words, this is not necessarily an African area.
Bergmann Neighborhood
Similarly, consider bergmannkiez (Bergmann Neighborhood), a neighborhood in Kreuzberg, known for its pre-war architecture, coffee shops, and laid-back lifestyle.
For instance, try dumplings at Cha for Tee, Walker suggests.
"Chinese people go here," says Walker. "This means it passes the local test," she adds. "For instance, they have a great selection of vegan dishes."
Likewise, a great place to grab a cup of coffee is at Barcomi's Kaffeerösterei, says Walker.
"Everyone loves the taste of the coffee here," says Walker. "However, the place also has bagel sandwiches and a lot of other things," she adds.
So, this neighborhood represents the new cool vibe of this European capital.
Of course, there are many in the neighborhood—poor, wealthy, and in between.
Neukölln
Meanwhile, the district of neukölln (New Cologne) has the largest population of Germans with immigrant backgrounds.
For instance, in some parts of the district, there are as many as 65% people of non-German background.
It is one of the most impoverished areas of Germany.
"However, this is a great neighborhood to shop," says Lena Wilson, our fashion writer. "American-style mall Neukölln Arcaden has cool spots," she adds. "For example, there is a store called the New Yorker, which is trendy and is perfect for youth shopping."
New Yorker is a clothing store chain that has over 1000 stores in more than 40 countries.
On the other hand, Wilson says geeks will go crazy for Media Markt, which is a vast electronic store chain.
In other words, there is something for everyone.
Kurfürstendamm
In contrast, kurfürstendamm, which is also known as Ku'Damm, is probably the wealthiest boulevard in Germany.
Because it's a broad avenue, lined with beautifully constructed buildings, it's often called the Champs-Élysées of Berlin.
"This is really where to shop if you have money," says Wilson.
A lot of luxury brands, such as Chanel and Prada, have stores there.
So, explore the city and its neighborhoods!
Berlin Foods
Berlin food is yummy!
First of all, says Walker, you can't miss to try currywurst.
"It is like a sausage link that is often served with fries," says Walker.
It was invented in Berlin in the 1940s and has since become a worldwide sensation.
Likewise, you might decide to wash it down with berliner weisse, a local beer.
"This beer has only 3% alcohol, which makes it an easy choice when traveling," says Walker. "Likewise, this is a flavored beer and can come in all sorts of colors!"
Meanwhile, Berlin is a global city, and one popular food here is a sandwich called döner, similar to the gyro.
"It originated in Turkey and came to Germany in the 1960s," says Walker. "However, a popular claim is that it was invented in Germany, which is false."
For dessert, Walker says to try quarkkäulchen, a sweet from Saxony that is like a pancake with a filling.
As previously mentioned, Berlin is a global city, and you can enjoy German and international foods here!
"I love Indian food," says Walker. "They have several great Indian restaurants in Berlin. So, you will find whatever you like."
Yes!
Berlin Transportation
Berliners have a lot to choose from when it comes to transportation.
For example, a popular form is fahrradfahren or cycling and biking to work or to school is very common.
Another popular form is öffentlicher verkehr or public transportation.
For instance, there is the s-bahn or S-Train, as well as the u-bahn or the Subway.
Likewise, there are tons of buses, trams, rideshare apps, and taxis.
Tourist Attractions
Whether you like city life, art, nature, or fun, Berlin has it all!
Of course, it's impossible to give you 100% of impressions of everything.
However, here is a list of Berlin tourist attractions that are definitely worthy of your visit!
Tiergarten Park
In the heart of Berlin is großer tiergarten, a popular public park.
Because of its 210 hectares (520 acres) size, it is the third-largest park in all of Germany.
So, it is a well-used urban park, as it has a lot of facilities for the locals and tourists alike.
For example, the Berlin Zoo is located in the park, as are several monuments.
Speaking of which, the park is home to the most famous monument in Berlin, siegessäule (Victory Column).
Likewise, there are cycling paths, gardens, and ponds—and all have beautiful benches to relax or admire the surroundings.
Similarly, there are cafes and restaurants, sports fields, and playgrounds!
In other words, this park has something for everyone.
The address is Straße des 17 Juni.
Bradenburg Gate
Not far from the park, there is the famous brandenburger tor, which attracts tons of visitors.
It is arguably the most internationally recognized monument of Germany.
Meanwhile, the monument is built on the site of an earlier gate, leading to the nearby capital of Brandenburg.
So, the word "tor" or gate appears with other gateways such as Hallesches Tor, Kottbusser Tor, and others.
The address is Pariser Platz.
Reichstag Building
Just north of the famous gate is reichstagsgebäude or the Reichstag Building, in which the country's parliament operates.
It is a neo-Renaissance building that has a Norman Foster glass dome on the top.
For years now, tourists can go up to the dome and enjoy a 360-degree view of the city.
Meanwhile, the address is Platz der Republik 1.
Potsdamer Platz
About half a mile south of the parliament building is potsdamer platz, a popular square.
Before German reunification, the site was an entry point into East Berlin.
However, it has since become the architectural poster child of everything new about Germany.
This is as modern as it gets!
A lot of the city's events are held here. For example, berlinale, the second most prestigious film festival in Europe, is held here every February.
Visit the sony center and marvel at its roof in the night.
The address, of course, is Potsdamer Platz.
Checkpoint Charlie
Not far from Potsdamer Platz is checkpoint charlie, a historical landmark.
During the Cold War, this was the best entryway into East Germany.
As a result, the code name given to it was "Checkpoint Charlie."
Today, there is a memorial with a guardhouse and a simulated border.
In front of it are soldiers who will take a selfie with you.
The address for Checkpoint Charlie is Friedrichstraße 43-45.
Jewish Museum
A ten-minute walk away from Checkpoint Charlie is the jüdisches museum berlin, which traces German Jewish history.
"The museum is new," says Karl, a Jewish man who was visiting from another city. "But I can see it has a lot to enjoy," he added.
For example, the museum has exhibitions that explore Jewish history in Germany, including the Holocaust.
Of course, some of the exhibitions are temporary, and others are permanent.
For instance, the archives give you access to Jewish families from Germany, including those lost in the Holocaust.
Meanwhile, this museum acts within the overall Jewish memorials of the city. Others include the memorial to the murdered jews of europe, which is near the Tiergarten.
The address for the Jewish Museum is Lindenstraße 9-14.
East Side Gallery
From the Jewish Museum, head to the east side gallery, which celebrates the end of the Berlin Wall.
Because over 100 artists worked on a graffiti project covering parts of the Berlin Wall, this gives you two opportunities.
First of all, you will be able to see the beautiful artistic result.
However, the more important opportunity is that you will be part of history.
These are sections from the Berlin Wall!
Enough said.
The address for the East Side Gallery is Mühlenstraße 3-100.
Alexanderplatz
So, without a doubt, alexanderplatz is the center of Berlin.
Even though this was actually the downtown of East Berlin in divided Berlin, it is the center of everything now.
There really isn't any place like this square.
It is huge.
No, really, it is about 1 million square feet!
Meanwhile, there are tons to do there, such as shopping.
Of course, the address is Alexanderplatz.
Museum Island
Of course, a must-see site is museumsinsel or museum island, which is full of museums, as it sounds.
Because it is entirely located on an island in Spree River, the museums are perfect for walking.
Meanwhile, museums you will see on this island include those that showcase German, Roman, Greek, Middle Eastern, and other cultures.
So, the island is now a UNESCO World Heritage Site.
Charlottenburg Palace
Because of its royal history, the schloss charlottenburg is definitely something you should not miss.
So, this is a 17th-century Baroque palace with beautiful buildings and gardens.
It was commissioned by Sophie Charlotte, the wife of Friedrich I, the first king of Prussia.
As a result, it is a palace fit for a queen.
The address for Charlottenburg Palace is Spandauer Damm 10-22.
Oberbaum Bridge
Because it is a trendy bridge, you can't miss oberbaumbrücke.
It is a double-deck crossing of the Spree River that links Friedrichshain and Kreuzberg.
So, it is a historic bridge that was damaged along the way and was restored after unification.
Therefore, it is kind of a symbol of the city's unity.
Peacock Island
You cannot miss pfaueninsel or peacock island.
Located in the Havel River, the island is only accessible by ferry.
Because of its small size of 150 acres (67 hectares), it makes it perfect for a stroll.
And, of course, you will probably see peacocks!
The address is Pfaueninselchaussee.
Final Thoughts
Berlin is one of the most exciting cities in Europe.
For instance, it has a long history that dates back to the 13th Century. The history of Berlin, one could argue, is definitely very unique.
Because of its royalty history, industrial history, Nazi history, and modern European Union history, the city has had a lot!
As a result, it has given birth to unique neighborhoods, filled with diverse people.
Today, Berlin is a force in Europe for unity, technology, and kindness.
So, in this article, you also had the chance to check out some of its top attractions.
Meanwhile, we would love to get your feedback. For instance, we would like to know if we missed one of your neighborhoods.
Enjoy Berlin!
AJ Paris is a travel photographer based in New York. He is the editor of Caravanzers.
Follow us on Pinterest.