The best suitcases in the world are those that combine durability, functionality, and convenience with, of course, great aesthetics.
I love the suitcases I'm going to share with you in this guide because they provide robust construction, smooth-rolling wheels, reliable handles, and ample storage space.
Features like TSA-approved locks, expandable compartments, and lightweight designs add to their appeal.
Of course, trusted brands like Samsonite often offer top-quality suitcases.
So, if you're considering getting one soon, I think you will love my recommendations!
This post features affiliate links. If you buy through me, I will get a commission… at no cost to you. Thank you for your support since these help our content.
Best Overall – This SwissGear Piece
Okay, so you will think I'm crazy, but I'm obsessed with this luggage!
The SwissGear 7782 24-Inch Expandable Hardside Spinner luggage exudes an industrious vibe with its plated exterior and black corner panels.
Somehow, it just feels very Swiss in the best way… like you can rely on the quality.
Inside, you'll find elastic straps for securing gear, double stretch pockets, a wet pocket, a mesh zip pocket, and a spacious packing pocket for miscellaneous items.
And these wet pockets really work, you guys!
This luggage features a split-case design and 8 spinner wheels for excellent maneuverability.
You can effortlessly navigate it using the push-button locking handle or grab its comfortable co-molded grab handles and let it guide you on your travels.
Definitely my favorite piece of luggage this year.
>> I love to get it from Amazon, so check and see if it's available.
Best Suitcases This Year
Hardcase suitcases, also known as hardshell or hard-sided suitcases, are luggage options that feature a rigid exterior made of durable materials such as polycarbonate, ABS plastic, or aluminum.
These suitcases provide a protective shell for the contents inside and are quite popular among travelers.
Hardcase suitcases come with exceptional durability and generally have robust locks and latches, offering an additional level of security for your possessions.
So, yeah, I love them.
Here are my choices for this year.
Samsonite – The Winfield 3 DLX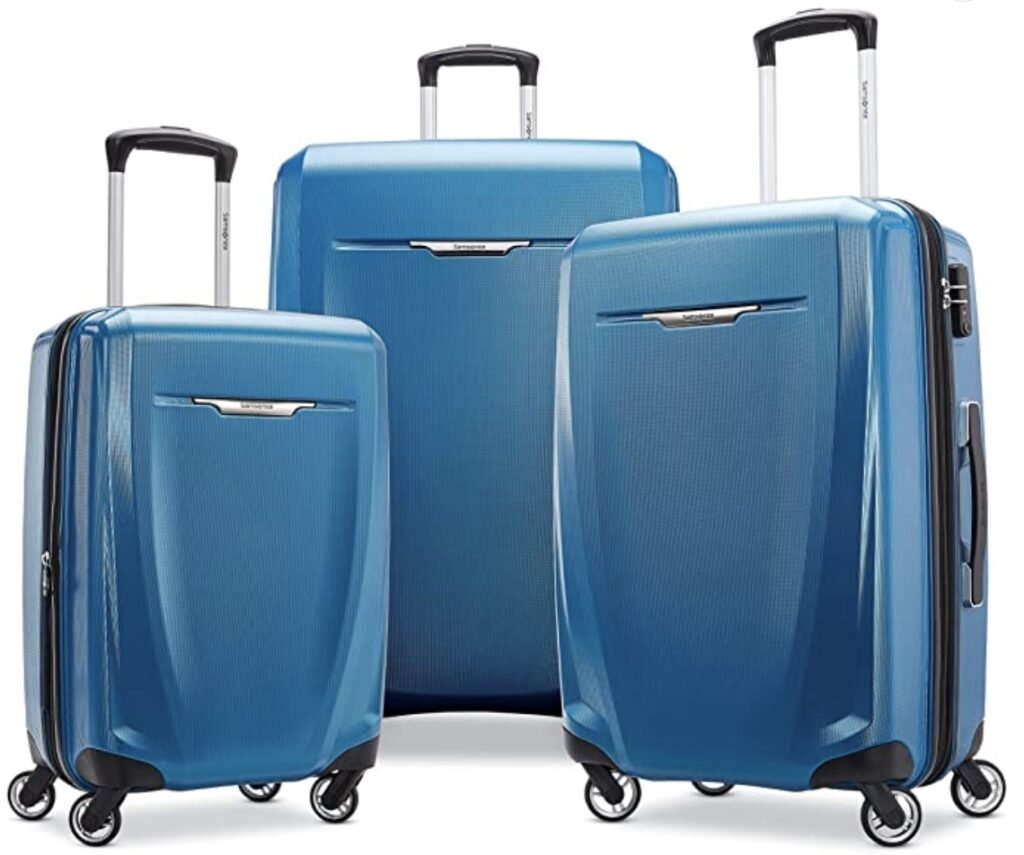 Oh yes, this is really cool.
The Winfield 3 DLX is the latest iteration of one of Samsonite's highly sought-after collections.
What I love about this collection, honestly, is that it combines durability and lightweight design.
Crafted from polycarbonate, this luggage provides excellent protection for your belongings.
If you aren't familiar, polycarbonates are thermoplastic polymers that combine carbonate groups in their chemical structure, and it's better for the planet.
Meanwhile, this collection has convenient features such as an integrated TSA lock, robust spinner wheels, and a comfortable pull handle, ensuring a seamless and confident travel experience.
I feel like the deluxe version of Winfield 3 DLX has been enhanced with a cleverly designed 4-pocket 2-sided divider panel, maximizing packing organization without adding unnecessary bulk or weight.
An easy choice.
>> To get it from Amazon, check availability.
---
Kenneth Cole – Reaction Diamond Tower Collection
You guys, you will love this!
The Kenneth Cole Diamond Tower luggage collection showcases designer quality with high-strength, textured ABS exteriors featuring a diamond pattern.
What I think I absolutely love about this collection is that the interiors are fully lined and tear-resistant.
Meanwhile, with multi-directional 8-wheel spinners, the luggage has smooth, 360-degree mobility over rough surfaces, relieving arm pressure while in motion.
I mean, this happened before. We all know how it feels to drag our suitcases in villages around the world, right? Speaking of which, I will never forget having to do this in China, where the rideshare was 4 blocks away in these tiny alleyways.
Ugh. It sucked.
Anyway, this collection's lightweight and spacious design helps adhere to airline weight restrictions and avoid additional fees, and the expandable zipper allows for extra carrying capacity.
The luggage also includes molded corner guard reinforcements for maximum impact resistance. Inside, there are various compartments such as a U-shaped zipper pocket, mesh pocket, and shoe pockets for organized packing.
Finally, this collection features grab handles for easy lifting, side feet for standing upright, and a sturdy locking telescopic trolley handle. The 20″, 24″, and 28″ sizes meet airline requirements, and each size has specific dimensions and weights.
Plus, they are so cute!
>> Amazon is a great place to get it, so check to see if it's available.
---
American Tourister Disney Hardside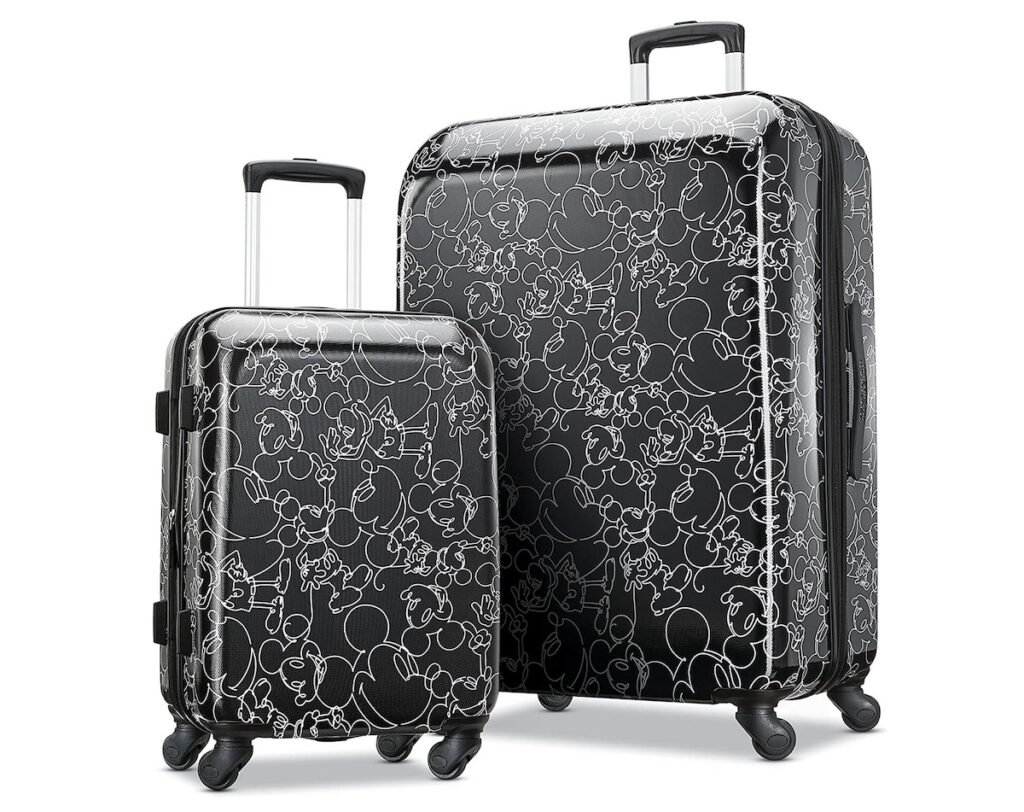 Experience the joy of your favorite Disney characters with the hardside upright travel case by American Tourister.
The cute black and white one is my favorite!
Crafted from lightweight and resilient ABS material, the American Tourister hardside suitcase has a sleek design with side-mounted skate wheels, a mono tube pull handle, and a convenient top grab handle for effortless lifting.
Yeah, you're starting to see why it's on this list!
Inside, the fully lined interior is thoughtfully equipped with crisscross tie-down straps to keep your clothing securely in place, while a zip-around divider creates two distinct packing compartments.
Designed for the inner boys and girls on the move, this case is a delightful choice.
Unleash the magic and bring extra excitement to your travels with this enchanting Disney luggage!
>> Get it on Amazon, visit to see if it's available.
Suitcase Accessories
Well, who doesn't like cute things to go with our suitcases, am I right?
The Pack Gear Suitcase Organizer is definitely one of those!
This travel organizer helps you pack efficiently by compressing down a week's worth of clothes.
It doubles as a suitcase and backpack organizer with a separate compartment for dirty clothes.
Hang it up upon arrival using reinforced steel hooks. It fits large suitcases and carry-ons, expanding to 18 inches.
The TUMI Digitial Weighing Luggage Scale, on the other hand, is kind of a necessity.
You can, for instance, save time and avoid hassles by using this portable electronic scale to weigh your bags before heading out.
There's nothing I hate more than showing up only to find out, naturally, that I have to pay more or open my bag and dig through it to lessen the load.
So, yeah, like I said, this is a necessity.
Now back to cute with Fintie's Luggage Tag! These premium PU leather luggage tags come with steel loops.
I would say that they feel pretty good quality, and I guess they are… since they are made of high-quality synthetic leather.
They have removable steel loops for easy attachment and removal, and the tags have a privacy back cover flap with a magnetic closure to protect sensitive information.
Very, very cute!
Take Care of Your Suitcases
Believe it or not, suitcases actually last a long time if taken care of.
First of all, regular cleaning is essential to keep your suitcase in good condition.
For instance, I like taking a cloth to wipe down the exterior and interior, though you definitely should avoid using chemicals that could damage the material.
Consider using a protective cover or bag to prevent dust accumulation and scratches, preserving its appearance. This is especially the case when at home.
Avoid overpacking, as exceeding weight or size limits can potentially cause damage or breakage.
Utilize packing organizers such as cubes, compression bags, or garment folders to keep your belongings organized and minimize shifting during travel.
Handle your suitcase with care, refraining from throwing or dropping it, as such actions can lead to impact damage.
For fragile items, provide proper padding or cushioning to safeguard them from potential damage during transit.
Regularly inspect the wheels, zippers, handles, and other hardware components of your suitcase, and promptly replace or repair any damaged parts.
Consult the manufacturer's guidelines and instructions specific to your suitcase model because they may provide additional care instructions.
Finally, consider getting suitable travel insurance to provide coverage in case of unforeseen events such as loss, damage, or theft of your luggage.
So, yeah, you can prolong the lifespan of your suitcase and maintain its optimal condition for numerous trips to come.
Final Thoughts
Suitcases that combine durability, functionality, and convenience, along with great aesthetics, tend to be the ones I gravitate to.
In this guide, I shared with you ones that I believe offer robust construction, smooth-rolling wheels, reliable handles, and ample storage space.
Something I took into consideration was the features like TSA-approved locks, expandable compartments, and lightweight designs add to their appeal.
So, if you're thinking of getting one soon, there you have my choices.
Happy shopping!
Lena Wilson writes about fashion, beauty, and more for Caravanzers.
Follow us on Pinterest.
As an Amazon Associate I earn from qualifying purchases