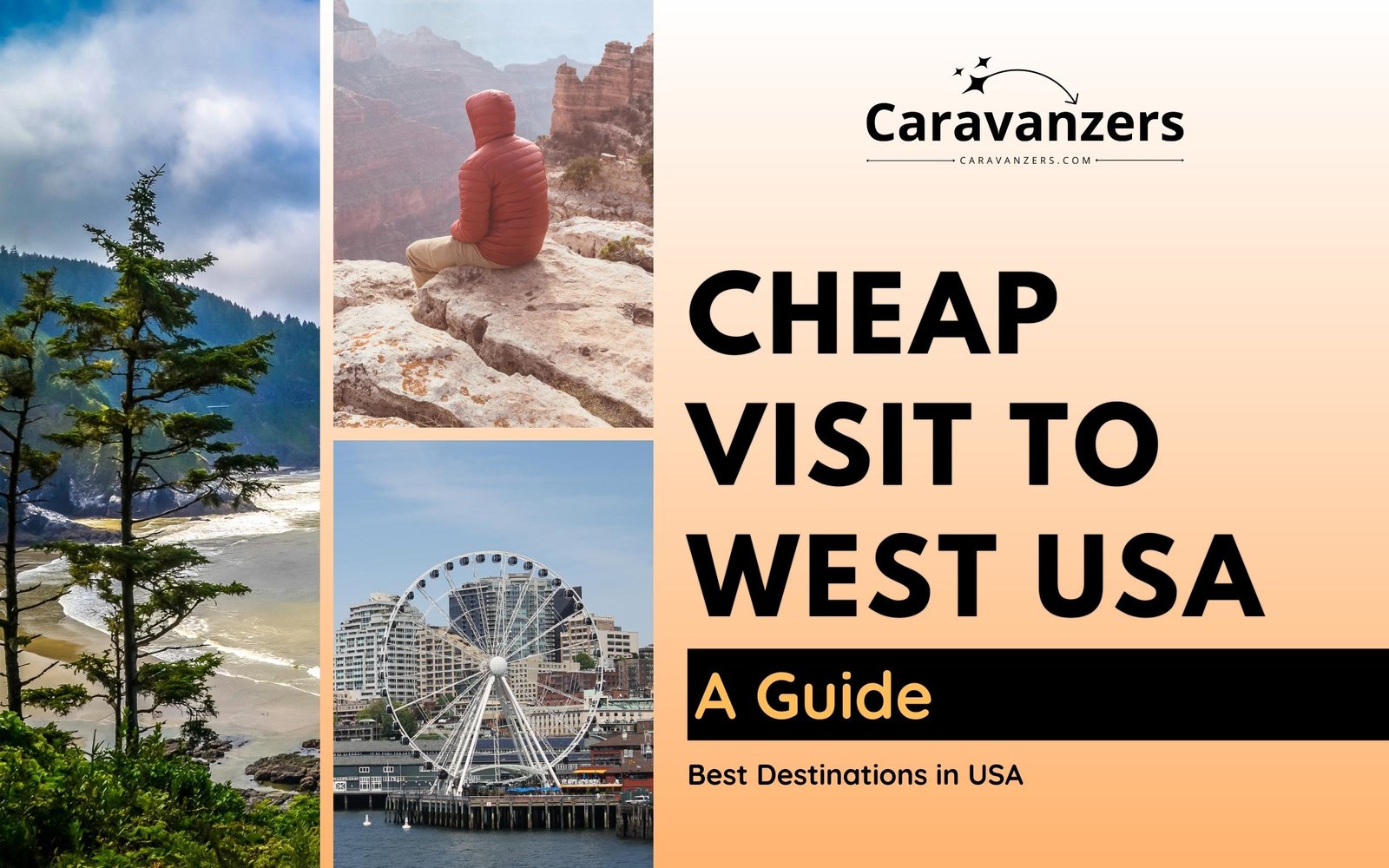 Cheapest places to travel in the West Coast United States. Visit these for memorable budget-friendly trips.
Welcome to the West Coast of the USA. This is a region that has a wealth of affordable travel opportunities for budget-conscious adventurers… far from expensive Hawaii, Los Angeles, or San Francisco.
From stunning natural landscapes to vibrant cities, there are numerous destinations that won't break the bank.
So, whether you're seeking outdoor adventures, cultural experiences, or simply relaxing on beautiful beaches, the West Coast has something for everyone… from single travelers to families and everything in between.
Explore the rugged beauty of national parks, hike along scenic trails, or bask in the sun on picturesque shores.
Discover vibrant cities with affordable attractions, delicious dining options, and unique cultural scenes.
Immerse yourself in the local atmosphere, whether it's savoring regional cuisine, browsing through bustling markets, or taking part in free events and festivals.
Meanwhile, there are transportation options such as public transit, bike rentals, and walking paths.
They make getting around more affordable and convenient.
And with a variety of budget-friendly accommodations, including hostels, campgrounds, and affordable hotels, you can rest easy while keeping costs in check.
So, now that you have an idea let's jump into the specifics.
Portland, Oregon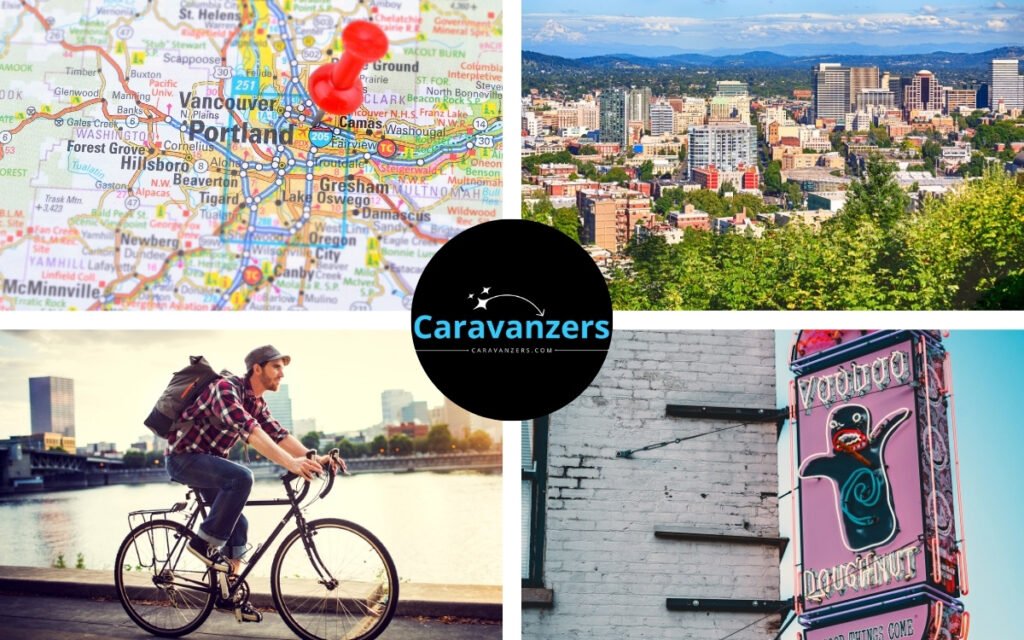 Unique Facts: Portland is known for its eco-friendliness and thriving craft beer scene and is the home of Powell's City of Books, the largest independent bookstore in the world.
Known for its vibrant arts scene, craft breweries, and stunning natural beauty, Portland offers a range of affordable attractions and experiences.
Oregon is one of the top places tourist love in the United States.
The city is renowned for its food carts, where you can find delicious and inexpensive meals.
Additionally, public transportation is accessible and affordable, making it easy to explore the city and nearby outdoor destinations.
From exploring beautiful parks to browsing unique shops, Portland provides budget-conscious travelers with plenty of opportunities to enjoy its quirky charm without breaking the bank.
Try the famous Voodoo Doughnuts. Explore Powell's City of Books. Visit the Portland Japanese Garden.
Bend, Oregon
Unique Facts: Bend is a popular outdoor recreation destination with over 300 days of sunshine per year, it's located near the Cascade Mountains and is a hotspot for hiking, skiing, and craft breweries.
Nestled in the heart of the Cascade Mountains, Bend is a haven for outdoor enthusiasts.
Despite its growing popularity, Bend remains relatively affordable for travelers.
The city offers a variety of affordable accommodation options, including campgrounds and budget-friendly hotels.
Outdoor activities such as hiking, biking, and kayaking are abundant, often requiring little to no cost.
The local craft beer scene is also a highlight, with affordable tastings available at numerous breweries.
Bend's scenic beauty, outdoor adventures, and budget-friendly atmosphere make it an ideal destination for travelers seeking affordable exploration.
Indulge in a mouthwatering elk burger at Deschutes Brewery. Stroll through the Old Mill District. Enjoy outdoor adventures in the Cascade Mountains.
Seattle, Washington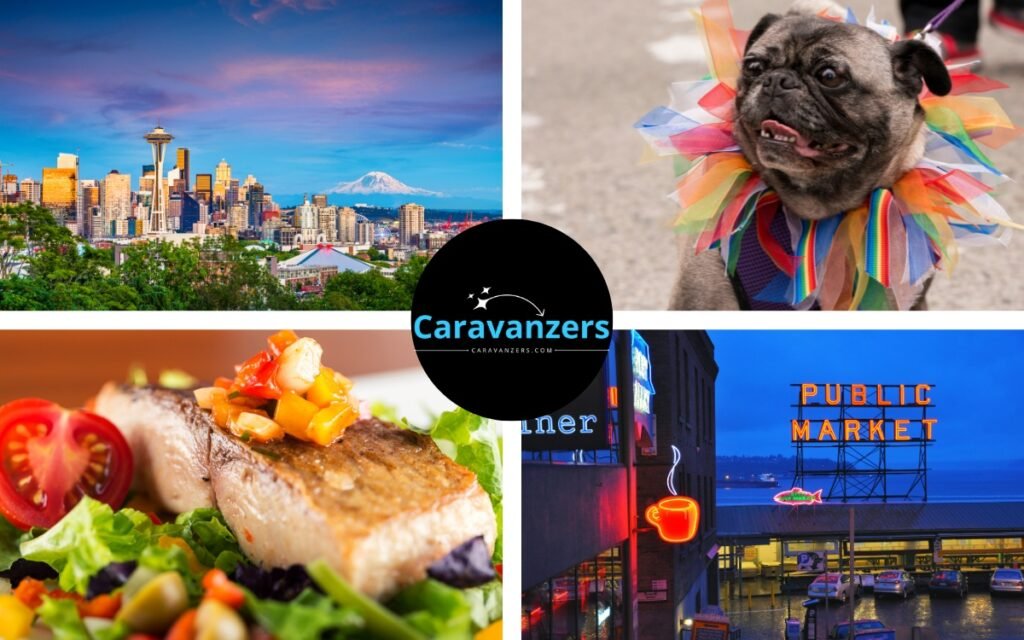 Unique Facts: Seattle is famous for its coffee culture, being the birthplace of Starbucks, as well as being home to the iconic Space Needle and the headquarters of Microsoft and Amazon.
While Seattle is known for its high cost of living, there are still affordable ways to experience the city.
Many of Seattle's iconic attractions, such as Pike Place Market and the Space Needle, offer free or low-cost entry.
Exploring the city's neighborhoods, like Fremont and Capitol Hill, can provide a glimpse into Seattle's vibrant culture without spending much.
Additionally, Seattle has an extensive public transportation system, including buses and light rail, which makes getting around the city affordable.
Visitors can enjoy stunning views, cultural experiences, and budget-friendly dining options in this Pacific Northwest gem.
Savor the fresh seafood at Pike Place Market. Browse the eclectic shops at Pike Place Market. Take a ride to the top of the Space Needle.
San Diego, California
Unique Facts: San Diego boasts a pleasant year-round climate, stunning beaches, and is home to the world-renowned San Diego Zoo, one of the largest and most diverse zoos in the world.
San Diego offers a wealth of affordable activities for travelers, but it's one of the cheapest places to travel in the West Coast.
The city boasts beautiful beaches that can be enjoyed without spending a dime, along with free or low-cost public parks and gardens.
Balboa Park, with its museums and picturesque grounds, offers free admission to certain attractions on select days.
The city's food scene also provides various affordable options, from local taco shops to farmers' markets.
San Diego's favorable climate makes outdoor exploration enjoyable year-round, with hiking trails and scenic viewpoints readily accessible to budget-conscious travelers.
If you have time, though, take couple of hours out of your day and travel north to Los Angeles and its beaches.
Feast on delicious fish tacos. Explore the Gaslamp Quarter. Visit the renowned San Diego Zoo.
San Antonio, Texas
Unique Facts: San Antonio is known for its rich history, including the historic Alamo mission, vibrant River Walk, and being the birthplace of Tex-Mex cuisine.
As a city rich in history and culture, San Antonio offers affordable attractions for visitors.
The iconic River Walk provides a picturesque stroll and is free to access, while the historic Alamo offers free admission.
The city's vibrant marketplaces, such as El Mercado, offer unique shopping experiences without breaking the bank.
Additionally, San Antonio has numerous affordable Tex-Mex restaurants and food stalls where you can savor local flavors.
With its affordable accommodations and a range of free or low-cost activities, San Antonio allows travelers to explore its rich heritage on a budget.
Try the iconic Tex-Mex dish, chicken-fried steak. Explore the Historic Market Square. Take a boat cruise along the San Antonio River Walk.
Phoenix, Arizona
Unique Facts: Phoenix is the fifth-largest city in the United States and has more than 300 days of sunshine annually, it is also home to Camelback Mountain, a popular hiking spot.
Phoenix is a budget-friendly destination known for its sunny weather and outdoor recreation.
The city's extensive trail system offers opportunities for hiking and biking, often at no cost.
Phoenix also has several free attractions, including the Desert Botanical Garden on select days and the Phoenix Art Museum during certain hours.
Affordable accommodation options are available throughout the city, especially during the off-peak season.
With its desert landscapes, vibrant culture, and affordable outdoor adventures, Phoenix provides an enticing destination for travelers seeking an affordable escape.
Sample the flavorful Sonoran hot dogs. Visit the upscale Biltmore Fashion Park. Take a hot air balloon ride.
Tucson, Arizona
Unique Facts: Tucson is surrounded by five mountain ranges and is home to the University of Arizona, the Pima Air & Space Museum, and the annual Tucson Gem and Mineral Show.
Tucson is one of the cheapest places to travel in the West Coast because it combines affordability with natural beauty and rich history.
The city is surrounded by stunning desert landscapes, offering numerous hiking trails and scenic drives, many of which are free to explore.
Tucson's vibrant downtown scene includes the historic El Presidio neighborhood, where you can find affordable eateries and shops.
The city is also home to several free attractions, such as the Tucson Museum of Art and the Arizona-Sonora Desert Museum, on select days.
With its relaxed atmosphere, affordable accommodations, and wealth of outdoor activities, Tucson is an ideal destination for budget-conscious travelers.
Try the regional specialty, Sonoran-style enchiladas. Explore the Fourth Avenue district. Visit Saguaro National Park.
Santa Fe, New Mexico
Unique Facts: Santa Fe is the oldest state capital in the United States, known for its distinctive adobe architecture, vibrant art scene, and as a center for Southwestern cuisine.
Santa Fe, renowned for its adobe architecture and vibrant arts scene, offers affordable cultural experiences.
The city's historic Plaza is free to visit and provides a glimpse into Santa Fe's rich history and Native American heritage.
The art galleries and studios in Canyon Road offer opportunities to appreciate local craftsmanship without spending money.
Santa Fe's cuisine, including its famous green chile dishes, can be enjoyed at various price points, from casual food trucks to affordable eateries.
With its distinctive charm, affordable accommodations, and accessible cultural attractions, Santa Fe is an enchanting destination for budget travelers.
Indulge in traditional New Mexican cuisine. Explore the shops at Santa Fe Plaza. Visit the Georgia O'Keeffe Museum.
Las Vegas, Nevada
Unique Facts: Las Vegas is famous for its world-class entertainment, casinos, and vibrant nightlife, and it's also home to the iconic Las Vegas Strip and numerous luxury hotels.
While Las Vegas is known for its luxury resorts and high-rolling casinos, it also offers affordable options for travelers.
Yes, folks, this is one of the cheapest places to travel in the West Coast.
Many hotels on and off the famous Strip provide budget-friendly accommodations, especially during weekdays.
Visitors can enjoy free attractions such as the Bellagio Fountains, the Mirage Volcano, and the famous "Welcome to Fabulous Las Vegas" sign.
The city also has a variety of affordable dining options, including buffets and off-Strip restaurants.
While the allure of entertainment and nightlife can be tempting, Las Vegas accommodates travelers with various budgets.
Treat yourself to a lavish buffet experience. Explore high-end shops at The Forum Shops at Caesars Palace or the Fashion Show Mall. Catch a mesmerizing show or concert.
Grand Canyon, Arizona
Unique Facts: The Grand Canyon is one of the seven natural wonders of the world, carved by the Colorado River, and offers breathtaking vistas, hiking trails, and geological wonders.
The Grand Canyon, one of the world's most awe-inspiring natural wonders, offers affordable opportunities for exploration.
While accommodations within the national park can be pricier, there are more budget-friendly options in nearby towns such as Tusayan and Williams.
Visitors can enjoy free activities such as hiking along the rim, attending ranger programs, and taking in breathtaking views at overlooks.
Entrance fees to the national park are valid for multiple days, providing ample time to soak in the beauty of this iconic destination.
Affordable camping options are also available for those seeking an immersive outdoor experience.
Enjoy a picnic lunch with stunning views of the Grand Canyon. Visit the Grand Canyon Village for Native American crafts. Hike along the Rim Trail.
Final Thoughts
The West Coast of the USA offers a plethora of affordable travel opportunities for those seeking budget-friendly trips.
With stunning natural landscapes, vibrant cities, and a range of activities for all interests, this region provides memorable experiences without breaking the bank.
From exploring national parks and hiking scenic trails to relaxing on picturesque beaches, there is something for everyone, from solo travelers to families.
Additionally, vibrant cities offer affordable attractions, delicious dining options, and unique cultural scenes, allowing visitors to immerse themselves in the local atmosphere.
Now that you have all this information plan to go on a memorable adventure without worrying about your wallet in this affordable travel haven.
Tom Larson is a traveler who writes about the outdoors.
Follow us on Pinterest.