Cruise travel is one of the most interesting ways to take a trip to a nearby destination or worldwide. You will never regret it.
Are you considering a voyage on a cruise but unsure of what it entails? Worry no more! This article will provide you with a comprehensive overview of cruising, from what it's like to navigate the open seas to the most popular cruise companies to the criteria you must meet to be allowed to go.
Additionally, I will address some of the most commonly asked inquiries regarding cruise travel.
So, let me be your navigator into the thrilling realm of cruise excursions.
What Cruise Travel Is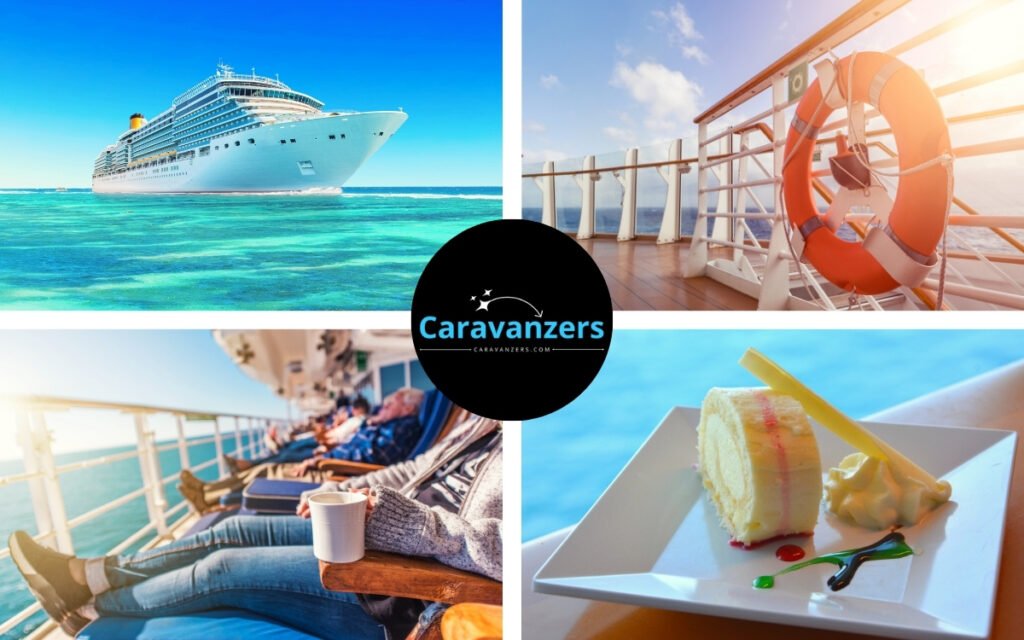 Exploring the world through cruising is a unique and special way of travel! You get to take in the sights and sounds of multiple destination.
You also enjoy the comfort and amenities of your accommodation, scrumptious food, and fun activities right on the cruise ship.
Cruise ships offer a unique chance to experience different cultures, cuisines, and landscapes as you sail across the seas.
Whether you're interested in the natural beauty of Alaska, the historical wealth of Europe, or the lively cultures of the Mediterranean or Caribbean, a cruise can provide an enjoyable and enriching travel experience.
Plus, when you're not busy discovering new ports of call, you can take advantage of the amenities onboard, like spas, swimming pools, fitness centers, movie theaters, and live performances.
Cruising is one of the best ways to get a luxurious, adventurous, and relaxed experience that few other types of travel can offer.
Travelers, if you're looking for a unique and memorable way to explore the world, cruising should definitely be on your list!
Types of Cruise Travel
Travelers looking for a unique and immersive experience have plenty of options for cruises.
Ocean cruises are the most common type and take place on large ships traveling across oceans and seas, such as the Caribbean, Mediterranean, and Alaska.
River cruises are on smaller ships, navigating rivers and inland waterways, often offering a more intimate journey with stops in smaller towns and cities.
Expedition cruises with specialized equipment and guides are perfect for travelers wanting to explore more remote, hard-to-reach destinations, such as Antarctica, the Arctic, or the Galapagos Islands.
Luxury cruises offer an upscale experience with luxury accommodations, gourmet dining, and personalized service, with cruise lines like Regent Seven Seas, Crystal Cruises, and Seabourn popular choices.
Theme cruises focusing on music, food, wine, or sports are also available. Music-themed cruises feature performances by popular artists, and food and wine cruises present cooking demonstrations and tastings.
To help travelers choose the best cruise for their interests and preferences, there are various options for a unique and unforgettable experience.
Popular Cruise Destinations
When it comes to popular cruise destinations, there are so many amazing options to choose from.
Suppose you're looking for sun, sand, and turquoise waters, for example. In that case, the Caribbean is a top pick, with various itineraries that can take you to destinations like Jamaica, the Dominican Republic, and the Bahamas.
Another popular choice for cruising is the Mediterranean, where you can explore the historic cities and picturesque towns of Italy, Greece, and Spain.
If you want a more exotic experience, consider cruising through Southeast Asia. You can explore the vibrant cities of Bangkok and Ho Chi Minh City or the tranquil beaches of Bali and Phuket.
Alaska is an incredible destination for nature lovers to explore by cruise ship, with opportunities to see glaciers, whales, and other wildlife up close.
And for those looking to indulge in the high life, luxury cruises can take you to destinations like the French Riviera, the Amalfi Coast, or the Greek Isles.
No matter your interests or travel style, there's a cruise destination for you. So why not pack your bags, grab the sunscreen, and sail on your next adventure?
What It is Like to Go on a Cruise
Going on a cruise is something else, alright. When travelers new to the cruise industry get interested, one question typically comes to mind.
What is it like to go on a cruise? Going on a cruise is like experiencing a floating resort with endless entertainment, dining, and excursion options. It's a unique way to visit multiple destinations conveniently and comfortably, and the onboard service and amenities are exceptional. It's truly amazing.
And if you aren't convinced, here are more reasons:
There's a cruise for everyone
Many different types of cruises are available, from family-friendly to luxury, adventure-based to relaxation-focused, and everything in between.
Of course, choosing a cruise that aligns with your interests, budget, and travel style is important.
All-inclusive pricing
Most cruises are all-inclusive, meaning your accommodations, food, and many onboard activities are included in the price.
There may be additional costs for certain activities or services. Still, it's generally easy to budget for a cruise since you know the major expenses upfront.
Many destinations in one trip
A major benefit of cruising is the ability to visit multiple destinations in one trip. This is great because you get to enjoy your trip without packing and unpacking.
You also won't be dealing with transportation logistics between locations.
Cruises often stop at several ports of call, allowing passengers to experience different cultures and sights during their trip.
Plenty of onboard activities
Cruises are designed to entertain passengers with various onboard activities. Many cruises have live entertainment, fitness classes, sports, and even onboard casinos.
In other words, on a cruise, there's usually something for everyone, no matter your interests.
Flexible dining options
Most cruise ships offer flexible dining options, from formal dining rooms to casual buffets, specialty restaurants, and room service.
You can choose to dine whenever and wherever you want, and many ships also accommodate dietary restrictions or preferences.
Safety is a top priority
Cruise lines take safety very seriously and have extensive safety procedures and protocols.
These include regular safety drills, advanced navigational technology, and trained onboard personnel to handle emergencies.
Excellent service
Cruise ships are known for their exceptional service, with friendly and attentive staff who strive to make your vacation as enjoyable as possible.
Whether you need assistance with your accommodations, have questions about the ship, or simply want to be pampered, someone is always available to help.
Popular Cruise Lines
Are you wondering which are the most renowned cruise lines? There are quite a few to select from! For example, Royal Caribbean International is known for its grand ships packed with a variety of amenities and entertainment.
Carnival Cruise Line, on the other hand, is acclaimed for its energetic and spirited atmosphere, with numerous onboard activities and gatherings, and Norwegian Cruise Line is praised for its freestyle cruising and contemporary ships.
Likewise, MSC Cruises, a European cruise line, is becoming increasingly popular as well, while Princess Cruises provides a more sophisticated and conventional cruising experience.
Similarly, Celebrity Cruises is recognized for its luxurious and contemporary ships, and Holland America Line is known for its graceful and exclusive atmosphere.
If you're traveling with kids, Disney Cruise Line is the ideal choice with its charming Disney-themed ships and family-oriented activities.
Meanwhile, Costa Cruises offers a Mediterranean-style experience, while Viking Cruises is a preferred option for travelers seeking a more intimate and culturally immersive experience.
Of course, this is only a starting point! There are many other cruise lines, each providing its own unique features and services. In the end, the right cruise line will depend on your preferences, budget, and itinerary.
Cruise Travel Requirements
Before you start packing your bags, let's talk about some of the requirements you'll need to meet in order to travel.
First up, you'll need a valid passport or other government-issued photo ID, like a driver's license. Make sure to check the expiration date and any visa requirements for your specific itinerary.
Depending on your destination, you may also need to meet certain health requirements, like vaccinations or health screenings. The cruise line will provide guidance on these requirements before the trip.
And if you're traveling with kids, there may be age restrictions for certain activities or areas of the ship. For example, many ships don't allow children in the casino or nightclub. Some cruise lines may also require minors to travel with a parent or guardian.
Finally, it's always a good idea to purchase travel insurance to protect against unexpected events, like illness or trip cancellation. The cruise line may also have payment and documentation deadlines to meet, so make sure to stay on top of those.
Remember, these requirements can vary depending on the specific cruise line and itinerary. So, it's always best to check with the cruise line or a travel agent before booking your trip. But don't worry, with a little bit of planning, you'll be all set to set sail and enjoy an amazing vacation on the high seas!
Cruise Travel FAQs
For travelers looking for a fun and convenient way to explore multiple destinations, taking a cruise is a great option.
With budget-friendly prices, plenty of itineraries to choose from, and plenty of ways to make the most of your trip, you're sure to have an unforgettable experience.
The following are some popular questions travelers ask about the cruise experience.
Why take a cruise vacation?
Taking a cruise vacation can be a great way to explore multiple destinations on one trip. Think of the convenience of just having to unpack once.
There's a wide range of cruise itineraries available, so you're sure to find one that suits your interests and travel style – whether you're looking to relax on the beach, explore historic cities, or enjoy delicious cuisine and entertainment.
What is the average cost of a cruise trip?
On average, seven-night cruises cost around $1,000 per person, though the exact cost can vary depending on the cruise line, itinerary, and cabin category. If you're looking to save, consider booking during the off-season or looking for last-minute deals.
What is the cheapest month to go on a cruise?
The cheapest month to go on a cruise varies depending on the destination and cruise line, but generally, September, October, early November, and January through March are good times to look for lower prices.
What is the best cruise trip in the world?
For travelers looking for the best cruise trip in the world, there are plenty of incredible options – from cruising through the Alaskan fjords to exploring the historic cities of Europe or soaking up the sun in the Caribbean.
Can you go on a cruise without a passport?
Whether or not you need a passport for a cruise depends on the destination and the cruise line. For example, if your cruise is American, you could just travel with just a government-issued ID and birth certificate. However, if you're visiting foreign ports, a passport could be required.
What should I pack for my first cruise?
When packing for your first cruise, make sure to bring comfortable clothes for exploring ports of call, as well as dressier outfits for formal dinners or events. Don't forget essentials like sunscreen, insect repellent, and a power strip for charging your devices.
Do cruise travel agents charge a fee?
Some cruise travel agents may charge a fee, while others make their commission from the cruise line, so it's always a good idea to ask about any fees upfront to make an informed decision.
Can you track where a cruise ship is?
Most cruise lines offer online tools or apps that allow you to track your ship in real-time. Likewise, you can download them on your own.
So, don't worry, you can keep track of your progress and anticipate your next destination.
Cruise Travel – Final Thoughts
Here we are, folks! If you're looking to take a cruise, I shared with you a lot. I gave you basically everything you need to make the best choice for your vacation.
I've outlined the different cruise lines, what to expect onboard, and what you'll need before you set sail.
Plus, I've included a helpful FAQ section for when you have additional questions.
So don't wait any longer – start planning your dream cruise today! With a little research and the right cruise line, you can have an unforgettable experience full of exciting new sights, sounds, and memories.
So what are you waiting for? Get ready to embark on your adventure – it's going to be amazing!
AJ Paris is a travel photographer based in New York. He is the editor of Caravanzers.