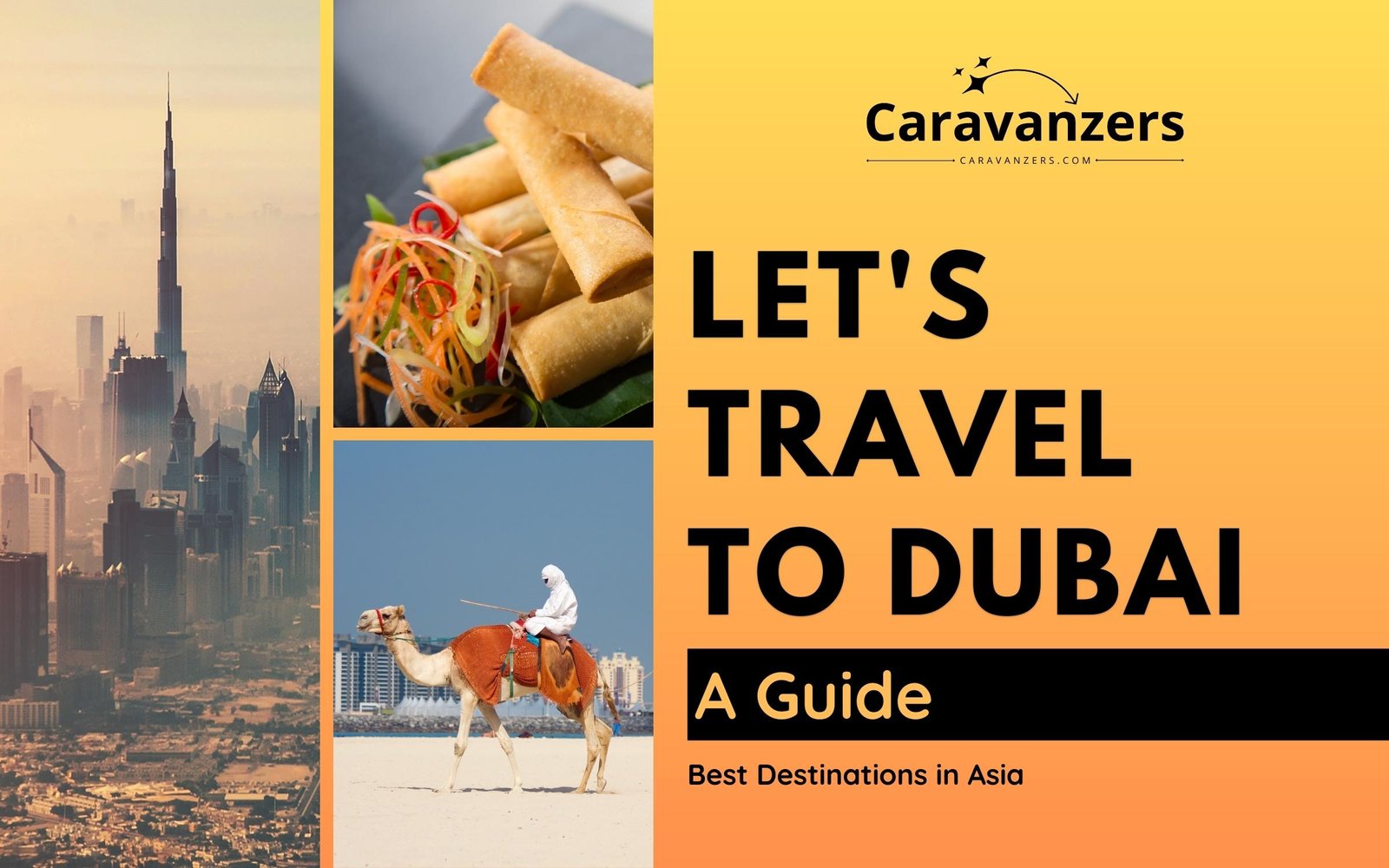 Dubai travel. This is a unique city with extravagant architecture, luxury shopping, and lively nightlife, and this guide has it all.
It is a blend of modernity and traditional Arabian culture.
From iconic landmarks like the Burj Khalifa to desert safaris and stunning beaches, Dubai offers a unique and opulent experience.
The city offers world-class shopping, stunning architecture, pristine beaches, desert safaris, and cultural experiences.
So, in this guide, we will go through from where to stay to what to eat and what to do, and you will feel like you're there.
If you've been thinking about visiting this incredible place, come along!
VIDEO – Dubai Travel
Dubai Tourism
Dubai is a unique place that blends modernity and tradition in the heart of the Arabian Desert.
Emirates Airlines is a popular choice for seamless travel to this remarkable city, but be sure to familiarize yourself with the visa requirements.
Taxis are readily available to whisk you from the airport to the vibrant city center, landmarks, hotels, and attractions.
Dubai's culinary scene is a paradise of Emirati, Arab, and global cuisines.
Sample traditional Emirati dishes like Machbous and Luqaimat, savor the grilled meats and mezze platters of Arab cuisine or explore the multicultural dining options offered throughout the city.
Visit the iconic Burj Khalifa for mesmerizing views, indulge in shopping and entertainment at Dubai Mall, experience luxury at Palm Jumeirah resorts, enjoy the waterfront charm of Dubai Marina, or relax on the pristine sands of Jumeirah Beach.
Dubai Creek, Dubai Museum, Global Village, Dubai Opera, Ski Dubai, and Dubai Miracle Garden offer even more exploration opportunities.
Venturing beyond the city, Dubai offers captivating day trip options.
Embark on a desert safari to experience the Arabian Desert with activities like dune bashing and camel riding.
Explore neighboring Emirates like Abu Dhabi and Sharjah, which boast stunning mosques, museums, islands, and traditional souks.
Nature lovers can venture to the Hatta Mountains, while coastal retreats await in Fujairah.
The nearby Musandam Peninsula in Oman offers breathtaking fjords and dolphin-watching opportunities.
For a comprehensive experience, we've prepared a 7-day itinerary covering Dubai's highlights, from iconic landmarks to cultural immersion and thrilling adventures.
Dubai is a city of excitement and wonder where tradition meets innovation, making every moment extraordinary.
Buckle up for an extraordinary journey through this dynamic and cosmopolitan city.
Welcome to Dubai, where the extraordinary is just the beginning.
When to Go to Dubai
Dubai summers are scorching, with intense heat that overwhelms the senses.
Temperature records soar, reaching unbearable levels well above 100 degrees Fahrenheit (37 degrees Celsius).
The air feels like a fiery blanket, making outdoor activities daunting.
The scorching sun dominates the skyline, leaving residents and visitors seeking shelter in air-conditioned havens.
So, I would only suggest you go during this time if you plan to be indoors most of the time.
Meanwhile, Dubai winters offer respite from the scorching summers, bringing pleasant and mild temperatures.
With average highs ranging from 68 to 77 degrees Fahrenheit (20 to 25 degrees Celsius), it's a perfect time to explore outdoor attractions.
The skies are clear, and cool breezes provide a refreshing atmosphere.
It's a season of outdoor dining, beach visits, and enjoying various outdoor activities under the comfortable winter sun.
As you can imagine, this is a popular time to visit this Arabian city, and that means you will need to plan ahead as prices and demand will be higher.
Finally, Dubai is very different from the rest of the Muslim cities in the Middle East because there is a large number of non-Muslims here, mostly from Asia.
As a result, you don't have to worry about Ramadan and other Muslim holidays, but if you love them, you will also love being here, especially in the traditional areas.
How to Get to Dubai
Emirates Airlines is one of the top airlines for traveling to Dubai.
It provides a seamless travel experience, making it a preferred choice for many visitors to Dubai.
Dubai visa requirements include a completed application form, a valid passport with at least six months validity, proof of accommodation, return flight tickets, financial means, and travel insurance.
Additional documents may be needed depending on the purpose of the visit.
Dubai International Airport is a major aviation hub known for its modern infrastructure and grandeur.
The airport serves as a gateway to Dubai's attractions and offers efficient connectivity to various international destinations.
Taxis from Dubai International Airport provide convenient transportation to the city.
Easily accessible outside the terminals, the modern fleet of taxis is operated by professional drivers.
So, getting to Dubai is pretty straightforward once you apply this information.
Metered fares are reasonable, and the journey offers a comfortable way to reach Dubai's vibrant city center, landmarks, hotels, and attractions.
The currency of Dubai is the United Arab Emirates dirham (AED) which is divided into 100.
Dubai Neighborhoods
When it comes to choosing the perfect neighborhood for accommodation in Dubai, tourists are spoiled for choice.
Each area has its own unique charm and attractions, catering to a range of preferences and interests.
Downtown Dubai stands out as a vibrant and bustling neighborhood, home to some of Dubai's most iconic landmarks.
For those seeking a beachfront escape, Jumeirah Beach Residence (JBR) is an ideal choice.
This waterfront community boasts a stunning stretch of sandy beaches lined with high-end hotels, resorts, and apartment complexes.
The lively promenades of JBR offer a plethora of dining options, shops, and entertainment venues, ensuring a vibrant and enjoyable stay for tourists.
Dubai Marina, with its modern skyscrapers and bustling atmosphere, is another popular neighborhood for tourists.
The marina is home to luxury apartments, hotels, and upscale dining establishments.
For a truly luxurious experience, the Palm Jumeirah, a man-made island shaped like a palm tree, is a top choice.
It is renowned for its exclusive resorts, including the famous Atlantis, The Palm.
Tourists can revel in stunning views of the Arabian Gulf, relax on pristine beaches, and enjoy world-class amenities and entertainment.
No matter which neighborhood tourists choose to stay in, Dubai offers an excellent range of accommodations to suit different budgets and preferences.
From luxurious hotels to serviced apartments, there is something for everyone.
Additionally, efficient transportation options, including the Dubai Metro and taxis, make it easy to explore the city and its various attractions from any of these vibrant neighborhoods.
Overall, the diverse neighborhoods of Dubai provide tourists with unique experiences and opportunities to create memorable stays in this dynamic and cosmopolitan city.
Food for Your Dubai Travel
Dubai's food scene is a really cool blend of Emirati, Arab, and global cuisines. This city offers a diverse range of culinary experiences for visitors to enjoy.
Emirati cuisine reflects the rich cultural heritage of the United Arab Emirates.
Traditional Emirati dishes often include ingredients like fish, rice, meat (such as lamb and camel), dates, and various spices.
Classic Emirati dishes include Machbous (spiced rice with meat), Harees (slow-cooked wheat and meat), and Luqaimat (sweet dumplings).
Emirati cuisine provides a unique taste of local flavors and traditions.
Arab cuisine, which has a significant influence on Dubai's culinary landscape, encompasses dishes from various Arab countries.
Grilled meats, shawarma (roasted meat wraps), falafel, hummus, tabbouleh, and mezze platters are popular Arab dishes available throughout Dubai.
Visitors can savor the authentic flavors of Arab cuisine in traditional restaurants and street food stalls across the city.
Dubai's global cuisine scene is a true reflection of its multicultural population and international influences.
The city is a melting pot of flavors, offering a vast array of international dining options.
Food enthusiasts can explore food markets, food trucks, and pop-up restaurants that showcase a wide range of international and fusion cuisines.
Dubai also boasts an impressive selection of luxury dining establishments helmed by celebrity chefs, offering unforgettable gastronomic experiences.
In addition to dining out, Dubai's culinary landscape also includes bustling food courts, street food stalls, and local cafes where visitors can sample quick bites and popular snacks such as manakish (flatbread topped with cheese or za'atar), karak tea (strong tea with spices), and Arabic sweets like baklava and kunafa.
From traditional Emirati dishes to flavors from across the Arab world and an array of international culinary offerings, Dubai ensures a memorable gastronomic journey for every visitor.
Dubai Tourist Attractions
Dubai's city life is vibrant and fast-paced, characterized by a blend of cultures and cosmopolitan energy.
It offers a dynamic social scene, world-class shopping, dining, and entertainment options.
Skyscrapers, luxury cars, bustling markets, and a thriving nightlife contribute to the city's captivating and glamorous atmosphere.
Dubai entices visitors with its diverse range of tourist attractions.
The renowned Burj Khalifa stands tall, providing mesmerizing city views.
Dubai Mall beckons as a shopper's paradise with entertainment options.
Palm Jumeirah astounds with luxurious resorts on a palm-shaped island.
Dubai Marina charms with its waterfront allure.
Jumeirah Beach entices with its pristine sands.
Dubai Creek offers glimpses of the city's trading history.
So, Dubai Museum showcases heritage, while Global Village captivates with cultural diversity.
Meanwhile, Dubai Opera hosts captivating performances, and Dubai Miracle Garden mesmerizes with floral wonders.
Dubai Frame offers panoramic city vistas, while Ski Dubai lets visitors experience winter sports indoors.
Emirati desert culture is deeply rooted in the traditional Bedouin way of life.
It embraces the vastness and serenity of the desert, with camel herding, falconry, and dune activities.
Hospitality, storytelling, traditional music and dance, and rich cuisine reflect the resilience, heritage, and strong connection to the desert environment.
Desert Safaris provide thrilling adventures in the desert.
Dubai constantly evolves, ensuring its allure as a favored global destination.
Solo Travel in Dubai
As a solo traveler in Dubai, you have the opportunity to immerse yourself in a multitude of activities and explore various attractions to create an enriching experience.
Marvel at the breathtaking views from its observation decks and visit the Dubai Marina, a captivating waterfront district filled with impressive skyscrapers, restaurants, and shops.
Immerse yourself in the traditional charm of Dubai by visiting the historic neighborhood of Al Bastakiya.
Wander through its narrow alleyways, explore art galleries, and gain insights into the city's history and traditions at the Dubai Museum housed in the Al Fahidi Fort.
Get lost in the bustling markets, known as souks, which are an integral part of Dubai's culture.
Visit the Gold Souk to admire stunning jewelry, explore the Spice Souk to inhale the aromatic scents of exotic spices, and discover the Perfume Souk for unique Arabian fragrances.
Experience the desert by embarking on a desert safari adventure.
Indulge in thrilling activities like dune bashing, camel riding, and sandboarding.
Watch a mesmerizing sunset over the dunes and savor a delicious barbecue dinner at a traditional Bedouin-style camp.
Relax on the beautiful beaches of Dubai, such as Jumeirah Beach, Kite Beach, or La Mer Beach.
Unwind, soak up the sun, and enjoy water sports, beachside cafes, and stunning views of the Dubai skyline.
Indulge in a gastronomic adventure by exploring Dubai's diverse culinary scene.
Experience the vibrant nightlife that Dubai has to offer.
Visit rooftop bars with stunning views, dance the night away at trendy clubs, or enjoy live music and performances at various venues across the city.
Remember to respect local customs and traditions, dress modestly when visiting religious sites, and adhere to the local laws and regulations during your solo journey in Dubai.
Shopping for Your Dubai Travel
In Dubai, the shopping experience is truly exceptional, offering a vibrant and diverse atmosphere for visitors and locals alike.
The city's renowned shopping malls are architectural wonders, featuring grand entrances, high ceilings, and luxurious interiors.
The malls are equipped with modern amenities, including spacious food courts, entertainment centers, and even indoor ski slopes or ice rinks in some cases.
The souks, on the other hand, offer a contrasting experience, allowing you to immerse yourself in the city's rich heritage.
These traditional markets are filled with a tapestry of sights, sounds, and aromas.
The narrow alleyways are lined with small shops and stalls, selling everything from spices and textiles to gold and handmade crafts.
Engaging in the art of bargaining is common in the souks, adding an element of excitement and interaction to your shopping experience.
Dubai also hosts various seasonal shopping festivals and events that attract visitors from around the world.
During these periods, the city transforms into a shopper's paradise, with incredible discounts, promotions, and entertainment programs.
The festive atmosphere, live performances, and fireworks create an unforgettable ambiance, making your shopping spree even more enjoyable.
Transportation is seamless, with ample parking spaces, taxi services, and a well-connected metro system, making it easy to travel between different shopping destinations.
Additionally, the city's commitment to customer service is evident, with many malls providing complimentary shuttle services for visitors staying in hotels.
Whether you're exploring the luxurious malls or wandering through the bustling souks, the city offers a diverse range of options to cater to every taste and preference.
Day Trips from Dubai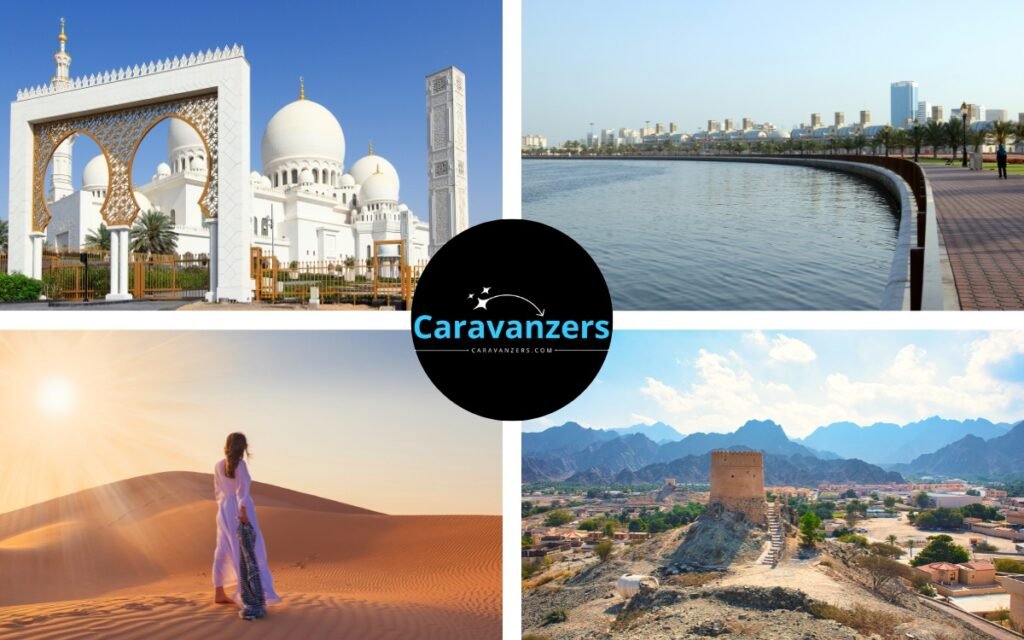 So, Dubai travel offers a range of captivating day trips for visitors to explore beyond the city.
One popular option is a desert safari, where travelers can experience the beauty of the Arabian Desert.
Activities include dune bashing, camel riding, sandboarding, and enjoying traditional entertainment and cuisine at a desert camp.
For a change of scenery, day trips to the neighboring Emirates are available.
Abu Dhabi, the capital of the UAE, is a must-visit, with attractions like the Sheikh Zayed Grand Mosque, the Louvre Abu Dhabi, and the Emirates Palace.
Sharjah, another neighboring Emirates, is known for its rich cultural heritage.
Visitors can explore museums, such as the Sharjah Museum of Islamic Civilization, stroll through the picturesque Al Noor Island, or browse traditional souks.
A trip to the Hatta Mountains is perfect for nature lovers.
Located east of Dubai, this mountainous region offers hiking trails, picturesque wadis (valleys), and the historic Hatta Heritage Village.
For a coastal retreat, day trips to Fujairah are popular.
This Emirate boasts stunning beaches and crystal-clear waters, ideal for snorkeling, diving, and relaxation.
The Fujairah Fort and the Al-Bidyah Mosque are notable landmarks to explore.
Additionally, the nearby Musandam Peninsula in Oman is accessible from Dubai.
Known as the "Norway of Arabia," it offers breathtaking fjords, boat cruises, and opportunities for dolphin watching.
Dubai's central location and well-connected transportation infrastructure make these day trips easily accessible, allowing visitors to delve into different experiences, landscapes, and cultures while exploring the region.
7-Day Dubai Itinerary
On day 1, upon arrival at Dubai International Airport via Emirates Airlines, you will find a seamless travel experience in this modern aviation hub.
After clearing immigration and customs, take a taxi from the airport to your accommodation in Downtown Dubai.
On day 2, start your day with a relaxing breakfast at your hotel in Downtown Dubai.
To enjoy a beachfront escape, make your way to Jumeirah Beach Residence (JBR).
On day 3, explore the modern skyscrapers and bustling atmosphere of Dubai Marina.
You can also take a boat ride or rent a yacht to experience Dubai Marina from the water.
Afterward, head to Palm Jumeirah, a man-made island shaped like a palm tree.
On day 4, immerse yourself in Dubai's rich heritage and history.
Begin your day by visiting the Dubai Creek area.
Take an Abra, a traditional boat, across Dubai Creek to the Deira side.
Dive into the bustling souks, including the Gold Souk and Spice Souk, where you can shop for traditional goods and immerse yourself in the vibrant atmosphere.
Indulge in a traditional Arabic lunch at a local restaurant in the Deira area.
In the evening, head to Dubai Opera for a captivating performance or show.
On day 5, go on a day trip to Abu Dhabi, the capital of the UAE.
Visit the awe-inspiring Sheikh Zayed Grand Mosque, known for its exquisite architecture.
On day 6, experience an adventurous desert safari.
Join a guided tour of the Arabian Desert and indulge in exhilarating dune bashing in a 4×4 vehicle.
Engage in activities like camel riding, sandboarding, and quad biking.
On day 7, take a day trip to either Sharjah or Fujairah.
Stroll through the picturesque Al Noor Island or browse traditional souks.
Final Thoughts
Dubai is a remarkable city that combines extravagant architecture, luxury shopping, and vibrant nightlife with a blend of modernity and traditional Arabian culture.
It offers a unique and opulent experience, from iconic landmarks like the Burj Khalifa to desert safaris and stunning beaches.
With world-class shopping, stunning architecture, pristine beaches, desert safaris, and cultural experiences, Dubai has something for everyone.
So, you joined me on this guide and discovered where to stay, what to eat, and what to do, and even got a taste of what it's like to be in this incredible place.
If you've been considering a visit, make your plans today because you will not be disappointed.
AJ Paris is a travel photographer based in New York. He is the editor of Caravanzers.
Follow us on Pinterest.