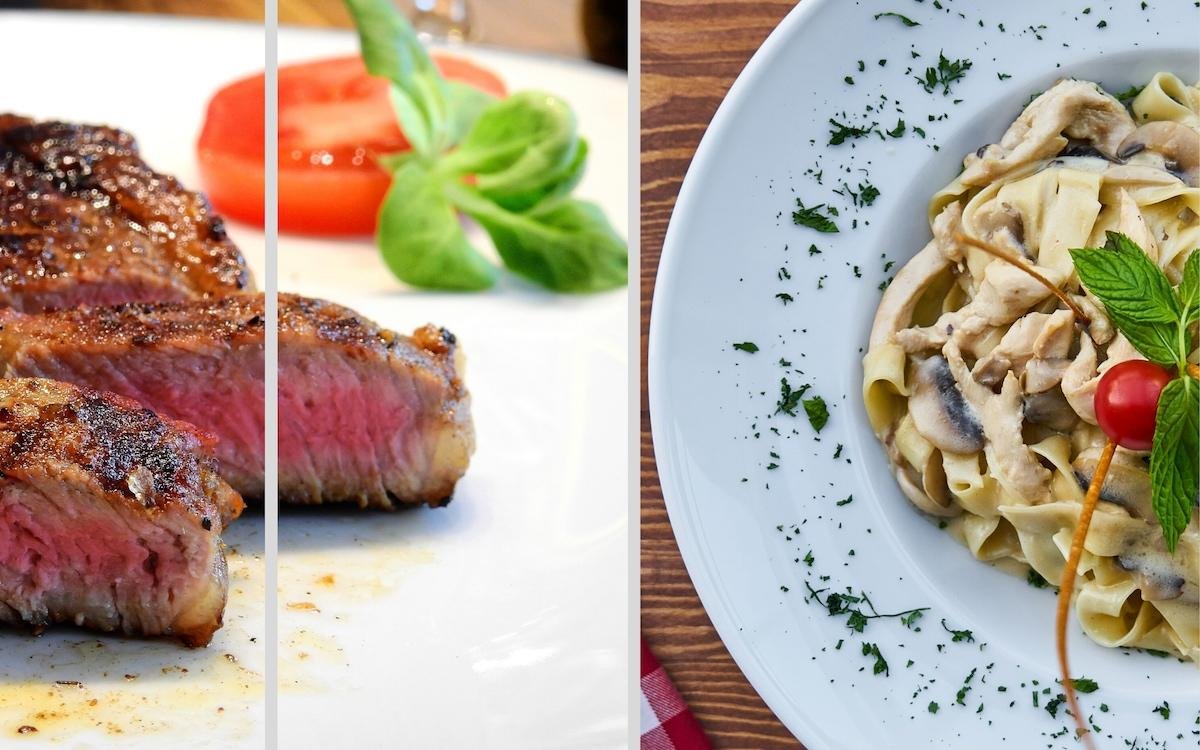 Because this cuisine is so popular, Italian dishes are easy too make, if you follow the rules, says Nina Walker. We give you recipes!
Many of us love Italian food because, well, it is delicious.
Remember, at one point in history, about 20% of the world was part of the Roman Empire.
As such, you will see some familiar dishes in here from your own culture.
Meanwhile, to make the article more relatable, we include information from both everyday people and experts.
So, let's go!
Italy and Its People
Italy has a long history.
From prehistoric Italy to the Roman Empire, and later to the Renaissance, and the new Italy of today, wow!
With ethnic groups like the Friulians, Ladins, Sardinians, Sicilians, and South Tyroleans, Italy is actually diverse.
"At home, my parents and grandparents spoke Lombard," says Isabella, who is from a small town outside of Milan. "So, even though I fully understand the language, I don't really speak it myself," she adds.
The people of Lombardy, as well as some in several other provinces, speak this language.
"My uncle lived in Switzerland, and there were several families in their neighborhood who spoke it, too," remembers Isabella.
Isabella, who is in her late 50s, is part of a generation in Italy that kind of adopted Italian as their primary language.
However, back in the 1800s, when the country was united, less than 5% of the population spoke Italian.
These days, around 90% speak Italian.
As a result, the "Italian" people of today are actually diverse ethnic groups united by national identity.
So, when you travel through the country, you might see diverse faces, ways of life, and, yes, cuisines.
For instance, Isabella has blonde hair, blue eyes, and very fair skin.
However, her boyfriend Calogero, who is from Sicily, has a darker skin tone, darker hair, and darker eye color.
In other words, Calogero looks more like a Middle Eastern or North African, whereas Isabella looks like a Germanic person.
That is, Italy is very diverse!
Italian Cuisine
Believe it or not, Italians don't say "Italian food," as they refer to the food in their regional names.
"Yes, there's the modern term of cucina italiana [Italian cuisine]," says Francesca, a shopper in a food market in Rome. "I never use it on a personal level, though," she adds. "Instead, I will say the region."
In other words, if Francesca was talking about a pizza with tomatoes and mozzarella cheese, what would she say?
"I would say pizza napoletana [Neapolitan pizza], naturally," she smiles.
However, she recognizes this is not the same for a foreigner.
In other words, within Italy, food is very regional, and most people eat what they are familiar with.
"I'm from a town about an hour from here," says Francesca. "And I have a friend who is from Milan area," she adds. "We eat completely differently!"
So, that means not all Italians eat the same way.
However, the following is a kind of based on the "mainstream" way to do things.
For example, if you were watching a television show about modern people in Rome, they might eat this way.
Now that that is out of the way let's dive into another myth.
It Is Not Italian
So, there are some "Italian" foods you like that you might be surprised to hear are not Italian.
For example, did you know that marinara sauce is not Italian?
Yeah, it is crazy but true!
And, you know what else is not Italian?
For instance, consider garlic bread, Italian dressing, and mozzarella sticks.
Likewise, think about famous pasta like spaghetti and meatballs, fettuccini alfredo, chicken parmesan, and shrimp scampi.
"And, chicken with pasta? That is a big no!" says Angelo, a chef in Venice.
Similarly, think about pepperoni pizza, Italian wedding soup, and the Italian sandwich.
"Those are all very American things," Angelo explains. "You can't imagine how many Americans ask me," he adds.
Meanwhile, as you will see, Italian meals are enjoyed differently, too.
Start With Cornetto
So, breakfast, called prima colazione, is not as popular as some of the other meals of the day.
Generally speaking, Italians tend to like their breakfasts sweet.
It should be noted, however, that many Italians don't eat breakfast at all.
"The idea of sitting at a table, eating eggs and sausages and so much in the morning, well, the thought of it turns my stomach," says Giovanna, a Roman businesswoman.
That said, a lot of Italians do love their morning coffee.
"A cup of coffee, now we can talk about breakfast," smiles Giovanna.
Every morning, Giovanna leaves her apartment in Pigneto.
She lives in a part of the city that has been referred to as the Brooklyn of Rome.
She walks for several blocks and finally enters her favorite café near the Malatesta subway station.
Then, she sits down and orders coffee and reads the newspaper.
"It is a way to start my day, you could say," says Giovanna, who is in her 40s and works at a marketing firm in the city center. "Depending on the day, I might order a pastry," she adds.
For a lot of Romans, it is typical to have a cornetto (one piece of pastry) along with the coffee.
"I like something simple, but sometimes I will indulge in an maritozzi con la panna," she says.
So, this is a rich sweet bun with cream that is popular in Rome.
Because there are many varieties of pasticceria (pastries), one has to choose what they want personally.
For example, if you're like me, you might decide on something completely off the beaten path.
For instance, there is polacche aversane, a unique pastry from Campania.
So, let's dive more into this great pastry.
Polacche Aversane
So, with a name like "Polish from Aversa," you know polacche aversane (pictured here) has an exciting story.
"Trust me, it is not as popular as it should be," says Stella, who swears by it. "But I'm not sure where the Polish part comes from," she admits.
Campania, the region where this pastry comes from, has several Polish-origin items.
For example, there is the famous babà napoletano. According to the Italian Geographical Society (Società Geografica Italiana), the babà was invented by Stanisław Leszczyński in what is now France.
You see, Leszczyński was the King of Poland and lost it. However, he was given the Duchy of Lorraine with an agreement that it would revert back to France upon his death.
Meanwhile, French-born Joachim Murat was installed as the King of Naples for seven years starting 1808.
Over time, his court brought some Polish food items to this Italian region.
So, what about this dish from Aversa?
First of all, one could argue that it's the Italian version of the Polish świętomarcińskie (St. Martin's Croissant).
However, the Campanian one can be traced back to a pastry shop called Pelosi.
Bar Pasticceria Fratelli Pelosi was founded in 1919 on Via Roma in Aversa.
The same family now owns La Polaccheria, another located on Piazza Trieste e Trento in Aversa.
Meanwhile, the family name suggests they are of Polish background.
However, this family was more immediately from Puglia (the grandfather moved to Aversa).
So, how do you make it?
We love this recipe by Francesca Di Biase.
Pasta Is a Starter
So, since many Italians skip breakfast, what about lunch?
Lunch, called pranzo, is trendy.
"Breakfast makes you fat," smiles Margherita, a young woman who works in a clothing boutique. "On the other hand, lunch is something your body has a chance to work out," she adds. "So, I always have a big lunch."
Whereas a Spanish will have a siesta, an Italian will have his or her long lunch break (usually from 1pm to 3pm).
As a result, an Italian lunch is eaten through several phases, called corso (course).
So, what do most Italians eat for lunch?
"The Italians serve the spaghetti or macaroni at the beginning of the meal, in place of soup," wrote Maria Gentile.
Gentile was one of the original Italian cooks to bring the cuisine to the outside world.
"They give it the name of 'Minestra Asciutta' or 'dry soup,'" Gentile added. "Besides the familiar spaghetti, the paste is served in many other forms and with different seasoning."
Meanwhile, Margherita agrees wholeheartedly with Gentile.
"However, no matter what you do, do not have pasta for dinner," says Margherita, sharply. "Pasta is carbs and should be consumed when your body is active," she adds.
Hey, she is in great shape, so we will follow her advice!
Meanwhile, as you probably know, there are a million different pasta dishes.
So, how do you choose the right one?
"Choose what you like," says Margherita. "Just keep in mind the portions, of course, and make sure to add a lot of greens," she adds.
At the end of the day, it is really all about personal choices!
Therefore, we are going to talk about some famous ones, and you decide.
Spaghetti al Pomodoro
First of all, the word spaghetti is plural, even though it's used in the singular in most languages.
The word translates to as "little thread" or "little twine."
Believe it or not, the most popular pasta in Italy is not "spaghetti Bolognese."
In fact, "spaghetti Bolognese" is not even Bolognese (for which it's named) or Italian!
So, Italians like their spaghetti with various things, but any with "pomodoro" (tomato in Italian) would be popular.
Sophia and I meet at the Cavour metro station in Rome, near the famous Colosseum. Her friend Julia had been to a little place nearby called La Vecchia Roma.
Like many local places, the restaurant is open from 12:30pm to 3:30pm. Likewise, it will reopen again at 7:30pm and will close at 11pm.
Sophia orders "spaghetti al pomodoro" under the primi piatti or main course on the menu.
It costs less than €10 (about $12).
The pasta arrives, and Sophia takes a bite.
"I really like it," says Sophia. "Hhhmmm," she says, looking for the right word. "I would say it tastes fresh," she adds.
In other words, the famous red sauce you see in Italy would not be "Bolognese"!
So, how do you make this?
We love this "spaghetti al pomodoro" recipe by Manuela Zangara.
"This simple Pomodoro sauce is at the base of Italian cooking," says Zangara. "So much so that Italians refer to this dish simply as sugo, which means 'sauce.'"
It is delicious.
Penne all' Arrabbiata
So, penne, which means "pens" in Italian, is a popular tubular pasta.
Because of its texture, penne is generally kind of a heavy pasta, too.
However, it depends on the region!
So, penne all' arrabbiata, means "penne fit for a rage," which describes its spicy sauce.
That is because the recipe includes hot red peppers.
"I think it's delicious," says Jeffrey, a British tourist in Milan.
We are in a hole-in-the-wall type of place called Pasta à Gogo, just around the corner from the famous Piazzale Loreto.
However, this dish originated from Rome.
"It's not as spicy as I thought," smiles Jeffrey, as the menu indicated red-hot dot next to the dish.
Although served in small bowls, and either eaten standing or take away, the food at the place is delicious!
So, how do you make this at home?
Our favorite recipe is from Italian-American chef Mario Batali.
Ravioli con Ricotta e Spinaci
Although stuffed pasta is popular, ravioli is king.
The word means "little turnip."
Meanwhile, ricotta is the highly nutritious whey cheese, which has a high content of protein (something like 60%).
Because Italian food is very regional, the type of ravioli that is popular depends on the region.
However, the one with cheese and spinach, which originated in Rome, is very popular in today's Italy.
"Because it has ricotta, it is not popular with health-conscious people," says Giuseppe, a local chef. "For chefs like myself, who are into healthy cooking, we might choose cottage cheese," he adds. "Cottage cheese has half the calories and fat. Of course, it is not the same taste, but your health will thank you!"
On the other hand, for Italians like Rosa, a woman who describes herself traditional, it has to be cooked the original way.
"Without ricotta? No way!" Rosa says, confidently. "Then it is not the same dish," she puffs. "Why bother eating something like that without keeping it real?"
Margherita, the young woman at the clothing boutique that we had met earlier, says a compromise is in order.
"They are both right," she says. "However, I suggest eating the original recipe but with less amount," she adds. "Like I said before, it is all about the portions."
Therefore, like much of Italian food, it is up to the individual taste.
So, how do you make this?
Check out this family recipe by Anna Maria Volpi.
Lasagna Napoletana
So, the Neapolitan lasagna is truly an experience.
After all, Naples is where lasagna was born, as the oldest existing recipes are from there.
Meanwhile, this is not your average lasagna.
In fact, its full name is la gran lasagna di carnevale napoletana, which proclaims that it is a great carnival lasagna.
Try this lovely Neapolitan lasagna recipe by Carmelita Caruana.
Gnocchi al Castelmagno
Gnocchi is as varied as any other type of pasta. For instance, it can be thick or think, small or large, or soft or hard.
Likewise, the dough of these little dumplings can be of semolina, cornmeal, wheat, potato, or even breadcrumbs.
Of course, it can also be made in all kinds of ways.
"My favorite is gnocchi al castelmagno," says Luca, a banker from Turin. "My grandmother would make this every time I would visit her," he adds. "It was like our own little tradition. So, of course, whenever I have this type of meal, I think of her.
Castelmagno is a cheese from the Piedmont region, where Luca is from.
"The cheese is usually aged for 60 days," says Luca. "Most people from Piedmont will recognize this recipe."
The recipe calls for making the pasta, then sautéing it in a bed of castelmagno cheese, butter, and nutmeg.
"It has a unique taste that if you love, you can never forget," Luca says.
Other Types of Pasta
As you can imagine, there are tons of pasta types.
Popular ones we didn't even bother with include macaroni, fusilli, farfalle, tagliatelle, paccheri, mafaldine, and more!
Basically, there are types of pasta from every region in Italy.
Meanwhile, pasta can be regional and seasonal!
As a result, this was a chance to give you some of the "famous" ones.
Meat for the Main Course
Italians eat meat for the second course or secondi.
The meat can be pork, beef, chicken, rabbit, bird, or fish, and other sea meats.
Believe it or not, pork is the most common meat in Italy and not chicken or beef, as the United States.
Northern regions like Lombardy, Emilia-Romagna, Piedmont, and Veneto account for around 85% of pig farming.
"In some parts of the north, the pig shows up in everything," says Battista, who is from Florence. "When I was a little girl, my grandmother would use it in all things," she adds. "My grandmother was from the province of Belluno."
So, some northern regions will use lard as their cooking oils.
On the other hand, southern and middle regions use olive oil and different types of fats, such as butter.
Of course, as a country with a long coast, fish is also popular.
Meanwhile, there are different things to enjoy with meat and fish.
"Meat should always be the second course, and it should be eaten by itself or with vegetables," says Battista. "Definitely, never with pasta," she adds. "The concept of eating meat with pasta is totally non-Italian."
As you see soon, there is a diversity of the meats consumed in the Italian second course.
Braciole di Maiale
So, this is a pork chops dish that is as tasty as it sounds.
The braciole is pan-fried and are generally done so with the bone in.
"In classic braciole, tougher cuts of pork or beef are softened by a long, slow braise," explains Lorraine Fina Stevenski.
Initially Neapolitan, you can find it everywhere these days.
As you can imagine, different parts of Italy have different styles of making it.
However, when you hear "alla Napoletana" it means the original way of doing it.
To make it at home, you can try Stevenski's recipe (in the link above).
Spezzatino di Manzo
Beef stew from all over Italy that dates back to the 19th century.
In fact, no one knows exactly where this dish originated.
More interestingly, no one even knows if it was initially beef at all.
Lombardy-born Luisa Arico says, "I must confess that beef was only one of the meats used; horse and donkey meats also were the base of many a stew."
Nevertheless, it is delicious.
If you want to try making it at home, you might want to follow along with this recipe by Liz Macri.
Because it requires a 20-minute prep and 2 hours and 25 minutes of cooking, make sure you have enough time!
Cacciucco alla Livornese
This is a Tuscan fish stew.
"Some people think Tuscany is just a mountainous region," says Carla, who lives in the port city of Livorno. "They forget there are coastal towns and cities," she adds. "So, they are surprised to hear there are fish dishes here."
Fish stews are popular across Italy, especially in coastal regions.
Of course, different regions have different ways of making their fishes.
Livorno's fish stew is characterized by its heaviness, says Carla.
"It is poor people's fish stew, so you will find all types of fishes," she explains. "Don't expect the best kinds," she adds.
Carla says it has to do with the history of the city.
Livorno, also known as Leghorn in English, is ultimately a city of immigrants, says Carla.
For example, when the Catholics of Spain expelled the Jews under the Alhambra Decree, many Jews came to Livorno.
Meanwhile, thanks to being a duty-free port city, Livorno attracted a lot of people from all over Europe.
"Many poor people came here to change their fate," says Carla. "So, a dish like this was the perfect concoction of their experience."
How do you make this delicious dish?
Venezuelan-born reporter and Tuscan resident Flavia Cori shared a recipe that includes dogfish, squid, shrimp, and octopus.
Fegato alla Veneziana
Venetian liver dish that is actually popular with the locals!
"It must be a calf's liver," says Fabrizio, a chef who moved to Venice from Turin. "Calf's liver is very tender and so much more flavorful than a normal beef liver," he adds.
Meanwhile, the liver has a lot of essential nutrients, says Fabrizio.
"It is also very rich in protein, but it is low in calories," he explains. "This is why it is prevalent with people because it is healthy."
With butter, olive oil, sweet onions, and white wine, who would say no to such a thing?
It is impossible to go to a couple of restaurants without seeing it on the menu—it is that popular.
So, how do you make this Venetian dish?
Check out this recipe by Maria Teresa Jorge.
Coniglio alla Cacciatora
This is a rabbit made in the hunter's style.
So, cacciatora represents a style of cooking that you will find all over the country.
"It almost always includes onions and some types of herbs," explains Mario, a chef in Rome. "I would even say many regions will feature tomatoes and wine in their recipes," he adds.
However, in the Roman style, the hunter's style means there is no tomato in the recipe.
Mario, who is from a town outside of Rome, says rabbit meat is kind of popular.
After all, the Romans introduced rabbit meat to the rest of the world.
"Rabbit meat is leaner," he explains. "It has a gamy taste, too, which people like these days," he adds.
So, you want to make it at home?
Try this northern Italian style recipe by Filippo Trapella.
Piccione alla Folignate
The last meat dish on this list is a bird.
Seared pigeon.
Yes, pigeon!
Did you know that Romans offered pigeons to Venus, the goddess of love?
And what delicious meat these birds have.
"Pigeon meat comes from domesticated pigeon," explains Mario, the chef in Rome. "Because many people assume the meat comes from feral pigeon, they are afraid to try it," he adds. "Of course, the feral pigeon is dangerous. We don't know what they eat. However, the domesticated pigeon is perfectly safe."
Chef Mario says there are many pigeon "farmers" all over Italy, and it is easy to find the meat in supermarkets.
Of course, there are many types of piccione (pigeon) recipes across Italy.
Chef Mario recommends the Umbrian recipe that originated in the town of Foligno.
"They stuff it with other things, and they sear it on top of the stove," he explains. "It creates a certain taste when you do this, and so it is a lovely way to make it."
So, this recipe from Umbrian-born Gabriele Salari is excellent because it was a local chef who shared the family recipe.
Side Dishes for All
Italians eat their side dishes, known as contorno or contorni, after the meat.
Depending on the region, family, or individual taste, these side dish choices can be diverse.
For instance, it can be something very hearty such as potato or healthy such as salad.
"A typical modern Italian family will feature all types of side dish recipes," says Angelo, the chef from Venice. "What is important is to enjoy the dish," he adds. "Even if it is less than healthy, you don't have to overeat. That is the secret!"
As all things Italian food, it is about moderation, says the chef.
Parmigiana di Melanzane
This is a heavily debated dish.
For many, this dish is known as melanzane alla parmigiana, which can mean both "eggplant the Parmesan style" and "eggplant from Parma," the city in the north.
Of course, there is a group that vehemently defends this as Sicilian, too.
"Parmigiana is the Italianized name of parmiciana which, in Sicilian, means the lattice method of arranging the planks of wooden shutters," explains Francesca Re Manning. "As a matter of fact, the slices of aubergine (eggplant), which constitute the key and main ingredient of the dish, are disposed in layers transversally to each other."
On the other hand, the famous British chef Jamie Oliver says it is a "classic northern Italian recipe," and so goes the argument.
No matter how you make it, this is delicious!
This recipe by Rachel Roddy is fantastic!
Insalata di Patata alla Menta
Now we are getting into the hearty stuff.
Hearty recipes are genuinely the traditional Italian's most favorite side dishes.
"Salads are trendy in the summer," explains chef Mario, in Rome. "So, adding herbs is a good way to make use of seasonal items," he adds. "A popular salad herb is mint. Therefore, there are many alla menta or 'with mint' recipes."
Case in point, a deliciously hearty potato mints salad.
"Potato mint salads can satisfy both the heartiness and savory aspects," explains chef Angelo, from Venice. "We inherited this from the Lebanese, but they also add a lot of lemon to it, which we do not."
Meanwhile, this recipe, on top of the potatoes and mint, can feature red wine vinegar and minced garlic.
American chef Mary Ann Esposito shares a delicious recipe from her grandmother.
Dessert
So, as you have seen, the Italians love their sweets and many times start the day with such things!
Popular sweets include varieties of ice cream, biscuits, and cakes.
As a result, it would be highly unreal to share a group of Italian recipes without the famous delicious sweets.
Meanwhile, there is just one Italian dessert we will include in this list.
That is…
Tiramisù
Although its ingredients of Savoiardi, yolk, mascarpone, cocoa, and coffee come from diverse backgrounds, tiramisù is undoubtedly a Venetian sweet!
"It means 'cheer me up,' and it really does," explains chef Mario from Rome.
Mario says that this dish originated in Treviso, which is in the Veneto region of northern Italy.
This recipe by Natasha Kravchuk is yummy, so go along with the video and make yourself some tiramisu!
There you have it!
Now you can make some of these at home today!
Final Thoughts
Italian dishes are yummy!
So, in this article, you learned about Italian people and history, a little about their country, and a lot about their food!
You had the honor of getting first-hand information from Italian chefs, individuals, and travelers.
As a result, you could make any of these Italian dishes at home today.
Or, of course, another day, or you could make some today and others later.
Regardless, Italian food gives you a lot of options!
What are some of the things to keep in mind?
For example, that not everything you hear is "Italian" is actually Italian.
That Italians start with pasta.
No matter what, Italians eat their vegetables.
And, of course, you always make room for dessert.
Nina Walker is a food writer for Caravanzers.
Follow us on Pinterest.