The Kyoto Temple, which is a Zen Buddhist temple called Kinkaku-ji, is a landmark in Kyoto and and is well known across Japan.
Although tourists visit the place because it is beautiful, for many of us Japanese the building has deeper history.
Here is what we know.
Saionji Kintsune
Saionji Kintsune was a 13th Century poet in the waka (和歌) tradition, which is a type of classical Japanese poetry written in Japanese rather than in Chinese, the popular kanshi (漢詩).
In fact, this man was not a typical poet. He is considered one of the new 36 Immortals of Poetry or shinsanjūrokkasen (新三十六歌仙).
Kintsune was also very important in the Kamakura time (鎌倉時代), which is the period in Japan when the samurai ((侍) tradition started.
In other words, Kintsune was important in society in general and was very rich.
So, the place known today as the Kyoto Temple was in fact Kintsune's own home in his lifetime.
Of course, it is was not a normal home. It was known as kitayama-dai (北山第) and was quite famous.
Zen Buddhist Temple
About 100 years after the death of Kintsune, it was Ashikaga Yoshimitsu, the leader of the time, who purchased the home from the family.
Once that leader died, it was his son who had turned it into a Zen Buddhist temple.
It is believed it was the wishes of the father.
In other words, since the early 1400s it has been a Zen Buddhist temple.
By the way, there is a sister temple in Kyoto called the Silver Pavilion, which was a temple built by Yoshimitsu's grandson and was inspired by this temple.
Meanwhile, the name of the temple means Golden Pavilion temple, although that is not its official name. Instead, its official name is Deer Garden temple or rokuon-ji (鹿苑寺).
Tourism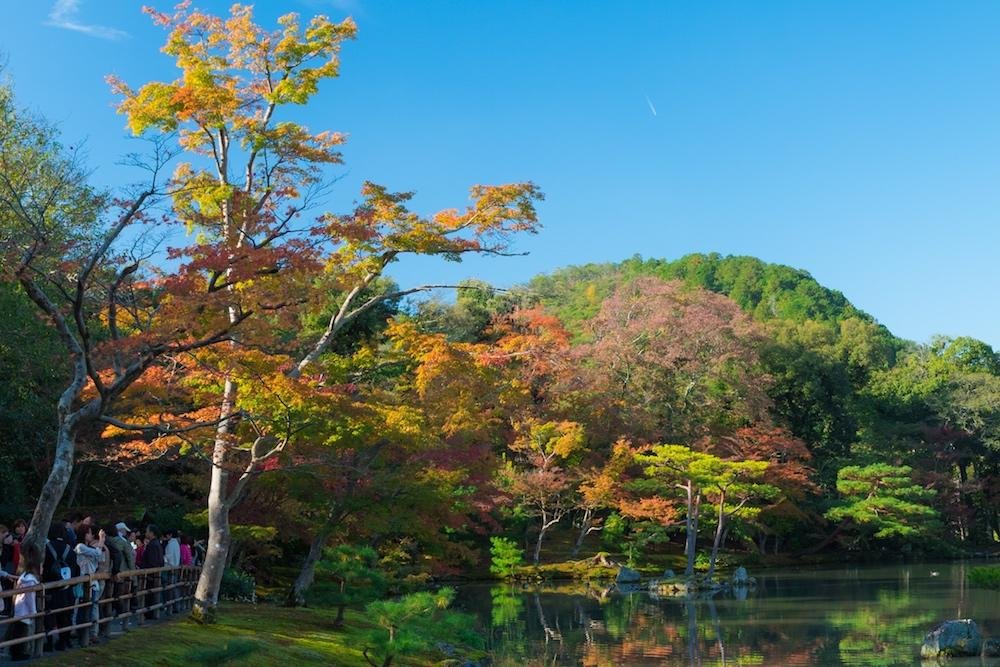 This temple is very popular with tourists.
First of all, the temple is beautiful. For example, in the Golden Pavilion building, the two top floors are completely in pure gold leaf!
So, that is enough reason to visit.
However, there are far more important reasons. For instance, the temple is part of the World Heritage Sites of Japan.
Because of its long history, it is an important icon of Japan.
That said, this is also a very beautiful complex.
As you can imagine, there are gardens and paths and beautiful trees!
It is the perfect place to meditate.
Therefore, anyone who visits the city or country should definitely try their best to see it.
How to Visit
Because of its history and status, this is not a temple you can just go in and take selfies.
However, it is a place you really should visit.
To do that, head to the Kita district of Kyoto, where the temple is located.
For example, you can take the subway to Kita-oji station. Once you reach the station, you can take a taxi, bus, or just walk the 1.7 mile (or 2.7 kilometer).
If you decide to take the bus, you can take the 101, 102, 204, 205, and the M1 buses.
To enter the complex, you need to pay 400 yen, which is about $4.
Once you're doing with the temple itself, there is a souvenir shop, as well as a tea garden shop.
For more Japan stories, Click Here.
Yuri Takahashi writes about Japan for Caravanzers.