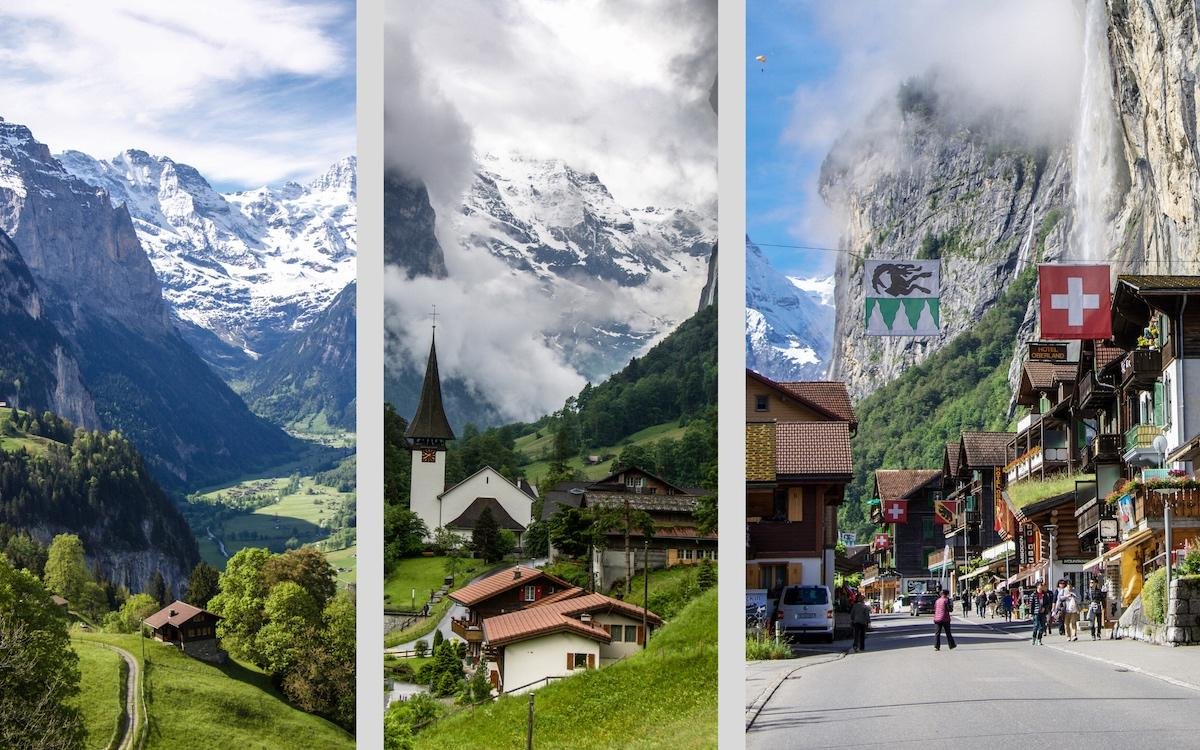 Lauterbrunnen Valley is an incredible place in the Swiss Alps that one must visit at least once in their lives.
However, there is good news. Once you do visit, there is almost a guarantee that you will return many times!
Yeah, it is that beautiful.
So, we put this together to help you learn more about it. And, hopefully, you too can now experience what it is like to visit the place.
Here we go!
Lauterbrunnen Valley
Lauterbrunnen Valley, called lauterbrunnental in German, is in the Swiss Alps, around 40 miles (or 65 km) southeast of Bern.
Because of the location, Lauterbrunnen Valley is therefore part of the Bernese Alps.
In other words, it is part of the Swiss Alps Jungfrau-Aletsch UNESCO-World Heritage Site.
So, because mountains like Jungfrau, Eiger, and Monch surround the valley, the valley is gorgeous.
For example, it is home to a lot of water (there are around 70 waterfalls!). It could be the reason the meaning of the name is "pure spring" in German.
"I was at the Trümmelbach Falls and I had a headache," says Moritz, a German student. Moritz traveled through the region a few summers ago. "By the time we finished touring the first fall I felt completely better!"
He says there is something about the sound that he found soothing.
In other words, you will feel very relaxed here!
Trümmelbach Falls is home to 10 falls and is very popular with tourists.
Likewise, the area is home to Staubbach, which is the highest free falling waterfall in the entire country.
Hey, you're in the Swiss Alps!
Beautiful Seasons
Meanwhile, there are different kinds of vibes in the different seasons.
"I drive through the area," says Anna, whose husband works in the nearby Rhône River Valley vineyards in the Canton of Valais. "It is beautiful all seasons of the year," she adds.
For instance, Anna notes that the spring has a fragrant atmosphere to it, as the spring flowers bloom. The meadows will often feature popular flowers like the edelweiss flower, which is the national flower of this gorgeous country.
Likewise, fall season brings a lot of color, as the trees begin to shift due to the cooler weather! It is a moment of what goes up must come down, because the ground is full of yellow, orange, and red colored leaves.
On the other hand, Lauterbrunnen is a perfect place to escape to from the summer heat, as it gets to about 65 degrees (or 20 Celsius) maximum. Of course, the stairs to the tall Staubbach waterfall also open in the summer, which is a great reason to visit!
However, it is through the winter season that you really appreciate this majestic valley, as the snow covered mountains make it a perfect Swiss Alps postcard-like.
"The area is a good place to sled," says Anna, who adds that it is perfect for families. "And, of course, there are a lot of winter sports in general."
So, yeah, it is happening all year long!
Hiking
As previously mentioned, there are different things you can expect in different seasons.
One of the top things to do is to hike.
And, don't worry, it is not as scary as it sounds to hike in the Swiss Alps!
"Scout's honour: the hikes in the Jungfrau Region are much more comfortable and are really no bold feat," says the official tourism office, the Lauterbrunnen Tourismus.
After all, hiking was exactly what a teenager J.R.R. Tolkien did in the early 1900s. Because of his trip, the inspiration behind the famous snow-covered The Hobbit universe that appear on the cover of the original book is very clear.
So, yeah, get ready to be inspired.
Food Tours
Meanwhile, if you're into food, perhaps after a long hike you can stop by a local restaurant and try the local food.
Switzerland in general has great cuisine, however, some of the best dishes can be found here.
For example, the rösti, a hash brown-type side dish that originates in this area of the country.
"I had it with sunny side eggs and cheese," says Moritz.
Moritz had it the traditional way: with the rösti on the bottom, topped with eggs and cheese, slice of tomato, and pickles!
However, sometimes it is also served with bacon or other types of sliced meats between the egg and the fried potatoes.
Delicious!
Other dishes to try include the raclette, which is a warmed up cheese that is often served with potatoes and pickles. One rumor is that the raclette originates from the Canton of Valais.
Meanwhile, fondue is another dish you must try, which is a cheese dish made with wine that ends up being stringy and is enjoyed with pieces of bread!
Fondue originated from the Canton of Zürich, although it is highly debated!
Finally, try the bündner nusstorte, which is a walnut cake of sort. This cake originates from the Canton of Graubünden.
Anna recommends talking to whatever village you're hanging out and asking them what food you should try, because some villages have their own unique stuff!
Cool Activities
The whole region gives you tons of stuff to do in the winter!
Thomas "Tom" Durrer, who manages the tourist office, says he was raised in the area and now has his family there.
"I still live here and really like the valley," says Durrer, who posts beautiful images of the area on his Instagram account. He adds, "I have three kids. I am happy that my kids can grow up in such a beautiful place with intact nature."
So, there are tons of family activities, too.
For example, one fun family activity in the winter is tobogganing through this beautiful area. If you do it officially, you do the Sulwald – Isenfluh – Lauterbrunnen route, which means you will use a wooden toboggan!
Likewise, you can do a winter hike with or without family.
For instance, the Lauterbrunnen – Stechelberg route takes about 2 hours and will have you go through around 4 miles (or 7 km) of gorgeous snow-covered trails.
So, what are other winter fun you can do?
Try, for example having fun ice skating at the (artificial) ice rinks around such as the famous Ice Magic in Interlaken.
Of course, there is also a lot of skiing. Duh, you're in the Alps!
What else is there to do?
How about some gemel-ing?
What is gemel?
It is a 3-wheeled fun biking through the alps!
Just watch this video and you will see.
"You really feel like a kid again," laughs Moritz.
Of course, there is so much more. For example, you could do air paragliding, skydive, kayak, take electric bike tours, and even take a helicopter for a lovely proposal atop the mountains.
Resorts
Like many parts of the Alps, Lauterbrunnen is home to some cool resorts.
So, after hiking all day, or skiing all day, or doing any of the many nice activities all day, you would want to kick back and relax.
Therefore, a nice massage at one of the resorts will be perfect!
"Guests can indulge in a pampering treatment at the hotel's full-service spa," say folks at Eiger Mürren Swiss Quality Hotel. "A variety of treatment therapies are provided, including reflexology."
Imagine, your poor feet being massage after a long day of sightseeing.
Oh, yes, doesn't that sound so good?
Meanwhile, there are many other resorts and hotels that have spas, as well as massage companies, including one ayurveda or Indian style massage company!
So, make sure to include a budget for pampering when you head to the Lauterbrunnen Valley!
Conclusion
The beauty of Lauterbrunnen Valley is undeniable.
So, the most important thing is to know what you want and when those activities are happening.
For example, if you want to see meadows that are full of pretty flowers, as you walk through the valley, then head there in the spring.
However, if you intend to take advantage of what the Alps are famous for, which is skiing and other winter activities, then head there in the winter.
Of course, this valley is also perfect as a weekend gateway from European capitals that are heating up in the summer, because it is cool there in the summer!
In other words, you can't go wrong when it comes to Lauterbrunnen Valley!
AJ Paris is a travel photographer based in New York. He is the editor of Caravanzers.