London travel means a rich experience of history, iconic landmarks, and cultural diversity in the British city.
Travelers love coming here because this is a city that definitely does not disappoint. No matter where you come from, chances are London will have something that will wow you.
Join me on a virtual journey and discover the best times to visit, ideal neighborhoods to stay in, and must-see attractions.
But it's not just about ticking off tourist sites. Experience the essence of London by savoring traditional British cuisine, exploring local markets, and joining cultural experiences.
Are you ready? Let's begin our London exploration!
London Travel Basics
Travelers from all over the world flock to London, but there are a few things to keep in mind before you go.
Depending on your nationality, you may need a visa to enter the United Kingdom, which includes London. It's important to check the visa requirements specific to your country before traveling.
London operates on Greenwich Mean Time (GMT) during standard time and British Summer Time (BST) during daylight saving time. GMT is 0 hours ahead of Coordinated Universal Time (UTC+0), while BST is UTC+1.
Heathrow, Gatwick, and Stansted are three of the major airports serving London, providing gateways to the city and connecting travelers to destinations around the world.
Each airport has its own unique characteristics and facilities. So, make sure to decide which one you will use in advance.
The currency used in London, as well as the rest of the United Kingdom, is the British Pound Sterling (£). It's a good idea to exchange some currency before your trip or withdraw cash from ATMs once you arrive.
London has an extensive and efficient public transportation system that includes the London Underground (also known as the Tube), buses, and trains. There are also plenty of rideshare companies here.
Remember to research and stay informed about any recent updates or changes regarding any of your requirements. This will help ensure a smooth and enjoyable trip to the vibrant capital city of the United Kingdom.
When to Go to London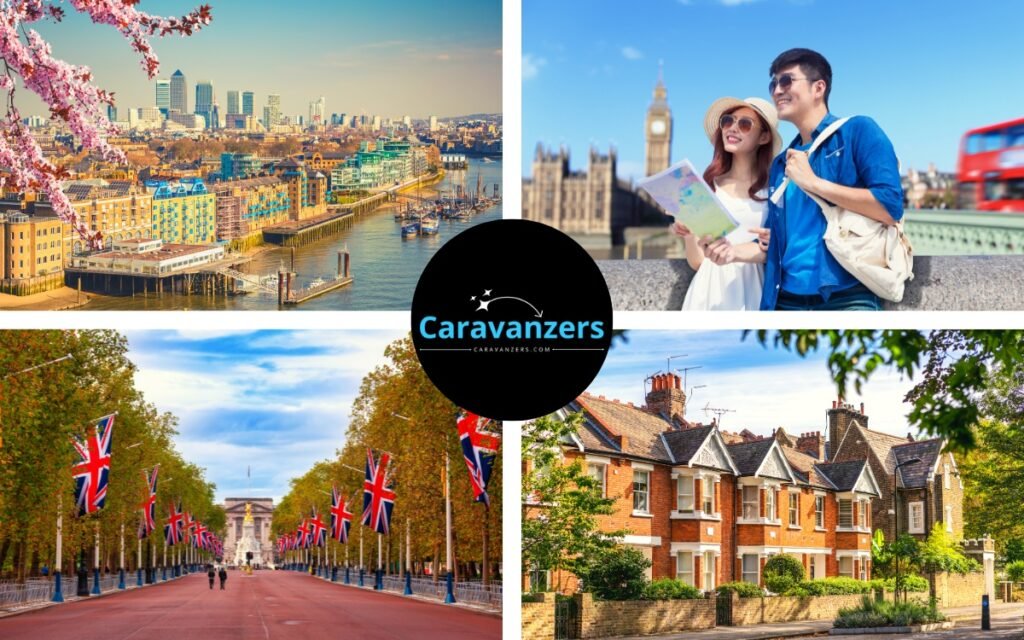 London is a vibrant city with something to offer year-round, but the best time to visit depends on your preferences and what you're looking to experience.
Let's break it down!
If you're a fan of mild weather and fewer crowds, spring (March to May) can be an excellent time to explore London. You'll witness the city come alive with blooming flowers, and the temperatures are generally pleasant.
Summer, which is from June to August, is the peak tourist season in London, as the city welcomes visitors from all over the world. The city is warm and hosts various festivals, events, and outdoor concerts during this time.
The fall season, called Autumn in the United Kingdom, goes from September to November. Autumn offers a mix of mild weather and the changing colors of leaves, creating a picturesque atmosphere.
Winter (December to February) brings colder temperatures to London. While the weather may be chilly, the city's festive spirit is at its peak during the holiday season. You can experience the magic of Christmas markets, for example.
Keep in mind that London's weather can be quite unpredictable, so it's always a good idea to pack some layers and an umbrella regardless of the season.
Basically, the best time to visit London depends on your personal preferences, desired activities, and tolerance for crowds.
Where to Stay in London
Finding the best area to stay in London depends on the specific needs and preferences of different types of travelers.
Let's explore some options!
For couples seeking a romantic getaway, areas like Covent Garden and South Bank offer a charming ambiance. Covent Garden is known for its lively atmosphere, and South Bank has stunning views of the River Thames and iconic landmarks like the London Eye.
Families may find areas like Kensington and Greenwich ideal for their stay. Kensington is home to numerous family-friendly attractions, such as the Natural History Museum, and Greenwich offers a more relaxed atmosphere.
Seniors might appreciate staying in areas like Mayfair or Marylebone. Mayfair exudes elegance and sophistication, and Marylebone is known for its tranquil streets.
Solo travelers often enjoy the vibrant and eclectic atmosphere of areas like Shoreditch and Camden Town. Shoreditch is known for its street art, and Camden Town offers a mix of alternative scenes.
Remember, as noted previously, that London has an extensive transportation network, so even if you choose to stay in a particular area, it's easy to explore other parts of the city.
What to Eat in London
London is a culinary paradise that offers a diverse range of cuisines to satisfy every palate.
Let's delve into the food scene and explore some delicious options!
When it comes to British cuisine, classic dishes like fish and chips, hearty meat pies, and a traditional English breakfast are not to be missed. You can find these specialties in pubs and local eateries throughout the city.
London's multicultural population brings an array of Commonwealth nations' cuisines to the table. You'll find fantastic Indian food, Caribbean cuisine favorites, and African flavors.
For those craving European flavors, London offers an incredible array of choices. You can enjoy Italian eateries and explore French bistros, and Spanish tapas bars are abundant.
London's culinary landscape is also dotted with global spots representing diverse cuisines. Chinatown is a haven for lovers of Chinese food, and the city's Middle Eastern eateries serve up aromatic numbers and Japanese sushi bars.
You will also find Thai street food joints, and Vietnamese pho shops, among many others.
Don't forget to explore London's vibrant street food scene, with markets like Borough Market and Camden Market offering a treasure trove of culinary delights.
London truly caters to every taste bud, blending traditional British fare with Commonwealth influences, European delights, and global flavors.
What to Do in London
London offers a plethora of activities and attractions that cater to different types of travelers.
Let's explore some options based on different traveler profiles!
For couples, London presents a romantic backdrop with numerous opportunities for memorable experiences. Visit beautiful parks such as Hyde Park or Regent's Park for a relaxing picnic or romantic boat ride.
Families will find an abundance of family-friendly activities in London. Explore the world-famous British Museum or the Science Museum, where kids can engage in interactive exhibits and learn while having fun.
Seniors can enjoy the cultural richness of London at their own pace. Take a leisurely river cruise along the Thames, admiring the city's landmarks from a different perspective.
Solo travelers can embrace the vibrant and diverse atmosphere of London. Attend a concert or live performance at one of the city's renowned music venues like the O2 Arena or the Royal Albert Hall.
London's rich cultural heritage, world-class museums, bustling markets, and lively entertainment scene ensure that there is always something for everyone.
That said, the following are specific tourist spots.
Tower of London
The Tower of London stands as a historical fortress and iconic landmark.
With a history spanning nearly a thousand years, it has served as a royal palace, a prison, and a treasury.
Step inside its walls to explore the Crown Jewels, discover tales of intrigue and execution, and marvel at the impressive architecture.
Don't miss the chance to witness the famous Ceremony of the Keys, a centuries-old tradition that takes place every night to secure the tower.
British Museum
The British Museum stands as one of the most remarkable museums worldwide, showcasing a phenomenal assemblage of artwork and artifacts spanning the globe.
It takes visitors on a captivating voyage through the annals of human history, with treasures ranging from ancient Egyptian mummies and the iconic Rosetta Stone to the majestic Elgin Marbles.
Roam the expansive galleries and delve into the captivating narratives and diverse cultures that have shaped our civilization.
Don't miss the awe-inspiring Great Court, adorned with its breathtaking glass roof, an architectural masterpiece that leaves a lasting impression on all who behold it.
Buckingham Palace
Buckingham Palace, the official residence of the British monarch, stands as a timeless emblem of royalty.
Experience the grandeur by witnessing the awe-inspiring Changing of the Guard ceremony, a magnificent showcase of precision and age-old tradition that unfolds right outside the palace gates.
In the summer, venture into the State Rooms, where lavish royal ceremonies take place.
Marvel at the opulent furnishings, exquisite artwork, and majestic architecture that radiate the splendor of the British monarchy.
Step into a world of regal elegance as you immerse yourself in the captivating ambiance of Buckingham Palace.
The British Library
The British Library is a haven for those who adore books, standing as the largest national library globally.
Within its walls reside a vast array of literary treasures, from books and manuscripts to maps and historical documents.
Among its illustrious collection lie iconic pieces such as the Magna Carta and original manuscripts penned by literary luminaries like Shakespeare and Jane Austen.
Immerse yourself in captivating exhibitions that offer profound insights into the realms of literature, history, and culture.
Wander through the cherished collections, find solace in the reading rooms, and bask in the intellectual ambiance of this literary sanctuary.
Neighborhood Walk in Notting Hill
Notting Hill, a picturesque neighborhood in London, invites you to take a leisurely stroll through its enchanting streets.
Immortalized by the beloved Julia Roberts movie of the same name, Notting Hill boasts a unique charm and vibrant character.
Lose yourself in the colorful houses, quaint cafes, and stylish boutiques that line Portobello Road.
Explore the renowned Portobello Market, where you can uncover vintage treasures, antiques, and delectable street food.
Embrace the neighborhood's artistic side by visiting the Electric Cinema or browsing the contemporary art galleries.
With its delightful blend of bohemian atmosphere and cinematic allure, Notting Hill offers an unforgettable experience that captures the essence of London's eclectic spirit.
London Travel Story
Let me tell you the travel story of Amit, a middle-aged man from India who held a lifelong dream of visiting London.
Finally, the stars aligned, granting him the long-awaited opportunity to embark on his journey to the British capital.
Amit's experience in London surpassed all expectations. He delighted in exploring the renowned tourist sites that had previously only adorned his imagination.
"After I went for a walk the first morning, I cried," Amit says. "People were looking at me strangely, but I didn't care!"
Yet, what made Amit's trip truly extraordinary were the connections he formed with both the local community and fellow travelers. He encountered fellow Indians who had made London their home, forging friendships that transcended borders.
Acknowledging that traveling to London can be a significant investment, Amit advises future travelers to plan ahead. He suggests booking airfare and accommodations well in advance, ideally starting the search a year ahead of the planned trip.
Amit also recommends visiting London during non-peak seasons to enhance the experience. By avoiding the busiest times of the year, travelers can enjoy fewer crowds, potential discounts, and a more relaxed exploration of the city's charm.
Having fulfilled his lifelong dream, Amit is already planning his return to London. The city has become a cherished place in his heart, a testament to the power of dreams realized.
Amit's story serves as an inspiration, reminding us that with determination, careful planning, and an adventurous spirit, dreams can indeed become a reality.
Final Thoughts
As our journey through London comes to a close, I hope you've enjoyed uncovering the hidden gems and unraveling the traveler secrets I've shared with you.
London, with its rich history, iconic landmarks, and vibrant cultural tapestry, offers an experience like no other.
As you venture into planning your own trip to this bustling energy of the city, I hope you will enjoy it as much as I did.
The final piece of advice that I will leave you with is to think outside the box. London is an old city of thousands of years, but you can leave your own imprint… like Amit did!
Thank you for joining me on this journey, and safe travels!
Sebastian Clark is a traveler from the UK and writes about Europe for Caravanzers.
Follow us on Pinterest.