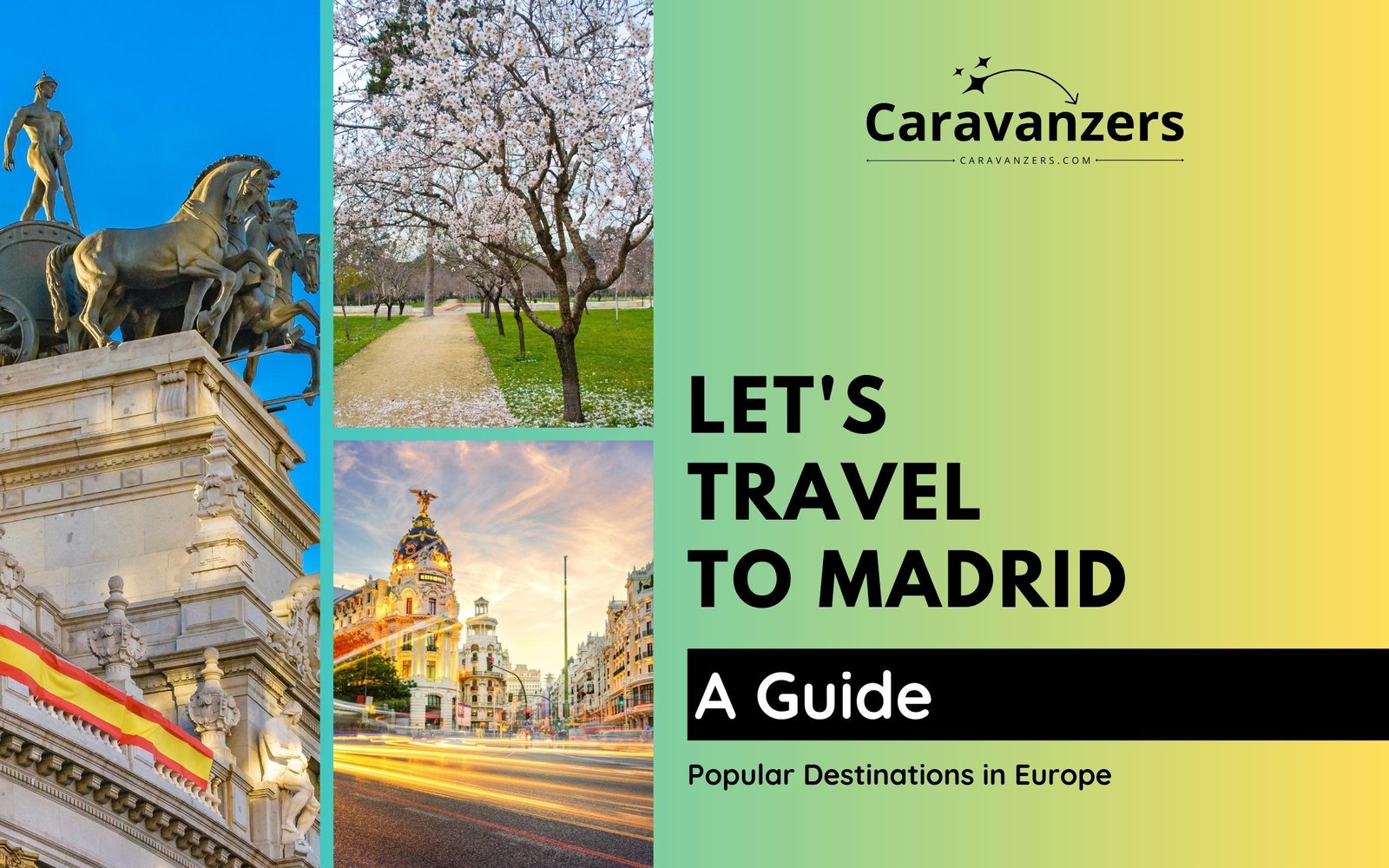 Madrid travel means an experience you probably will never forget because this Spanish city is a top destination in Europe for a reason.
I'm thrilled to share all the insider tips and secrets about this vibrant city that holds a special place in the hearts of travelers worldwide.
Throughout this guide, I'll be your virtual travel buddy, taking you on a trip through Madrid. From when to go and where to go to what to do and see, I've got you covered.
So, are you ready to go on this Madrid adventure with me?
Get ready to discover the sights, sounds, flavors, and magic that make Madrid an unforgettable destination.
Let's go!
VIDEO – Madrid Travel
Madrid Travel Basics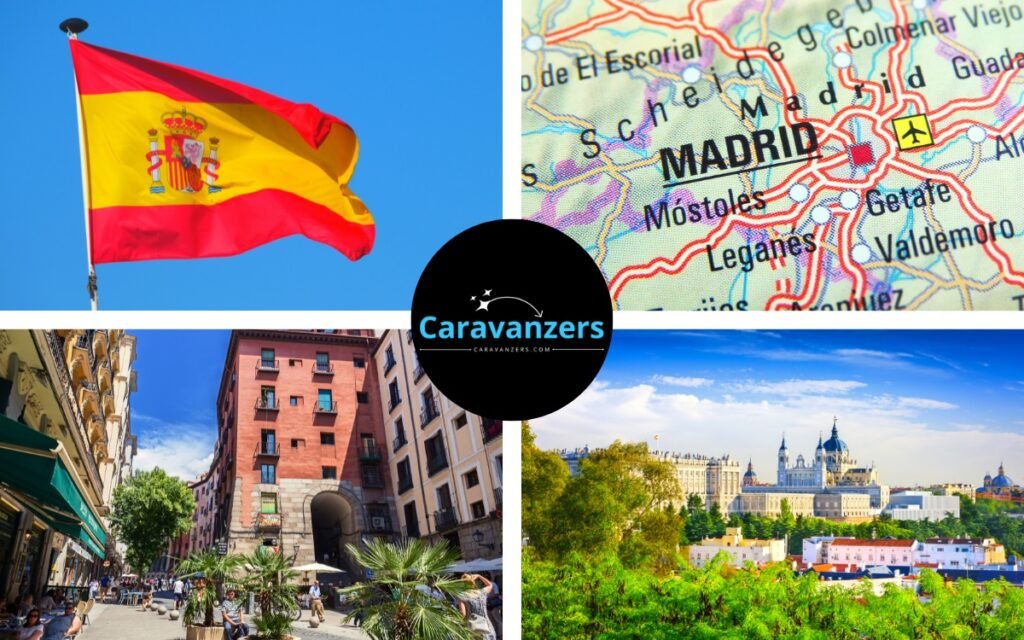 Madrid is the vibrant capital city of Spain, known for its rich history, cultural heritage, and lively atmosphere.
As a major colonizer in South America, Spain takes visas seriously. I would say it's important to check the specific requirements based on your nationality.
Madrid operates on Central European Time (CET), which is UTC+1 during standard time and UTC+2 during daylight saving time.
The city is served by several airports, but the main one is Adolfo Suárez Madrid-Barajas Airport (MAD). It's one of the busiest airports in Europe and offers numerous international and domestic flights.
Madrid's airport is about 11 miles (17 km) from downtown, and it takes about a good 20 minutes in a taxi. By the way, the airport has a flat fee for taxis, and it's currently €20.
The currency in Spain is the Euro (EUR). You'll find plenty of ATMs and currency exchange offices in Madrid where you can withdraw cash or exchange your currency, and credit cards are widely accepted in most places.
Transportation within Madrid is convenient and efficient. The city has an extensive public transportation network that includes the metro, buses, and trains. There are also a lot of rideshare and private options.
I hope this gives you a good overview of Madrid, and if you have any more specific questions or need further assistance, feel free to reach out!
When to Go to Madrid
Although the best time to visit Madrid depends on your preferences and what you're looking to experience during your trip, this is a city that truly is happening all the time.
Madrid has a Mediterranean climate, which means it generally enjoys mild (but cold) winters and hot summers.
If you're someone who loves sunny and warm weather, then the summer months from June to August would be ideal for you.
During this time, Madrid comes alive with outdoor festivals, vibrant street life, and numerous cultural events.
Keep in mind, though, that the summer season is the busiest here, and you will kind of have to be patient with everything.
That includes tourist attractions, restaurants, and so on.
Spring (March to May) and the fall season (September to November) are also popular times to visit Madrid. The temperatures during these seasons are generally pleasant, ranging from mild to warm.
These are by far the easiest seasons to visit because both spring and fall have less traffic, and the locals aren't as sick of tourists.
If you prefer colder temperatures and fewer crowds, winter (December to February) can be a good time to visit Madrid. Winter is a busy season with festivities, too.
Christmas is one of my favorite times in Madrid, and if you can get into the season, there will be so many amazing things to experience.
Basically, whether you enjoy warm weather, vibrant festivals, or a quieter atmosphere, consider the season that aligns with your interests and plan accordingly.
Where to Stay in Madrid
When it comes to choosing the best neighborhood to stay in Madrid, the city offers a variety and each with its own unique atmosphere and attractions.
For couples seeking a romantic and vibrant atmosphere, neighborhoods like Sol and Huertas are great options. Sol is the heart of Madrid, with its bustling streets, and Huertas, also known as Barrio de las Letras, is charming and cozy.
Solo travelers looking for a lively and happening neighborhood might enjoy Malasaña. This trendy and bohemian area has alternative fashion, eclectic bars, and vibrant nightlife. I would say it is a hub for creative types.
For seniors or those looking for a quieter and more relaxed neighborhood, Salamanca is an excellent choice. With its upscale shops, elegant architecture, and wide tree-lined streets, this neighborhood has a more refined and peaceful ambiance.
These are just a few examples of neighborhoods in Madrid that cater to different preferences, but the best neighborhood for you depends on you. Your personal interests, whether it's history, nightlife, shopping, or a peaceful retreat, will dictate where you eventually stay.
What to Eat in Madrid
In Madrid, you can eat local, national, and international foods. Madrilenian cuisine delights food lovers with vibrant flavors and traditional dishes.
Try the iconic cocido madrileño stew, indulge in savory tapas like patatas bravas (crispy potatoes topped with a spicy tomato sauce) and gambas al ajillo (succulent garlic shrimp). and savor churros con chocolate.
Pair your meal with Spanish wines for an unforgettable dining experience.
Meanwhile, you have the opportunity to enjoy Spanish dishes from various regions across the country. Two notable dishes that you can savor right in Madrid are paella and gazpacho.
Paella, originating from the region of Valencia, is a delicious rice dish cooked with a variety of ingredients such as chicken, rabbit, seafood, and vegetables.
The gazpacho is a refreshing cold soup made with ripe tomatoes, cucumbers, bell peppers, garlic, olive oil, and vinegar. This is originally from the Andalusian region in southern Spain.
For international flavors, you will find everything from European cuisines to other global ones like Chinese, Indian, and even African!
So, yeah, tons to taste in Madrid.
What to Do in Madrid
Madrid has a wide range of tourist attractions and activities that cater to different interests and age groups.
For couples, a romantic stroll through the beautiful Retiro Park is a must. You can rent a rowboat on the park's central lake or simply find a cozy spot to have a picnic together.
Another romantic spot is the Debod Temple, an ancient Egyptian temple relocated to Madrid. It has a lovely view of the city and is particularly enchanting at sunset.
Singles looking to mingle and experience Madrid's vibrant nightlife should head to the Malasaña neighborhood, even if you aren't staying there. This trendy area is known has lively bars, clubs, and live music venues.
La Latina is another neighborhood worth exploring, famous for its tapas bars and vibrant atmosphere. I would say this is a great area to socialize and immerse yourself in the local culture.
Seniors might enjoy visiting Madrid's world-class museums, such as the Prado Museum, which houses an extensive collection of European art. You will find works by masters like Goya, Velázquez, and El Greco. For a more leisurely activity, you can take a stroll along Gran Vía, one of Madrid's main avenues.
Chueca is a vibrant and inclusive neighborhood in Madrid that has become a symbolic hub for the LGBTQ+ community.
This neighborhood has a lively atmosphere with a multitude of queer-friendly bars, clubs, and shops, making it a popular destination for LGBTQ+ tourists seeking a vibrant and welcoming environment.
Other popular tourist attractions for all include visiting the Royal Palace, exploring the historic district of Madrid de los Austrias, and taking in the panoramic views from the rooftop terrace of the Circulo de Bellas Artes.
These are just a few examples of the many tourist activities available in Madrid.
Day Trips from Madrid
If you're looking to explore beyond Madrid and take some day trips, you're in luck! There are several fascinating destinations near the city that make for great excursions.
One popular day trip option is Toledo, often referred to as the "City of Three Cultures." This nickname comes from its historical significance as a melting pot of Christian, Jewish, and Muslim cultures.
Toledo is a UNESCO World Heritage Site with medieval architecture, narrow winding streets, and stunning views of the Tagus River.
This destination is only an hour away by driving or about 40 minutes on the train.
Another fantastic day trip is to Segovia. This city is famous for that iconic Roman aqueduct dating back to the 1st century AD.
If you are an adventurous eater, don't miss the opportunity to savor Segovia's specialty dish, cochinillo (roast suckling pig). This is a true culinary delight.
Segovia is about an hour northwest of Madrid, and the train will take about 40 minutes.
Meanwhile, if you're interested in royal history, a visit to the Royal Monastery of San Lorenzo de El Escorial is something to add to your list.
This is about an hour outside Madrid, and the monumental complex is another UNESCO World Heritage Site and served as a residence, royal burial site, and monastery.
For nature lovers, a day trip to the stunning Sierra de Guadarrama National Park will give you breathtaking landscapes and outdoor activities.
This is just north of Madrid, and the mountain range has opportunities for hiking, biking, and even skiing during the winter months.
So, yeah, tons of day trips to keep you feeling like your trip is never-ending.
7-Day Madrid Itinerary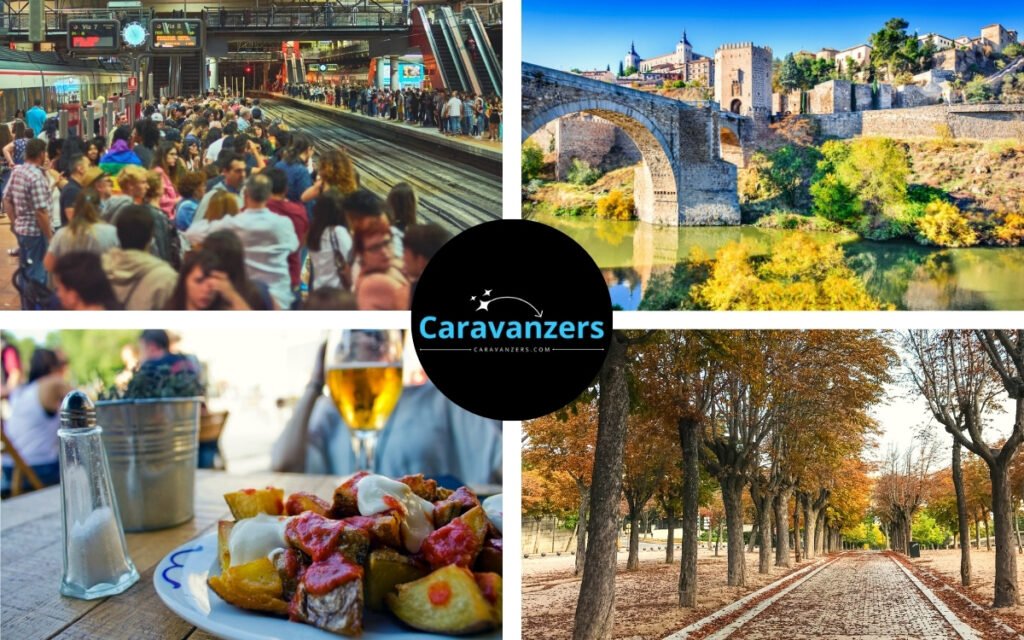 Spending seven days in Madrid gives you ample time to delve deep into the city's rich culture, history, and vibrant atmosphere. Here's a suggested itinerary to make the most of your week in Madrid.
On your first day, start by exploring the historic center of Madrid, including the iconic Puerta del Sol, Plaza Mayor, and the bustling streets of Gran Vía.
On day two, dedicate your time to art and culture. Begin with a visit to the world-renowned Thyssen-Bornemisza Museum, which showcases a vast collection of art spanning different periods.
Day three can be dedicated to exploring Madrid's diverse neighborhoods. Visit the elegant streets of Salamanca, known for high-end shopping and beautiful architecture.
For a change of scenery on day four, take a day trip to Toledo. Discover the city's rich history and admire its stunning medieval architecture.
On day five, venture to Segovia and marvel at its impressive Roman aqueduct and fairytale-like Alcázar. Explore the city's narrow streets, visit the magnificent Segovia Cathedral, and indulge in the traditional food.
Day six can be dedicated to relaxation and nature. Visit the beautiful Retiro Park and rent a rowboat or simply find a cozy spot for a picnic.
Finally, on your last day, take a morning trip to the Royal Monastery of San Lorenzo de El Escorial. Explore this grand complex, including the royal chambers, the Pantheon, and the beautiful library.
This itinerary gives you a chance to experience the best of Madrid's history, art, culture, neighborhoods, and nearby destinations, meaning a well-rounded and memorable week in this dynamic city.
Madrid Travel Story
Valentina, a Colombian woman with a heart full of memories and love for her late mother, embarked on a month-long journey to Spain to fulfill her mother's unfulfilled dreams.
As she stepped into Madrid, a warm breeze brushed against her face, reminding her she definitely wasn't in Bogota anymore.
With her senses awakened, Valentina's days were filled with sensory delights as she explored Madrid's treasures.
"I saw and experienced everything my mother talked about for decades," she says.
Throughout her journey, Valentina made sure to savor the flavors of Spain, indulging in the country's culinary delights. She says you must try the tapas.
Valentina realized that by booking her trip in advance and shopping around for the best deals, she had been able to maximize her experiences.
"I could only immerse myself in the things my mother had always longed to savor because I booked almost a year in advance," she says.
She also recommends hunting down guesthouses, known locally as "pensión," months before you need to be there, saying it will save you a lot of money.
In each experience, Valentina found solace, knowing that her journey was a heartfelt tribute to her mother's dreams.
Final Thoughts
As we wrap up this Madrid travel guide, I wanted to take the time and say that I really hope you're feeling inspired and excited to come to this amazing city.
Whether you're drawn to Madrid's rich history, vibrant neighborhoods, or mouthwatering cuisine, I know for a fact that there always is something for everyone to enjoy.
Remember to breathe because, from the moment you step foot in Madrid, you'll be immersed in a world of culture, art, and vibrant energy.
So, my fellow traveler, it's time to pack your bags, grab your camera, and get ready to create memories that will last a lifetime.
Safe travels!
Sebastian Clark is a traveler from the UK and writes about Europe for Caravanzers.
Follow us on Pinterest.