Mediterranean cruise is one of the most popular experiences of its kind, allowing you to travel in several popular countries in one trip.
Are you curious about taking a cruise but unsure of where to begin?
Worry not!
This guide has all you need to know, including the best cruise lines, average prices, and top departure ports.
I've got you covered whether you're a newbie or a cruise pro, so get ready to plan your dream Mediterranean adventure.
VIDEO – Mediterranean Cruise
Mediterranean Cruise Travel
Exploring Southern Europe and the Eastern Mediterranean can be a great way to travel, with a Mediterranean cruise providing the perfect opportunity to discover the diverse countries and cultures of the region.
What countries are on a Mediterranean cruise? Depending on the itinerary, popular ports of call could include Spain, France, Italy, Greece, Croatia, Turkey, and Egypt. Each of these incredible destinations has its own unique history, architecture, and cuisine to explore. This means your trip will be an unforgettable experience.
From ancient ruins to stunning beaches and delicious food and wine, there's something to appeal to every traveler on a Mediterranean cruise.
Meanwhile, some basics to keep in mind are having an up-to-date passport and making sure you are aware of any visa requirements.
Likewise, make sure to think ahead in regards to mobile internet, especially if you intend to get off the ship.
Finally, plan for any emergencies and invest in travel health insurance!
Mediterranean Cruise Lines
It can be tough to choose the best Mediterranean cruise when there are so many fantastic options to choose from!
What is the best Mediterranean cruise? Popular choices for Mediterranean cruises include the Norwegian Epic, MSC Seaview, and Royal Caribbean's Jewel of the Seas. These sailings offer plenty of onboard activities and amenities, as well as visits to various Mediterranean ports. They are also global, and booking is easy.
For a more exclusive and upscale experience, small luxury cruise lines such as Azamara and Regent Seven Seas may be worth considering.
Whether you're looking for a luxurious experience, an exciting journey, or a budget-friendly option, there's a cruise for you. There are so many that you're bound to find one that will suit your personal preferences, budget, and travel style.
Mediterranean Cruise Prices
Mediterranean cruise prices are like everything else in the world because it all comes down to what you really need and don't mind paying for.
What is the cheapest month to go on a Mediterranean cruise? If you're searching for a bargain on a Mediterranean cruise, the most cost-effective time to travel is usually during the off-season, spanning from October to April, excluding holiday periods such as Christmas and New Year's. It's worth it!
During the off-season, you may be able to find discounted fares and lower prices on shore excursions and other activities.
That said, bear in mind that the weather might be chillier, and certain attractions may be closed during the off-season.
So, it's essential to investigate and consider the pros and cons before booking your cruise.
Departure Ports for Mediterranean Cruise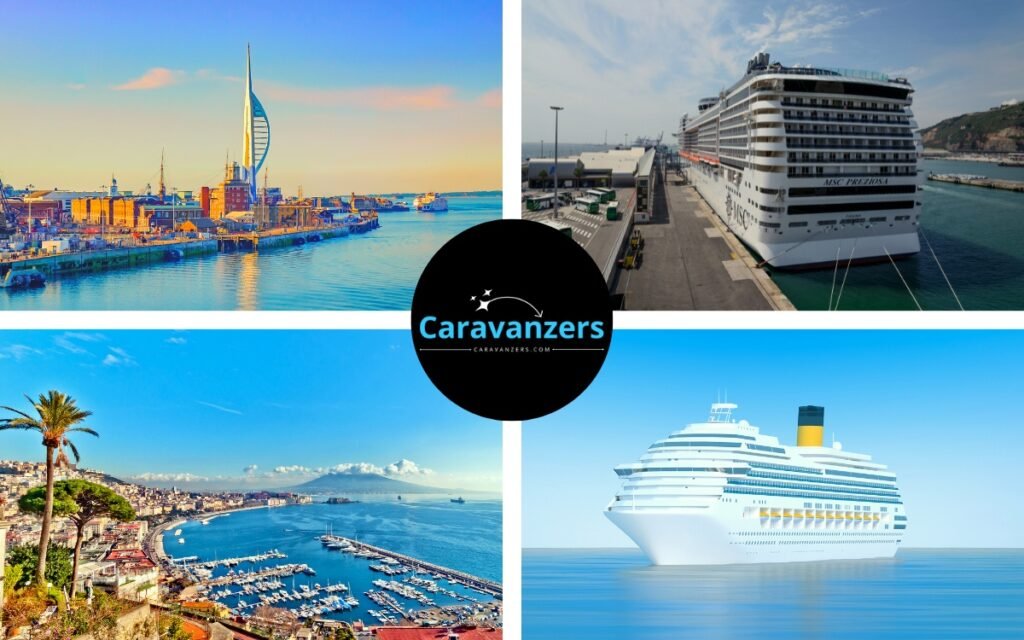 If you're a traveler looking to embark on an unforgettable cruise, you have a plethora of departure ports to choose from with a Mediterranean one.
Popular options include the United Kingdom, Spain, France, and Italy, each offering a variety of ports to suit your individual needs.
To ensure you have the best experience possible, it's important to do your research and consider all the options available to you. Doing so will help you pick the perfect port for your Mediterranean adventure!
Departure from the UK
If you're looking for a unique travel experience, a Mediterranean cruise departing from the UK might just be the perfect option.
Departing from ports like Southampton or Dover, you'll have the opportunity to explore a variety of exciting destinations throughout the Mediterranean region.
With so much to see and do, a Mediterranean cruise from the UK is a fantastic way to discover this stunning part of the world.
Departure from Spain
Beginning a journey in Spain is an excellent way to experience the beauty and culture of the Mediterranean.
Travelers can set off from Barcelona, Malaga, or Valencia, with a range of ports available.
From Spain, there are plenty of places in the Mediterranean Sea to explore, such as beaches, ancient cities, and local cuisine.
A Mediterranean cruise originating from Spain is a great choice for the next getaway for those looking for a helpful and enjoyable trip.
Departure from France
Exploring the Mediterranean with a cruise leaving from France is an extraordinary way to experience the region's rich heritage, culture, and beauty.
You can get started in Marseille, Nice, or Cannes and take in each port's unique allure.
Looking for tantalizing beaches, ancient monuments, or delicious food? A Mediterranean cruise from France has something for everyone.
Departure from Italy
Jumping on a Mediterranean cruise from Italy is a wonderful way to explore the beautiful and alluring destinations in this popular region of the world.
With multiple Italian ports to choose from, you have various options to begin your memorable Mediterranean adventure.
Once on board, you can explore the mesmerizing Italian coastline, as well as the charming islands and cities of other Mediterranean countries.
Whether you desire to bask in the sun on breathtaking beaches, savor delicious local cuisine, or immerse yourself in ancient history, a cruise from Italy is a perfect choice for an unforgettable vacation.
7-Day Mediterranean Cruise Itinerary
When it comes to cruise itineraries, you soon find out that it really all depends on the company.
One of my favorites is Royal Caribbean's 7 Night Western Mediterranean Cruise.
With this particular one, you will embark on an epic seven-day adventure exploring the Western Mediterranean onboard Royal Caribbean's Symphony of the Seas.
Depart from the bustling city of Barcelona and set sail to the charming coastal town of Palma de Mallorca.
Continue on to the stunning coastal city of Marseille, France, and immerse yourself in its rich history and culture.
Next, head to the picturesque coastal town of La Spezia, Italy, and use it as your gateway to the iconic city of Florence.
Then, cruise to the vibrant and cosmopolitan city of Civitavecchia, Italy, before making your final stop in the ancient and romantic city of Naples.
Take in the stunning scenery, enjoy delicious cuisine, and experience the vibrant culture of the Western Mediterranean on this unforgettable journey.
Final Thoughts
So, there you have it, friends! I've shared with you how a Mediterranean cruise is an ideal way to explore the wonders of this stunning region of the world.
With a range of cruise lines to choose from, as I've pointed out throughout the guide, there's something for every budget and preference.
Meanwhile, departure ports in the United Kingdom, Spain, France, and Italy offer a convenient starting point for your adventure.
Of course, the itineraries are packed with exciting destinations, breathtaking scenery, and delicious cuisine.
From the historic landmarks of Rome to the charming towns of the French Riviera, there's something for everyone on a Mediterranean cruise.
With so much to see and do, this type of vacation is sure to be an unforgettable experience.
Enjoy your Mediterranean cruise!
AJ Paris is a travel photographer based in New York. He is the editor of Caravanzers.