Mexico travel allows you to experience an interesting country with historical landmarks, beautiful beaches, amazing people, and yummy food!
Whew! That sounds amazing, doesn't it?
Mexico really is an amazing country with a lot to offer. The climate is diverse, with everything from hot deserts to cool mountains.
There are historical landmarks like the Mayan pyramids, as well as modern cities with all the amenities you could want.
The beaches are beautiful, and the people are friendly and welcoming, which definitely makes traveling that much richer.
The food is incredible, and there's something for everyone to enjoy.
Whether you're looking for adventure or relaxation, Mexico is the perfect place to be.
Video – Mexico Travel
Mexico Travel Basics
Mexico is a country located in North America. It is bordered by the United States to the north and by Guatemala and Belize to the southeast.
The country has a long history dating back to a rich pre-Columbian era. So many of those indigenous cultures are still alive and thriving in Mexico today.
The official currency of Mexico is the Mexican peso (MXN). Currently, 1 United States Dollar translates to about 20 MXN.
The time zone in Mexico varies. For example, Cancún is on Eastern Standard Time or GMT-5. On the other hand, Cabo San Lucas is on the Mexican Pacific Time or GMT-6.
Major airports in Mexico include Mexico City's Benito Juarez International Airport (MEX), Cancun International Airport (CUN), and Los Cabos International Airport (SJD).
The best time to visit Mexico varies, as well. For example, winter is a good time to visit the Gulf states, such as Veracruz, but spring is a better time to visit the arid states of the north, such as Chihuahua.
How to Get There
Mexico welcomes tourists through the land, air, and sea. Although most travelers arrive through airlines, there are a growing number of people who come through borders or through ships.
As noted previously, the country has several international airports that allow you to get direct flights.
Mexico City's airport has direct flights worldwide. There are direct 14-hour flights to Tokyo, 10-hour ones to Paris, and, of course, to many other points around the world.
The US-Mexico border has several entry points, as do Guatemala and Belize.
Although there are maritime borders with Honduras and Cuba, most sea arrivals come through commercial ships or cruises.
So, decide what is best for you.
How to Get Around
When you arrive in Mexico, you will be able to use authorized taxis at airports, ports, and even bus stations.
Likewise, Uber and other ridesharing apps are present in the country, allowing you to make an even easier exit from your place of arrival.
Within major cities, there are also hailing cabs and public transportation. Mexico City, for example, has one of the cheapest and easiest subway systems in the world!
How to Get a Hotel
Mexico is a major international destination, and the chances are that a lot of the hotel companies you're familiar with already exist here.
Meanwhile, a lot of global accommodation booking services are available to you. Whether you choose Booking.com or Airbnb, you will find your way.
Like many countries with a lot of tourists, there are different levels of accommodation available. For example, there are luxury resorts, hotels, budget stays, and even hostels, as well as private apartments.
The pricing of hotels is wildly different in different parts of the country. And in Mexico, you can negotiate the prices!
Mexican Regions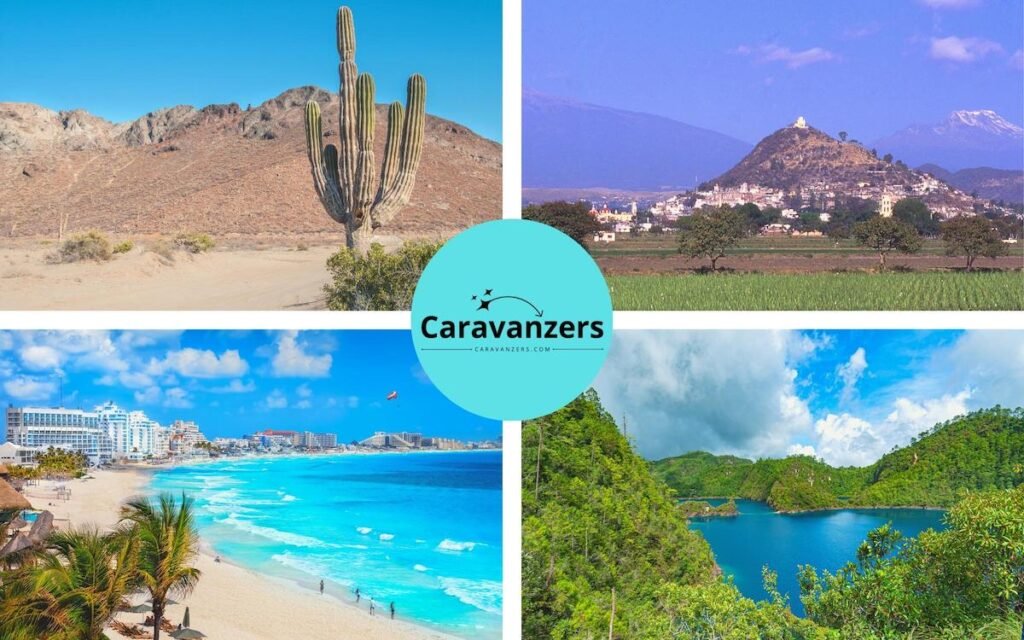 Although Mexico has 32 states, to me, there are really only five regions. Well, at least as far as a traveler is concerned.
Mexico is a large and diverse country with several different regions. The northern region is mostly desert, while the southern region is lush and green.
So, for example, travelers interested in the desert areas might be careful visiting there when temperatures are in the triple digits Fahrenheit in the summer.
The central region is home to the country's mountains, and the eastern region is on the Gulf of Mexico.
Some of Mexico's tallest mountains are in the central areas, which is why a lot of the cities are at high elevations.
For example, Mexico City is about 7,200 feet (2,240 meters) above sea level. This makes the country's megacity a temperate place.
The western region is on the Pacific Ocean. Of course, states like Baja in the northern part of the Pacific are more desert, while southern ones like Oaxaca are more jungle.
For example, a visit to Río Grande O Piedra Parada will truly make you feel like you're in the Amazon.
Top Mexican Cities
Although every traveler often finds their own favorite, there are some Mexican cities to include on your must-lists.
Mexico City, Puebla, Guadalajara, Mérida, and Puerto Vallarta are all unique cities to visit.
The megacity known as Mexico City is the largest in the country and is home to many of the country's historical landmarks.
The locals simply call it CDMX (short for Ciudad de México), and its Zócalo or central plaza is the heartbeat of the country.
Puebla is a colonial city with Spanish-style architecture and cuisine. This is a city to experience some of the country's most important things.
For example, did you know the traditional women's dress of china poblana was founded here?
Meanwhile, Guadalajara is the capital of Jalisco state and is popular for its mariachi music and tequila production.
This is another huge Mexican city that really is beautiful. It's as modern as it's historical, which is an equally interesting vibe.
Mérida is the capital of Yucatán state and is a popular destination for its Maya ruins and nearby pristine beaches.
Finally, Puerto Vallarta is a resort town on the Pacific coast with beautiful sandy beaches. Like Guadalajara, this town is in the Jalisco state.
If you manage to visit all of these cities, you will have a taste of Mexico.
Best Mexican Beaches
Mexico is home to some of the most beautiful beaches in the world.
Cancún, Playa Del Carmen, Tulum, and Cazumel are all located on the Yucatán Peninsula.
As you can imagine, this region is super popular. This is where the Gulf of Mexico and the Caribbean Sea meet.
While Cancún is only safe for beaching, Tulum is a great place for retreating into communities. It's really perfect for joining a vegan or yoga group to get its full experience.
Cozumel, on the other hand, is an island right in front of Playa Del Carmen. This island is perfect for sea lovers. It has a great reef and is a place that divers love to go to.
Meanwhile, Cabo San Lucas and Puerto Vallarta are on the Pacific Coast, giving you a California-like vibe. A sunset stroll on Puerto Vallarta's waterfront esplanade is simply amazing.
Zihuatanejo is another place to consider. Although it's very close to dangerous Acapulco, this town has a beautiful beach with great seafood!
So, no matter what you're looking for, the beaches in Mexico are sure to satisfy you.
Must-See Mexico Attractions
If you're looking for diverse and interesting sights to visit, Mexico is definitely a great choice. There are a variety of attractions to suit all interests.
For those who love nature, there are plenty of beautiful natural sights to see, such as the beaches of the Riviera Maya or the Copper Canyon.
History buffs will enjoy visiting ancient ruins like those that belonged to ancient civilizations like the Olmec, Maya, Teotihuacan, Toltec, and Aztec.
For example, did you know that Tlachihualtepetl is the largest pyramid in the world? The Great Pyramid of Cholula is its English name, and it's from the Aztec era.
Likewise, historical Spanish towns and villages draw a lot of architectural and historical tourism.
And there are also many modern attractions, like the city of Mexico City with its world-class museums and restaurants.
No matter what your interests are, you're sure to find something to enjoy in Mexico.
Mexican Food
Mexican food is a popular cuisine that has many different types. In my mind, there are national, regional, and global varieties of Mexican food.
Approach each of these for what it is because there's no way to go wrong with Mexican food.
National Mexican Foods
National dishes include things like tacos, burritos, and enchiladas. These are foods you can find them anywhere in the country.
Tacos are pre-Columbian food. A taco has everything you need because generally, the corn, the meat, and the vegetables all give you balanced nutrition.
Although the Mayans were probably the first to invent the enchiladas, it was during the Aztecs that these delicious items soared.
Of course, no one knows "where" exactly where those items came from, but we definitely know the burrito originated in Chihuahua.
So, try some of these, for sure!
Regional Mexican Foods
Regional dishes vary depending on the area of Mexico, but some popular ones include mole poblano and cochinita pibil.
Mole Poblano is an amazing dish that brings together chili, fruit, and chocolate! It originated in Puebla. Honestly, it's something out of this world.
Cochinita Pibil, on the other hand, is from Yucatán. This traditional Mayan dish is slow-roasted, typically pork. People go crazy for this one!
Birria is a type of goat meat that's very popular across Mexico. This steamed dish makes for delicious tacos! Jalisco state contributed the birria.
A great place to try a regional item is generally in its own place of origin, but you can find a lot of traditional places in most big cities that serve regional items.
Global Mexican Foods
Global Mexican dishes are those that have been adapted to or from other cultures, such as Tex-Mex food, which is American. If it has nachos, fajitas, or canned vegetables, you've had Tex-Mex.
Remember that Mexico is home to diverse ethnic groups, including Spanish and Arab! If you want to taste what Arabic food is like in Mexico, try tacos árabes.
Of course, major Mexican cities are global cities where you can find anything from Indian to Italian and any other major international cuisines.
For example, a few nights ago, I had an amazing sushi dinner in Veracruz!
Modern Mexican Foods
Mexico also has some of the world's top-rated modern restaurants. Some of these amazing spots include Pujol, Quintonil, and Arroyo.
It's not a coincidence that all of those I mentioned are in Mexico City. Chefs across the country flock to the mega city because there are just more people to experiment with.
That said, other top cities like Guadalajara and Puebla have their own modern restaurants, too.
If you ask your hotel or tour guide, they will tell you.
Mexican Fun
Mexico travel is also fun! Whether you dance the night away, go on an adventure tour, visit an amazing museum, or attend a cool festival, there's something for you!
Each of these really gives you a chance to taste Mexico in a different way.
Nightlife
The nightlife scene in Mexico is exciting and vibrant. There are many bars and nightclubs to choose from, so you can always find a place to party.
The music is usually loud and lively, and the drinks are flowing. If you're looking to dance the night away, Mexico is the place to be.
Adventure
Once you recover from the hangover, head to any of the many adventure tours across Mexico. Whether you're into kayaking, ziplining, hiking, or even mountain climbing, you will definitely find something adventurous.
Imagine going in a hot air balloon over the ancient holy city of Teotihuacan. Without a doubt, this is one of the most amazing experiences you can ever have.
Remember, an adventure can be a way to experience a culture, too!
Festivals
Festivals are another way to have fun and also Mexican culture. Some of the fun festivals to attend include Cinco de Mayo, Carnaval de Metztitlán, and Son Jarocho Jáltipan.
Mexicans celebrate their victory at the Battle of Puebla in 1862 on May 5 ("Cinco de Mayo" in Spanish). The people dress up in colorful outfits and are very festive.
Metztitlán's carnival is a unique one that you should experience. Costumes, music, and fun!
Veracruz's sound ("son jarocho" means "Vericruzan sound" in colloquial Spanish) is a great festival to hear traditional music.
Museums
Finally, museums in Mexico are truly fun!
There are many reasons to visit a museum. For example, museums offer a unique perspective on history. They can provide insights into how people lived in different cultures and times.
And the travelers who think museums are boring haven't obviously visited the Drug Museum or Museo del Enervante.
Mexican Shopping
Mexico offers a wide variety of shopping experiences, from large malls to small markets and villages.
Each of these gives you a chance to grab something or even just have a look.
When shopping, be careful. Ideally, go with a tour guide. Shopping is always one way to attract petty crime, unfortunately.
Mexican Malls
Mexico is like any other major country in the world today, and they have malls everywhere.
In the malls, you'll find all the major international brands as well as local stores. In fact, there are nearly 300 of them where you will find global brands.
Top malls include Mexico City's Antara, which is in the Polanco neighborhood. This is where the world's top brands sell their goods.
Guadalajara's Centro Magno, Puebla's Angelópolis Lifestyle Center, and Mérida's Plaza Altabrisa are all places you will find global brands.
Mexican Traditional Markets
Mexico's traditional markets are a great place to find fresh produce, souvenirs, and handmade goods.
Mercado San Juan is a traditional Mexican market located in the center of Mexico City. It's probably the most famous market in the country.
Whether you want to try bugs as delicacies or snug a traditional jewelry item, Mercado San Juan will not disappoint.
Guadalajara's San Juan de Dios, Puebla's Melchor Ocampo, and Mérida's Lucas de Galvez are all examples of traditional market across the country.
Mexican Online Shopping
One of the best things I love about Mexico is its culture of delivery. You could order anything in the comfort of your hotel.
There are apps like Rappi that will deliver things to you from the corner store. Can you believe it?
Meanwhile, e-commerce sites like Mercado Libre, Amazon Mexico, and Coppel are all great places to shop.
Mercado Libre has some 120+ million shoppers per month. It's really huge.
Mexican Travel Safety
Mexico is a beautiful country with many interesting places to visit. However, it is important to be aware of the dangers that exist there.
Around the world, governments issue guidelines for travel within the country. These include avoiding certain areas, being aware of your surroundings, and not traveling alone.
The United States, for example, has several states in Mexico where it advises Americans not to travel. These include Colima, Guerrero, Michoacan, Sinaloa, and Tamaulipas.
Mexican cities like Tijuana and Acapulco are often featured in the top cities for most dangerous places in the world.
So, it's important to listen to your government's guidelines.
Meanwhile, health concerns should also be a consideration when traveling to Mexico. There is a risk of contracting diseases such as the Zika virus.
Generally speaking, you will find up-to-date health information on your government's travel website.
Petty crime is also a problem in Mexico, with thieves targeting tourists. It is important to be cautious when carrying valuables and keep them out of sight.
Finally, cartels are a major concern in Mexico. They are responsible for drug trafficking, human trafficking, and violence. It is important to avoid any involvement with them.
That said, most tourism to Mexico is safe.
Final Thoughts
Mexico is a beautiful country with a lot to offer tourists. The beaches are stunning, the food is delicious, and the people are friendly.
There is a lot to see and do in Mexico, from exploring ancient ruins to visiting modern cities.
Mexico is also a relatively safe country to travel to, as long as you take precautions and stay in tourist areas.
So, here are my pros and cons.
There are many pros to visiting Mexico. The country has a rich culture and history, beautiful scenery, and friendly people.
There are also many activities to keep tourists busy, such as swimming, hiking, and shopping.
And, of course, the food is amazing. Mexican food is some of the most delicious in the world.
Sadly, there are also a few cons to visiting Mexico. One is that the country is quite large, so it can be difficult to get around if you don't speak Spanish.
Another con is that the infrastructure isn't always the best, so you may have to deal with potholes, bad roads, and power outages.
Finally, Mexico can be quite dangerous in some areas, so it's important to research your destination before you go and be aware of your surroundings while you're there.
In the end, I believe the good outweighs the bad. So, if you have the opportunity, go!
AJ Paris is a travel photographer based in New York. He is the editor of Caravanzers.
Mexico Travel Resources
Want to learn more about Mexico? Visit these:
Visit México – The official tourist information center.
Arhe Molina – She's our favorite Mexican blogger! If you don't speak Spanish, use the Google Translator! She's worth it.
Mexico Food Journal – A foreigner who loves Mexican food and lives in the country for over 20 years? Oh, sign us up!