Minneapolis neighborhoods are very interesting, even though Minnesota is one of the least diverse states in the US.
Although there are tons of neighborhoods, this article will divide the city into four cardinal directions, plus the Downtown.
That said, keep in mind that Minneapolis is longer––and on a south-and-north division––rather than round.
In other words, don't expect a whole lot on the east and west. Nevertheless, we will start with Downtown, which is the city's commercial center.
Then we will head to East Minneapolis, where there are fun and colorful neighborhoods.
After that, we will visit South Minneapolis, a gigantic area of the city.
West Minneapolis and its diverse neighborhoods are next after that before we finally end up in the north.
VIDEO – Minneapolis Travel
Downtown Minneapolis
So, Downtown Minneapolis is made up of several distinct neighborhoods, each with its own unique character.
Downtown is the central business district, with towering office buildings and busy streets. It's the city's modern skyline.
A lot of companies are headquartered here, and major global corporations have offices. For this reason, this neighborhood is often a ghost town at night and on the weekends.
Get a selfie with the Mary Tyler Moore statue, visit Mill City Museum, and watch a show at the Minnesota Orchestra.
Downtown is an area that has borders of two interstate freeways (I-94 & I-35W) and a river (the Mississippi).
Elliot Park is a residential neighborhood with a park of the same name at its center. This neighborhood is home to the Minnesota Vikings, the Hope mega church, and several high-end condos.
Like Elliot Park, Loring Park is home to many arts and cultural institutions, as well as a beautiful green space with the same name. Check out the 19 Bar, the gay bar that has been here since 1952!
The North Loop is a trendy area with restaurants, bars, and shops. This neighborhood includes the Warehouse District, which is full of art galleries, music venues, and other creative businesses.
My favorite bridge in the city, the Hennepin Avenue Bridge, is also in North Loop.
East Minneapolis
There are a few great neighborhoods to choose from in East Minneapolis. Just keep in mind that this is an artsy and colorful area.
If you're looking for a vibrant and diverse community, Cedar-Riverside is a great option. It has great African restaurants! The Red Sea Ethiopian Restaurant is one such place.
If you're looking for a more laid-back atmosphere, Prospect Park might be better suited for you. Don't forget to check out the Prospect Park Water Tower.
For fun-seeking youngsters, University is a great choice. This is where the University of Minnesota is, and the neighborhood has a vibrant youth vibe.
And if you're looking for a neighborhood with a lot of character, Como is definitely worth checking out. Como Avenue is lined with many nice places to eat and chill.
East Minneapolis is a lovely section of our Mill City, and locals and visitors alike appreciate its options.
South Minneapolis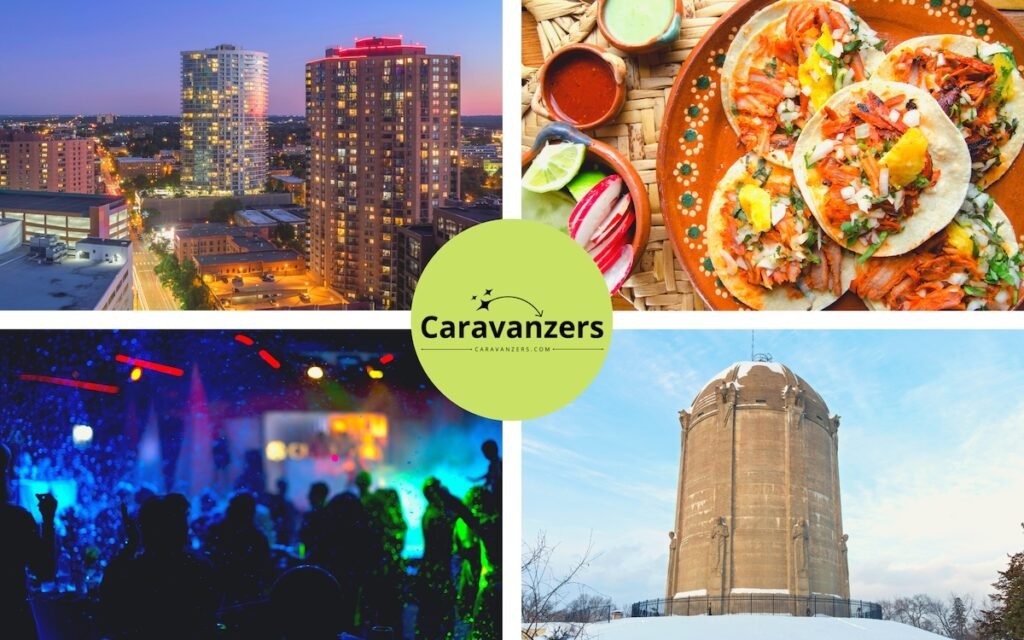 South Minneapolis is a massive area that includes several different neighborhoods.
Longfellow is a popular community for young families and has some great art. The famous Riverview Theater is in this area.
Meanwhile, Powderhorn is known for its diverse population and artsy vibe. This is home to many great restaurants that serve food from Latin America. Check out Mercado Central for some fast food!
Nokomis is a quiet neighborhood with a lot of green space, and this is your gateway to the city since the airport is here. If you're in the summer, check out Lake Nokomis Beach.
Tangletown, on the other hand, is a more upscale area with boutique shops and restaurants. Check out Washburn Park Water Tower if you have a chance.
Uptown, however, is the busiest neighborhood in South Minneapolis, with lively nightlife and plenty of things to do during the day. The Loft is a great place to party if you're into that.
South Minneapolis has a lot more areas, but what I mentioned will definitely help you see its best.
West Minneapolis
There are a couple of great neighborhoods in West Minneapolis, including Lowry Hill, Kenwood, Bryn Mawr, and Harrison. Each neighborhood has its own unique charm and amenities.
Lowry Hill is a great place for families, with plenty of green space and great schools. The famous Walker Art Center is here.
Kenwood is a beautiful neighborhood with tree-lined streets and lovely old homes. With a lake on each side, you won't go wrong relaxing here. Kenwood Park Tennis Courts are great if you're into that sport!
Bryn Mawr is perfect for those who want to be close to the action, with plenty of shops and restaurants nearby. If you love flowers or birds, head to the Eloise Butler Wildflower Garden.
Harrison is a quiet, residential neighborhood that's perfect for those who want to escape the hustle and bustle of the city. Milda's Cafe is a great place to grab breakfast.
West Minneapolis is smaller, but it does have a few places to make your stay enjoyable.
North Minneapolis
North Minneapolis is home to many different neighborhoods, much like the south side of the city. Its major areas include Northeast Minneapolis, Hawthorne, and Camden.
The city's Black and Jewish communities have long histories in this part of the city, making it a must-see section of Minneapolis.
Northeast Minneapolis is gigantic and is known for its arts and entertainment district, which includes many theaters, museums, and restaurants.
If you're into music, check out the Jazz Central Studios just above the river, and check out Boom Island Park for some great views of Downtown.
Hawthorne is a historic neighborhood that is home to many Victorian-style houses. Ole Olson Park gives you incredible views of the river and Downtown, too.
Camden is a newer neighborhood that is known for its diverse population and eclectic mix of shops and businesses. For some delicious Chinese food, head to Joy Luck Restaurant.
Final Thoughts
After writing about the many neighborhoods in the city, I must say I have a newfound respect for my hometown.
If you're a visitor, I would say not to let the many Minneapolis neighborhoods overwhelm you.
My advice is to read the article and choose the parts that mean something to you, and that should lead to fewer headaches for you.
Welcome to Minneapolis, and I hope you enjoy your visit.
Tom Larson is a traveler in Minnesota. He writes about Minnesota, fishing, and the outdoors.
More Minneapolis
Here are more great Minneapolis articles:
Meet Minneapolis – To learn more about our great city, including the latest happenings, head to the official tourism office.