Oslo travel means a unique experience in Europe, and I think this is a destination you won't regret.
So, in this guide, I will be your virtual companion on an exciting journey through the Norwegian capital.
I will share a wealth of information about Oslo's history, culture, and attractions.
Whether you're a couple seeking a romantic getaway, a family planning a memorable vacation, a solo traveler ready to explore, or a senior looking for a peaceful escape, this guide has got you covered.
Let's go on this Oslo adventure together!
Oslo Travel Basics
Oslo is a captivating destination that combines its thousand-year-old Nordic history with contemporary allure.
The city effortlessly fuses its cultural heritage with modern flair, all while being surrounded by breathtaking natural wonders such as fjords and verdant forests.
The cultural scene in Oslo is thriving, boasting world-renowned museums like the Viking Ship Museum and the Nobel Peace Center.
Whether indulging in traditional Nordic cuisine or trendy eateries, Oslo's gastronomic sites are sure to impress.
But it's not just the city's beauty that lures the visitors; it also serves as a gateway to the incredible Norwegian landscape, making it a unique destination in Europe.
Meanwhile, Oslo operates on Central European Time (CET), and the main gateway to Oslo is Oslo Airport, Gardermoen (OSL).
The airport is about 31 miles (50 kilometers) northeast of the city, and it's a modern and well-connected airport with various international and domestic flights.
Norway uses the Norwegian Krone (NOK) for currency, and you can easily exchange your money at banks, exchange offices, or use ATMs throughout the airport and city.
To get to the city, you have options like public transportation, taxis, and even rideshare apps.
In the next sections, I will go into specific things like when to go and what to do.
When to Go
When it comes to the best time to visit Oslo, it all depends on what you're looking for in your experience.
Summers in Oslo, from June to August, are delightful, with pleasant temperatures and longer days.
The city comes alive with outdoor festivals, concerts, and a lively atmosphere. It's a perfect time to explore the parks, go on boat rides, or even take a dip in the Oslofjord.
If you prefer cooler weather and fewer crowds, consider visiting Oslo in the shoulder seasons of spring (April to May) or autumn (September to October).
You'll still enjoy mild temperatures, beautiful colors as nature changes, and a more relaxed vibe.
Now, if you're someone who doesn't mind the cold and loves winter activities, Oslo during the winter months (December to February) is a winter wonderland!
The city is adorned with snow, and you can enjoy ice skating, cross-country skiing, and even the magical Northern Lights if you venture outside the city.
In the end, the choice of when to go to Oslo depends on your preferences, whether you seek the lively buzz of summer or the serene beauty of winter.
Where to Stay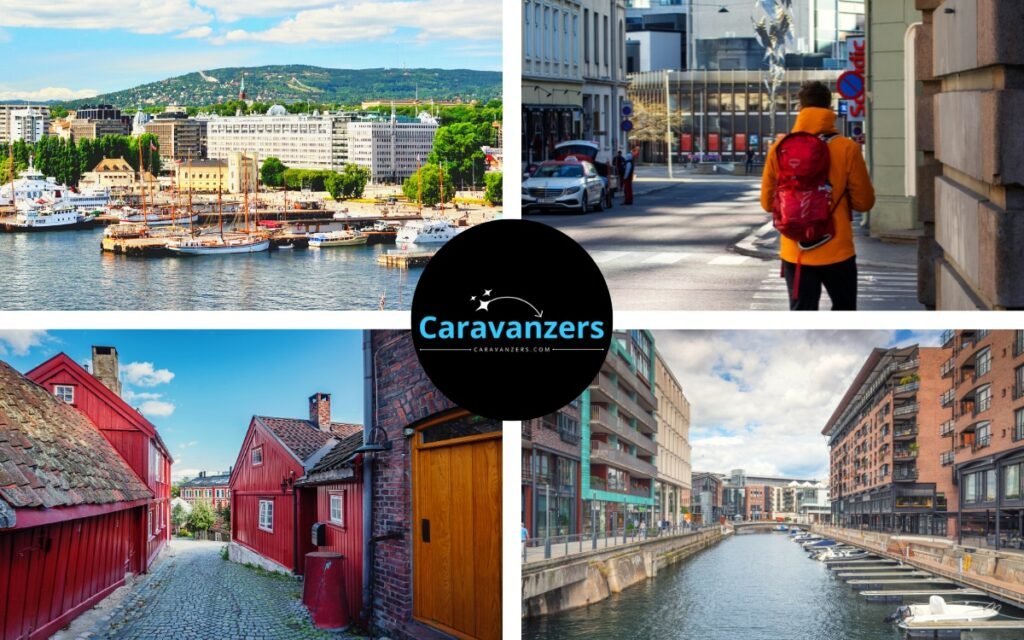 Oslo has a range of neighborhoods to suit different traveler preferences.
For couples, a charming area to stay is Grünerløkka. This is a trendy atmosphere, with cozy cafes, boutiques, and a vibrant nightlife scene.
Families might find the neighborhood of Majorstuen ideal. This is centrally located and has a mix of residential areas and parks.
Solo travelers might enjoy staying in the city center, known as Sentrum. This area puts you close to major sights, shopping areas, and a wide range of dining options.
For seniors looking for a peaceful and picturesque neighborhood, Bygdøy is a great choice. This is on a peninsula and has a quiet atmosphere with lovely waterfront views.
Of course, these are just a few suggestions, and there are other neighborhoods worth exploring. You just might need to talk to the locals to figure it out.
What to Eat
When it comes to food in Oslo, the city has a diverse culinary scene, ranging from traditional Norwegian spots to European and global cuisines.
If you want to try authentic Norwegian flavors, make sure to sample some local specialties. Dig into delicious dishes like fårikål (lamb and cabbage stew), lutefisk (dried cod soaked in lye), or rakfisk (fermented fish).
Schrøder (on Waldemar Thranes gate 8) is a great restaurant to try some local food.
Meanwhile, Oslo isn't just about Norwegian cuisine. You'll find a plethora of European and global eateries as well. Wander around the city, and you'll stumble upon charming cafes and bistros serving up French pastries, Italian pizzas, or Spanish tapas.
I love Campo de Fiori (on Josefines gate 23) for Italian food.
The multicultural vibe of the city means you can also savor flavors from Asia, Africa, and the Middle East in various restaurants.
Mesob Restaurant (on Motzfeldts gate 5) is a great place to have some Ethiopian food.
For a truly unique experience, head to Mathallen Oslo, a food hall where you can explore a wide range of foods, from gourmet cheeses and artisan chocolates to craft beers and organic produce.
Whether you're craving traditional Norwegian fare, European flavors, or international cuisine, Oslo can be a foodie's paradise, too.
What to Do
Oslo has a lot to offer in terms of tourist attractions and activities!
I would say you can't miss a visit to the iconic Vigeland Sculpture Park. This is the world's largest sculpture park, created by a single artist, Gustav Vigeland.
Another must-visit spot is the Oslo Opera House. This architectural masterpiece, right by the waterfront, has breathtaking views and is a hub for music and performing arts.
If you're interested in history, the Viking Ship Museum is a gem. There are remarkably preserved ships that were used for burial rituals.
For art enthusiasts, the Munch Museum is a great place to visit. This museum houses an extensive collection of works by the famous Norwegian painter Edvard Munch, including his most famous piece, "The Scream."
To soak in Oslo's natural beauty, head to the Oslofjord. You can take a boat tour and enjoy the beautiful scenery or even hop on a ferry to explore nearby islands like Hovedøya or Gressholmen.
Of course, these are just a few highlights of what Oslo has to offer. There is so much more, but I think that will do for now.
7-Day Oslo Itinerary
A 7-day trip to Oslo gives you ample time to immerse yourself in the city's charm and explore its many attractions.
Although more days would be better, here's what I would suggest for an itinerary to make the most of your week.
Start your adventure by delving into Oslo's history and culture. Visit the Viking Ship Museum to marvel at the well-preserved Viking ships.
Take a stroll through the charming streets of Grünerløkka, stopping at local cafes and boutiques along the way.
Dedicate a day to exploring the famous Vigeland Sculpture Park, where you can admire Gustav Vigeland's impressive sculptures set amidst lush greenery. Afterward, head to the nearby Frogner Park to enjoy a peaceful picnic or take a leisurely walk.
Take a boat tour on the Oslofjord to experience the city from a different perspective and visit the islands dotting the fjord. Hovedøya Island, with its beautiful beaches and ancient monastery ruins, is a must-visit.
Discover Oslo's vibrant culinary scene by trying traditional Norwegian dishes at local eateries.
Explore the Bygdøy peninsula, home to several captivating museums. The Kon-Tiki Museum, Fram Museum, and the Norwegian Maritime Museum are all worth a visit, giving you insight into Norwegian exploration and maritime history.
Dedicate a day to the Holmenkollen area. Visit the iconic Holmenkollen Ski Museum and Tower, where you can learn about the history of skiing and enjoy panoramic views of Oslo from the observation deck.
Spend a day in the city center, exploring attractions such as the Oslo Opera House, Akershus Fortress, and the lively Aker Brygge waterfront area.
Wrap up your Oslo adventure with a visit to the Munch Museum to admire the works of Edvard Munch, including the famous painting "The Scream."
I think that would be a great way to spend your 7 days in Oslo.
Final Thoughts
As we come to the end of our Oslo journey, I hope this guide has given you valuable insights and inspiration for your upcoming visit.
We've explored the fascinating history and culture of Oslo, dived into its vibrant neighborhoods, savored the culinary scene, and visited top attractions like Vigeland Sculpture Park, the Viking Ship Museum, and more.
Whether you're captivated by the city's artistic allure, enchanted by its natural beauty, or enticed by its culinary delights, Oslo has something for everyone.
So, pack your bags, embrace the Norwegian spirit, and get ready for an unforgettable adventure in this captivating city.
Safe travels!
Sebastian Clark is a traveler from the UK and writes about Europe for Caravanzers.
Follow us on Pinterest.