Portugal travel is a memorable experience. The country is popular with tourists because it truly has a lot to offer.
In this guide, I will walk you through the history, landscape, culture, and more, so that you can plan your own unforgettable trip.
To help you think ahead, I will even throw in a travel story to mimic.
Take
Portugal 101 – The Basics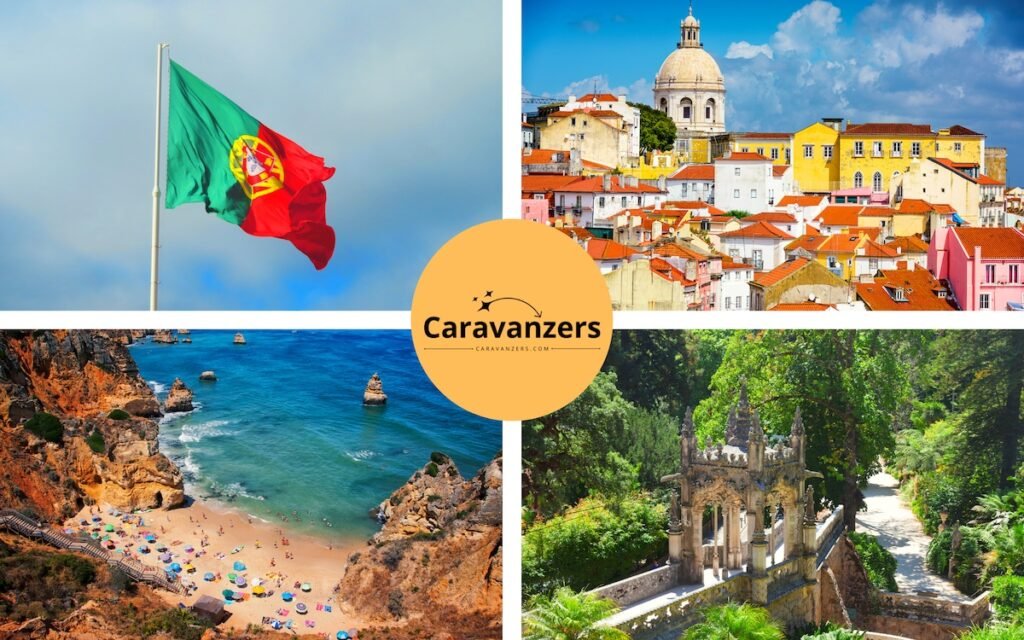 Portugal is an old country that has history, culture, and beauty––perfect for travel.
With a population of around 10 million and the size of Kentucky, Portugal is a small county that makes you feel like it's bigger.
The country has mainland and island time zones. Lisbon follows Western European Time. That is, when it's 5pm in New York, it would be 9pm in Lisbon.
To zone in, the following will answer specific questions.
Where Is Portugal?
Where is Portugal? Portugal is a European country on the Iberian Peninsula, the southwestern part of the continent it shares with Spain. The Atlantic Ocean borders the country to the west and south. Spain is its northern and eastern neighbor. Portugal is, therefore, the westernmost country of mainland Europe.
Portugal is more than just the mainland part, though. It includes the Atlantic archipelagos of the Azores and Madeira.
Unlike provinces on the mainland, though, both those island regions are autonomous. It means they have their own governments, although they are owned by Portugal.
When Was Portugal Founded?
When was Portugal founded? Portugal became a distinct country in 1143 CE. Alphonse, the VII of León and Castile, recognized it as an independent kingdom. Afonso I of Portugal became the country's first king. Before that, like his father, Afonso Henriques was an aristocratic member of the House of Burgundy.
The House of Burgundy was French, and the dukes controlled the area. Alfonso's father, Henry, was the only one to rule Portugal.
Meanwhile, Portugal was part of Islamic Iberia from 726 to 1249 CE. The country was part of the Caliphate of Cordoba, which included most of Spain, too.
Before that, what is now Portugal was Suebi and Visigoths. They were German kingdoms.
And before that, today's Portugal was Lusitania and Gallaecia. Those were Roman.
However, there is nearly a million-year history of Portugal dating to prehistoric eras.
How Big Is Portugal?
How big is Portugal? Portugal is about 35,000 square miles (or 92,000 kilometers). If you want to compare it to a US State, Kentucky would be a close size. While Norway has the longest coast in Europe, Portugal has undisputedly the sunniest. The country has about 300 sunny days!
Somehow, when you're traveling through Portugal, it doesn't feel as small as it actually is. From its southern coast to the north, it can take hours of beautiful scenic routes, making you feel like it's bigger.
That is, if you want to go there, don't let its size deter you!
What Countries Did Portugal Colonize?
What countries did Portugal colonize? The country colonized over fifty countries, including Angola, Brazil, and even India! That is, this tiny European country colonized countries in Africa, Asia, and South America. Although Portugal has had financial problems recently, it was once one of the richest countries in the world.
Today, Portugal is a small country with about 10 million population, many of which have roots in the former colonies.
However, its language is spoken by nearly 500 million around the world, thanks to Brazil and Angola, and many others.
How Are Portugal and Spain Alike?
How are Portugal and Spain alike? They are neighbors and have a lot in common because both Portugal and Spain have a lot of Islamic influences. You see it in the architecture, food, and more. Their languages are also close. When traveling through them, they can feel very similar.
Portugal is definitely smaller, but I find it to be much more intense than Spain. The landscape is very similar in many parts.
To the non-Iberian eye, the people of Portugal and Spain are virtually the same. And to the rest of the world, they have similar perspectives.
Politics is one way both countries are unique. They have very social-minded thinking, which is why their healthcare systems are the best in the world.
Yeah, both of these countries share a lot!
Is Portugal in the EU?
Is Portugal in the EU? Yes, Portugal is a member of the European Union. The country joined the EU in the 1980s, and they have since adopted its current, the Euro. Portugal is also in the Schengen Area, which still remains to be the world's largest visa-free zone.
For travelers visiting Portugal, it opens the doors to nearby countries in Europe, too. You will be able to visit Spain, France, and even Germany as part of your entry into the Schengen in Portugal.
Generally speaking, that means no borders and no stop when traveling from Portugal to Sweden––across the continent. There are currently 26 member states to the Schengen.
Meanwhile, keep in mind that some countries are in the Schengen but not in the EU. A good example is Switzerland, which isn't part of the European Union but is a member of the Schengen Area.
On the other hand, some EU countries, like Ireland, are not signatories to Schengen Area.
So, plan ahead for your entire trip.
Best Time to Visit Portugal
What is the best month to visit Portugal? The best month to visit Portugal is July. It's still part of the summer, but it's not August when everything is very busy. July is a good month for the beaches, cities, and even nature in the national parks. Visit July.
If you're planning to party, though, you definitely want August. You see, many Europeans take August off, and Portugal is a favorite spot.
Summer is the high season, though, and it means things are usually far more expensive. For example, hotels are generally about 30% more expensive… and they fill up quickly.
For those of you interested in Portuguese culinary, visit October. This is a great time and is traditionally a harvest period.
If you want to get away from the winter, the Portuguese islands are simply incredible during the winter. December in Madeira will see 68 Fahrenheit (or 20 Celsius) as a high.
Of course, any period of the year is beautiful. You just have to decide what is most important to you.
Things to Do in Portugal
There are tons of things to do in Portugal, and it really all depends on you. As you saw, the seasons vary, and so do activities.
There are four areas to pay attention to when planning a trip to Portugal. The four areas are the cities, Lisbon, beaches, and nature.
Each of those has something unique to offer, and I will briefly go into them.
Cities in Portugal
Portugal has major cities that have unique cultures and landscapes. Lisbon, Porto, Coimbra, Braga, Guimaraes, Aveiro, and Faro are all places to add to your list!
I will go more into Lisbon on its own, but Porto is the second largest city. It's different from many cities and has a gothic and baroque feel throughout.
Coimbra is the quintessential college town. The city's university is the heartbeat, although it has other things to offer, too.
Faro is a coastal paradise with a small-town charm. Hippies love this town.
Travel to Lisbon
Lisbon is the capital and, therefore, the most interesting city in the country. For centuries, it has consistently grown to become what it is today.
The city has become a tourist destination for a lot of reasons, including its Islamic architectural marvels, delicious foods, incredible views, and unique vibe.
As you go through the city, you start to realize this is a place that respects the arts. Everything is extremely beautiful, and every corner seems to offer a selfie opportunity.
It's also highly modern, and young people go crazy for it. Lisbon has a strange nightlife where restaurants lead you to bars and the bars to after parties. It can get wild.
Absolutely beautiful place to visit.
Portuguese Beaches
Let's be honest; with 300 days of sun, the beaches of Portugal are naturally seductive. They have so many of them; you just have to go.
The Algarve, which is the southernmost coast, is probably where you don't want to skip. It's dotted with beaches that will leave you breathless.
I personally find northern beaches to be surreal. They give you a mythical vibe, especially on days when it gets foggy.
Nature in Portugal
For a small country, Portugal sure seems to have a ton of green space. Portugal is home to 24 national parks, making the country one of the greenest in all of Europe.
Peneda-Gerês, Arrábida, and Serra da Estrela are my favorite, although I really do love them all.
Arrábida has 68 square miles (or 176 kilometers) of green space on the southern tip of the Setúbal Peninsula. It's truly a marvel, especially when you're high and the incredible sea is below.
By the way, Arrábida is rooted in the Arabic for "prayer," and it truly lives up to its name!
Where to Stay in Portugal
Portugal is a modern country with a huge digital connection. You can basically find accommodation as quickly as you can order Chinese. There are tons of apps to help you find where to stay.
My favorite is the "alojamento local," which are traditional guesthouse. In some towns, they are so beautiful and have often been a family home in the past.
"It is an establishment that provides temporary lodging services, namely to tourists, for a fee, as long as it does not meet the requirements to be considered a tourist resort," explains the Portuguese Government.
And temporary is the right keyword here. Don't expect to stay there long.
Meanwhile, there are also modern hotels, including chains you will recognize, as well as budget ones and hostels.
Of course, there are also a ton of Airbnbs and other private rentals.
What to Eat in Portugal
Portugal is an old culture, which means there are a lot of old food traditions. But it also has modern cuisines and even global vibes.
Bacalhau is the undisputed national dish. It's a dried and salted cod, but expect to find different bacalhaus in different regions. It's what pasta is to the Italians.
For some historical taste, try escabeche. It was introduced by the Muslims of Iberia and has a sweet and sour taste to it. They make it with honey and vinegar. Usually, this is a fish dish.
Pastel de nata is a favorite sweet you must try at least once. This is the original custard tart that will make you want to eat the whole bag. It's native to Portugal.
Meanwhile, try any of the country's delicious wines. Muxagat Tinta Barroca is from the Douro soil up on the hills. This red is just… fresh!
Portugal Travel Example
Colin always wanted to go to Portugal. He became a fan of Cristiano Ronaldo many years ago as a teenager and knew he would go to Portugal the moment he came of age.
"And I did," he says.
It was summer, and Colin planned his 3-week trip with his best friend. The two young men hopped on a cheap flight and arrived in Lisbon.
Sadly, his friend got a bout of homesickness after his girlfriend got into an accident and returned home two days after they arrived.
"I continued in Lisbon on my own for another week," Colin says.
Then he met a French girl who kind of took him under her wing, going together to Quinta do Lagos, Vale do Lobo, and Almancil.
"We partied like animals," Colin says. "It was the best week of my life."
After the young woman left, Colin ended up extending his stay to a full month, having another 10 days to himself.
"I went to the north by train," he says.
He visited seven cities and towns during his 30-day trip. By the time he left, Colin says he knew he had to return.
And he did. He has since returned Portugal a total of six times!
Colin says to avoid summer unless you just want to party. Plan ahead, so you get the best hotel deals.
He also suggests finding travel buddies on social media hangouts.
"Just use the hashtag of the destination," he says. "And you will find people who have been recently or planning to go."
Great tip!
More Tourist Tips
When visiting Portugal, Colin recommends planning your trip in advance. If possible, get your plane tickets at least 6 months in advance.
Likewise, he says to book your hotels at least 3 months in advance, although 6 is better. Try to book the hotels on a weekday, and the best days are Tuesday, Wednesday, and Thursday.
If there are top restaurants you want to visit, call them and ask what their average wait time is like. Some you have to wait weeks!
Colin recommends getting in touch with your hotel if you plan to use mainstream tourist companies. They will recommend one that they trust, and you want to make sure you get a deal, too.
"With those four tips, you should have an easy trip," Colin says.
Final Thoughts
Portugal is a popular destination, and it's clear why. This is a small country that has it all, and you always feel like it's much bigger than it is.
Whether you're visiting cities, sunbathing at the beaches, or soaking in nature at the national parks, there's something for everyone.
In this guide, I gave you an overall picture of the country. Now all you have to do is plan to your specifics.
Enjoy Portugal!
AJ Paris is a travel photographer based in New York. He is the editor of Caravanzers.