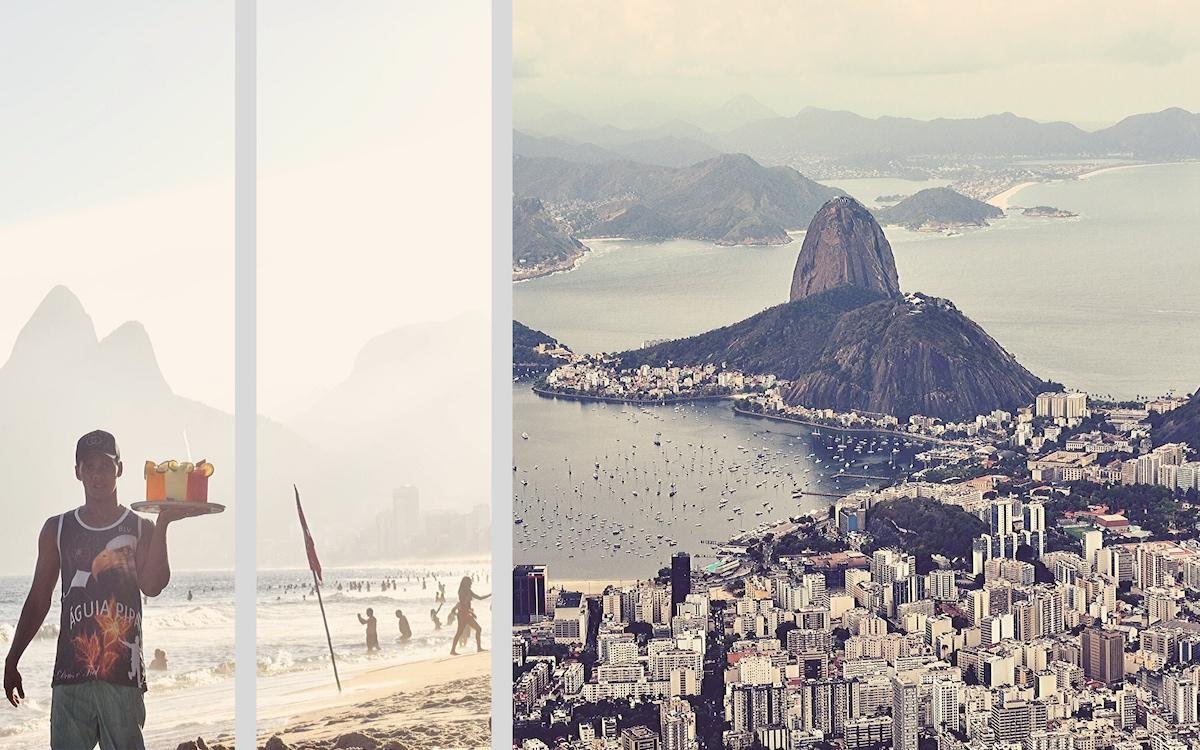 Because Río de Janeiro is a popular global destination, we decided to give you this article on Rio neighborhoods.
Meanwhile, Kevin Hampton, the author of Rio de Janeiro Travel Guide, says that Rio is "a city you can visit many times and still find something fun and interesting to do."
Therefore, we focused on neighborhoods on the coast, which are the most popular neighborhoods of the Marvelous City.
In other words, expect to see neighborhoods like Vidigal, Ipanema, and Copacabana.
Let's go!
Vidigal
So, this neighborhood is home to the favela of the same name.
A favela, which means 'slum' in Portuguese, is a type of settlement occupied mainly by poor people.
Because they are typically unregulated, the government has neglected them.
As a result, some favelas are dangerous.
Meanwhile, Vidigal is a tourist destination in Rio and is perched on the famous Two Brothers Hill.
"A lot of tourists love to go there," explains Bruna Oliveira, a travel expert in the city.
For example, it is home to Praia do Vidigal Beach, which is beautiful and very popular.
Likewise, there is the famous Mirante do Arvrão observation deck, which has an incredible view of the city.
Similarly, there are cute hostels here.
"This favela is now associated with the 'favela chic' phrase," says Bruna. "Because there are many cool things such as parties and art exhibitions," she adds. "Of course, it is still home to poor people, too."
In other words, it may be artsy, but it is still a favela.
Therefore, keep your eyes open and don't be part of the tourist exploitation, says Bruna.
Vidigal Traveler Story
Lukas is a young man from Germany who has been traveling in South America for the past several months.
"Vidigal is my favorite neighborhood in Rio," he says, confidently. "You have everything you need there," he adds.
So, Lukas first came to Rio several weeks ago as his first entry into the country.
"I arrived from Buenos Aires," he says. "So, I stayed in Rio for three days. Then, I went around to explore, and now I'm back," he adds.
Meanwhile, Lukas stayed in Vidigal on his first trip, and he says he knew to go back.
"It just made a good impression," he says, smiling.
So, Lukas stays in a hostel with other tourists and loves the neighborhood.
For example, he says the food is very cheap, and there is so much WiFi.
Likewise, he likes that there are natural things to do here.
"I would recommend everyone to try Mirante do Arvrão," says Lukas.
Therefore, make sure to hike up to this magnificent vista!
Leblon
So, Leblon is an upscale neighborhood just east of Vidigal.
"Some of the richest people in the city live here," says Bruna. "A lot of celebrities like to live in Leblon," she adds.
As a result, its beach is very serene and is very trendy.
Similarly, its streets are super green and dotted with cute shops, restaurants, and bars.
Likewise, it is a place full of culture and is home to the famous Teatro do Leblon.
"This place puts a lot on its schedule," explains Bruna. "For example, it is not uncommon for them to have over a thousand shows a year," she adds. "And, the things they put on their schedule are diverse."
For example, they do concerts, lectures, and more on several different stages.
"Meanwhile, Leblon is a place to shop," says Bruna.
For instance, the neighborhood is home to Shopping Leblon, a trendy modern mall.
"And, you will find some of the most successful boutiques here, too," Bruna says.
Therefore, go to Leblon for shopping, says Bruna.
Leblon Traveler Story
Yù is a Chinese woman who came to Rio with her husband and two children.
She is in love with Leblon.
"I find so many unique brands here," says Yù. "For example, I discovered a great shoe company from Chile," she adds. "I would never find them back home!"
So, Yù loves exploring the shopping side of Leblon, but she also loves the food.
For instance, she had a dish called ravioli negro (black ravioli) at an Italian restaurant called Quadrucci.
"It was delicious," says Yù. "It was just R$110 (this around $25 currently)," she adds.
Yù recommends trying food you really like.
"I always love Italian food," she says. "And, it doesn't have to be high-end restaurant food. I'm a big fan of Italian street food, too."
Meanwhile, Yù, who is from Xi'an, says Leblon has a natural build to it.
"So, you leave the beach, and you're soon in the restaurants and cafes of central Leblon," she says. "Then, soon you arrive at the lagoon. It is incredible!"
Therefore, follow along and start your visit from the beach. Then, have a bite in the middle section. And, finally, end up at the lagoon!
Ipanema
So, this is probably the most fashionable neighborhood.
Because Ipanema Beach is one of the most popular, the district is associated with fun, says Bruna.
"For example, this district has the gay neighborhood inside it," says Bruna.
Rua Farme de Amoedo is the street with most gay establishments in Rio.
As a result, there are many muscled men in speedos at the beach here, says Bruna.
"The perfect place to go for eye candy, man or woman," she laughs.
Meanwhile, Pedra do Arpoador is a peninsula that attracts a lot of surfers.
As a result, that part of Ipanema has a youthful vibe to it.
"For example, there is a skating rink, which is very popular," says Bruna.
So, as you can imagine, Bowl Arpoador brings even more young people, as a graffiti-friendly skating center.
Likewise, the nightlife is unmatched in Ipanema.
For instance, there are chill bars and dance clubs—and everything in between.
Therefore, go to Ipanema to enjoy a youthful Rio, says Bruna.
Ipanema Traveler Story
American tourist Jake is just sixteen and came to the city with his family.
However, he has spent more at the skating rink than his family would like.
"Basically, I have been here every single day," he laughs. "I just love it here, these guys are so cool," Jake adds.
Jake says he would hang out there all day if he had the chance.
However, Susan, Jake's mom, says she's worried about him getting hurt or even local boys stealing his things.
"It's really safe, mom," says Jake, smiling.
He is right because there is a brotherhood between these skaters, and they love what they do.
Meanwhile, Jake is also in love with the ocean and has been swimming at Ipanema Beach daily.
"I wish my parents would let me come here at midnight," he laughs. "But, it's fine, I come here early in the morning for a dip."
So, if you're into skating, head to Bowl Arpoador and grow your skills.
Likewise, try to go swimming at night.
Copacabana
So, Copacabana is a very glamorous area.
Because of its famous beach, popular promenade, and the incredible architecture, it has a classical feel to it, says Bruna.
"For example, this is where you imagine your grandmother lives," says Bruna. "However, it is also where you would work out!"
A lot of the seafront buildings are home to an older generation, sure, but Copacabana is also very hip.
For example, you have Copacabana Palace, which is an art deco treasure that opened its door in 1923.
"So, today it is a 5-star hotel owned by Belmond, a subsidiary of the French conglomerate LVMH," says Bruna.
Similarly, there are tons of other hotels and resorts—and they are all mega-expensive during the high season.
"Staying here during New Year's Eve or Carnival is too expensive," says Bruna.
In other words, Copacabana is also very touristy.
Meanwhile, Copacabana Fort, with its military museum, is popular with locals and foreigners alike.
"Actually, the fort peninsula is where the triathlon, road cycling & the marathon all rest," says Bruna. "So, this neighborhood has many functions, to say the least."
Therefore, Bruna says to go to Copacabana to admire the city's glamorous past and tourist present.
Copacabana Travel Story
José is a young man from Mexico who came to celebrate the New Year with his girlfriend, Camila.
So, José says he had seen the New Year's Eve celebrations from Copacabana since he was a kid.
"Definitely, it was always something I looked forward to," he says. "New York and Rio were my favorite New Year's Eve," he adds.
Two years earlier, he and his father visited New York for New Year's Eve.
"Now, I'm happy to be here," says José.
Meanwhile, the entire city descends on Copacabana Beach for the event.
The cariocas, as the locals are called, wear white and start their evening early.
"Camila and I were dressed and ready to go at 5pm," says José.
Botafogo
So, Botafogo is a hip neighborhood that has a lot to offer.
For example, its beach is the perfect place to admire Sugarloaf Mountain.
"Because of the mountain is right in front of you, it's a nice beach to go to relax," says Bruna.
Likewise, there is Morro Dona Marta, which is a hill from which you can get unmatched views.
"Meanwhile, there is also a favela there called Dona Marta," says Bruna.
Similarly, Museu Do Indio is an excellent museum that preserves indigenous culture in a classical building that has gardens.
There is also Botafogo Praia Shopping, which is a nice shopping mall.
"It is a great place to view the Botafogo Bay, as well," says Bruna. "You will also find nice restaurants and a movie theater," she adds.
Of course, Botafogo is always famous as a hip neighborhood with a young crowd and lots of small, cozy establishments.
Therefore, Bruna says to go to this neighborhood for its hip vibes.
Botafogo Travel Story
So, it's just past six a Saturday evening, and 23-year-old Taka is here for a party.
We are in apartment building off of Rua São Clemente.
"I think we are here," says Taka, who is visiting from Japan, after getting off on the fourth floor.
The party is full of young people, with drinks in hand and in conversation.
Small groups of a few are spread across the whole apartment.
It is very intimate.
Taka meets his friends Vitor and Mariana.
"We met at a bar," smiles Taka. "They invited me to this party," he adds.
There are parties like this across Botafogo, an area inhabited by a young crowd.
So, although Taka is staying in Centro, he loves hanging out in Botafogo.
"I'm usually here in the evenings," he says.
Because there are a lot of cool bars, younger tourists tend to hangout here.
"If you're cool, you're in Botafogo," says Vitor, Taka's local friend. "We never go to Ipanema or Copa (Copacabana)," he adds. "Those neighborhoods used to be cool in the 1960s or 1970s, but now it's for rich people."
Later, around midnight, Taka and his friends Vitor and Mariana go out to a nearby bar.
"The atmosphere here is very nice," says Mariana, who says she only comes out on the weekends. "I work and go to school," adds Mariana, a 22-year-old nursing student. "So, for me, it is not easy."
Vitor, who works during the week, says he likes to grab a beer after work.
"But, yeah, I also stay put until the weekend," he smiles.
Normal neighborhood!
Flamengo
So, this is definitely the leisure neighborhood.
Because it's home to a park named Aterro do Flamengo, it's the epitome of a neighborhood to chill out.
"For example, on the weekends, traffic is closed around the park," says Bruna. "So, you will find many locals picnicking or enjoy an outdoor entertainment show," she adds.
Meanwhile, check out Estácio de Sá Monument, which celebrates the state's first governor, which is also in the park.
Likewise, another spot to see is Praça Cuauhtemoque, which celebrates Cuauhtémoc, the Aztec ruler, as part of Mexico-Brazil friendship.
"It was a gift to Brazil from Mexico, to celebrate the 100th anniversary of Brazil's independence," says Bruna.
Therefore, Bruna says go to Flamengo to relax and commemorate.
Flamengo Travel Story
Esther is a 42-year-old from Nigeria, and she is in love with Aterror do Flamengo, the park.
She just finished her morning meditation and yoga.
"From 6am onward, I'm here," she says. "I start with a meditation, and then I move to the yoga," she adds. "I love the water, the view, and the people."
Afterward, we decide to go for a walk to talk, but she already greets several people.
"I come here every morning," she says. "So, I know everyone."
Esther has been in Rio for over a month and loves the city, saying she's currently discovering different neighborhoods.
For example, aside from Flamengo, she loves Leblon, as she finds its beach peaceful.
Likewise, she is crazy about Paquetá, the island in the Guanabara Bay, which Esther says is heavenly.
"I also like Botafogo and Glória, which are similar to Flamengo," she says. "However, Flamengo is definitely my favorite."
So, back in Nigeria, Esther works as a marketer for a large conglomerate. For many years, she was nonstop busy.
As a result, she suffered a burnout, which she says was caused by working 80 hours per week.
"However, I have been feeling so much better since I have been here," she says. "Being in nature, talking to new people, and discovering new places is helpful," she adds. "I would say the meditation and yoga have been extremely beneficial."
Meanwhile, she has taken six months off work to travel and plans to visit several more countries.
"Let's say that I'm not in a hurry to go back," she says, smiling. "I now understand I needed to travel more, to relax more," she adds.
Flamengo is perfect for her!
Centro
So, this is the downtown Rio neighborhood and acts as the center of the city for everything.
For instance, it's where to take ferries or buses to nearby regions, or do government-related bureaucracy.
"However, Centro is also the area with a lot of rich historical buildings," says Bruna.
For example, there is Paço Imperial, a royal palace that dates back to the 1700s.
Likewise, Centro is home to Igreja de Nossa Senhora da Candelária, a historic church that opened in 1801.
"It took something like 25 years to build this church," says Bruna. "Of course, you can see all the glory and paintings inside," she adds. "Because of the history, this is a must-see tourist attraction. At one time, there was nothing between the church and the sea. You can imagine what that view was like!"
Similarly, there is Rua do Lavradio, a street to find handicraft and experience samba.
"For example, there are colorful buildings with beautiful designs on this street," notes Bruna. "In some evenings, you can experience samba dance unlike anywhere else," she adds.
Meanwhile, Centro is also home to a lot of skyscrapers, as it is also the financial center of the city.
Therefore, says Bruna, go to this neighborhood to experience history, find cool handicrafts, and dance!
Centro Travel Story
Pieter is a 39-year-old Dutch businessman.
"I came here for work," says Pieter, who works in the financial sector. "So, of course, my work has me staying in Centro," he adds.
So, during the day Pieter is at the conference, and in the evening he entertains clients.
"However, I'm enjoying the weekends," he laughs. "Plus, I added a few more days at the end of the trip for personal enjoyment."
Meanwhile, Pieter has been having a hard time getting to know Centro. Unfortunately, he says, a lot of the places are not open for dinner.
"And, that is when I have the choices of restaurants," he explains.
So, he has been going to restaurants elsewhere.
Centro sees a lot of business travelers like Pieter. However, this is downtown in Rio, and a lot of locals work here.
After his conference is over, Pieter stays in Centro for two days to discover the area.
For instance, Pieter, who is into churches, is in love with the modern cathedral.
"I think the architecture is very unique for a church," he says.
So, the cathedral, which is called Catedral Metropolitana de São Sebastião in Portuguese, is a tourist attraction.
It is cone-shaped and was built in 1979.
"I really like it," says Pieter.
Santa Teresa
So, Santa Teresa is the bohemian part of town and one of the most popular Rio neighborhoods.
"For example, this is the neighborhood where most artists will like," says Bruna. "Visually, it is a stunning neighborhood," she adds. "Because of the hills and old buildings, it is very artistic, visually, and in its vibe."
As a result, start your visit at the Largo do Guimarães, a square that is famous for its bohemian ambiance.
"So, the square is named after Joaquim Fonseca Guimarães, who was a Portuguese businessman," says Bruna. "He had invested a lot in this neighborhood," she adds. "For example, he built a home that is now a hotel, as well as invested in some businesses."
Meanwhile, another place to check out is Parque das Ruínas, a museum and park on the ruins of a mansion.
Because it has a great view of the city, Bruna says this park is a must-see.
Likewise, Escadaria Selarón is a famous landmark you must visit.
"So, these are 215 colorful steps that lead to the Convent of Santa Teresa," says Bruna. "The piece of art was made by the late Chilean-Brazilian artist Jorge Selarón," adds Bruna. "Meanwhile, it was also the site where he was found dead in 2013."
Therefore, visit Santa Teresa to experience the artists and the bohemian vibe of this historic neighborhood.
Santa Teresa Travel Story
Elsa and Agnes are a lesbian couple from Sweden.
They walk up the neighborhood, holding hands and happy.
Soon, they arrive at the famous Wet Mouse Lookout, a popular and accessible scenic location.
"We have been walking for hours," says Agnes, 23.
"But we are happy to do it," Elsa, 24, jumps in.
They kiss.
From here, you can see a beautiful view of Rio.
Wet Mouse Lookout is an ample open space with a tree in the middle.
There are cobblestones on the ground.
"It is just perfect," says Agnes.
They take photos.
Agnes is a writer, and Elsa is a musician.
"We have been dating since we were in high school, says Elsa.
For the past several months, they have been traveling through South America.
Agnes is working on a novel, and the couple will live in Peru for some months.
"Maybe five or six months," says Agnes.
Meanwhile, they are enjoying Santa Teresa, where they are renting a room in an old house.
"Agnes is a great cook," says Elsa. "So, she has been making Brazilian dishes with the woman whose house we are staying," she adds. "I think she's good!"
They are the best travelers!
Alto da Boa Vista
So, this is a significant neighborhood, as it is home to the most important tourist attraction in Rio.
Because Cristo Redentor or Christ the Redeemer is considered a New World Wonder, you can't miss seeing it!
Meanwhile, this is an art deco statue of Jesus Christ debuted in 1931 created, designed, and finished by diverse artists.
"Brazilian, Romanian, and Polish have had hands in it," says Bruna.
For example, it was a Polish-French sculptor named Paul Landowski, who created it.
Likewise, it was Heitor da Silva Costa and Albert Caquot, Brazilian and French engineers, who built it.
Similarly, it was the Romanian artist Gheorghe Leonida that created the face.
"So, this piece of art inspired other large sculptures of the Christ around the world," says Bruna.
As a result, the city was designated a UNESCO World Heritage Site in 2012 thanks to this statue.
Therefore, says Bruna, visit this neighborhood to take a selfie with this New World Wonder!
Alto da Boa Travel Story
Rodrigo is a 36-year-old from Belo Horizonte, which is the capital city of the Brazilian state of Minas Gerais.
He arrived in Rio by bus earlier that morning.
"It only took seven hours," says Rodrigo.
And, of course, after dropping off his bag at the hotel, he wanted to meet his woman.
So, Rodrigo has been having a long-distance relationship with Beatriz, a 29-year-old who lives in Rio.
"We were dating in Belo Horizonte, and then she got a great job here," says Rodrigo.
Meanwhile, after meeting at a café, the couple decides to go to Vista Chinesa—their favorite spot in Rio.
So, Vista Chinesa is a popular belvedere at the top of Estrada Dona Castorina that has a lot of history.
For instance, it was built in 1903 to honor the Chinese people brought to work in Brazil.
"For example, Chinese people worked on the botanical garden and tea plantations," explains Beatriz, Rodrigo's girlfriend.
It opened the door for more Chinese to follow.
This tourist attraction has more meaning for Rodrigo than any other place.
His maternal great-grandmother was Chinese and came to the country with her husband, who died just a year later.
"She worked for many years, and then she met and fell in love with a Brazilian man," says Rodrigo. "So, my grandmother is half-Chinese," he adds.
When Rodrigo was a kid, his family would bring him to the Vista Chinesa, which means "Chinese View."
So, the view is incredible, as you are 1250 feet (or 380 meters) high.
Likewise, there is a beautiful Chinese-style pavilion at the top, which means it's a great spot for selfies!
Conclusion
Rio de Janeiro is nicknamed the Marvelous City for several reasons.
For example, there are several mountains around the city, creating a valley like with the water and buildings.
Likewise, Rio neighborhoods honestly give you a distinct sense of the landscape, as they are intertwined with nature.
Similarly, there are tons of beautiful beaches, unforgettable culture, and diverse people.
So, you had a chance to learn more about districts like Ipanema, Copacabana, Santa Teresa, and more.
You have experienced the impoverished favelas and the affluent parts.
Yes, Rio is definitely the Marvelous City!
AJ Paris is a travel photographer based in New York. He is the editor of Caravanzers.