Scuba diving destinations in the United States give you a chance to explore the adventurous side of the country.
To tell you the truth, this is one of my favorite activities. As an outdoor person, I love to share my experiences.
In this guide, I will discuss popular locations such as Florida Keys, California, and Hawaii, each with its own optimal diving periods depending on climatic conditions.
I will also share the most sought-after diving spots and the importance of proper training and certification to avoid accidents.
So, get ready for an adventurous ride.
Scuba Diving in the USA
The United States offers numerous breathtaking scuba diving spots. Scuba diving sites cater to different diving styles and marine life sightings.
A handful of sought-after locations include Florida Keys, California, and Hawaii, to name a few.
The ideal period to go scuba diving in different places can differ based on the location and the climatic conditions.
In the Florida Keys, for instance, the peak season for divers is usually during winter (December to April) because of the clarity and tranquility of the waters.
Nonetheless, the period between June to September, which is when the most whale sharks can be observed, can also be a favorable time for diving.
In California, the summer months (June to August) are generally the best time for diving, as the water is warmer and the visibility is better.
Hawaii, on the other hand, tends to have good diving conditions year-round, although the winter months (December to February) can be rougher due to higher waves.
Regardless of where you choose to go scuba diving in the United States, it's important to make sure you're prepared with the right equipment and training.
Take the time to research the location and its conditions beforehand, and always dive with a buddy for added safety.
Finally, note that if you're planning to come to the United States to simply scuba dive, you still need to satisfy travel requirements. For example, you still need a valid passport and a visa where required.
Scuba Diving Requirements in the USA
To scuba dive in the US, there are specific prerequisites that you must fulfill. Firstly, you must be at least ten years old and in reasonably good health.
Secondly, you must undertake a scuba diving certification course which will equip you with the essential skills and safety procedures required for diving.
Various organizations such as PADI and NAUI offer certification courses that include classroom sessions, pool sessions, and open water dives where you will learn the fundamentals of scuba diving.
The course covers topics such as how to breathe underwater, the proper use of equipment, and how to communicate with your dive partner.
After successfully completing the certification course, you will receive a scuba diving certification card, which you must present whenever you want to go diving.
Additionally, you will need to have your own scuba gear or alternatively rent it from a dive shop. This gear typically includes a wetsuit, fins, a mask, a regulator, a buoyancy compensator, and a tank.
It's important to bear in mind that scuba diving can be hazardous if not done correctly. Therefore, it's vital to follow all safety procedures and guidelines.
Always dive with a partner, check your equipment before each dive, and ensure you're familiar with the dive site and its conditions before jumping in.
With the right training, gear, and preparation, scuba diving in the United States can be a remarkably fulfilling and unforgettable experience.
Hawaii
Hawaii is a popular destination for scuba divers due to its diverse marine life, including colorful fish, sea turtles, and whales.
The warm and clear waters of Hawaii make it an ideal location for exploring the underwater world.
Molokini Crater, Lanai Cathedrals, and Kona are some of the most sought-after spots for scuba diving in Hawaii.
Molokini Crater, a volcanic crater off the coast of Maui, is home to a range of marine creatures, such as manta rays and sharks.
Lanai Cathedrals, located off the coast of Lanai, is famous for its underwater lava tube formations and the opportunity to see spinner dolphins.
Kona on the Big Island of Hawaii is home to multiple dive sites where divers can encounter everything from manta rays to whales.
Proper training and certification are essential before scuba diving in Hawaii. Knowing the local dive sites and potential dangers, such as strong currents or dangerous marine life, is also crucial.
Being respectful of the marine environment and avoiding touching or disturbing any wildlife encountered is vital.
Additionally, ocean swells, and currents can vary depending on the time of year and location, so checking the conditions before diving and always diving with a buddy for added safety is necessary.
Scuba diving in Hawaii is an unforgettable experience that provides the opportunity to witness some of the world's most beautiful and diverse marine life.
With the right preparation, training, and respect for the environment, scuba diving in Hawaii can be a remarkable and memorable adventure.
Florida
Florida is definitely one my favorite scuba diving destinations in the United States.
Diving in Florida is an exciting experience that lets you explore diverse underwater environments like coral reefs, shipwrecks, and underwater caves.
With its warm waters, rich marine life, and accessibility, Florida is a sought-after destination for divers worldwide.
Popular diving spots in Florida include the Florida Keys, West Palm Beach, and Panama City Beach.
You can enjoy exploring the famous Spiegel Grove wreck, colorful coral reefs, and many marine species like sea turtles and sharks in the Florida Keys.
West Palm Beach is known for sightings of reef sharks, octopuses, and other marine life. Panama City Beach, on the other hand, offers opportunities to see artificial reefs and a variety of fish.
When you go diving in Florida, it's important to have proper training and certification. Weather can be unpredictable, so you should check conditions before diving and always have a buddy with you.
Shallow waters require caution to avoid disturbing marine life. Some areas, especially in the Florida Keys, have strong currents that need awareness and adherence to safety guidelines to avoid accidents.
Diving in Florida is an unforgettable adventure that offers you the chance to discover fascinating marine life. This is truly a state that has a unique underwater environment.
California
California offers scuba divers an extraordinary experience to explore a variety of diverse underwater environments, including kelp forests and shipwrecks.
It is an ideal location for divers of all expertise levels.
Some popular scuba diving spots in California include Monterey Bay, Catalina Island, and Channel Islands National Park.
Monterey Bay is famous for its kelp forests, where one can spot a variety of marine life, including sea otters and harbor seals.
Catalina Island, situated off the coast of Southern California, provides an opportunity to witness colorful fishes and larger marine animals like sea lions and sharks.
Channel Islands National Park, located off the coast of Ventura, offers numerous dive sites to explore underwater caves, shipwrecks, and more.
Scuba diving in California requires proper gear, training, and preparation since the water can be cold, especially in Northern California.
It is essential to wear the proper exposure protection, such as a wetsuit or dry suit, to stay warm.
Additionally, the currents can be strong in some areas, so it is necessary to be aware of your surroundings and follow all safety guidelines.
Limited visibility due to water conditions is another factor to be aware of when scuba diving in California.
Therefore, it is crucial to be ready for low visibility and always dive with a buddy for added safety.
Scuba diving in California offers a unique and diverse underwater experience that can be both challenging and rewarding, with the chance to see beautiful and fascinating marine life.
Inland Dive Sites in the USA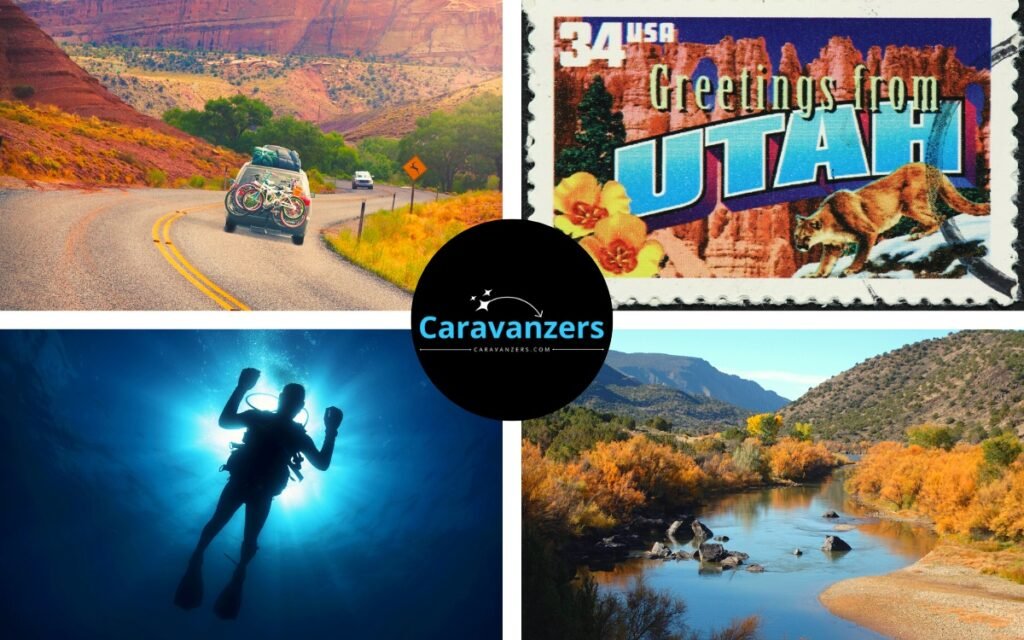 While scuba diving on land is not possible, there are still unique diving experiences to be had in the US that don't involve ocean access.
For instance, the Blue Hole in Santa Rosa, New Mexico, is a popular diving spot thanks to its crystal-clear water and fascinating geological formations.
Meanwhile, the Homestead Crater in Midway, Utah, offers divers the chance to explore a geothermal spring inside a 55-foot-tall limestone dome.
Diving in these types of locations presents unique challenges that divers need to be aware of.
For example, the water temperature may differ from ocean diving, and divers might need specialized gear to stay warm.
Additionally, diving in confined spaces like sinkholes or caverns requires specialized training and experience to avoid getting disoriented or trapped.
As with any diving experience, it's crucial to be well-trained and prepared and to follow all safety guidelines to ensure a safe and enjoyable dive.
Final Thoughts
I hope that this article has provided you with valuable knowledge about scuba diving destinations in the United States.
Remember, fulfilling the prerequisites for scuba diving in the US, such as age, health, and certification requirements, is essential.
Preparing adequately and showing respect for the environment means that you will have an exciting and unforgettable adventure.
So, prepare your gear, receive proper training, and dive into the extensive underwater world that the United States has to offer!
Tom Larson is a traveler who writes about the outdoors. 
Follow us on Pinterest.