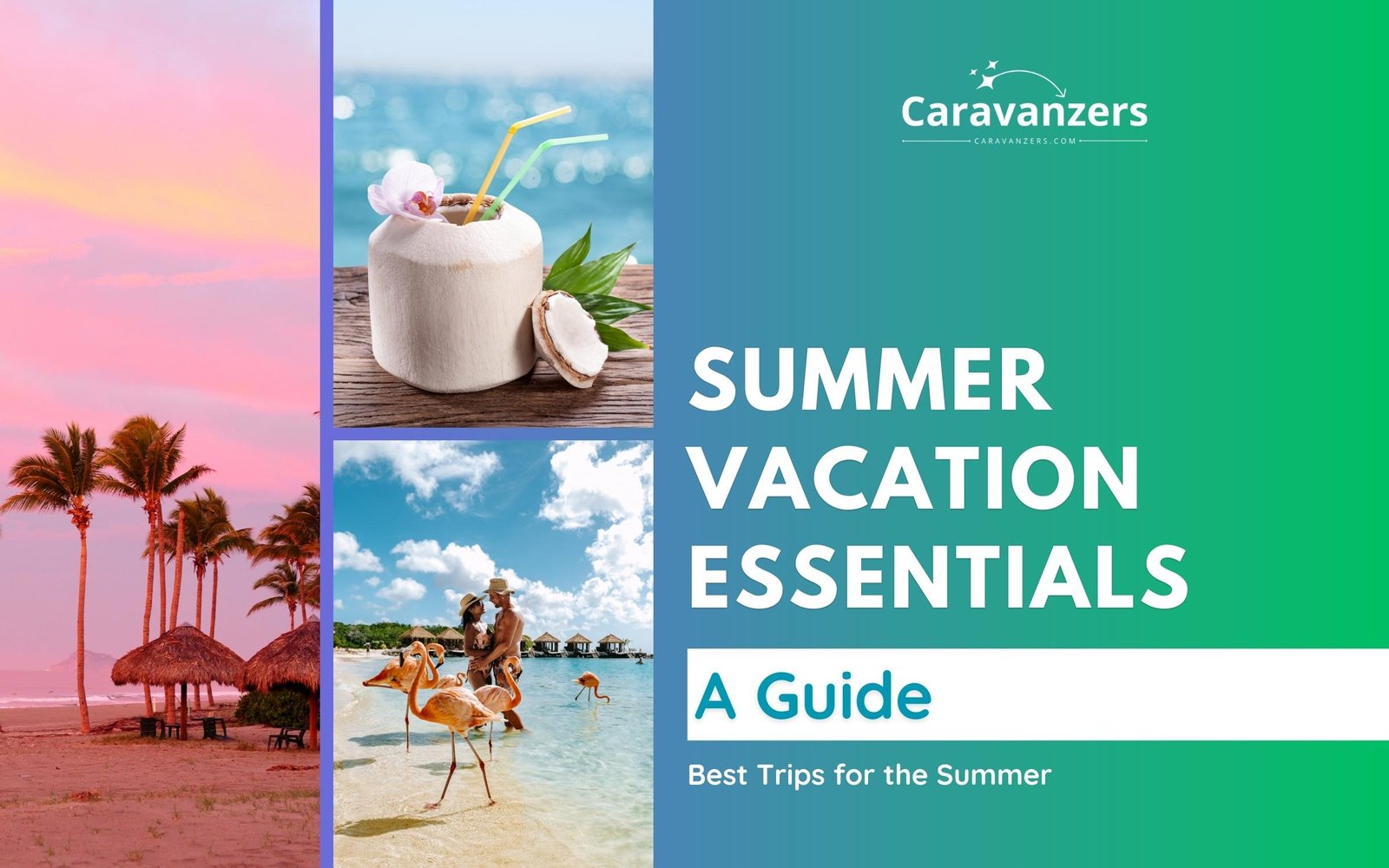 Summer vacation essentials are all about being prepared for a fun and relaxing time, and this guide has everything you need to plan.
Many travelers choose to go on trips in the summer due to several reasons.
The summer season offers pleasant weather, longer daylight hours, and school vacations, making it an ideal time for family vacations, outdoor activities, and exploring new destinations.
In this guide, we will first pack your general summer trip, helping you to think about unique items you will want to bring along.
Then, I will go into specifics, such as the essentials for your international travel, as well as road trips and cruise summer vacation.
So, if you're planning a trip for the summer, keep on reading.
Summer Vacation Necessities Overview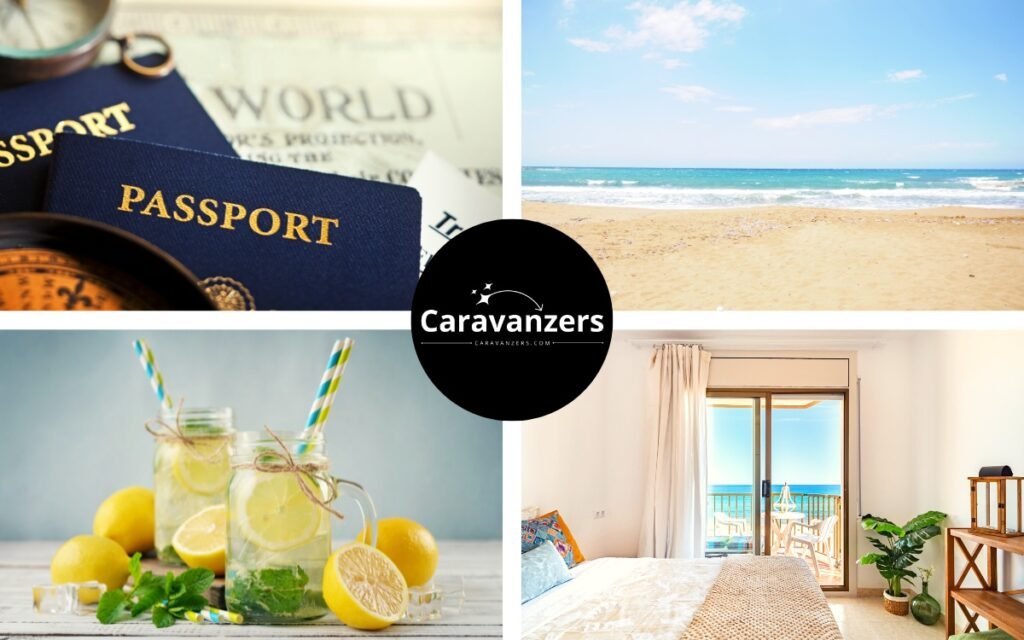 We all love to imagine an easy, breezy trip, but your summer vacation necessities will probably include planning.
You will probably want to think about things like sunscreen to protect your skin, a beach towel for lounging by the water, and a good book for relaxation.
Naturally, sunglasses to shield your eyes, a hat for sun protection, and a swimsuit for dipping into the waters are also high on the list.
Finally, what would be a summer without a camera to capture memories and a cooler for refreshing drinks and snacks?
Make sure to include insurance in your trip planning.
Travel insurance is important for summer vacation because it provides coverage for unexpected events like trip cancellations, medical emergencies, lost luggage, and flight delays.
It offers peace of mind, financial protection, and assistance in case of unforeseen circumstances, ensuring a smoother and worry-free vacation experience.
For a smooth summer vacation, avoid overpacking and carrying unnecessary items.
Don't forget to check the weather forecast and pack appropriate clothing.
Avoid overspending by setting a budget.
Steer clear of crowded tourist areas if you prefer a more peaceful experience, and don't forget to stay hydrated and protect yourself from excessive sun exposure.
Of course, I have other things to share with you that will show up in the upcoming sections.
Documents
When it comes to travel documents, here are the essential items to include in your summer vacation packing.
Double-check passport validity and make sure it will not expire before your planned departure date.
It may be required for various purposes during your trip.
Having a copy of the itinerary will help you stay organized and have important information readily available.
If you have travel insurance, make sure to carry the necessary documentation, including policy details and emergency contact information.
This will provide peace of mind in case of unforeseen circumstances during your vacation.
Have some local currency on hand and inform your bank about your travel plans to avoid any issues with your cards.
Carry your health insurance cards or any relevant medical information, particularly if you're traveling internationally.
It's important to be prepared for any unexpected medical needs.
Keep these copies separate from the originals in case of loss or theft.
Remember to secure your original documents during your trip and have the copies easily accessible.
Summer Vacation Luggage
The right suitcase is essential for a summer trip because it ensures efficient packing and organization.
It should be lightweight, durable, and have sufficient compartments for storing clothes, accessories, and travel essentials.
A well-chosen suitcase can make traveling more convenient, comfortable, and stress-free.
Of course, not every summer vacation requires a suitcase.
Summer backpacking through regions like Europe or national parks offers an exhilarating adventure.
It entails exploring vibrant cities, historical landmarks, picturesque landscapes, and diverse cultures.
From breathtaking hikes to immersive experiences, it's a chance to create lasting memories while embracing the freedom, beauty, and rich heritage of each destination.
Even in backpacking, thinking ahead and planning is crucial.
It involves researching destinations, creating a flexible itinerary, arranging accommodations, and considering transportation options.
Planning ensures you don't miss out on must-see attractions, helps manage time and budget efficiently, and enhances safety and overall enjoyment of the backpacking experience.
Summer Clothing Essentials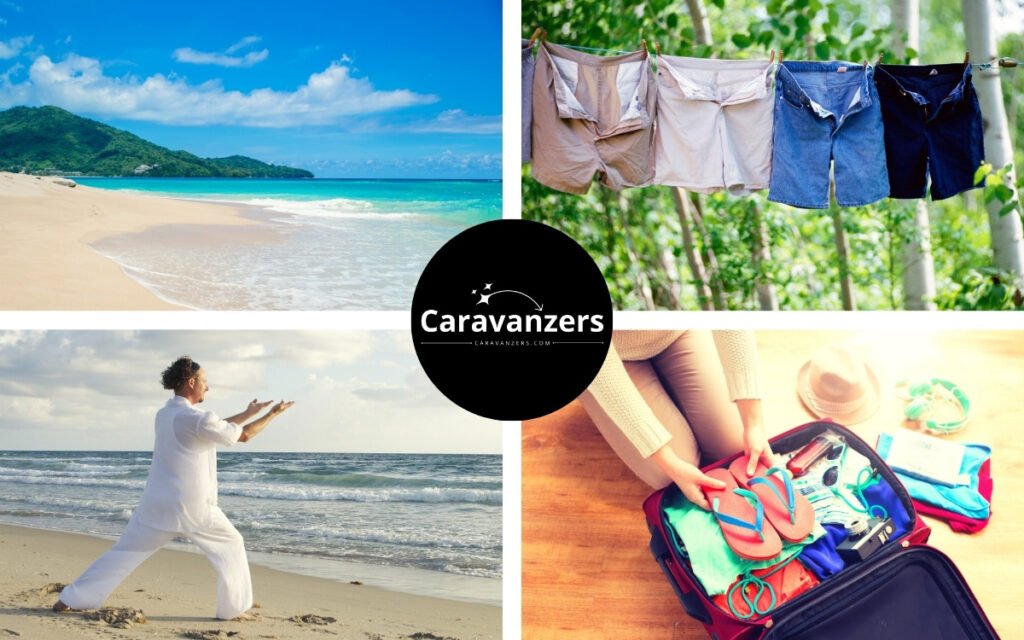 For clothing, think about lightweight swimwear, cover-ups, underwear, and sleepwear.
Pack a variety of tops made from lightweight and breathable fabrics such as cotton or linen. These will keep you cool and comfortable during hot days.
Opt for bottoms that are suitable for warm weather. Pack a combination of shorts, skirts, or lightweight pants like linen trousers or flowy culottes.
Don't forget to pack your favorite swimwear. Whether it's a bikini, a one-piece swimsuit, or swim trunks, make sure you have enough to enjoy the beach or pool.
Include cover-ups or sarongs that you can easily slip on over your swimwear when you're not in the water. These provide additional sun protection and can be stylish beachwear.
Evenings can sometimes get cooler, especially if you're near the coast or in mountainous areas. Pack a light sweater or cardigan to keep yourself warm during breezy nights.
Remember to pack an adequate supply of underwear and socks for the duration of your trip. Consider bringing moisture-wicking or breathable options for added comfort.
Don't forget to pack comfortable sleepwear, such as pajamas or nightgowns, for a good night's sleep during your vacation.
Of course, you have to remember to consider the duration of your trip and the specific activities you have planned when determining the quantity of each item to pack.
Summer Footwear
Make sure to pack comfortable walking shoes or sneakers that you can rely on for exploring and walking during your vacation.
Look for shoes that offer good arch support and cushioning to keep your feet comfortable throughout the day.
Include a pair of sandals or flip-flops for casual outings, trips to the beach, or relaxing by the pool.
Opt for comfortable options that are easy to slip on and off.
If you plan on participating in water activities like snorkeling, kayaking, or beach walks, consider bringing water shoes or aqua socks.
These will provide protection against rocks, shells, or hot sand while offering grip and comfort in the water.
Don't forget to pack a pair of dressier shoes for any special occasions or dinners you have planned during your vacation.
Choose comfortable options like wedges, sandals, or loafers that can be dressed up or down as needed.
Remember to select footwear that suits your destination, planned activities, and weather conditions.
Additionally, consider any specific dress codes that may apply to your vacation.
Summer Vacation Accessories
Don't forget to pack a pair of sunglasses to protect your eyes from the sun's glare.
Look for ones that offer UV protection for optimal eye health.
Include a sun hat or cap to shield your face and head from the sun.
Choose a style that provides ample shade and has a comfortable fit.
Pack a beach towel or mat for lounging on the sand or by the pool.
Opt for a quick-drying and lightweight option that is easy to carry.
Bring a beach bag or tote to carry your essentials, such as sunscreen, water bottle, and beach accessories.
Look for a spacious and sturdy bag that can withstand sand and water.
Pack a lightweight scarf or wrap that can serve multiple purposes, such as covering your shoulders in the sun, accessorizing your outfits, or providing an extra layer on cool evenings.
Choose a selection of jewelry and accessories that complement your vacation outfits.
Keep in mind that it's best to bring pieces that are versatile and easy to mix and match.
If you're bringing pants or dresses that can be cinched at the waist, consider packing a few belts to add style and definition to your outfits.
Depending on your destination and the weather forecast, consider bringing an umbrella or a lightweight raincoat to stay prepared for unexpected rain showers.
Remember to adjust your accessory choices based on your specific destination, the activities you plan to engage in, and any specific style preferences you have.
Toiletries for Summer Vacation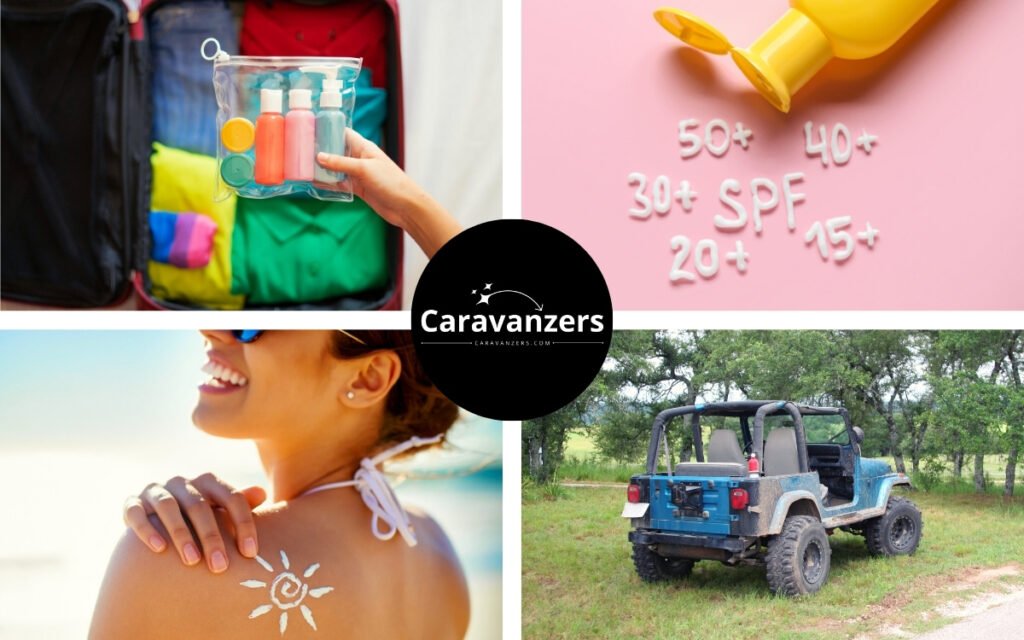 Sunscreen will help you to safeguard your skin against harmful UV rays, so bring it along with high SPF.
Select a broad-spectrum sunscreen suitable for your skin type and apply it generously throughout your vacation.
Include a soothing aloe vera gel or after-sun lotion in your packing list to provide hydration and relief to your skin after sun exposure.
This will help alleviate sunburns and maintain your skin's moisture.
Consider bringing an insect repellent, depending on your destination and the prevalence of insects, to protect yourself from bug bites.
When choosing an insect repellent, seek those with active ingredients like DEET or picaridin.
If you're planning to be using this stuff long term, make sure to talk to your doctor because they are heavy-duty stuff.
Alternatively, you can transfer these products into smaller containers designed for travel.
Summer Vacation Entertainment
For your summer vacation, consider ahead of time what electronics and entertainment you'll be bringing along.
Make sure to pack your mobile phone and charger as it serves multiple purposes, such as communication, navigation, and capturing memories.
If you enjoy photography, consider bringing a dedicated camera or video camera along with necessary accessories like memory cards and extra batteries.
A portable charger or power bank will be handy to keep your devices charged throughout the day, especially during long outings or when power outlets are limited.
If you enjoy reading, bring along an e-book reader or tablet to have multiple books at your fingertips while saving space in your luggage.
A pair of headphones will come in handy for entertainment, and of course, for privacy. Whether it's for listening to music, watching movies, or taking calls, these are great.
If you're traveling internationally, figure out if you will need an adapter to ensure your chargers and electronic devices are compatible with different electrical outlets.
Additionally, consider bringing travel guidebooks or maps of your destination to help with navigation, learn about local attractions, and plan your itinerary.
Alternatively, you can use digital travel apps or download maps to your phone or tablet.
Remember to secure your electronic devices and store them safely during your travels.
Summer Vacation Abroad Checklist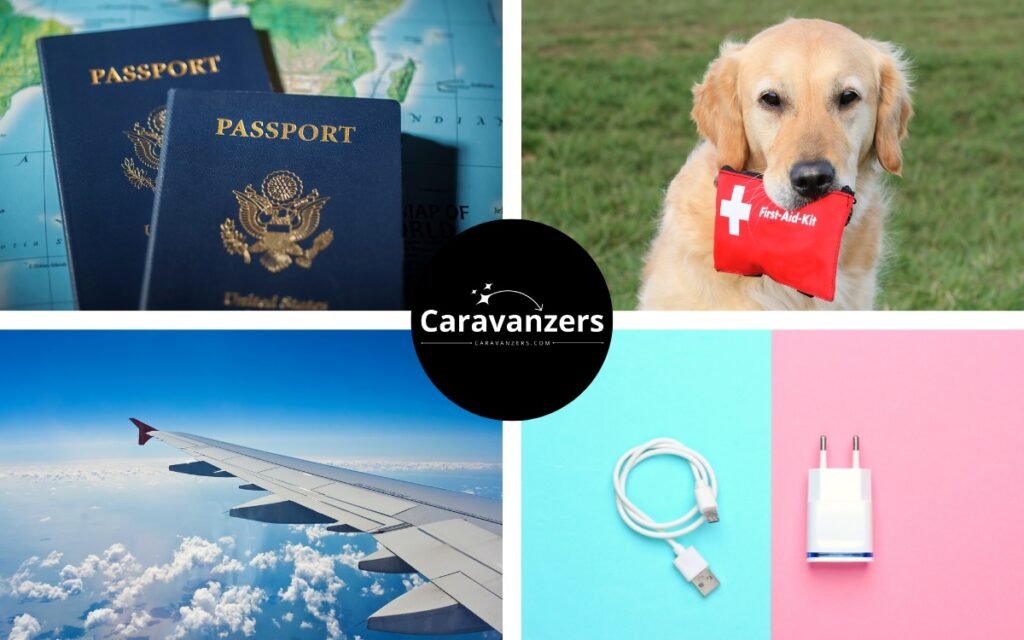 When preparing for an international summer vacation, it's essential to pack wisely to ensure a comfortable and enjoyable trip.
Here are five things you should consider bringing.
The necessary travel documents, including your passport (making sure it has at least 6 months validity), visa (if required), travel insurance information, and any other relevant identification or permits.
Make sure these documents are valid and readily accessible throughout your trip.
Depending on your destination, you might encounter different electrical outlets and voltage standards.
Packing a universal power adapter will allow you to charge your electronic devices without any compatibility issues.
It's always a good idea to bring extra charging cables as well.
Research the climate and culture of your destination to determine the type of clothing you should bring.
Pack lightweight and breathable clothing suitable for the summer season.
If you're heading into a beach area, definitely swimwear, comfortable walking shoes, a hat, sunglasses, and sunscreen to protect yourself from the sun's rays.
If you take any prescription medications, ensure you have an adequate supply for the duration of your trip.
Make sure to carry a small first aid kit with basic supplies, especially if you're planning any offbeat trips. Include things like bandages, antiseptic ointment, pain relievers, and any other necessary over-the-counter medications you might need.
Research the currency used in your destination country and ensure you have enough local cash for immediate expenses upon arrival.
Additionally, consider bringing a credit or debit card that is widely accepted internationally, as it provides a convenient payment option.
Notify your bank about your travel plans to avoid any issues with card usage abroad.
Remember to check the specific requirements and recommendations for your destination to ensure a smooth and enjoyable vacation.
Summer Vacation Road Trip Checklist
For a summer road trip, here are five essential items you should consider bringing.
Even with modern GPS systems and smartphone apps, it's a good idea to have physical road maps or a reliable GPS navigation system as a backup.
This ensures you can navigate smoothly even in areas with limited network coverage.
Prepare an emergency kit that includes items such as a spare tire, jumper cables, a flashlight, basic tools, roadside flares, and a first aid kit.
It's also wise to include some extra water and non-perishable snacks in case of unexpected delays or emergencies.
Pack comfortable clothing suitable for long hours of driving.
Bring layers, as temperatures can vary throughout the trip.
Don't forget to bring travel pillows, blankets, and any other personal comfort items that can make your road trip more enjoyable.
To keep yourself entertained during the journey, bring your favorite music playlists, audiobooks, or podcasts.
Snacks like trail mix, granola bars, and fruits are great options to have on hand to keep hunger at bay between meal stops.
While most places accept credit and debit cards, it's a good idea to have some cash on hand for tolls, parking fees, or small purchases at local establishments that may not accept cards.
Additionally, ensure you have a suitable phone charger or power bank to keep your electronic devices charged during the trip.
Remember to also check your vehicle's condition and perform any necessary maintenance before hitting the road.
Being prepared and having these essentials on hand will help make your summer road trip safer, more comfortable, and more enjoyable.
Summer Vacation Cruise Checklist
When packing for a summer vacation cruise, it's important to consider the unique aspects of cruise travel.
Here are five things you should consider bringing.
Let's start with the obvious. Keep documents in a secure, easily accessible place throughout your journey.
Pack a variety of clothing options to accommodate different activities and occasions onboard the cruise ship.
Include casual attire for daytime activities, such as swimsuits, cover-ups, shorts, t-shirts, and sundresses.
For evening events, pack formal or semi-formal outfits, including dresses, suits, or dress shirts and slacks.
Additionally, don't forget to pack comfortable walking shoes, sandals, and accessories like hats and sunglasses.
While cruise ships often provide basic toiletries, it's a good idea to bring your preferred personal care items.
Pack items like toothbrushes, toothpaste, shampoo, conditioner, sunscreen, and any specific medications you require.
Cruise ship cabins often have limited power outlets.
Packing a power strip with surge protection can be beneficial, allowing you to charge multiple devices simultaneously.
Additionally, bring a universal power adapter to ensure your electronic devices can be charged regardless of the outlet type onboard.
You may also want to bring entertainment options like books, magazines, card games, or electronic devices for downtime during the cruise.
It's important to review the specific guidelines and recommendations provided by the cruise line you'll be traveling with to ensure you pack accordingly.
Final Thoughts – Summer Vacation Essentials
This guide gave you a comprehensive overview of essential items to consider when planning for a summer vacation.
From travel documents and luggage choices to clothing essentials, footwear, accessories, toiletries, and entertainment, each section offered valuable insights and practical tips.
Additionally, important factors such as travel insurance, budgeting, avoiding overpacking, and staying hydrated were highlighted to enhance your vacation planning process.
By considering these recommendations and tailoring them to your specific needs and destination, you will have a memorable and stress-free summer vacation.
So, start packing and get ready for an incredible adventure!
AJ Paris is a travel photographer based in New York. He is the editor of Caravanzers.
Follow us on Pinterest.