Although it is an American holidays, Thanksgiving can be celebrated by anyone and therefore Thanksgiving dinner ideas are great for all of us!
So, to better present these Thanksgiving dinner ideas, we decided to focus on what it means to give thanks, decorations from outside to the table, the dinner itself such as the turkey and the side dishes, as well the desserts, the drinks, and the songs!
Yeah, this is a big article.
Meanwhile, before you jump into it, you should know some of the links in the article lead to commissions for us if you end up purchasing through them. Of course, we would recommend these things and it is no cost to you.
So, let's go!
---
Giving Thanks
Since the First Thanksgiving in 1621 when 90 Native Americans and 53 pilgrims celebrated the harvest, the tradition of this popular holiday is all about giving thanks.
"I'm thank for" is probably a phrase you have heard all your life, around the Thanksgiving table, with family and friends.
But, really, giving thanks is good for us.
For example, a study from the American Psychological Association showed that gratitude is good for the heart.
"In sum, we report that gratitude and spiritual well-being are related to better mood and sleep, less fatigue, and more self-efficacy, and that gratitude fully or partially mediates the beneficial effects of spiritual well-being on these endpoints," wrote the researchers Mills et al.
So, jump into Thanksgiving knowing it is good for your health!
If you need some help with gratitude, Sarah Breathnach is an expert. To get her "The Simple Abundance Gratitude Journal" book, Click Here.
Meanwhile, a good way to start the process is through decorating the home.
---
The Decorations
Thanksgiving decorations start from the outside and work their way into the table.
Of course, orange, which symbolizes the fall or autumn, is a must.
Because this bright color is not as popular as some of the other colors such as red or blue, put it to good use during this period of the year when it is acceptable and even expected!
"From jack-o-lanterns and fall foliage to the full harvest moon and crackling flames in my fireplace on that first frosty evening, orange says comfort," says Roseanne Torriane, an editor for Produce for Better Health Foundation.
Meanwhile, if you're having a hard time incorporating it into your decorations, try to perhaps use it as an accent color.
For instance, maybe the napkins could be orange.
Otherwise, we invite you to try Martha Stewart's "Entertaining." To get it from Amazon, Click Here.
---
The Turkey
Of course, no one can imagine a thanksgiving dinner without turkey.
Meanwhile, do you know why we eat turkey during this holiday?
Because turkey, which is native to North America, was the bird hunted for the First Thanksgiving.
Since then, it just became a tradition.
So, what is the best way to have your turkey?
Of course, roasted in the oven!
After that, the next question would be on our favorite way to do it.
We love Ina Garten's "Perfect Roast Turkey."
It takes about 3 hours and 20 minutes and to can get the recipe from the Food Network, Click Here.
Keep in mind this is an intermediate recipe!
So, if you're a total beginner, you might want to try something less dramatic.
For instance, we recommend Williams-Sonoma's "The Best of Thanksgiving."
To order it from Amazon, Click Here.
---
The Recipes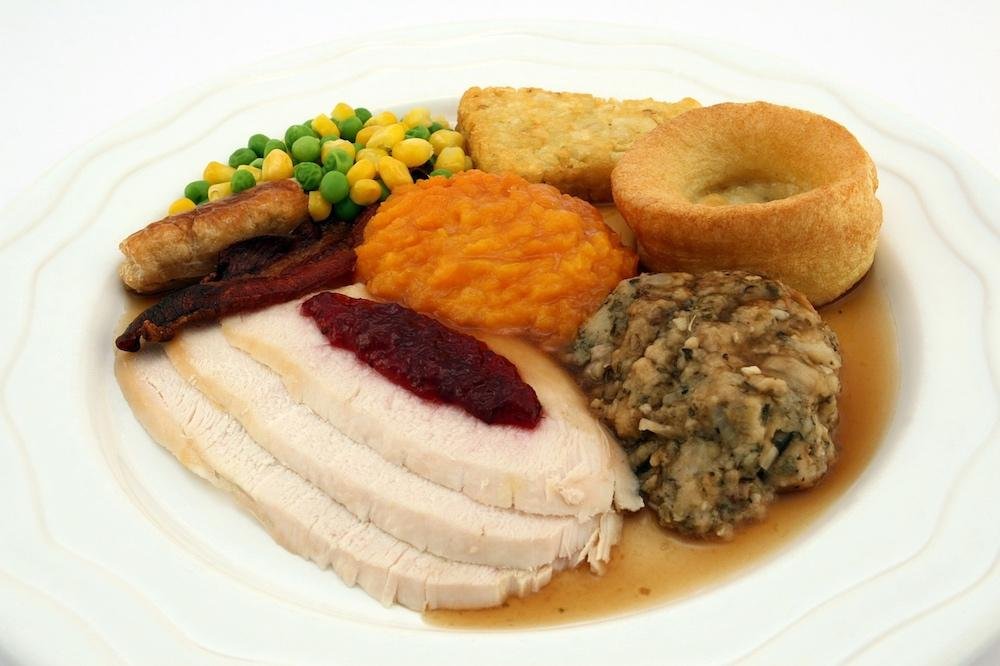 Thanksgiving recipes are traditional.
Literally, there are some families that have hand-written stuff in their cabinets.
So, of course, it is very subjective what is considered "traditional."
Generally speaking, a Thanksgiving dinner requires turkey as the main dish, accompanied by side dishes like cranberry sauce, stuffing, mashed potatoes and/or turnips, vegetables, and some form of bread.
Of course, it is understood that there will also be desserts, drinks, and more!
So, what is the best recipe book for this type of stuff?
Once more, we would say that we recommend Williams-Sonoma's "The Best of Thanksgiving."
To order it from Amazon, Click Here.
Meanwhile, if you want to make these from scratch, refer to our article, "24 Thanksgiving Recipes to Love."
---
The Desserts
Hey, what about the pumpkin pie!
No Thanksgiving dinner ideas without pumpkin pie!
Pumpkins are distinctively fall item.
Native to North America, the pumpkin shows up for Halloween as a decorative shell, in the famous pie for Thanksgiving, and the spiced latte at the local cafes.
Needless to say, we can't do the holiday without pumpkin!
So, what else can you expect from the dessert menu?
How about any kind of pie!
There are also cakes, ice cream, and other sweet items.
---
The Drinks
Thanksgiving drinks can be alcoholic and non-alcoholic.
For example, some people like to enjoy fruit juices with their dinner.
That is, an apple or orange juice could accompany the dishes.
Others, of course, like wine or even other alcoholic drinks instead.
Because it is "white" meat, tradition says one should enjoy white whine with the turkey. We love the California Chardonnay by CRU International. To order from Amazon, Click Here. You must be 21 years of age or older to purchase or consume alcohol in the United States.
However, if you have secondary meats, especially dark meats, then you can have red wine.
And, depending on the culture, some people like a little liquor after dinner.
For example, Italian culture proposes liquor shots after dinner.
---
The Songs
You know any Thanksgiving songs?
"Are there really any?" asks one of our friends.
Yes, there are a lot of them, actually.
For example, Otis Redding's "I Want To Thank You" has been a classic Thanksgiving song since it hit the airwaves in 1968. To hear a sample of this song from Amazon Music, Click Here.
Then, of course, we have more modern classics like "Apple Pie à la Mode" by Destiny's Child and Adam Sandler's "The Thanksgiving Song." To listen to "Apple Pie à la Mode," Click Here. For "The Thanksgiving Song," Click Here.
Similarly, Graham Parker's "Almost Thanksgiving Day" is being played across families, especially as one to play before the dinner. To listen to this, Click Here.
Meanwhile, Nat King Cole's "Autumn Leaves," Little Eva's "Let's Turkey Trot," and Green Day's "Macy's Day Parade" are all worthy of listening to during the holiday.
Therefore, music for Thanksgiving is all around us.
After all, there are even birds singing the beauty of the autumn. Just open your windows and let those songs in!
Finally, every family has their own renditions of things. Perhaps, your family has some songs that you use for celebratory moments.
If you have some, share it with us in the comments.
---
Final Thoughts
So, Thanksgiving dinner ideas are not just about the "dinner."
That is, it is the universe around this special meal.
As a result, we included ways to think about giving thanks for your health, decorations that go from outside to the table, as well as recipes of the central figure bird, the side dishes, the sweets, and the drinks.
However, we also included a few songs to make make the holidays more meaningful!
So, did we miss anything?
If so, let us know in the comments!
Meanwhile, for more food articles, Click Here (to go to the food section).
Nina Walker is a food writer for Caravanzers.
Follow us on Pinterest.