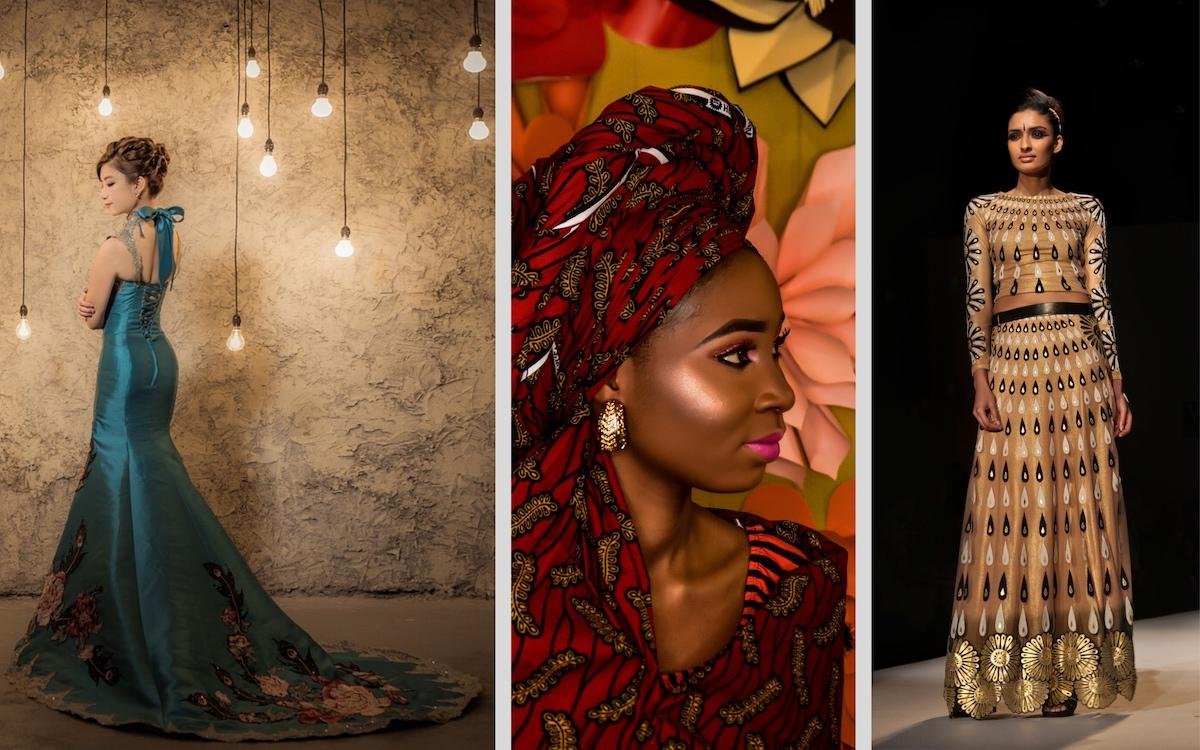 Do you know there are top fashion designers in the world who may not have a store in your mall?
Sure, you may be familiar with Armani, Chanel, Prada or Calvin Klein. However, do you the designers shaping China, India, and even the Arab World?
Don't worry, we got you covered!
Here are the very best the world has to offer for the globetrotter like you. Everything from Beijing to Dubai and beyond!
Chinese Designers
So, one of the names of China is Zhōnghuá, which means "Central Beauty," which of course, in the Chinese mind, means the people also look and dress good!
In some Chinese dynasties in the past, people were forced to wear certain clothing.
"For example, the Qing dynasty required men to wear the chángshān (長衫), which is a type of a long shirt," says Li Xiu Ying, who writes for our magazine. "And they forced women to wear the qípáo (旗袍), which wasn't as lose as the cheongsam is today."
As a result, modern Chinese designers borrow from ancient ideas of what is fashionable. For example, Jenny Ji "re-imagined the cheongsam, giving it a clearly modern twist," says Li xiu Ying.
Ji, a Milan-trained who found her own label called La vie by Jenny Ji, has introduced many blends like that.
Likewise, Li Xiu Ying says that popular fashion designer Laurence Xu sometimes creates modern looking ancient clothing.
"For instance, look at this colorful cloak designed by him," says Li Xiu Ying. "It is inspired by the Hanfu dǒupéng (斗篷), which is an ancient Chinese cape."
In other words, Chinese designers are not afraid to be modern or traditional or even mix the two!
Meanwhile, Vivian Tam, Guo Pei, Lan Yu, Jimmy Choo, Zan Toi, Alfred Sung, and Han Feng are all Chinese fashion designer from China and elsewhere!
Indian Designers
Much like China, India has its own traditional clothes that date back to thousands of years.
The sari (साड़ी) is a dress that women wrap around their bodies. It is a popular form of clothing, especially for women in rural areas or women who are married.
Because weddings are huge business, most of the major fashion designers take advantage. So, in India, designers use some form of wedding attire in their collections.
For example, Sabyasachi Mukherjee, the man who dressed Priyanka Chopra and Deepika Padukone for their weddings.
Likewise, sometimes Indian designers will use modern pattern with clearly Indian motifs or colors.
For instance, Ritu Kumar does a good job of mixing modern with rich colors. Same with Manish Arora, who often shows his designs in Paris Fashion Week and even uses non-Indian models.
Meanwhile, top Indian fashion designers include Manish Malhotra, Tarun Tahiliani, Anita Dongre, Rohit Bal, Neea Lulla, and Masaba Gupta.
Arab Designers
Arab people share the same language, but are very diverse. In that sense, the Arabs are different from Chinese and Indians.
For example, in some Arab countries, like Saudi Arabia, women are asked to wear the hijab, which covers women. Sometimes, it covers the entire body.
So, designers like Dubai-based Safiya Abdallah create fashionable hijab, like her sand pleated cloak.
However, in some other countries, like Egypt, this is not the case at all! In that case, the designers will generally create their own national-inspired designs.
For example, Egyptian fashion designers like Farida Temraz are creating more fusion stuff that still give that ancient flavor.
Of course, there are also global fashion houses in the Arab World such as Elie Saab. Saab, who is Lebanese, has dressed international clients, including Béyonce, Jennifer Lopez, and Rihanna.
Lebanese-born Jacob Abrian has created an organization that serves the fashion industry in the Arab World.
"The Arab Fashion Council (AFC) is the world's largest not-for-profit organisation that aims to establish a fashion system (Pipeline) by uniting the 22 Arab countries under one umbrella in terms of creative economy, based on knowledge and production," says the organization's website.
They were part of the Arab Fashion Week in Dubai!
Meanwhile, there are other top fashion designers from the Arab World. They include Zuhair Murad, Rami Al Ali, and Faiza Bouguessa. You want more? Check out Artsi Ifrach, Noor Al Khalifa, Haya Al Khalifa, Ayah Tabari, and Nadine Kanso.
Sub-Saharan Designers
Africa, a diverse continent, is divided into the northern Sahara Desert and southern Sub-Saharan region.
While those in the Saharan Desert, often called North Africans, speak Arabic, the people of Sub-Saharan Africa are very diverse.
Nigeria, the largest country of the continent, is located in this part of Africa. It is on the western side of the continent and has a long and diverse history.
Therefore, Nigerian fashion designers like Deola Sagoe give us uniquely regional designs, as well as modern ones!
Likewise, South African designers like Enhle Mbali Mlotshwa will often present modern pieces that almost have a nostalgia for another time.
If we venture into the eastern part of the continent, we find designers like Taibo Bacar, the Mozambican who translates classical fashion into African sensibilities.
"African has always been known for its daring use of color, from acid oranges to luminous blues," writes CNN's Nosmot Gbadamosi, in an article that tries to make a coherent reporting on the continent's booming fashion industry.
Meanwhile, other top African designers include Folake Folarin–Coke, Fikirte Addis, and Mabel Simpson. If you're hungry for more, check out Amanda Laird Cherry, Niku Singh, Palesa Mokubung, and Ally Rehmtullah.
European Designers
European designers are very diverse. Yes, there is more to fashion in Europe than just the French, Italian, or British.
So, let's look at some fashion designers in Europe where the continent meets Asia.
For example, there are Turkish designers like Hussein Chalayan that come up with awesome stuff! Chalayan's fashion-meets-technology designs are super awesome. It is definitely a contrast to Yıldırım Mayruk's old school stuff.
Then, of course, there is Russia. It is the other European country that also has (huge) part of its country in the Asian continent.
So, one of our favorite designers is Valentin Yudashkin. You could say his stuff is very, very classical fashion, which contrasts with Kira Plastinina's super composed designs.
Meanwhile, you may be familiar with H&M, but what other cool Scandinavian designers? We love Danish-born Stine Goya's colorful imaginations!
So, if you're still hungry for more European designers, check out the work of Astrid Andersen, Jean-Paul Lespagnard, Nur Yerlitaş, Custo Dalmau, Nikolay Bozhilov, Wolfgang Joop, and Ozwald Boateng.
South American Designers
South American Designers tend to have roots that end elsewhere. As a result, many of their designs are both unique, as well as rooted in Europe, Asia, or Africa.
For example, Peruvian José Francisco Ramos makes very clean clothes, but you can still sniff Peru.
Likewise, Brazilian Alessandra Meskita will probably give you the same vibes.
Meanwhile, Argentinian Min Agostini creates modern silhouettes that may be familiar to you, while Venezuelan Constanza Oquendo plays with structure.
Speaking of Venezuela and structures, Daniela Panaro's No Pise La Grama brand will often present its pieces in fashion/nature spaces.
Therefore, there is a lot to discover in South America!
If you would still like to see more from South America, you might want to look into designers like Carlos Miele, Sara Cristina, Martin Churba, Erika Weise, Luz Briceño, and Mila Kartei.
Conclusion
So, you have had a chance to check out fashion designers in China, India, Arab World, Sub-Saharan Africa, Europe, and South America!
Because we are based in North America, we are skipping that continent, as we don't want to seem like we are playing favorites!
Meanwhile, now that you know what to expect, you might decide to dive into all of the brands we shared with you and see what you can find for yourself!
After all, fashion is all about personality and what resonates with you on an individual level.
Lena Wilson is a fashion writer for Caravanzers.