From flights to hotels and food, this is all about how to travel in Europe cheap without having a cheap experience.
Europe is a fascinating continent, and it doesn't have to break the bank to visit there.
So, let's show you…
How to Travel in Europe Cheap
Europe is a popular destination for tourists from all over the world. France, Spain, Italy, the United Kingdom, and Germany – and all in that order – are the most popular destinations, reports the United Nations [PDF]. However, Europe is also very expensive. Therefore, the question is…
The best way to travel in Europe for cheap is to plan ahead, using a good itinerary planner, and visit the right time, at the right places, and with the right people advising you.
Therefore, this article is really all about that.
Meanwhile, I want you to know that I formatted this for photographers, even though it works for anyone.
Moreover, I thought I would narrow that down by focusing on someone who is going to Europe for the first time.
Why?
Because through the newbie we can all learn a few things, too!
So, here we go…
Traveling to Europe for the First Time
Because you have heard all the fantastic places and things to do in Europe, you have probably wanted to go forever.
So, are you traveling to Europe for the first time? If so, then there are a few things you should keep in mind. This article will cover all of them.
Above all, you need a passport.
In the United States, a passport can be processed ahead of time or on an emergency basis.
However, your ticket has to be issued before it is considered an emergency.
Besides, you will want to pay attention to the fees, because the emergency passport is significantly more expensive.
Meanwhile, you will also want to consider several other related items.
For example, you will need to have a trip planner, which includes travel dates, destinations, and itinerary.
Therefore, this article got you all hooked up… and on the cheap!
Start a Europe Trip Planner
Many years ago, I met a young American who was homeless in Paris. Because he didn't have a trip planner, he didn't know what to expect in Europe. As a result, he became homeless within two weeks of arrival.
A Europe trip planner is a document that has the details of the significant aspects of your trip. That is, it will include where you will go, what you will do, how much it costs, et cetera.
A trip planner is really essential because it gives you peace of mind.
"For instance, I plan everything in advance," says a photographer friend. "Because European cities are more expensive, as the currency is higher than the dollar, one needs to budget," he adds.
Therefore, a planner can make a big difference.
For example, a good trip planner will have you budget your trip so that you don't end up without funds in the middle of your journey.
Likewise, a trip planner will have you look for travel insurance. Because you will be traveling in foreign countries, travel insurance is a necessity.
These days, there are apps to help you plan your trip.
Top trip planning apps include Google Maps, TripIt, and Kayak.
In conclusion, your Europe trip planner should include a budget, itinerary, travel insurance, et cetera.
Best Time to Travel to Europe
Because Europe is a continent, not all of the countries have the same weather. For example, in the winter, the Scandinavian countries will be super cold and dark. On the other hand, Mediterranean countries like Spain or Italy you might be able to go hang out at the beach.
The best time to travel in Europe for cheap is August. Because cities like Paris and Rome are super empty during that month, your cost is so much cheaper all around.
However, it depends on you.
For example, if you're a winter person, then go in the winter. For instance, weeks around Christmas are some of the most festive times of the year.
On the other hand, if you're a spring person, then go in the spring.
No matter what season you like, there is something cool to do in Europe.
Certainly, summer is the season for Europe.
However, if you're an American, you may not enjoy it as much as others.
Why?
Because Europe is not an air-condition culture.
Meanwhile, airfare prices are generally lower in the months before the summer (May) and after (September).
Because these months, known as shoulder months, are outside of the "holiday" or vacation months, there tend to be fewer people at the famous sites.
As such, if you need to enjoy popular tourist sites without too many people, then go in those months.
In conclusion, one can photograph Europe at any time of the year. Instead, focus on what you personally like.
Best Destinations in Europe
Because Europe is home to some of the most fascinating tourist sites in the world, it is tough to say where the best destinations are. After all, doesn't that depend on the individual taste? But I will give you my opinion.
Best destinations in Europe include Paris, London, Rome, Berlin, and Madrid are definitely cities you cannot miss. These cities give you a feel for Europe in general.
What do I mean?
Berlin gives you a northern European vibe.
For example, there are parts of Berlin that can remind you of Saint Petersburg.
Because most of Berlin was once in East Germany, there is still a glimpse of a country that was once very close to Russia.
On the other hand, there are parts of Berlin that are pretty German.
Therefore, I feel like those five cities give you distinct feelings of their histories, which is, obviously, European history.
However, another big reason I recommend is that they all have significant ethnic minorities of immigrant background.
For example, whereas London has a vibrant South Asian community, Paris has a large North African population.
Likewise, Berlin is home to a large Turkish community, and Madrid has a large South American population.
That is, as a photographer, you will probably get more diverse faces in these cities.
However, if you're into beaching, then perhaps you want to hang out in southern Spain, France, and Italy.
In conclusion, if you're planning to photograph Europe, then make sure to add those cities on your list.
Best Europe Trip Itinerary (10 Days)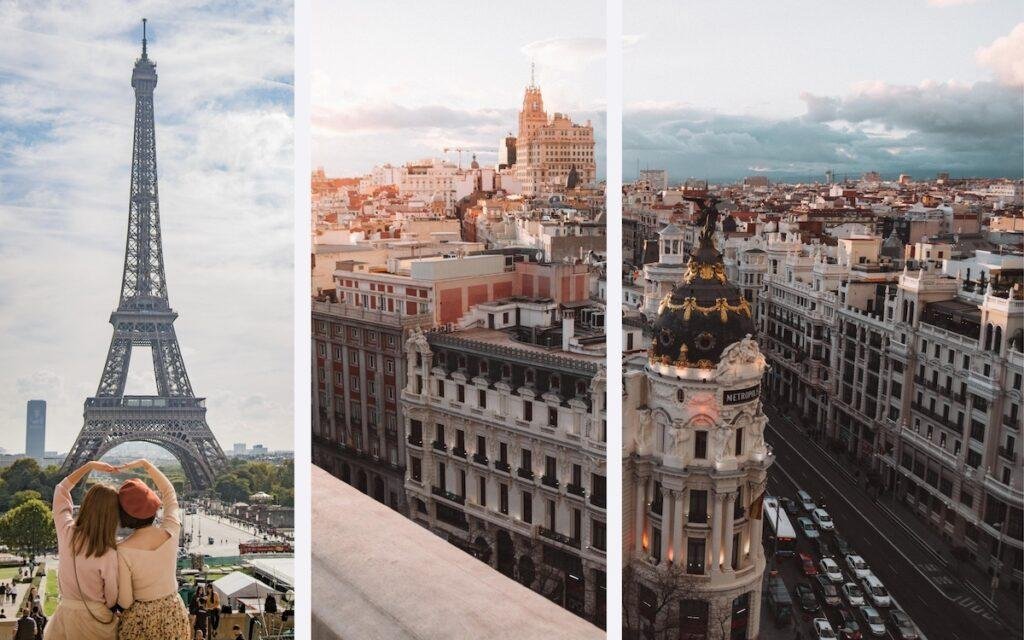 A long time ago, I used to jump from city to city and maximize my days. However, I reformed since and these days, I stick to one location for a while. Meanwhile, if you are in a jumpy mood, then let's do this.
For the best Europe trip itinerary for 10 days, start your trip in Paris, go to London by train, fly to Madrid, then to Berlin, and end your 10 days in Rome. This will give you a chance to see a good amount of popular European destinations.
Whew!
Just thinking about it gives me a headache.
Why do I say start in Paris?
Because there is no place like Paris, and you might as well start your trip with a bang.
Likewise, the train to London is an exciting trip to take!
Flights from London to Madrid can be super cheap.
No, really, like very cheap!
For example, a flight from London to Madrid costs just $15, taxes included, with Ryanair on October 2, 2019.
However, a flight on the same day from Paris will cost $45, taxes included, with Transavia.
Therefore, you save $30 towards fun night in Madrid.
So, yeah, there is a method to my madness.
Meanwhile, each of these cities has its own version of the large tourist bus, and I recommend using them.
You can get a lot out of the one-day trip if you take advantage of this hop-on-hop-off system.
In conclusion, the five cities give you everything you need out of a European trip and will allow you to photograph the diversity and beauty of this popular continent.
Find a Europe Travel Blog
Because I was young and careless, my first trip to Europe was mega hectic, as I had no idea what to do or where to go and I refused to buy a guidebook. Certainly, I needed to find a blog, but I didn't even what the thing was.
A Europe travel blog is a blog that focuses on Europe as a travel destination. Therefore, a Europe travel blog will go so much more into detail than this article, for example. Likewise, a blog like that will give you a chance to examine the continent from different perspectives.
However, not all blogs are created equal.
For example, a photographer friend followed a blog that wasn't even based in the city he was moving to.
"During my time as a reader," says the friend, "I got lost several times. After that, I realized the person was not local at all."
So, there are two types of bloggers you want to follow.
Firstly, try to follow bloggers who live in the cities you intend to visit.
Because that is not always possible in English, follow a reputable travel professional.
Therefore, I would recommend the popular blog by Rick Steves. He will often present written, audio, and video material to help you choose the format the works for you.
Because Steves is known to Americans through his public television show, he has a natural talent in presenting information in a way that makes sense to both beginners and pros, I recommend him to all.
So, yeah, give him a chance.
In conclusion, a Europe travel blog can give you an insight to tourist sites, restaurants, and even hotels.
Get a Europe Travel Map
You might be asking who wants a map, but I'm here to tell you they are worth it. For example, I once got lost in the Black Forest in Germany because, yeah, my Internet was not working on my phone.
A Europe travel map is a map that covers the entire continent, even though many of these maps will still feature top destinations in more detail. Having a Europe travel map doesn't mean you use it, but you should carry a map that helps you to know where you are.
For instance, at every airport, you will find helpful information desks, and they always have maps.
Get yourself a map.
But, of course, you don't have to keep it once you reach the other city.
Meanwhile, did you know that there is such a thing as an interactive travel map?
For instance, Eurail publishes an interactive map of 31 countries connected by the railway system.
However, if you got yourself a helpful trip planner app, chances are it came with it.
Therefore, it doesn't matter how you get one, but get a travel map!
In conclusion, having a map in each city or country will only make you feel more confident.
Conclusion
In this article, we covered everything you will need to enjoy your European trip.
For instance, we described the importance of having a trip planner.
Because trip planners help us to plan our trip, we are more aware of issues such as the budget.
In the meantime, a good trip planner can do so much more because a good trip planner will include things, travel dates, destinations, and itinerary.
AJ Paris is a travel photographer based in New York. He is the editor of Caravanzers.