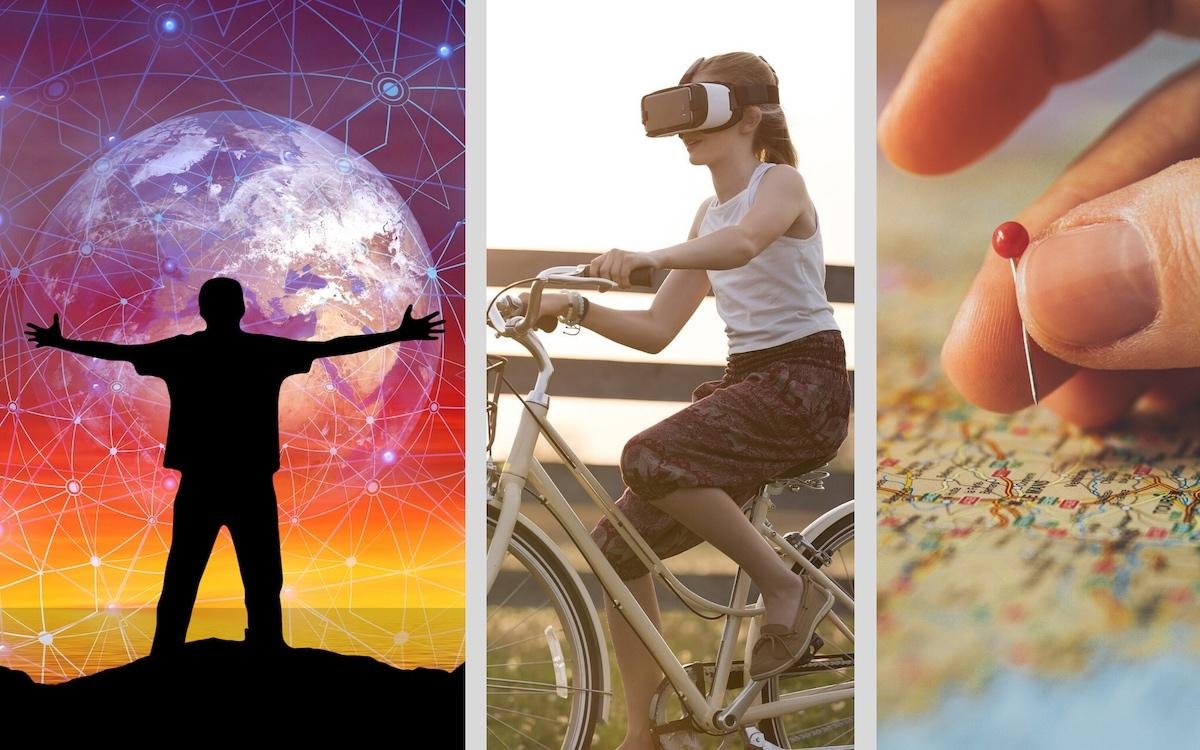 Coronavirus got us all wondering the best ways to stay at home, and virtual tourism is something you must try. Virtual tourism is defined, explained, and encouraged in this article!
By AJ Paris
So, what exactly is virtual tourism, and how does it help you to stay at home? Well, virtual tourism is as it sounds: you travel without leaving home! For example, you use virtual travel apps, virtual travel tours, and streaming guides.
Meanwhile, social media makes it easy to go global without feeling like lost.
"I decided to use virtual tourism when COVID-19 was first announced here in China," says Li Xiu Ying, who writes for us about China. "Because of the threat in the real world, the virtual world became my saving grace," she adds.
Viruses like COVID-19 are not fun at all.
Right now, health officials worldwide are discouraging people from traveling for non-essential.
Yes, I know some of us feel tourism is essential, but it's really not when thinking of life and death.
So, right now, stay at home until the global health officials tell us otherwise.
However, during virus spikes, virtual tourism is fantastic and can make avoiding getting sick an easy task.
So, let's go and dive into this informative article.
Virtual Travel Tours
Virtual travel tours are indeed the best.
So, let's start with that.
What is virtual travel tour? It is when top museums in the world give you virtual tours to their massive art collections.
"You feel like you went to the museum, but you didn't," says Lena Wilson, who writes about fashion for us. "For example, I'm obsessed with fashion, and I'm constantly going through museums," she adds. "I'm curious how people dressed 100, 200, or even 500 years ago! It fascinates me."
In other words, don't discount the museums by thinking it's only about art.
You can literally find anything on some of these museums.
So, you got some time on your hands, and you're wondering what museums you can e-visit.
For instance, the Los Angeles based Getty Museum, which has online exhibitions.
Likewise, the Vatican Museum has a virtual tour, including the famous Sistine Chapel!
Similarly, the Museu de Arte de São Paulo in Brazil has virtual tours.
"There are really a lot of museums across the world doing this," says Wilson.
Other top museums that offer virtual tours include the Smithsonian, the British Museum, Musée d'Orsay in Paris, and more!
So, sit back and visit a museum virtually!
Virtual Travel Apps
Virtual travel apps are very different from museum tours.
They get you traveling virtually!
So, what is virtual travel? Virtual travel is a way to travel virtually by experiencing segmented or sequenced travel moments. For instance, a 3-D imaging of Paris.
"You put it on, and it takes you there," says Tom Cohen, a virtual traveler in New York. "Part of the fun is knowing you're still home, but you still get that rush, you know?"
Yes, Tom, we know!
So, what are some of the popular virtual travel apps? For example, Google Earth VR, Discovery VR, and NASA VR are all examples of apps that have virtual travel.
Meanwhile, the VR in the names of these apps stands for 'virtual reality.' Virtual reality is a way to simulate experience so that it can be similar or different from the reality.
Unfortunately, a lot of people associate VR with gaming.
But there is so much more to it than that.
"With VR, you think you're walking around in Manhattan, but actually you're walking in images of Manhattan," says Tom Cohen. "However, because the sounds and sights can be so real, your brain may not care anymore. Likewise, you feel like you're touching things, too. So, it feels like a real experience."
In other words, VR apps make you feel like you're experiencing virtual tourism.
For example, our food writer Nina Walker says she loves VR cooking stuff.
"I'm addicted to them," she admits. "So, it all started when Italian chef Gabriele Corcos was releasing his Tuscan cookbook back in 2017," she adds. "Corcos launched his cookbook through a virtual reality cooking lesson. It got me hooked!"
So, as you can see, VR is beyond silly games.
Streaming Guides
Streaming guides are what travel television shows were to our parents.
"The other day, I watched a 4K video of someone just walking around in Los Angeles," says Li Xiu Ying. "Since the pandemic hit us all, I have been watching a lot of these types of videos online," she adds.
Li Xiu Ying, the author of Beijing Travel, lives in China and uses Chinese social media giants for virtual tourism.
Of course, the same can be done by anyone, anywhere!
Americans, for example, have access to tons of streaming systems.
For instance, YouTube, Amazon Prime Video, and Netflix all have travel documentaries, series, and shorts!
YouTube, especially, has been putting out incredibly diverse material.
"Because you don't need to be a company to put up content," says Rajesh Kumar, tech expert in India. "For example, you can't just film around Delhi and post it to Netflix," he adds. "So, YouTube is a great way to virtual travel because it can be so personal."
Li Xiu Ying agrees, saying that the personal touch makes a difference for her.
"For example, I watched videos about Nigeria, and it was so amazing," she says. "Because of the local presence in the videos, I learned so much! I think I learned more than if I was actually there because I was at home in my pajamas."
In other words, streaming media gives you access to travel in a way that makes it less stressful.
Lena Wilson, our fashion writer, says she watches a lot of global fashion shows through YouTube.
"It is really an incredible platform," she says.
Another benefit of YouTube is that its base services are free.
So, our dear travel friends, stream away!
Virtual Maps
Because we all love our GPS-powered map apps, this is a part of the article that is familiar to many.
So, what are virtual maps? Virtual maps are apps that create a virtual representation of the physical world. A popular one is Google Maps and its Street View.
AJ Paris is a travel photographer based in New York. He is the editor of Caravanzers.
"It is incredible how it works," says Rajesh Kumar, our tech buddy from India. "For example, you just jump into any developed country, and you're in those streets!"
Google has cars on the streets, and they are taking pictures in a 360-view manner. In other words, the entire view is captured.
"As a result, the user can drop into any street and view what that street looks like at the moment the picture was taken," explains Kumar. "Of course, life is constantly changing, so it is not always accurate," he adds. "But it is darn close!"
Meanwhile, Google is not the only one doing this. For example, Apple Maps has its Look Around, and Bing Maps has its Aerial View.
"They are all giving you similar experiences," says Tom Cohen, the virtual traveler from New York. "Of course, Google Maps is most extensive, and I use it all the time," he says. "However, the other ones are also worthy of use, especially if they are native to your system."
What Cohen is talking about is that, for example, iPhone users have Apple's Maps automatically installed in the system.
However, if the iPhone users want to have the popular Google Maps, then they would have to install it themselves.
Therefore, investigate and get your apps on!
Social Media
I tell my friends all the time that I owe my entire travel business to Instagram.
"You can't do them all," said a techie friend. "Choose one social media and master it," he added. "Or, you will end up scattered all over the place."
I took his advice, and years later, I can agree.
But, of course, there is more to social media than business! Instagram was created to connect us as people.
So, when you post media to the platform, it creates a geolocation tag.
"Geolocations are gathered from the physical location of your mobile device," explains Alex York.
For example, York notes that the platform could automatically do it.
However, York notes says that it's possible to turn it off for those who don't want it.
On the other hand, the user can use location themselves, or even use hashtag, says York.
"For instance, I love using the location feature for my work," says Nina Walker, our food writer. "That way, I can devour all the delicious stuff posted under a restaurant," she adds. "Because the diners are using the tagging on their own, they tend to give more honest reviews, too."
In other words, if you're a foodie like Walker, Instagram has an endless amount of geo-tagged restaurants worldwide!
"Of course, the idea is that it is the same for all," says Rajesh Kumar, our tech friend from India. "I do the same thing with Silicon Valley companies that I like," he adds. "Virtual travel is for all!"
Other social media platforms like Twitter, Pinterest, and Facebook have similar concepts.
So, go into the world with your social media activities!
Conclusion
Viruses are always forming, and we humans have had encounters with them for millions of years.
In other words, viruses come and go, but what is essential is that you take care of yourself.
We want you to be around when the going gets good again.
So, in the meantime, use virtual travel to do all of your tourism needs.
Because, as you have seen in this article, virtual travel is plenty, you have no excuses not to take advantage.
Stay safe!
AJ Paris is a travel photographer based in New York. He is the editor of Caravanzers.