Barcelona travel. Get ready to visit a captivating city that has a blend of unique history, amazing architecture, and wonderful culture.
From the grandeur of the Gothic Quarter to the architectural masterpieces of Antoni Gaudí, the city's historical sites showcase centuries of history and artistic brilliance.
The beaches in Barcelona provide a wonderful seaside experience with golden sand, clear waters, and a vibrant atmosphere.
Food enthusiasts will be delighted by the blend of Catalan, Spanish, European, and global flavors found in Barcelona's diverse culinary scene.
In this detailed guide, I will walk you through the city's popular tourist attractions, beautiful beaches, excellent shopping opportunities, and captivating festivals throughout the year.
I will also share with you when to visit, the best neighborhoods to stay, and a well-planned 7-day itinerary.
So, if you've been thinking of visiting Barcelona, keep reading this Barcelona travel guide.
Barcelona Tourism
Barcelona tourism is a captivating blend of rich history, architectural wonders, vibrant culture, and stunning Mediterranean beaches.
So, Barcelona has an array of historical sites that showcase its rich heritage.
From the grandeur of the Gothic Quarter and Barcelona Cathedral to the architectural masterpieces of Antoni Gaudí, such as the Sagrada Família and Casa Batlló, these sites embody centuries of history and artistic brilliance, captivating visitors with their beauty and significance.
Beaches in Barcelona offer a wonderful seaside experience.
The beaches are well-equipped with facilities, beach bars, and stunning views of the Mediterranean Sea.
With Barceloneta Beach being the most popular, they feature golden sand, clear waters, and a vibrant atmosphere.
Visitors can sunbathe, swim, and enjoy beachside activities.
Turisme de Barcelona is the local tourist board in the city, but it's also promoted by the Catalan Region and the Spanish Government.
With about ten million people visiting each year and the city bringing in millions of Euros each along with that, Barcelona tourism is a big business for these governments.
Tourism in Barcelona focuses on diverse segments of the industry and has wide-ranging things to offer travelers.
So, there are more than 150 places and things to purchase tickets for, and the tourism board really does a good job of getting great discounts.
The city also places a bunch of burdens on everyone who wants to operate in the industry, from taxi drivers to kiosk owners, and it's all to make sure they do their homework and offer the best services to travelers.
What that means is that your Barcelona travel can be a highly-curated experience unless, of course, you're like me and want to do it on your own.
What to Know Before Going
A visit to Barcelona requires being aware of a few things, and nothing really bad, but just to make sure your trip goes your way.
First of all, while this Spanish city has its share of petty crime, the type of violent crime rates you see elsewhere isn't the case here.
Crime is pretty low in Barcelona, and with basic precautions, you can enjoy a safe visit to the city.
Meanwhile, even though Barcelona is generally a safe city, there are some neighborhoods that may have higher crime rates or reputations for certain issues.
Examples include El Raval and parts of Ciutat Vella, and I would say just be aware when visiting these areas.
While exploring Barcelona, it's worth mentioning that pickpocketing can be an issue in crowded tourist areas.
Be vigilant and keep an eye on your belongings, especially in busy places like Las Ramblas.
It's a good idea to carry a secure bag and avoid displaying valuable items.
Barcelona is home to several cultural events and festivals throughout the year, such as La Mercè, a lively celebration showcasing Catalan traditions.
Check the city's event calendar to see if any festivals align with your visit, as they can provide unique experiences.
Finally, do not refer to Barcelona's people as "Spanish." Yes, the city is Spanish because it's in Spain, they are not Spanish, and they are very sensitive about that.
They are Catalan and have a unique language that a majority of the city speaks.
You will also note that signs are in both languages.
Also, please make sure to get insurance for your trip.
That's about it.
Best time to Visit Barcelona
So, when is the best time to visit Barcelona? I would have to say during the spring (April to June) and fall (September to October) seasons.
These months offer pleasant weather with mild temperatures, making it ideal for outdoor activities and exploring the city.
In my opinion, the summer months (July and August) can be quite hot and crowded due to the high tourist season.
So, if you prefer fewer crowds, it's best to avoid these months.
Winter in Barcelona is generally mild, but it can be rainy, and some tourist attractions may have reduced operating hours.
I think Barcelona is a great place to spend Christmas because it isn't too cold, but you still have a unique experience.
The Catalan Christmas is something to experience at least once in your lifetime.
How to Get There
To get to Barcelona, you have several options.
While some of these include flights, trains, and buses, you can also drive, and parking here is relatively cheap.
If traveling internationally, the chances are that you will probably fly into Barcelona-El Prat Airport.
Vueling Airlines hauls travelers across Europe to Barcelona, while Iberia does a good job of global flights.
Americans and citizens of many other countries can visit Spain for tourism without a visa for up to 90 days.
I would say check the specific visa requirements for your country.
If you find out you need a visa, the applications are typically done at Spanish embassies or consulates before traveling and are not available for on-arrival processing at the airport.
The city center lies approximately 12 kilometers (7 miles) to the southwest of this airport, which offers direct flights from various European destinations and major cities worldwide.
Another option is arriving by train, as Barcelona has good rail connections with other major European cities.
The main train station in the city is called Barcelona-Sants, also known as Estació de Barcelona Sants.
Finally, Barcelona can be reached by bus or by driving, with well-connected highways.
For example, the A75 goes directly from Paris, where it turns into the A9 in Béziers.
So, yes, there are plenty of ways to your Barcelona travel; you just need to choose the right one for you.
Barcelona Neighborhoods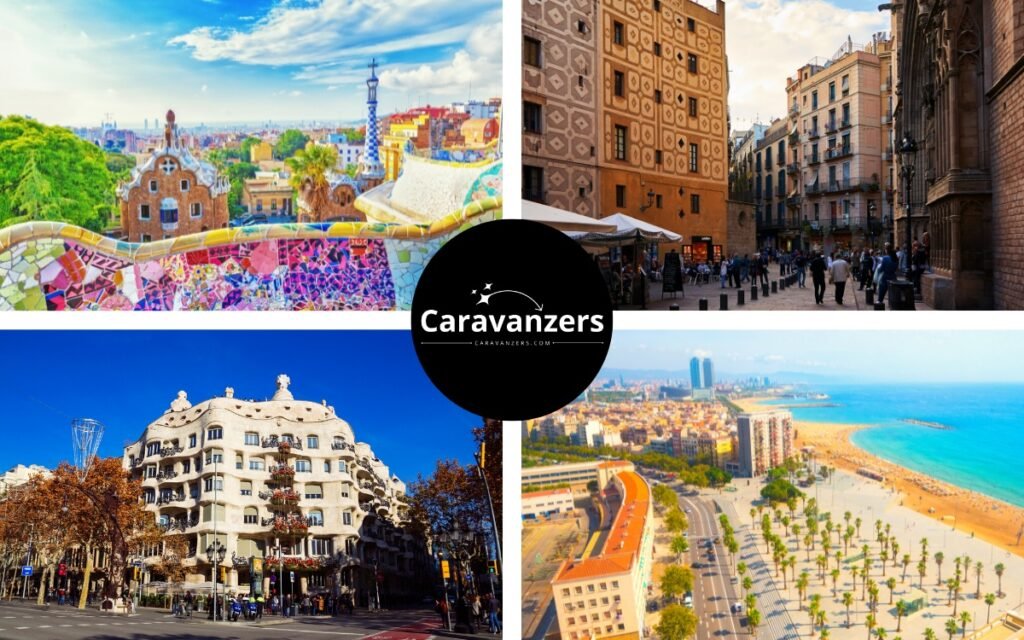 Although there are ten districts in Barcelona, you may consider staying in neighborhoods such as the Gothic Quarter (Barri Gòtic), El Born, Eixample, Gràcia, or Barceloneta.
The Gothic Quarter (Barri Gòtic) is the heart of Barcelona's historic center and a captivating neighborhood to explore.
Its narrow, winding streets are lined with medieval buildings, charming squares, and hidden gems.
Here, you'll find iconic landmarks like the Barcelona Cathedral, Plaça Sant Jaume, and the ancient Roman walls.
The Gothic Quarter exudes a bohemian atmosphere, with boutique shops, cozy cafés, and lively bars tucked away in its labyrinthine alleys.
El Born, located adjacent to the Gothic Quarter, is a trendy neighborhood with a vibrant arts and cultural scene.
El Born is home to the famous Picasso Museum and the beautiful Basilica of Santa Maria del Mar.
Eixample is a district renowned for its distinctive grid layout and iconic Modernist architecture.
Here, you'll find the famous Passeig de Gràcia, lined with luxury boutiques and striking buildings designed by Antoni Gaudí.
Eixample is also home to the impressive Sagrada Família, Gaudí's unfinished masterpiece.
The district offers a mix of residential areas, upscale shops, and a thriving gastronomic scene.
Gràcia has a more local and authentic atmosphere, with narrow streets, small boutiques, and a diverse range of restaurants and bars.
Barceloneta is popular among sun-seekers and water sports enthusiasts.
In addition to its sandy beaches, Barceloneta is renowned for its seafood restaurants and beachfront bars.
The neighborhood also has historical sites like the Port Vell and the Gothic Church of Sant Miquel del Port.
I would have to say that your Barcelona travel has a lot of options for accommodation, and all you have to do is decide.
Food in Barcelona
Barcelona travel is a real treat to foodies because this city has a blend of Catalan, Spanish, European, and global flavors.
Catalan cuisine, deeply rooted in the region's traditions, showcases a diverse range of dishes.
It emphasizes fresh ingredients, with a focus on seafood, vegetables, and olive oil.
Iconic Catalan dishes include pa amb tomàquet (bread with tomato), escalivada (roasted vegetables), and botifarra amb mongetes (sausage with white beans).
Spanish cuisine influences Barcelona's gastronomy with its renowned tapas culture.
Visitors can enjoy an array of tapas, including patatas bravas (fried potatoes with spicy sauce), tortilla española (Spanish omelette), and jamón ibérico (Iberian ham).
Barcelona also embraces traditional Spanish dishes like paella, featuring flavorful rice cooked with various ingredients such as seafood or meat.
Barcelona's status as a cosmopolitan city is reflected in its European and global culinary offerings.
European influences can be seen in the French-inspired cuisine found in upscale restaurants.
Barcelona also hosts international eateries, ranging from Mexican and Chinese to Middle Eastern and American, catering to diverse tastes.
One of my favorite Indian restaurants in Europe is, in fact, in Barcelona. It's called "Casa Bangla," in case you want to check it out.
Furthermore, the city has a vibrant food scene with innovative chefs pushing the boundaries of culinary creativity.
Barcelona is home to numerous Michelin-starred restaurants where you can experience cutting-edge techniques and avant-garde flavors.
These establishments showcase the city's global influence and its position as a gastronomic hub.
Whether you're seeking traditional Catalan flavors, exploring Spanish tapas, indulging in European-inspired cuisine, or venturing into global culinary delights, Barcelona offers a culinary journey that satisfies diverse palates and celebrates the city's rich gastronomic heritage.
Barcelona Attractions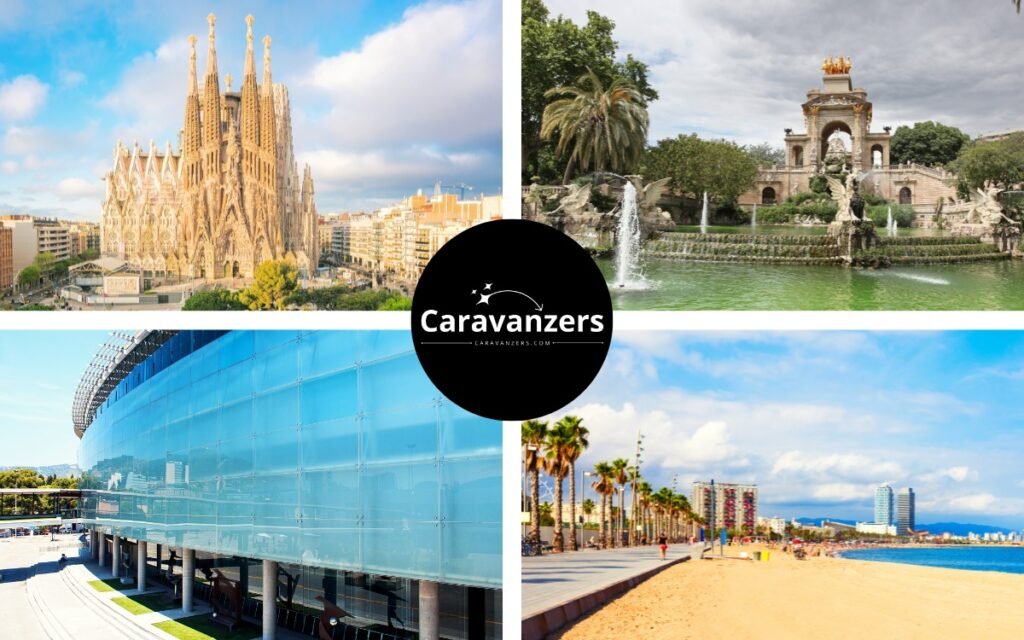 Barcelona offers a wide range of popular tourist attractions that showcase its rich history, stunning architecture, and vibrant culture.
Some of the top attractions include the architectural masterpiece Sagrada Família, the iconic Park Güell designed by Antoni Gaudí, and the historic Gothic Quarter (Barri Gòtic).
Park Güell is probably one of the most Instagrammed spots in the city, and you will really have to plan your visit since there will be a ton of tourists.
The lively street of La Rambla, the beautiful Barcelona Cathedral, and the bustling Mercat de Sant Josep de la Boqueria are also great to visit.
If you have the time, spend several hours walking in and out of the cool places on La Rambla.
Meanwhile, the picturesque Park de la Ciutadella, the impressive Casa Batlló, and Casa Milà (La Pedrera) are all unmissable spots.
Park de la Ciutadella is a beautiful green area that houses the Zoo, the Catalan parliament house, and so on.
Finally, the breathtaking views from Montjuïc Hill, and the famous Camp Nou stadium, home of FC Barcelona, are definitely wonderful to check out.
If you love soccer ("football" outside the United States), Camp Nou stadium is an incredible trip, and people report feelings of pilgrimage.
So, yes, your Barcelona travel is an incredible experience, especially if you plan in advance.
Barcelona Beaches
Barcelona has a whole other reputation as a beach destination, and it offers visitors a chance to relax, sunbathe, and enjoy the Mediterranean coastline.
The most popular and well-known beach is Barceloneta Beach, conveniently located near the city center.
It boasts a vibrant atmosphere, with a wide stretch of golden sand, beachfront restaurants, and bars.
Barceloneta Beach is a favorite spot for locals and travelers alike because it's ideal for sunbathing, swimming, or enjoying beach volleyball.
Adjacent to Barceloneta Beach is Nova Icaria Beach, which tends to be slightly less crowded.
It offers a more tranquil setting and is popular among families and those seeking a quieter beach experience.
Nova Icaria Beach also provides various amenities, including sports facilities, beachside restaurants, and beach chair rentals.
Bogatell Beach is another option, known for its cleaner and less crowded environment.
Bogatell Beach is particularly popular among locals who enjoy its wide promenade, beach bars, and beach volleyball courts.
Beyond these main beaches, there are other smaller and less crowded beaches, such as Mar Bella Beach, known for its nudist-friendly area, and Nova Mar Bella Beach, which has a more local and relaxed vibe.
Most of Barcelona's beaches have excellent facilities, including showers, restrooms, lifeguards, and accessibility for people with disabilities.
Likewise, there are beachside cafes and kiosks where you can grab a refreshing drink or snack.
So, your Barcelona travel definitely comes with a beach experience, whether you're looking for a lively atmosphere, a family-friendly setting, or more tranquil beach days.
Shopping in Barcelona
Barcelona has a diverse range of shopping options throughout the city.
Some of the prominent shopping areas include Passeig de Gràcia, a stylish boulevard featuring high-end fashion brands and designer boutiques.
The Gothic Quarter (Barri Gòtic) and El Born are famous for independent shops, artisanal crafts, and unique boutiques.
The trendy neighborhood of El Raval also has a mix of vintage shops, trendy boutiques, and alternative fashion.
For luxury shopping, head to the upscale district of Eixample, where you can find international fashion brands and luxury stores.
The Diagonal Mar area is home to a large shopping center with a variety of shops, including fashion, electronics, and homeware.
La Rambla, a lively street in the city center, is lined with souvenir shops, street vendors, and market stalls selling a variety of goods, including clothing, accessories, and traditional crafts.
If you're looking for a local market experience, visit Mercat de Sant Josep de la Boqueria, one of Barcelona's most famous markets.
Here, you'll find a vibrant atmosphere with stalls selling fresh produce, local delicacies, spices, and more.
Finally, the Gràcia neighborhood has an eclectic mix of shops, from bohemian boutiques to vintage stores and artisanal markets.
This area is famous for its unique and alternative shopping scene.
Your Barcelona travel will lead you to a wide range of shopping experiences, whether you're seeking luxury brands, local boutiques, or traditional markets.
Barcelona Festivals
Barcelona hosts several vibrant festivals throughout the year, offering a glimpse into the city's cultural celebrations.
One notable festival is La Mercè, held in September, which honors the patron saint of Barcelona.
It features a range of events, including parades, live music performances, firework displays, and traditional Catalan activities.
Another significant festival is Sant Jordi, celebrated on April 23rd, known as the Day of Books and Roses.
It is a day of love and literature, where the streets are filled with stalls selling books and roses, and people exchange these gifts with loved ones.
The Festa Major de Gràcia takes place in August, transforming the Gràcia neighborhood into a vibrant display of colorful decorations and street parties.
Each street competes to create the most impressive decorations, making it an enchanting experience.
Carnaval, celebrated in February, is a lively festival with parades, costumes, and music, allowing locals and visitors to embrace the festive spirit and indulge in the vibrant atmosphere.
Barcelona also hosts music festivals, such as Primavera Sound and Sónar, known for their diverse music lineups and attracting renowned international artists.
This means that your Barcelona travel gives you access to unique experiences throughout the year, and all you have to do is align your trip with one or more of the festivals.
Day Trips from Barcelona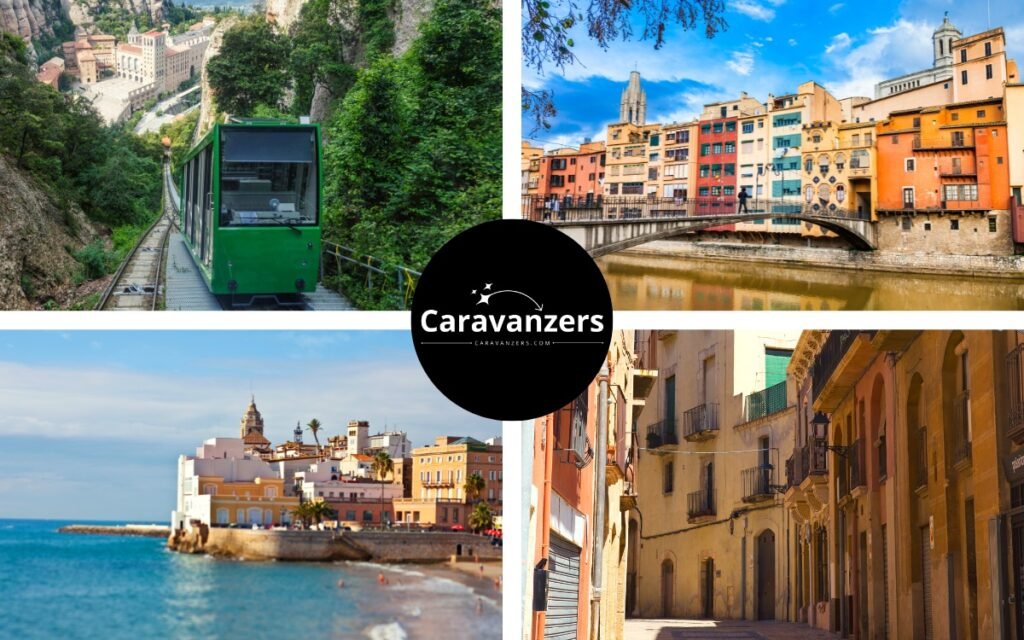 Barcelona has several captivating day trip options for visitors.
One popular destination is Montserrat, a stunning mountain range located just outside the city.
It is home to the Santa Maria de Montserrat Abbey, offering breathtaking views, hiking trails, and a chance to see the famous Black Madonna.
Another option is a visit to Sitges. It has beautiful beaches, historic architecture, and a vibrant cultural scene.
Sitges offers a relaxing escape from the city and hosts events like the Sitges Film Festival.
The picturesque town of Girona is also worth considering for a day trip.
Its charming medieval architecture, cobblestone streets, and well-preserved Jewish Quarter make it a delightful destination.
Girona is also home to the iconic Game of Thrones filming locations.
Tarragona, a coastal city rich in Roman history, is another excellent choice.
Visit the well-preserved Roman ruins, which include an amphitheater and aqueduct, and enjoy the Mediterranean atmosphere.
For wine enthusiasts, a day trip to the Penedès wine region is highly recommended.
It has vineyard tours, wine tastings, and a chance to learn about the production of Cava, a sparkling wine.
So, your Barcelona travel will include these unique experiences and is an opportunity to discover the rich cultural, historical, and natural heritage of the region.
7-Day Barcelona Itinerary
Although there is a lot to do and see in this city, I believe a 7-day Barcelona itinerary will help you pin down the best experiences.
So, on day 1, begin your Barcelona adventure by exploring the Gothic Quarter (Barri Gòtic).
Stroll through its narrow streets, marvel at the Gothic architecture, and visit the Barcelona Cathedral.
Day 2, dive into the works of Antoni Gaudí.
Start the day with a visit to the awe-inspiring Sagrada Família and admire its unique design and intricate details.
Afterward, head to Park Güell to explore the whimsical park and enjoy panoramic views of the city.
On day 3, take a day trip to Montserrat, a stunning mountain range near Barcelona.
Visit the Santa Maria de Montserrat Abbey, explore its trails, and soak in the breathtaking views.
Meanwhile, on day 4, explore the vibrant neighborhood of El Born.
Visit the Picasso Museum to admire the works of the legendary artist.
Enjoy the local cuisine and soak up the artistic ambiance.
Spend day 5 at Barceloneta Beach, basking in the Mediterranean sun.
Relax on the sandy shores, take a refreshing dip in the sea, and enjoy beachside activities.
On day 6, discover the artistic treasures of Barcelona.
Visit the impressive Casa Batlló and Casa Milà (La Pedrera), experiencing Gaudí's architectural brilliance up close.
Explore the Eixample district, with its elegant boulevards and high-end shopping options.
Conclude your Barcelona journey with a final day by visiting the vibrant Mercat de Sant Josep de la Boqueria.
So, yeah, your Barcelona travel will be awesome if you follow this regimen.
Barcelona Travel – Final Thoughts
Barcelona travel is a captivating experience with its unique history, amazing architecture, and wonderful culture.
From the Gothic Quarter to Antoni Gaudí's architectural masterpieces, the city's historical sites showcase centuries of artistic brilliance.
The golden sand beaches and vibrant atmosphere provide a delightful seaside experience.
Food enthusiasts will be thrilled by the diverse culinary scene, blending Catalan, Spanish, European, and global flavors.
This detailed guide gave you insights into popular tourist attractions, beautiful beaches, excellent shopping opportunities, and captivating festivals throughout the year.
So, now is your time to plan that great Barcelona trip. Choose the best season, where to stay, and plan your activities.
Enjoy Barcelona!
Sebastian Clark is a traveler from the UK and writes about Europe for Caravanzers.
Follow us on Pinterest.