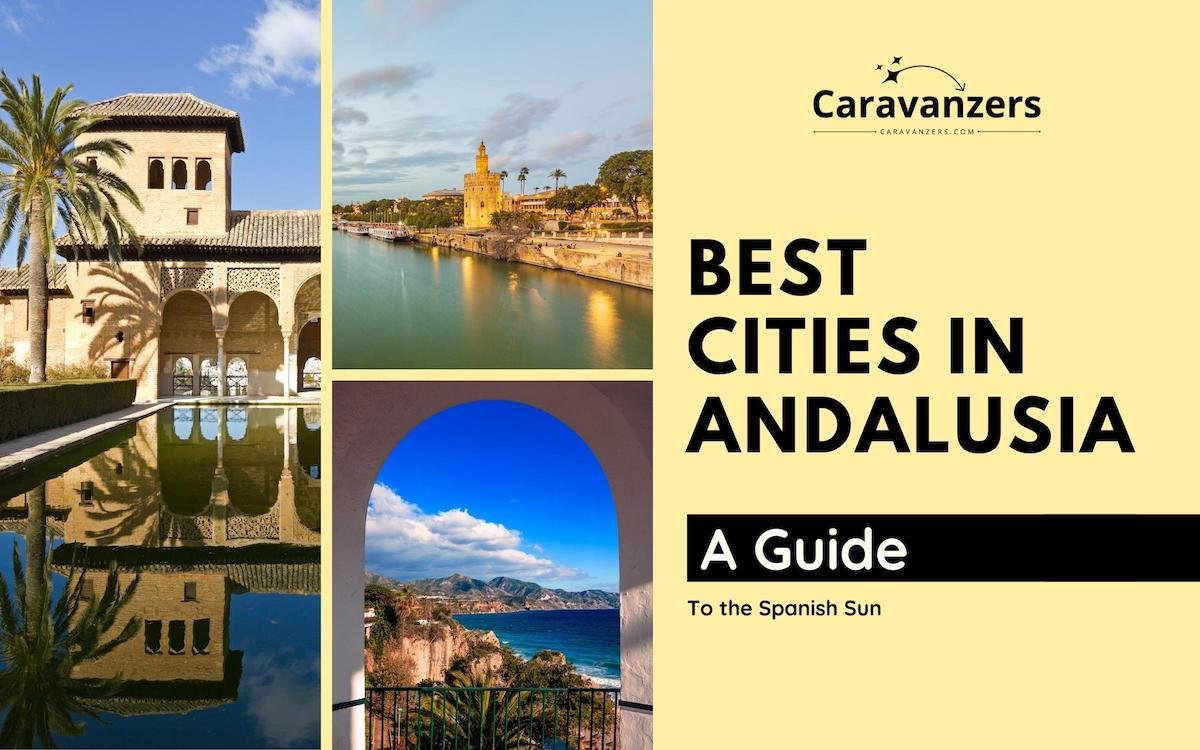 Some of the best cities in Andalusia also rank among the top places to visit in Spain in general.
Andalusia is one of the autonomous regions of the country, and this southern gem has everything you will ever need from a destination.
From beach towns to great culture, Andalusian cities have something for every traveler.
Let's explore!
Granada
Granada is without a doubt one of the best cities in Andalusia.
This is a beautiful hilly town in southern Andalusia. Granada has rich Islamic and Catholic history and laid-back vibe reputation. 
The city has a large number of attractions, including the Alhambra Palace and the Royal Chapel of Granada.
The Alhambra Palace is the former royal residence. It was the Nasrid dynasty that commissioned this Islamic architectural marvel in 1230 AD.
"I'm really enjoying this palace tour," says Mees, a visitor from the Netherlands.
Mees, who had been in Granada for a few days when I met him, said he went back to the former royal palace for three consecutive days.
"I'm discovering something special each time I come here," he says, adding he expects to visit daily.
If you're looking for a UNESCO World Heritage site that will awe and astound you, this palace. It is probably one of the most elaborate and beautiful examples of Moorish architecture ever created.
Meanwhile, the Royal Chapel of Granada is a beautiful chapel located in the heart of the city. It was the Catholic monarchs that built it sometime after 1492. The highlight of the simple chapel is the royal tombs of Ferdinand and Isabella.
This is why Granada is an excellent entrance into Andalusia!
Córdoba
Located in northern Andalusia, Córdoba is a spectacular and ancient city that has been influential in Muslim Spain world for centuries.
This is definitely one of the best cities in Andalusia.
The La Mezquita (The Great Mosque) is the heart of its tourism business. The mosque that later became a church always draws out a lot of travelers to the town.
Dilek, a visitor from Turkey, said she couldn't believe how beautiful the mosque was.
"It blew my mind," she says. "I'm taking so many photos."
This 13th-century mosque is one of the most important in the region. It's a UNESCO World Heritage Site. Abd ar-Rahman I was the founder and had it built in 785. Today the site is one of the finest examples of Andalusian architecture. 
Córdoba also has beautiful architecture, lively nightlife, and internationally acclaimed culinary scene. 
Whatever your interests maybe, you're sure to find something interesting and exciting to do in Córdoba.
Seville
Seville, the Moorish city on the banks of the River Guadalquivir, is one of the most beautiful and culturally diverse cities in Europe.
Once a Roman city, Seville was under Muslim rule for about 500 years, beginning in 711 AD. The Islamic architecture of the city makes a great example of Moorish influence over Spain.
Dylan, an Irish tourist, said he came to visit the Royal Alcázar of Seville, a Moorish palace from the 14th Century.
"I'm writing a thriller that takes place here," he explained. "But I'm definitely happy to be here. What an outstanding city!"
It went through many battles and occupations during its long history but never lost its importance as a commercial center and cultural powerhouse.
This wealth has passed down through generations, creating one of the most dramatic and picturesque cities in all of Spain.
Even in the summer, when the temperatures reach unbearable numbers, the city still gets a lot of tourists.
Here's a video from Andalusian tourism office:
Málaga
Málaga is one of the best cities in Andalusia.
Located on the Costa del Sol in southern Spain, is an iconic destination for tourists. 
With its warm weather, long coast, and sunny days, it doesn't take a lot to see why it has become a traveler's paradise.
It's also a popular destination for expats and retirees because of its lovely climate, flavorful food, and a wide variety of activities.
And that is exactly why Robert and Marlene are here. This American couple had come to try out to see if they would retire there.
"We've always loved Spain," explains Marlene. "We are considering Portugal also," she added. "But our hearts are in Spain. We really hope it works out for us."
Robert and Marlene explained it seemed to them that it was a little easier to retire in Portugal, although they said Spain was better for them.
If you're looking to explore the city and enjoy some of the best Spanish cultures have to offer, head to Málaga.
The chances are that even if you aren't interested in this town, you will still go through it. That's because Málaga's airport is the main international one in the region. 
Jerez de la Frontera
Jerez de la Frontera is a famous wine-producing town in the province of Cádiz in western Andalusia.
This is definitely one of the best cities in Andalusia, especially if you love Spanish wine.
The town is part of the Sherry Triangle, which includes Sanlúcar de Barrameda and El Puerto de Santa María.
Like Jerez, those also specialize in sherry making.
Meanwhile, the town's "de la Frontera" in the name is an indication that it was once a frontier (against the Moors).
Other towns with this identifying aspect in the name include Arcos, Moron, Conil, etc.
Jerez is also home to the only major airport in this part of Andalusia!
Almería
If you're looking for a fun and relaxing place to visit, you should check out Almería. It's a beautiful city that has a long cultural history as well as scenic surroundings. 
The town's most famous site is the Alcazaba, the Moorish fortress that is on a hill and overlooks the city, and its Gothic Cathedral. 
Meanwhile, a great place to visit while in town is Parque Natural del Cabo de Gata-Níjar, which is a coastal and arid place with a lovely beach.
For many travelers, it's a great place to catch a ferry to Oran––on the other side of the sea, to Algeria. The service runs twice per week, and it takes about eight hours to reach Algeria.
Marbella
Marbella is synonymous with luxury resorts, high-end shopping, and natural beauty.
People who love this town considered it one of the best cities in Andalusia. They go there for the Playa Puerto Banús, a very luxury-focused marina.
If you're looking for a place to relax and escape the daily grind, Marbella is the perfect destination.
This coastal town has stunning beaches and vibrant nightlife. The city has plenty of attractions, including museums, shopping districts, and bars. 
Did I say shopping?
A lot of shopping here.
Cádiz
If you're looking for a coastal city with plenty of history and culture, Cádiz is the perfect place to visit. The city is on the Mediterranean Sea, and it has had people living in it for over 2,000 years. 
Today, people come for its beautiful beaches and stunning architecture. The Cathedral is absolutely gorgeous. 
Cádiz also has a lot to offer tourists in terms of food and nightlife.
Torremolinos
Torremolinos is the perfect place to visit in the summer, and the best city in Andalusia for the gay community.
The beaches are wide, and the sand is soft. 
The locals are friendly, and there are plenty of places to eat and drink. Torremolinos is also a great place for fun in the sun.
"It's probably the gayest town in Andalusia," says Javier, who visited from nearby Málaga. "Sadly, full of old guys, though," he adds, explaining how he had been propositioned by several since he arrived earlier that evening.
For Ginny, however, a Brit student that visited from Seville, it was a chance to party at the beach. "I kissed two boys in one night," she says, laughing. "I think that must be a Torremolinos thing to do."
When the parties are over, Torremolinos is a normal town during the day. There are plenty of activities available, including golf, horseback riding, sailing, and windsurfing.
If you're looking for a relaxing vacation with plenty of activities nearby, Torremolinos is a great destination to consider.
Algeciras
Algeciras is a charming city located on the Bay of Gibraltar.
"It's very windy," says Miguel, a Mexican tourist.
Like a lot of people in the town, Miguel is going to Tangier––to Morocco. 
"I guess you could say 'The Alchemist' brought me here," he says, making a reference to Paolo Coelho's international bestselling novel.
In the book, the main character goes to Tangier.
Meanwhile, Sophie, a German woman, said she was on her way to Parque Natural de Los Alcornocales.
"I plan to go hiking and maybe do some animal watching," says Sophie.
The park, which borders Cádiz and Málaga regions, has many species of animals.
"I would love to see an Iberian lynx," Sophie says.
Lovely place.
Conclusion
In conclusion, Andalusia is a great place to visit. The weather is warm all year long, and there are many things to do outdoors.
The cities are modern and have plenty of amenities and entertainment options.
All of that makes it a great region to visit.
Did I miss any of your favorite cities?
Let me know!
AJ Paris is a travel photographer based in New York. He is the editor of Caravanzers.
More Spain
Love Spain? Here are more articles: