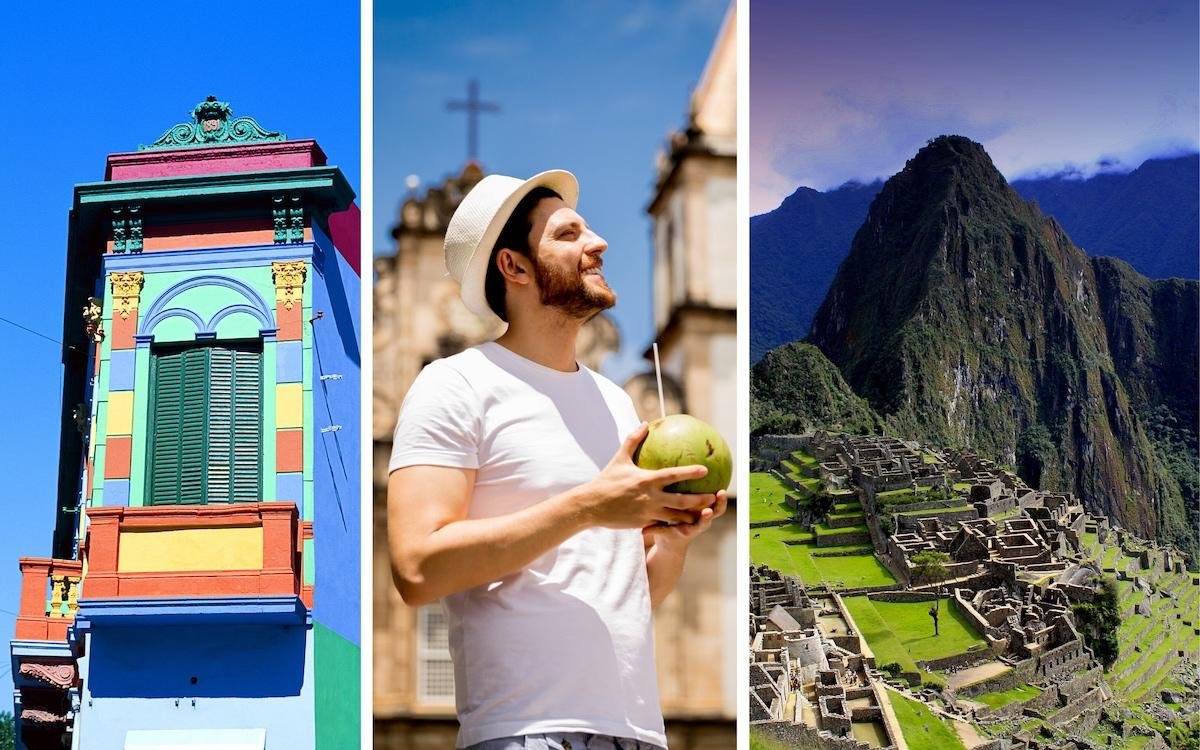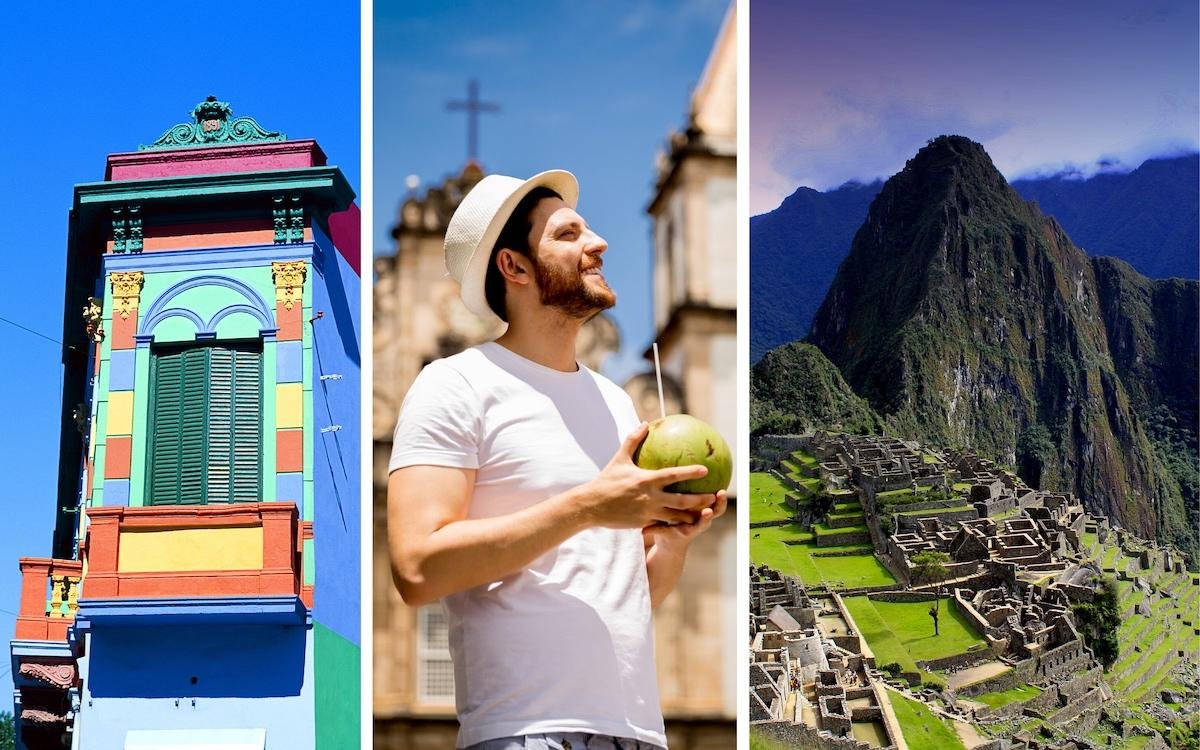 Best destinations in South America, including the Amazon Rainforest, Machu Picchu, and more. Explore this amazing continent.
By AJ Paris
Because of its large size, the best destinations in South America are all over the continent.
Although there are only 12 countries on this continent, it makes up for it by giving you some incredible sites.
So, there are natural wonders, man-made incredible sites, and everything in between.
From the Amazon to floating lakes, South America got you covered.
Let's explore some of these!
Rio de Janeiro
Because it covers nearly half of the South American continent, Brazil is your top destination.
For instance, Brazil has borders with all of the countries of the continent except two.
However, the real reason is that the country is home to some magnificent sites—both natural and human-made.
Let's start Rio de Janeiro as your first stop.
So, Rio, called the Marvelous City, is home to a world wonder known as Christ The Redeemer.
This human-made structure is part of the UNESCO World Heritage Sites.
Because of its massiveness and elegance, it attracts tons of travelers each year.
"Some people visit for religious purposes," says Bruna Oliveira, a travel expert in the city. "However, far more people visit the site for its artistic value and history."
For nearly 100 years, people have been coming to the hill on which the statue stands.
Of course, there are tons of neighborhoods in Rio to explore, too.
For example, famous neighborhoods include Ipanema, Copacabana, and Leblon.
"When it comes to nature, of course, no one can beat Rio," says Oliveira. "The city has a lot of parks and natural phenomena like mountains and long coast."
How to get there: Fly into the Rio de Janeiro through the Rio Galeão airport (code is GIG).
The Amazon
Talk about natural wonders!
"The Amazon is considered the lungs of our Earth," explains the Amazon Aid Foundation. The group continues, saying that this rainforest takes in "enormous amounts of the carbon dioxide emitted by human activity and the burning of fossil fuels while providing us with the oxygen we breathe."
In other words, the Amazon forest is mega important!
The Amazon Rainforest is in several countries. For example, parts of it are in Bolivia, Brazil, Colombia, Ecuador, French Guiana, Guyana, Peru, Suriname, and Venezuela.
"Of course, my favorite is the Brazilian part," says John, an American traveler, who traveled with his friends.
John and his friends also had a chance to visit the Colombian and Peruvian sections.
"We really liked around the Amazon River near the borders with Columbia and Peru," says John. "It felt like it was a unique position, also being able to see all of these related cultures."
The 'Meeting of Waters,' which is called encontro das aguas in Portuguese, is a unique phenomenon.
Not far from the Brazilian city of Manaus, the light-watered Amazon River meets the darker-watered Rio Negro come together.
As a result, you can experience them go side by side without mixing!
"I would say that was an awesome moment," says John. "Because the water is together, it is incredible they are not 'one' exactly. I don't know how this happens."
According to science, it has to do with the minerals, which is why the human eye sees the separation.
So, of course, this is a fantastic thing to witness.
Meanwhile, the Amazon is home to diverse species and incredibly beautiful landscape.
How to get there: Fly into Manaus, Brazil, the largest city in the rainforest.
Iguacu Falls
Definitely, one of the must-see things in South America is the Iguacu Falls.
What is so special about the Iguaçu Falls?
These are the largest waterfalls in the world!
So, the Iguaçu Falls, called iguazú in Spanish, are waterfalls of the Iguazu River and Paraná River.
For 14 miles (23 kilometers), there are 275 waterfalls.
"My favorite is the Devil's Throat Waterfall," says Madeline, an Australian traveler.
Devil's Throat is one of the most popular, as it is curved and falls about 350 feet (or 107 meters)!
Meanwhile, the delta surrounding the waterfalls is home to over 2,000 species of plants.
Located in the Brazilian state of Paraná, as well as the Argentine province of Misiones, the location of the waterfall is a 2-hour flight from Rio.
For the Brazilian side, you will need at least two days.
"It is definitely worth a visit," says Bruna Oliveira, a Brazilian travel expert.
How to get there: Fly into Iguazu Falls airport (the code is IGU).
Salvador de Bahia
Brazil is home to the largest Black community outside of Africa.
Because it was the center of the Atlantic Slave Trade, Salvador is today the most African-influenced city in the Americas.
The baianos, the name for the locals, mix everything from ethnic groups to religions.
"Africans in Bahia built religious institutions and social hierarchies, for instance, modeled on those from their African homes," explains Slavery and Remembrance website.
So, Salvador has become an African, European, and Indigenous melting pot.
"I'm so glad I decided to visit Salvador," says Ian, a British traveler. "It was a good decision because I think I would have missed so much," he adds.
Travelers like Ian can visit the city's Centro neighborhood, which is home to the oldest part of the area.
For instance, this is where capoeira was born. Capoeira is an Afro-Brazilian martial art, which combines dance, acrobatics, and music.
"I also went to neighborhoods and even some of the nearby islands," says Ian.
A popular island is the sizeable Itaparica, which is 6 miles (or 10 km) away from Salvador.
"The ferry took about an hour," says Ian. "I enjoyed the island, which is larger than expected and has several beautiful beaches."
Meanwhile, there is plenty to see in Salvador, including the famous Lacerda Elevator, taking you to the lower town.
Likewise, Mercado Modelo is a sprawling market that both locals and travelers enjoy.
Similarly, the incredible Senhor do Bonfim church is an 18th-century Catholic basilica.
Of course, there are also beaches such as the one in the Barra neighborhood, which is very popular.
How to get there: Fly into Salvador through the Luís Eduardo Magalhães airport.
Machu Picchu
Here is another world wonder.
Machu Picchu is an Inca citadel in the Andes Mountains in Peru.
"You really have to see it to understand how amazing this place is," says Karen, an American traveler. "I could not help but feel such a powerful transformation being in this incredible location," she adds.
Because it is a magnificent location, the United Nations added it to its list of UNESCO World Heritage Sites in 1983.
"Of course, all of Peru is fantastic, but Machu Picchu is really special," says Roberto, a local travel expert. "What the Inca Empire left us is a beautiful attraction that brings many travelers," he adds.
There is a limit on the number of visitors, but at least half a million travelers tour it each year.
"We are, of course, worried about the sustainability of this," says Roberto. "While we want to global travelers to visit our country, we also want to safe keep our national history."
As a result, the travel industry tries to diversify the 4 million people that visit to the country each year.
"There is so much to see in Peru," says Roberto.
Meanwhile, the travelers know this is by far the most important thing they will see in the country.
How to get there: Fly into the Alejandro Velasco Astete airport in Cusco and then take a train to Aguas Calientes.
Torres del Paine
This is one of the most magnificent places you will ever see.
So, this is a park in Chile.
You might be wondering, "Why should I go there?"
This park is home to some incredible nature!
For example, one of the most important things is the Grey Glacier. It is a vast glacier that has boat tours nearby because of Grey Lake.
"It is really amazing," says Marcos, a traveler from Brazil. "You can stay there for weeks, and it is so special."
Likewise, Lake Pehoé has beautiful blue waters that can be very bright, depending on the season.
Similarly, there is the Cordillera del Paine, which is beautiful and scenic mountains.
Meanwhile, depending on the season, Salto Grande waterfall will make you fall in love with this part of Chile!
How to get there: Fly into El Calafate, in Argentina, and take a bus or rent a car and drive 220 miles (350 km) to the park.
Buenos Aires
Without a doubt, Buenos Aires is the Paris of South America.
"Buenos Aires is a pulsating, passionate, cosmopolitan city," says Buenos Aires City tourism office.
19th-century buildings that are gorgeous surround the iconic Plaza de Mayo square, in the center of the city.
For instance, Casa Rosada, the incredibly beautiful presidential palace, is located here.
Meanwhile, the city is full of cute neighborhoods, including the famous La Boca.
"I was looking forward to visiting the La Boca area for years," says Brandon, an American traveler.
So, La Boca is home to colorful homes and businesses and is by far the most artistic part of the city.
It is also very Italian, as early inhabitants of the area were from Italy.
Caminito, an alley in this neighborhood, is significant to Tango music, too.
"Buenos Aires is the birthplace of tango," says Brandon. "There are so many tango spots that it is crazy," he adds. "I would put that on the top of my list coming here."
The food scene is incredible, too, as the Argentine cuisine has a lot of similarities to European flavors.
"I absolutely love the wine," says Jane, an American in a restaurant called Aramburu in the Recoleta area. "Meanwhile, there is a 17-course dinner here," she smiles.
Yes, Argentine cuisine is incredible!
In other words, Buenos Aires will not disappoint a traveler, as the city truly has so much to offer to anyone.
How to get there: Fly into Ministro Pistarini International Airport, which is widely known as Ezeiza International Airport. The code is EZE.
Lake Titicaca
This lake is on the borders of Peru and Bolivia.
Because it is the world's highest navigable body of water, Lake Titicaca is an exciting place to visit.
"It is one of the most beautiful lakes you will ever visit," says Carlos, a Mexican traveler.
For some reason, the lake's waters are very still and also very bright blue!
Likewise, the ruins in and around the lake are fascinating.
For example, on Isla de la Luna, which is part of Bolivia, it is home to Incan ruins.
Similarly, the Uros islands are some 70 man-made floating islands on the Peru side of the lake.
How to get there: Fly into Juliaca in Peru. Outside of the airport, take an hour taxi or bus to Puno, which is nearest to the lake.
Uyuni Salt Flat
This is the largest salt flat on the planet.
Uyuni Salt Flat is located in Bolivia and is the site of a prehistoric lake that dried up.
Because this salt flat is over 4,000 square miles (or 11,000 km), it is really a massive place.
So, since it is really bright, as the salt attracts light and shines, you will probably want to wear sunglasses.
Meanwhile, there are pink flamingos here.
How to get there: Fly into Uyuni, which is a town nearest to the salt flat. Once there, take a taxi.
Easter Island
You want to visit Easter Island just because it is fascinating geographically.
Although it belongs to Chile, Easter Island is actually in Polynesia!
Called Rapa Nui in the language of the same name, this island is definitely remote and volcanic.
Meanwhile, the island is famed for its moai, which are human figures carved by the Rapa Nui people on Easter.
According to archaeologists, they date between 1250 and 1500 AD.
How to get there: Fly into Easter Island through Santiago, the capital of Chile. It takes about six hours to get there.
Conclusion
So, we cannot contain the entire continent of South America into one article.
Instead, this article can give you a list of sites that you might want to see.
As a result, we described man-made wonders like The Christ Redeemer and the Uros islands.
Likewise, we talked about natural wonders like the Amazon and the Uyuni Salt Flat.
Similarly, we talked about incredible cities like Rio de Janeiro and Buenos Aires.
In other words, plenty enough that you could enjoy the South American continent without feeling overwhelmed.
AJ Paris is a travel photographer based in New York. He is the editor of Caravanzers.