Best place to visit in Hawaii for the first time include a mesmerizing road, a stunning beach, and an iconic historic site.
Having experienced the significance of preparation prior to going on a first-time trip, I fully understand its importance.
Hawaii, a paradise characterized by its distinctive climate and captivating culture, is the subject of this helpful guide.
My goal is to give you all the essential information needed to make the most of your initial visit.
You will discover exceptional Hawaiian destinations tailored for couples, families, seniors, solo travelers, and young individuals alike.
Additionally, I will share invaluable insights to consider before going on your adventure.
So, if you're eager to plan an unforgettable inaugural trip to Hawaii, prepare yourself for an informative guide!
VIDEO – Hawaii for the First Time
Hawaii for the First Time
Although you probably already figured out that Hawaii is a top tourist destination, it's important to recognize a few things before you go there.
First of all, consider the distance. Hawaii is actually a remote destination in the middle of the Pacific Ocean.
It can be a long journey to get there, even if you're traveling from the mainland United States or other "nearby" areas.
For example, a nonstop flight from New York City will take about 11 hours.
So, be prepared for a lengthy flight and factor in the time difference when planning your itinerary.
Meanwhile, you probably will want to be aware of the unique climate in Hawaii. The islands have a tropical climate with generally warm and pleasant temperatures year-round.
That said, it's important to be prepared for changes in weather and microclimates. Different regions of each island can have distinct weather patterns.
Weather patterns range from sunny and dry to rainy and cool!
Another important thing to highlight is the distinctiveness of Hawaiian culture compared to mainstream American culture.
Hawaiians have a strong connection to their land, language, and ancestral heritage. It's crucial to approach their culture with respect and sensitivity, acknowledging the unique perspectives and history of the Hawaiian people.
Take the time to learn about the customs and traditions of the islands. Respect for the land, known as "aina," is paramount in Hawaiian culture.
Engage in activities that promote sustainability and conservation, such as participating in beach clean-ups or supporting local initiatives that protect the environment.
So, yeah, those are three things to really keep in mind for your first trip to Hawaii.
Perfect First-Time Visit For Couples
If you're looking for a romantic getaway, Maui is an ideal destination with its captivating island vibes and picturesque scenery.
This is one of the best places to visit in Hawaii for the first time, especially if you're a couple.
Couples can create unforgettable memories in the idyllic landscapes and enchanting atmosphere of Maui.
One of the must-see attractions in Maui is the mesmerizing Road to Hana.
The road has several stops where you can enjoy leisurely walks, swim in refreshing pools, or marvel at the natural wonders together.
Maui is also famous for its stunning beaches, including Kaanapali and Wailea.
Take romantic walks hand in hand along the shore as the gentle waves kiss your feet.
Don't forget to witness a captivating sunset painting the sky in vibrant hues while indulging in a romantic dinner on the beach.
To create an indelible memory, rise early and make your way to the peak of the Haleakala volcano, where you can behold a breathtaking sunrise.
I would say this is an experience that fills you with awe and tranquility.
Maui oozes romance, and with its breathtaking landscapes, tranquil beaches, and unforgettable experiences, the island beckons couples to go on a romantic journey together and forge memories that will last a lifetime.
For Families with Kids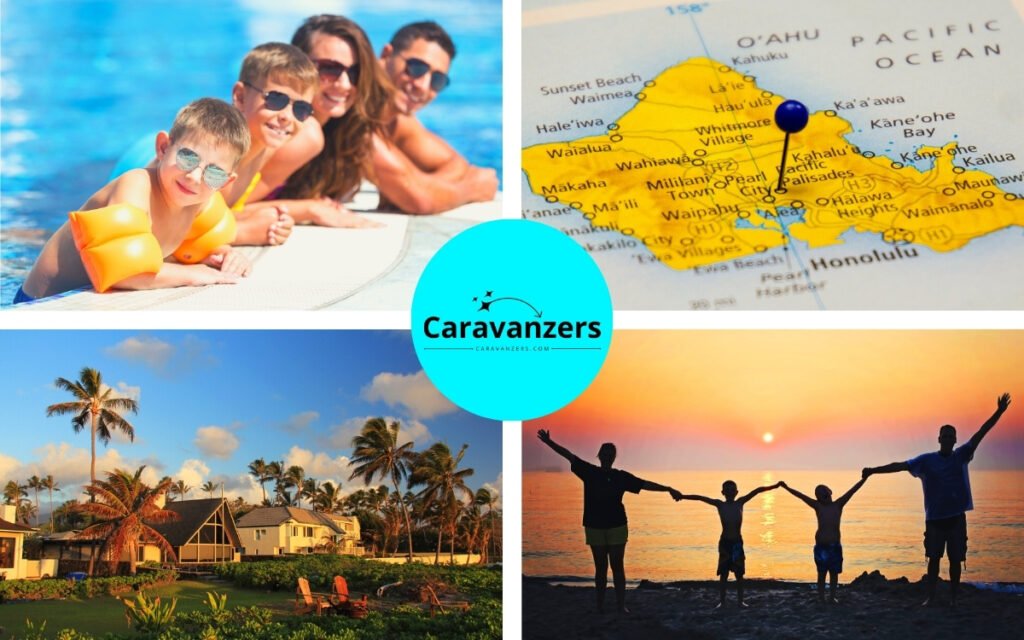 For families seeking an ideal vacation destination, Oahu is a perfect choice.
This captivating island seamlessly blends the allure of a vibrant city with the wonders of nature, providing a plethora of attractions and activities that cater to all ages.
Begin your family adventure by visiting the iconic Waikiki Beach. Let your kids splash in the gentle waves, build sandcastles, or try their hand at surfing.
The beach is lined with family-friendly resorts offering various amenities and activities to keep everyone entertained.
For a historically significant experience, explore the Pearl Harbor historic sites. It's an educational experience that offers insight into the island's past.
Animal lovers in the family will delight in a visit to the Honolulu Zoo or the Waikiki Aquarium.
The zoo houses a diverse range of species from around the world, while the aquarium showcases Hawaii's fascinating marine life.
Both offer interactive exhibits and educational programs, ensuring an engaging and enjoyable experience for children and adults alike.
The Polynesian Cultural Center is a great place to further immerse your family in the cultural heritage of Hawaii.
Here, you can witness captivating performances, experience traditional arts and crafts, and participate in hands-on activities.
From exploring recreated Polynesian villages to watching exciting live shows, the center provides an immersive and entertaining glimpse into the rich cultures of the Pacific.
Oahu's blend of city attractions and natural wonders ensures that families will have a memorable vacation.
For Seniors
The Big Island, also known as Hawaii Island, is a fantastic destination for seniors seeking a diverse range of activities and natural wonders.
I would say this island is probably on the top of the list of best places to visit in Hawaii for the first time.
With its unique attractions and serene landscapes, the island provides a perfect setting for a fulfilling and relaxing vacation.
Ranked among the island's foremost attractions, the Volcanoes National Park offers a remarkable experience.
It serves as an exceptional vantage point to witness the astonishing might of Kilauea, renowned as one of the planet's most active volcanoes.
Within the park, you can partake in guided tours that enable you to leisurely explore its wonders.
Marvel at the volcanic craters, lava fields, and steam vents, and take advantage of the trails and viewpoints that allow you to enjoy the natural beauty without difficulty.
A scenic drive along the Hamakua Coast is another delightful activity for seniors. Take your time to stop at viewpoints and enjoy the peaceful surroundings.
The historic town of Hilo is worth a visit, providing a glimpse into Hawaii's past.
Explore the charming downtown area, visit museums, and stroll through the beautiful Liliuokalani Gardens, a Japanese-style garden overlooking Hilo Bay.
The town also offers unique shops, local markets, and a variety of dining options.
For some relaxation and rejuvenation, head to the stunning beaches of the Kohala Coast. Seniors can unwind on the golden sands, soak up the sun, and enjoy the calm waters.
Many beach resorts along the coast offer comfortable accommodations, easy beach access, and amenities tailored to the needs of older travelers.
The Big Island's blend of natural wonders, historical sites, and serene beaches make it an ideal destination for seniors.
For Solo Travelers
Kauai is an excellent vacation spot for solo travelers who want serenity and natural beauty.
The island has captivating landscapes and various activities that ensure an unforgettable solo adventure.
Na Pali Coast is one of the spectacular attractions on Kauai. The towering cliffs, lush valleys, and clear waters present a mesmerizing sight.
Solo travelers can navigate this beauty by hiking the Kalalau Trail or by taking a boat tour along the coast.
The untouched beauty of Na Pali offers a treat for the eyes and a source of peace.
Waimea Canyon is another breathtaking destination on the island, often referred to as the "Grand Canyon of the Pacific."
It is an ideal place to marvel at the spectacular views of deep gorges, vibrant red rock formations, and lush surrounding greenery.
A scenic drive along Waimea Canyon Drive, stopping at viewpoints to fully appreciate the splendor of this natural wonder, is a fantastic way to enjoy this paradise.
Kauai boasts a plethora of outdoor activities for adventurous solo travelers.
Hiking enthusiasts can explore the numerous trails that wind through rainforests, lead to hidden waterfalls, and provide breathtaking vistas.
For example, helicopter tours give a unique perspective of the island's rugged landscapes.
If you prefer a more relaxed experience, Kauai's natural beauty provides the perfect backdrop for unwinding and finding solace.
Lounge on picturesque beaches, listen to the soothing sounds of the ocean waves or indulge in the island's tranquil atmosphere.
Yeah, Kauai is an excellent destination for solo travelers seeking tranquility, natural beauty, and adventure.
For Young Adults
If you're a young adult seeking adventure and vibrant nightlife, Oahu is the ultimate destination.
This dynamic island offers a perfect blend of thrilling activities, lively urban scenes, and breathtaking natural wonders that cater to the energetic spirit of young travelers.
Begin your Oahu adventure by exploring the lively city of Honolulu.
Indulge in retail therapy at trendy boutiques and international brand stores, savor diverse cuisines at trendy restaurants, and experience the buzzing nightlife scene with its bars, clubs, and live music venues.
For adrenaline-pumping excitement, head to the legendary North Shore, known for its monstrous winter waves.
If you're an experienced surfer, challenge yourself on world-class breaks like Pipeline and Sunset Beach.
Meanwhile, if you're new to surfing, you can take lessons from local surf schools and ride the smaller waves.
For panoramic views and a rewarding hike, venture to the top of Diamond Head.
This iconic volcanic crater offers a moderate hike that leads to a lookout point with breathtaking vistas of Honolulu's skyline and the sparkling Pacific Ocean.
The hike is a popular activity among young adventurers, offering not only a great workout but also Instagram-worthy photo opportunities.
In addition to the city and surf, Oahu presents a myriad of outdoor activities.
Go snorkeling at Hanauma Bay to discover vibrant marine life, embark on a thrilling water adventure like jet-skiing or parasailing, or explore the island's lush landscapes and hidden waterfalls on a hiking excursion.
When the sun sets, Oahu's nightlife truly comes alive. Experience the electric energy of the city as you hop between bars, clubs, and rooftop lounges in Honolulu's lively neighborhoods.
Oahu's enticing blend of adventure, vibrant nightlife, and natural beauty make it an irresistible destination for young adults.
Final Thoughts
There truly isn't any place like Hawaii. As you will discover, these islands have that "exotic" feel but are also perfectly American, a combination that is very interesting.
On your first-time trip to Hawaii, make sure to plan ahead because these islands will make you fall in love with them.
Whether you're a couple, a family, seniors, a solo traveler, or a young adventurer, this guide gave you tailored recommendations.
I've shared valuable insights to consider before going on your Hawaiian adventure.
So, you're really ready now to have that Hawaiian experience, and I truly wish you all the best.
Enjoy Hawaii!
AJ Paris is a travel photographer based in New York. He is the editor of Caravanzers.
Follow us on Pinterest.