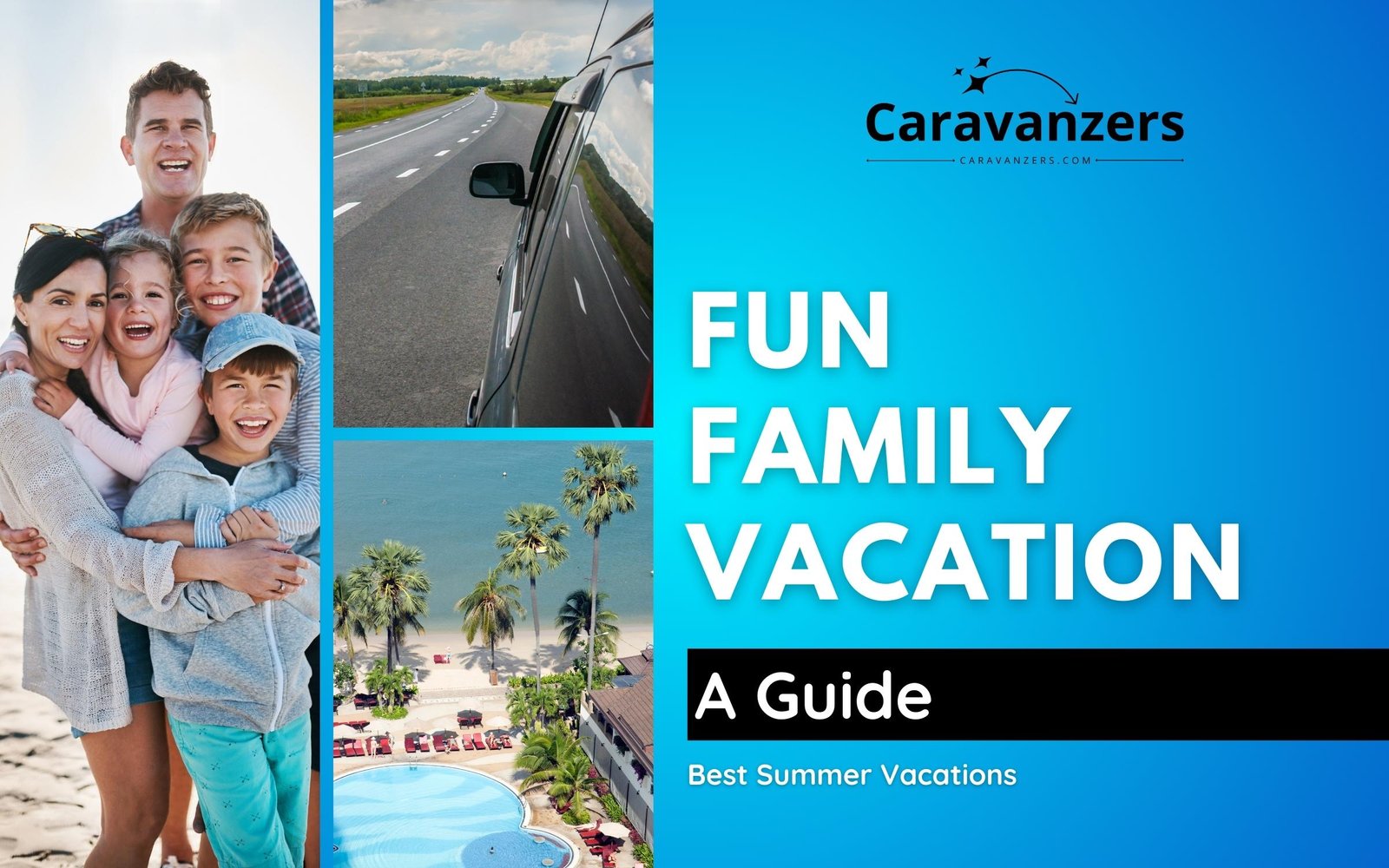 Summer vacations with kids give families a chance to regroup and kind of let the children learn more about life.
As an avid traveler who was once a kid, I value these types of vacations.
From sandy beaches to thrilling adventures, we'll explore together the destinations that cater to every family's needs and budget.
Whether you're seeking relaxation, cultural experiences, or outdoor fun, I'll share tips, recommendations, and insider insights to make your summer vacation an incredible journey filled with laughter, joy, and lifelong memories.
So, grab your travel planning hat, and let's go on an unforgettable adventure together!
Welcome to Your Summer Vacations with Kids
Families have various reasons for going on summer vacations, which provide an incredible opportunity to forge lasting memories and strengthen familial bonds.
Above all, summer vacations give families a chance to break free from the monotonous routines and pressures of daily life.
Another compelling reason families opt for summer vacations is the desire to explore new destinations and immerse themselves in different cultures.
Traveling opens doors to captivating discoveries and learning experiences.
It exposes children to diverse landscapes, historic landmarks, and local customs, nurturing their curiosity and broadening their horizons.
Summer vacations also provide invaluable quality time for families.
In our fast-paced lives, finding uninterrupted moments to connect with our loved ones can be a challenge.
Vacations offer an extended period when families can bond, partake in shared activities, and simply revel in one another's company.
Finally, summer vacations give families a chance to disconnect from technology and reconnect with one another on a more intimate level.
So, let the summer vacations commence, and let the magic unfold!
Family Summer Vacation Destinations
Family summer vacation options are truly limitless. If your family enjoys the sun, sand, and surf, why not consider the stunning Hawaiian Islands?
Hawaii has beautiful beaches, amazing weather, and a wide range of activities for all ages, and this US state is a paradise for families.
From snorkeling adventures to building magnificent sandcastles or simply unwinding on the shore while taking in the awe-inspiring views, Hawaii is a great family destination.
Another popular option is Orlando. This Floridan city is famously known as the "Theme Park Capital of the World."
Orlando is home to popular family spots like Walt Disney World, Universal Orlando Resort, and SeaWorld. These parks offer boundless entertainment and excitement for the entire family.
For those seeking a mix of outdoor adventure and natural splendor, the Rocky Mountains in Colorado is an ideal destination.
This area provides a breathtaking backdrop for a memorable family vacation, with opportunities for hiking, biking, and immersing yourselves in nature's wonders.
If you're considering a European escapade, Barcelona, Spain, is a fantastic choice for families. This vibrant city seamlessly blends history, culture, and leisure activities.
Your family will love diving into the mesmerizing architecture of Antoni Gaudí, wandering through the iconic.
Finally, if you're looking for a tropical paradise closer to home, consider the alluring Riviera Maya in Mexico.
This coastal region is a haven of pristine beaches, crystal-clear waters, and a rich Mayan heritage.
Explore the ancient ruins of Tulum, embark on mesmerizing snorkeling adventures in the breathtaking cenotes, or simply unwind at one of the luxurious all-inclusive resorts designed specifically with families in mind.
So, yeah, there are a lot of family vacations to choose from.
Summer Resort Packages for the Family
There are a lot of summer resort packages available for families around the world.
My top recommendation regions include Florida, the Caribbean, Bali, and Zanzibar.
Florida is wonderful for family vacations, and there really are a lot of resort packages to choose from.
Your family can enjoy the golden sands, take a dip in the warm Atlantic Ocean, and indulge in water sports like jet skiing or paddleboarding.
The good is that, in Florida, resorts tend to be all-inclusive, meaning they include meals, activities, and access to amenities.
When it comes to family resort packages in the Caribbean, you'll find numerous options in destinations, including the Bahamas.
Your family can bask in the sun on the white sandy beaches, go snorkeling to explore colorful coral reefs, or even go on family-friendly excursions like swimming with dolphins or visiting historical sites.
Bali is another great destination for a family summer getaway. This island has a mix of natural beauty, cultural experiences, and family-friendly resorts.
Your family can partake in traditional Balinese activities such as attending cooking classes, visiting ancient temples, or enjoying a traditional dance performance.
Many resorts in Bali cater specifically to families, providing amenities like pools with water slides, kids' clubs, and even babysitting services.
For those seeking a unique and exotic destination, Zanzibar, off the coast of East Africa, offers a captivating experience.
Families can enjoy resort packages that include beachfront accommodations, opportunities for snorkeling and diving to discover vibrant marine life, and explore the narrow streets and bustling markets of historic Stone Town.
Don't forget to try local delicacies like Zanzibari cuisine, which blends African, Arabic, and Indian flavors.
These destinations offer diverse summer resort packages that cater to families.
Summer Vacations with Kids on a Budget
Planning a summer vacation with kids on a budget can be a fulfilling experience.
One way to make it budget-friendly is by considering a road trip.
It allows you to explore destinations within driving distance, saving you on airfare and giving you the freedom to choose affordable accommodations like camping grounds or budget-friendly motels.
Another option is to find destinations that offer economical lodging and family-friendly activities.
Many cities actually have free amenities, and all you have to do is find out. Some have public parks, playgrounds, and recreational areas.
Take advantage of local events and festivals that offer entertainment at no cost.
Opting for vacation homes or condo rentals instead of hotel rooms can be cost-effective, especially for larger families or longer stays.
If you're open to camping, it can drastically reduce your vacation expenses. Plus, this is a fun and memorable way to connect with nature.
Campgrounds usually have reasonable rates, and you can bring your own food, camping gear, and equipment.
Finally, don't overlook the hidden gems in your local area.
Explore state parks, nature reserves, or family-friendly attractions that offer affordable admission rates or resident discounts.
In the end, the key is to prioritize quality time with your family while designing a budget-friendly trip that brings joy without straining your finances.
Final Thoughts
In conclusion, summer vacations with kids offer families a valuable opportunity to reconnect and provide children with valuable life experiences.
As someone who loves to travel and has cherished childhood memories of family vacations, I understand the significance of these trips.
Together, we have explored destinations ranging from sandy beaches to thrilling adventures, all tailored to meet the needs and budgets of every family.
Whether your goal is relaxation, cultural immersion, or outdoor excitement, I have shared tips.
I made recommendations and insider insights to ensure your summer vacation is a remarkable journey filled with laughter, joy, and memories that will last a lifetime.
So, put on your travel planning hat, and let's embark on an unforgettable adventure together!
AJ Paris is a travel photographer based in New York. He is the editor of Caravanzers.
Follow us on Pinterest.