Bogota travel is an incredible experience to a great destination. People visit for its rich culture, vibrant nightlife, and incredible scenery.
From its cool neighborhoods to many tourist attractions, this guide will give you a chance to explore the Colombian capital.
I will start with the basics, including the history, and work our way to the fun. As you will see, this is a city filled with amazing things to do.
Let's go!
VIDEO – Bogota Travel
Bogota Travel Basics
Bogotá is the capital city of Colombia. The city is in the Andes Mountains of the northern part of the country.
It operates on Colombia Time (COT), which is five hours behind Coordinated Universal Time (UTC-5).
The official currency in Colombia is the Colombian Peso (COP). About 5,000 equals 1 US dollar.
When it comes to safety, Bogotá is generally considered to be quite safe to travel to. However, it is always best to take extra precautions when traveling anywhere.
Americans and many other western citizens do not need a visa to travel to Colombia. However, they will need to obtain a valid passport and entry visa upon arrival at the airport.
When you arrive in Bogotá, you will probably enter the city through its main airport.
Bogota Airport – The Gateway to the City
Bogotá airport is called El Dorado, and it is in the Fontibon district of the city. It is about 8 miles (or 15 kilometers) away from the city center. In normal traffic, it takes about 30 minutes to travel from Plaza Bolivar to the airport.
If you're staying in this area for business, there are many functional hotels, including name-brand ones you will recognize from your home country.
There are plenty of fun things to do around the airport. There are shopping centers like Salitre Plaza, natural habitats like the Meandro del Say wetlands, and even Bogotá River.
Sadly, Bogotá's airport doesn't have hassle-free Wi-Fi for customers. There are several companies that will offer you paid access, but the only free one isn't easy to use.
To get a 30-minute free connection, you will need both an e-mail and a phone number.
Since most travelers don't have a phone number while traveling through an airport, this is a very difficult service to use.
The "free" airport Wi-Fi is through Eurona, a Canopi Group company. Along with the difficult free access, they offer paid ones.
A one-hour access will cost you 15,000 COP (around $4), while there are 2 and 4 hours ones, too, that cost 25,000 and 35,000, respectively. Meanwhile, they have one-day access for $49,000 (about $12).
If you have Wi-Fi through Boingo and iPass service, you will be able to login into those accounts and access the Wi-Fi.
Many other international airports offer access to free Wi-Fi, and you only have to accept the terms and conditions.
For an airport that charges fees to airplanes, which are added to travelers' ticket costs, Bogotá should do better in this area.
Where to Stay in Bogota
Bogotá is full of beautiful neighborhoods, but this is a city where you have to be careful in choosing where to stay.
Most foreigners tend to stay near the center of town. Plaza Bolivar is the city of this part of the city, and there are plenty of hotels nearby. This part of town is called La Candelaria.
If you're looking for an immersive local culture, the best place to stay in La Candelaria is the Casa Artistica CANDELARIA Centro Histórico, which is a beautiful spot. A night stay can cost from $20 onward.
Chapinero is a popular neighborhood, especially if you plan to stay long. It's not exactly the city center, but it's nearby. It's considered an upscale area, though, at least for the locals.

For those of you seeking a luxury stay, Chapinero is a great area. The JW Marriott Hotel Bogotá in this area can cost about $500 per night to stay, but there are also other spots. Hotel Morrison 84 is a 5-star hotel that costs about $100 per night.
Santa Fe is another area. Actually, Santa Fe surrounds the city center, but it's central adjacent. A lot of cool hotels and long-term stays are in this area.
This is an area that has a lot of affordable places. For example, you can stay at the Tequendama Suites for about $50 per night. It's a dated luxury condo apartment, and the units feature kitchens, so you can cook.
At the end of the day, it's really what gets you excited about the city. However, since everything is close to the center, I think Chapinero and Santa Fe are great places to stay in addition to the actual La Candelaria.
Things to Do in Bogota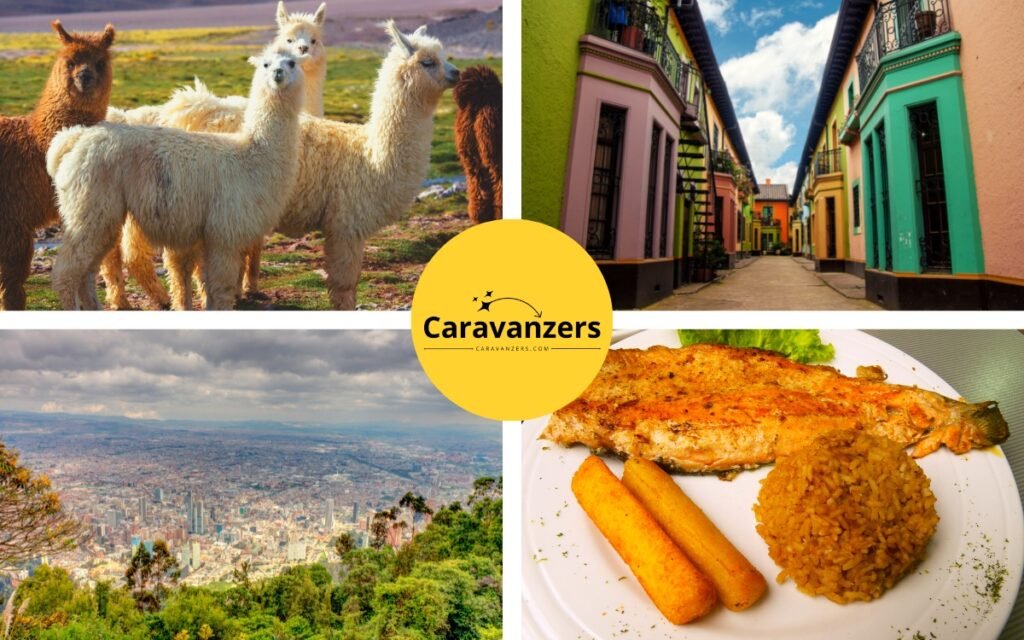 Bogotá is a beautiful city full of culture and nature! As you can imagine, there are a ton of things to do in this city.
Plaza Bolivar, Colombian food, top-notch museums, shopping, and natural spaces are great things to do in Bogotá.
No matter what you are looking for, Bogotá has something for everyone, and I think all you have to do is just decide what type of activities you want to partake in!
So, let me expand on some of these.
Plaza Bolivar
The best things to do around Plaza Bolivar include wandering through the square, visiting the Museo Botero, and exploring the nearby colonial architecture.
The Plaza is the heartbeat of the city. You can take lovely photos of the old buildings, mingle with the locals, or even take a memento selfie with a llama.
Also, the square is close to several great restaurants, cafes, and bars. So, if you get hungry, grab something quickly.
If you'd like to take a break from the hustle and bustle of the city, take a stroll around the nearby colonial architecture in the overall neighborhood.
Yeah, this is a great place to visit.
Try Colombian Food
Colombian cuisine is full of delicious and unique flavors, so you're sure to find something to enjoy!
Here are some Colombian dishes to try:
Arepas – a type of flatbread made from ground corn or wheat, often served with cheese and other toppings. The locals really like these.
Bandeja Paisa – a traditional platter of rice, beans, chorizo, plantain, avocado, chicharrón and arepa. Basically, I would say this is the national dish.
Empanadas – a pastry filled with meat, cheese, or vegetables. You may know these from your travelers elsewhere, including Mexico.
Sancocho – a traditional soup made with chicken, pork, or beef. This is another item you will find in nearby countries.
And, of course, ajiaco – a stew made with potatoes, chicken, and corn. Another great amazing Colombian dish.
Yeah, lots to try!
Museums in Bogota
Bogotá has a great selection of museums to explore! The Gold Museum, located in the historic center of the city, houses the largest collection of pre-Hispanic goldwork in the world. You will really like visiting here if you love gold.
The Museo Botero is a must-visit for art lovers, showcasing the works of Colombia's most famous artist, Fernando Botero. I would say even for general tourists, this is a great place to visit.
The National Museum houses some of the most important historical artifacts and documents in Colombia. You won't go wrong with this one.
The National Museum of Modern Art is also worth a visit, with its collection of contemporary Latin American art. So many tourists go here.
Finally, the Quinta de Bolivar Museum is an impressive colonial house showcasing the life and work of the Liberator, Simon Bolivar. An incredible place to visit to appreciate the city's history.
So, yeah, as you can see, Bogotá has a lot to offer.
Shopping in Bogota
If you're looking for some great shopping centers to visit in Bogotá, then you're in luck! There are a number of excellent shopping centers in the Colombian capital.
The Centro Comercial Andino is one of the biggest and most famous, offering a range of upscale shops, fashion boutiques, and restaurants. Seriously, this is one of the biggest shopping centers in all South America!
The Centro Comercial Santa Fe is another excellent option, with a huge range of stores, restaurants, and entertainment venues.
Finally, the Centro Comercial Hacienda Santa Barbara is a lovely shopping center right in the heart of the city.
Yeah, tons of places to shop.
Nature in Bogota
There are plenty of nature activities to do in Bogotá! Here are some ideas to get you started. For example, take a hike in the hills around Bogotá. The hills around Bogotá provide stunning views and lots of opportunities for exploration.
Visit the Parque Natural Regional de Chingaza. This is a national park located in the Eastern Hills of Bogotá, and it offers plenty of trails for hiking, as well as a chance to spot some of the native wildlife. There are bears and pumas here!
Check out the botanical gardens. Bogotá has an extensive collection of plants and flowers, and the botanical gardens are a great place to explore them. Visit Jardín Botánico de Bogotá José Celestino Mutis, and you will love it.
You could also take a boat ride on Guatavita Lake. This lake is located in the Eastern Hills of Bogotá, and it is surrounded by lush green vegetation. It was once holy to the Muisca people. Great place.
Bogota Travel – Final Thoughts
Bogotá is a city full of history, art, and architecture, making it a great place to explore and experience.
The city is also home to some of the most beautiful natural parks in South America and a great variety of outdoor activities.
In this guide, you've learned where to stay, what to eat, and what activities to try.
I believe you're ready to go explore Bogotá.
AJ Paris is a travel photographer based in New York. He is the editor of Caravanzers.
Official Tourism – Visit the city's travel website.