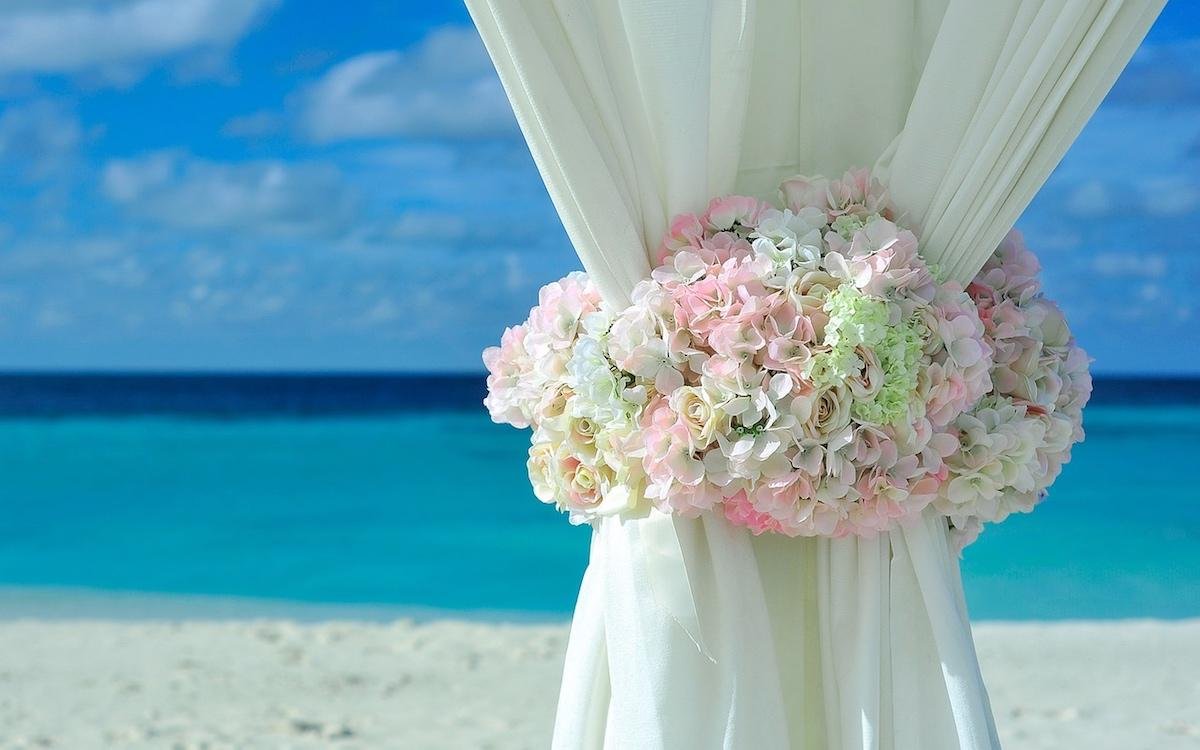 Destination wedding locations come in all types.
However, we wanted to make it easy for you on your big day.
So, we divided them into things the couple might be into.
Yeah, here we go!
Beach Weddings
Because most people associate destination wedding locations with exotic beaches, we thought we would start the list with that.
So, what are the best beaches for a destination wedding? For example, Waikiki, Navagio, and more!
Anse Source d'Argent – The Seychelles, which is composed of over 150 islands, has amazing beaches! This beach is just "Wow!" I would argue that it is probably the most beautiful beach on the planet. You have rocks, palm trees, and crystal clear blue waters. It is located on the La Digue island.
Waikiki Beach – Hawaii! For sure, this is one of the the most recognized beaches in the world. It has eight sections. Because it is a gorgeous beach, dotted with beautiful high-rises and incredible nightlife, it makes for a perfect destination wedding location!
Navagio Beach – Greece! This beach, which is also known as Shipwreck Beach, is located within an exposed cove. It is on Zakynthos island in the Ionian Sea. Anyway, all of Greece is full of incredible beaches. But, really, this you will love!
Champagne Beach – Vanuatu is a beach heaven because this small country is home to about 80 islands. One of them, Espiritu Santo, is where this beach is located. Imagine crystal clear water, beautiful sand, and tons of sunshine!
Flamingo Beach – Aruba! Hey, you're in the Caribbean, far from home, and so you might as well have some friendly flamingos as part of your wedding party! Yes, there are real flamingos at this beautiful beach and they love their human friends!
Meanwhile, there are several other beaches that did not make to the top five. For example, Bondi in Australia, Playa de La Concha in Spain, Kuta in Bali, Nungwi in Zanzibar, and Copacabana in Brazil.
Likewise, there are other amazing beaches in the world.
---
Resort Wedding
Sometimes, you want to go to a place that is very different from home. In a case like that, a resort wedding might be best option.
So, what exactly is a resort wedding? A wedding at a resort!
However, we are going to recommend interesting ones!
Amangiri – Why not feel one with nature in Utah's Amangiri, which is a 5-star resort in the middle of the desert in Canyon Point. Surrounded by mountains, this resort kind of blending in with the scene.
Palacio de Sal – Get salty with this resort in the heart of the world's largest salt flats in Bolivia. Meaning literally "the Palace of Salt," this resort was actually built from salt!
Royal Malewane – Imagine getting married with lions roaring the background. The Royal Malewane is in South Africa's Thornybush Private Game Reserve, which is home to tons of wildlife, including lions, elephants, and even giraffes!
Hurawalhi – You could literally get married under the fishes in this resort in Maldives. Located on the island of the same name, the hotel
Icehotel – Chilling out is given a whole new meaning at this funky resort in northern Sweden. Frozen material from the Torne River is used every winter to built this hotel. Needless to say, it makes for an awesome location for a destination wedding!
Meanwhile, look for exotic ones like the Taj Resorts in India or Luxury Airbnb Homes, and other cool resorts!
---
Landmark Weddings
Hey, who doesn't want to get married at a historical landmark?
So, what are some cool landmarks that act as destination wedding locations? We got you the Eiffel Tower, Taj Mahal, and more.
Eiffel Tower – This iconic location is perfect for everything, including weddings. The Trocadéro Gardens, which are opposite of the famous landmark, are the perfect spot. However, some also do it besides the river (on the other side). No matter where you choose, having that iconic tower in your "I Do" photos will be, well, iconic!
Taj Mahal – What a beautiful place for a wedding! After all, this is a landmark that celebrates romantic love. Unfortunately, you can't get married inside it. Instead, you cross the river and have it in the background.
Golden Gate Bridge – Okay, so this is another landmark on which you cannot really get married. However, Baker Beach has a great view of the bridge. So, if one wants the beach and the other wants history, you can combine in this case!
Machu Picchu – Imagine having your wedding officiated by a Shaman above the Sacred Valley of the Incas. Sure, it is not really "legal," but who cares! So, as you can imagine, this could be a cool place.
Great Pyramid of Giza – Talk about a historical landmark! Walk down the aisle like an Egyptian and have one of the most iconic images in the world right behind you. Hey, you said you wanted a destination wedding, right? This is an incredible one!
Other top locations include the Great Wall of China, the Colosseum, and the Uluru rock.
---
Nature Wedding
A nature wedding is a wedding that takes place in nature.
But why bother with typical nature when you can get married in awesome places that are 100% natural?
So, yeah!
Mount Everest – So, this is the highest mountain on the planet and requires a lot of commitment. So, you better be into mount climbing if you want to do this. Talk about being on top of the world!
Great Barrier Reef – A true natural wonder, this Australian reef is such an awesome location for a wedding! Believe it or not, but there is such a thing as a scuba diving wedding. But, how? Technology!
Pico do Fogo – The Cape Verdean island of Fogo is home to the highest peak in West Africa. However, it is a volcano heaven. Add the unique wine taste of Chã das Caldeiras to the mix, and now we are talking!
Other cool natural places? Check out the Arabian Desert, the Everglades, Ha Long Bay, as well as the Preikestolen cliff and the Perito Moreno Glacier.
---
Cruise Wedding
So, you might be thinking, "What"?
But did you know you can your wedding on a cruise?
Talk about captive audience.
So, what is a cruise wedding? A cruise wedding allows you to marry onboard or on a port day, whether local, national, or international.
National – A national cruise can be within your country. For example, an American couple who decide to go on a Hawaii cruise for their wedding. And they won't even need a passport!
International – An international cruise will be crossing borders via the water and you will need a passport. Provided you have a visa, you will be able to marry on a port day or you can marry onboard the ship. For example, an American couple that decides to marry during a Balearic Islands cruise.
All-Inclusive – One of the great things about a cruise wedding is that everything is included. You pick a package and figure out the rest as it goes. For example, on Royal Caribbean, you will be able to include personal essentials such as entertainment, flowers, and photography with your package.
---
More
So, are there more?
Well, sort of.
Here are some of the top travel destinations in general.
Do any of them speak to you?
1. France
2. Spain
3. United States
4. China
5. Italy
6. Mexico
7. United Kingdom
8. Turkey
9. Germany
10. Thailand
Secondary list… are most trending…
1. Egypt
2. Togo
3. San Marino
4. Vietnam
5. Georgia
6. Palestinian territories
7. Niue
8. Nepal
9. Israel
10. Northern Mariana Islands
Meanwhile, here are some unforgettable places…
1. India
2. Kenya
3. Peru
4. Morocco
5. Brazil
6. Cuba
7. Madagascar
8. Fiji
9. Sri Lanka
10. Malta
For more destinations, Click Here.
Lena Wilson is a fashion writer for Caravanzers.