Lisbon travel is a great way to get to know the Portuguese landscape, people, and culture, and this guide has it all.
As a passionate traveler who visited the exhilarating streets of Lisbon, I'm thrilled to share my insights with you.
In this guide, I'll tell you when is the best time to visit, suggest great neighborhoods for accommodation, and give you a wealth of ideas on what to do and see in this captivating city.
From historical landmarks to mouthwatering cuisine and vibrant culture to charming day trips, I'll be your trusted companion, helping you make the most of your Lisbon adventure.
Let's go on this journey together and discover the wonders of Lisbon!
VIDEO – Lisbon Travel
Lisbon is the capital of Portugal, and this is and charming city with a rich history, stunning architecture, and breathtaking views.
This Portuguese destination offers a diverse landscape, warm hospitality, and vibrant culture.
The city has something for everyone, from historical landmarks to mouthwatering cuisine and vibrant street art.
Lisbon's neighborhoods cater to different preferences, whether you're seeking a romantic getaway in Alfama, a family-friendly atmosphere in Parque das Nações, a lively experience in Bairro Alto, or a peaceful stay in Belém.
The city also serves as a gateway to enchanting day trips to Sintra, Cascais, Évora, and Setúbal.
Keep reading…
Lisbon Travel Basics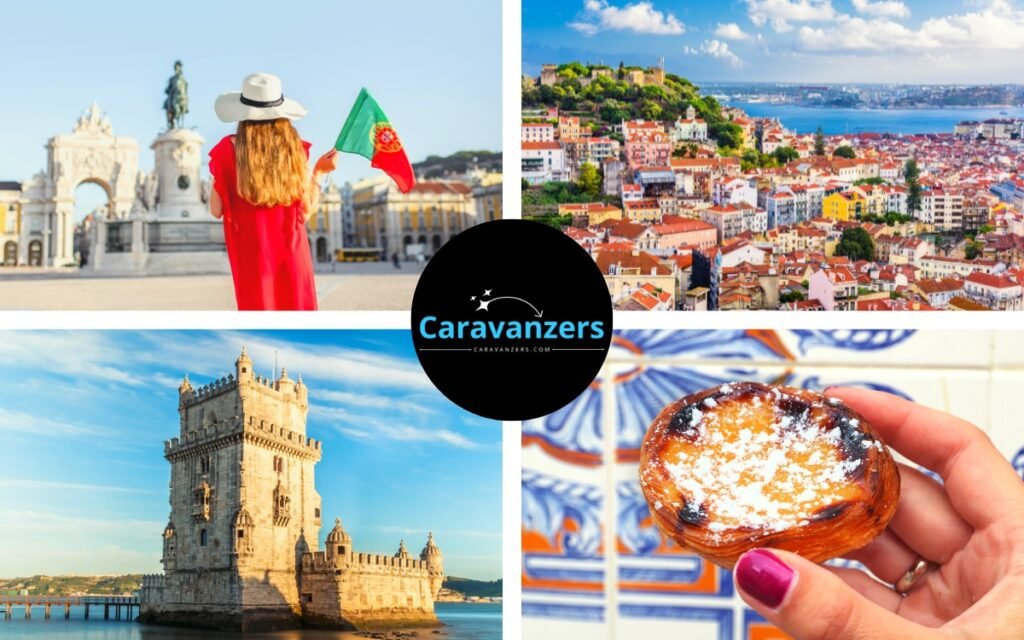 As the capital of Portugal, is a popular destination for tourism. People from all over the world visit this gorgeous city.
Before you go, though, you will need to consider visa requirements. If you're a citizen of the European Union (EU), you can travel to Lisbon without a visa.
Visitors from several countries, including the United States, Canada, Australia, and New Zealand, can enter Portugal as tourists for up to 90 days without a visa.
The city operates on Western European Time (WET) during the daylight saving period and Greenwich Mean Time (GMT) for the rest of the year.
Lisbon is served by the Lisbon Portela Airport, also known as Humberto Delgado Airport. This is the main international gateway to Portugal and is within the city limits.
The currency in Portugal is the Euro (EUR), and there are currency exchange offices and ATMs readily available throughout the city.
Public transportation in Lisbon is an efficient and comprehensive network, and it includes buses, trams, metro, and trains.
Like many major cities, there are also a host of rideshare apps.
I hope this gives you a good overview of basic travel needs. We will now move to more specific things.
When to Go to Lisbon
Although Lisbon is one of those cities you can go and enjoy any time of the year, the best time to visit Lisbon depends on your preferences and what you're looking to experience.
If you enjoy mild temperatures and fewer crowds, the spring season (April to June) is a fantastic time to visit. The weather is generally pleasant, and the city starts to bloom.
Summer (July to August) is the peak tourist season in Lisbon. The city comes alive with a buzzing atmosphere, outdoor festivals, and long sunny days.
If you want to avoid the summer crowds, consider visiting during the fall (September to November). The weather remains pleasant, and it's a great time to explore without feeling overwhelmed by tourists.
Winter (December to February) in Lisbon is generally mild, and while it may be cooler and occasionally rainy, it's an excellent time to experience the city's cultural offerings. The holiday season brings a festive vibe to the city with Christmas markets and decorations.
So, yeah, this city is great no matter when you visit!
Where to Stay in Lisbon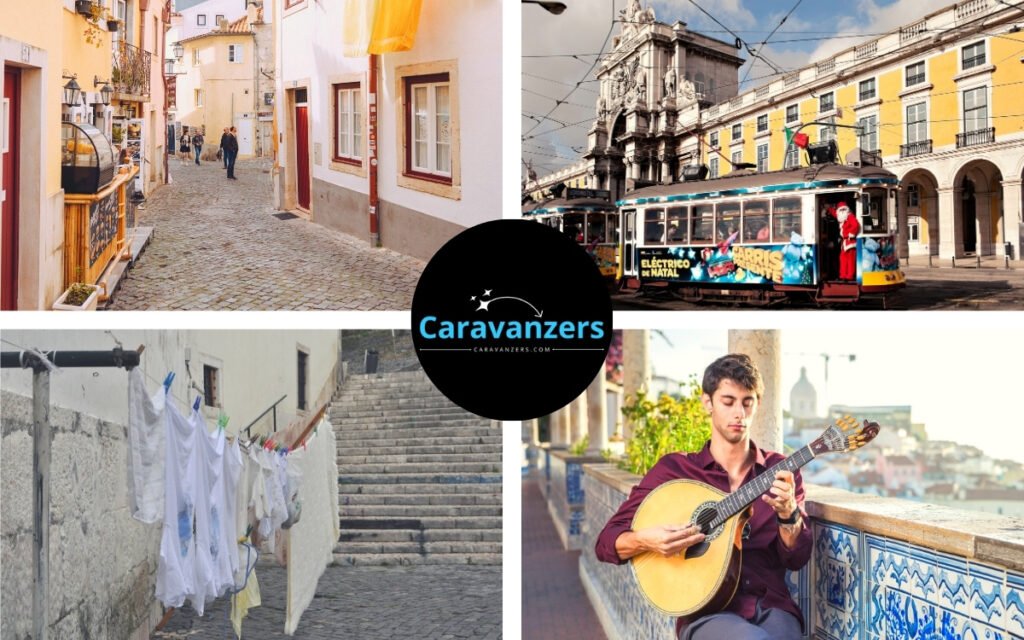 Lisbon is dotted with beautiful neighborhoods, and this hilly city has a variety that caters to different preferences and travel styles.
For couples seeking a romantic getaway, the Alfama neighborhood is a fantastic choice. Popular narrow streets, colorful buildings, and Fado music make it a charming and intimate atmosphere.
Families might find the Parque das Nações neighborhood ideal. This modern area has a range of family-friendly attractions, and kids will love exploring the Oceanarium, one of Europe's largest aquariums.
Solo travelers who enjoy a vibrant and lively atmosphere might find the Bairro Alto neighborhood to be the perfect fit. It has a bustling nightlife and trendy bars, as well as a vibrant social scene.
For seniors seeking a peaceful and relaxed stay, the Belém neighborhood is a great option. Home to iconic landmarks such as the Belém Tower and the Jerónimos Monastery, this area is rich in history and culture.
These are just a few neighborhood suggestions, but Lisbon has many more! One way to figure out which neighborhood you like is to stay in hotels or Airbnbs in different parts of the city.
Generally speaking, there will be one or more that will speak to you.
My advice? If you don't speak Portuguese, stick to the traditional tourist neighborhoods in the heart of the city. These include Baixa, Bairro Alto, and Alfama – all in the Santa Maria Maior district.
What to Eat in Lisbon
When it comes to food in Lisbon, the city has a diverse culinary scene that combines traditional Portuguese flavors with influences from European cuisines and international ones, too.
Portuguese cuisine is a highlight, and you'll find an array of delicious dishes to try.
From Bacalhau à Brás (shredded cod with eggs, onions, and potatoes) to Bacalhau com Natas (cod with cream and potatoes), there are plenty of mouthwatering options to choose from.
Lisbon also has a fusion of European cuisines. There are influences from neighboring countries such as Spain. For example, you can get tapas-style dishes.
The city is also home to a diverse range of international food options. From Italian pasta and pizza to Indian curries, sushi, and Middle Eastern delights, you'll find a global culinary scene across the city.
When dining out, remember to include Portuguese wines such as Vinho Verde, Port wine, and Douro wines.
Whether you're craving traditional Portuguese dishes, exploring European flavors, or venturing into international cuisines, Lisbon has a vibrant culinary landscape that will satisfy your appetite and leave you wanting more.
What to Do in Lisbon
Lisbon has a wide range of activities and attractions for couples, families, solo travelers, and seniors.
Couples visiting Lisbon can take a leisurely walk hand in hand, discover charming cafes, and immerse yourselves in the melancholic sounds of Fado music.
Don't forget to catch a sunset from Miradouro da Senhora do Monte or Miradouro das Portas do Sol for a truly magical experience.
Families can go on exciting adventures by taking a ride on the cable car for panoramic views of the city and enjoy a picnic in one of Lisbon's beautiful parks, such as Jardim da Estrela or Parque Eduardo VII.
Solo travelers seeking an exciting and vibrant experience can join a food or wine tour. This is also a great way to meet fellow travelers and explore Lisbon's culinary delights together.
Seniors can enjoy a more relaxed pace while exploring Lisbon's cultural treasures by taking a scenic boat trip along the Tagus River.
Lisbon also has a wealth of cultural experiences, such as visiting the museums in the Belem Cultural Center or exploring the contemporary art scene in the LX Factory.
The city also has vibrant street art. Book a walking tour to take advantage of this.
These are just a few suggestions, but Lisbon has much more to offer, and the city's charm, history, and vibrant atmosphere allow everyone, regardless of age or travel style, to find something captivating and enjoyable.
My advice is to talk to the locals and find out what some of their favorite things to do are, and you will be surprised by how friendly they are.
Day Trips from Lisbon
Lisbon serves as an excellent starting point to explore the surrounding areas, with convenient access to numerous fantastic day trip destinations.
One highly popular day trip is a visit to the enchanting town of Sintra, located just a short distance away. Sintra captivates visitors with its fairytale-like palaces, lush gardens, and an air of magic and mystery.
Another delightful option for a day trip is Cascais, a coastal town renowned for its picturesque beaches and vibrant atmosphere. It's a perfect place to relax, take a leisurely stroll along the scenic promenade, or savor fresh seafood while enjoying the coastal charm.
If you have a penchant for history and heritage, I highly recommend a day trip to Évora. As a UNESCO World Heritage Site, Évora has well-preserved remnants of its Roman past. This includes a fascinating Roman temple.
Its medieval walls and charming old town add to its allure, making it a captivating destination for history enthusiasts.
For wine lovers, a visit to the wine region of Setúbal is an absolute must. This is just across the Tagus River, and it has vineyard exploration, delightful wine tastings, and the chance to immerse yourself in the scenic countryside.
These are merely a few examples of the incredible day trips available from Lisbon, and believe me when I say that there are countless more options to discover and explore!
7-Day Lisbon Itinerary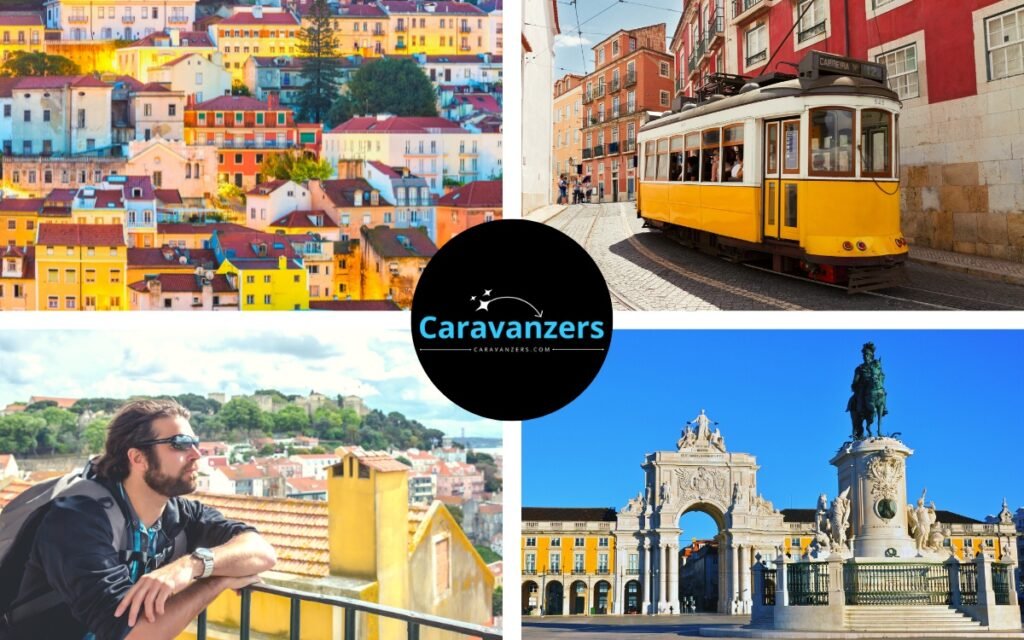 During your week-long stay in Lisbon, you can explore the city's iconic landmarks, immerse yourself in its cultural offerings, and venture out on exciting day trips to nearby destinations.
Start by checking out Lisbon's historic neighborhoods, such as Alfama, Baixa, and Bairro Alto. Wander through the narrow cobblestone streets, visit iconic landmarks like São Jorge Castle and Lisbon Cathedral, and discover hidden gems along the way.
Take a tram ride through the city, hop on the historic Tram 28, and enjoy the scenic views as you pass by colorful buildings and charming squares.
For art and history enthusiasts, Lisbon has a range of museums and cultural sites to visit. Head to the Calouste Gulbenkian Museum, which houses an impressive collection of art, or the National Museum of Ancient Art, showcasing Portuguese and European artworks.
To add some variety to your trip, venture on day trips to nearby destinations. Visit the fairytale-like town of Sintra, with its majestic palaces and lush gardens, or the coastal town of Cascais for relaxing beach vibes and picturesque scenery.
As you explore, take time to relax and soak up the vibrant energy of the city by taking leisurely walks. You can do this by going along the riverfront, savoring outdoor meals in charming squares, and embracing the lively nightlife.
Of course, this itinerary is flexible, and you can adjust it to your interests and preferences.
Lisbon FAQs
Travelers ask a bunch of questions about Lisbon, and in this guide, I'm going to answer some of them.
Honestly, I covered a lot of questions in the guide anyway, but this is just to directly answer those few I think can benefit.
So, let's answer them!
What Is Lisbon Famous For?
What is Lisbon famous for? Lisbon is famous for many things. It has stunning architecture, historic neighborhoods, delicious cuisine, and that Fado music. The city is also famous for its vibrant cultural scene, charming street art, and is one of the oldest cities in Western Europe. It's really beautiful.
What Do I Need to Know Before Going to Lisbon?
What do I need to know before going to Lisbon? Before going to Lisbon, I would say it's good to know that it's a hilly city. Comfortable shoes are recommended. Be prepared for warm summers and mild winters. Learning a few basic Portuguese phrases can also enhance your experience.
Is Lisbon Safe?
Is Lisbon safe? Lisbon is generally considered a safe city for travelers. That said, like any popular tourist destination, it's always wise to take precautions and be aware of your surroundings, especially in crowded areas and on public transport. Keep an eye on your belongings and follow the rules.
How Many Days Are Enough for Lisbon?
How many days are enough for Lisbon? The number of days you'll need in Lisbon depends on your interests and how much you want to explore the city and its surroundings. Generally speaking, though, a week can give you a nice overview of Lisbon. That's what I would recommend.
Is Lisbon Expensive?
Is Lisbon expensive? Compared to many other European capitals, Lisbon is actually considered to be relatively affordable. While prices have risen in recent years due to increased tourism, you can still find budget-friendly accommodations, meals, and attractions. Public transportation is also reasonably priced, making it an accessible city, too.
Final Thoughts
Having visited many destinations, Lisbon stands out as a truly incredible city that offers an immersive experience in Portugal's diverse landscape, warm hospitality, and rich culture.
This guide has given you valuable insights and recommendations to enhance your trip.
I covered the best time to visit, suggested great neighborhoods to stay in, and shared a bunch of exciting activities and attractions to explore.
Whether your interests lie in landmarks, mouthwatering food, vibrant culture, or charming day trips, this guide shared with you how to maximize your Lisbon adventure.
Start planning your trip today, and I wish you a safe and enjoyable journey ahead!
Sebastian Clark is a traveler from the UK and writes about Europe for Caravanzers.
Follow us on Pinterest.