Madhuri Dixit movies are legendary in India, where she is considered the best Bollywood actress of all time.
In a film career that spans four decades, Madhuri Dixit has showcased her immense talent and versatility as an artist.
From her debut in "Abodh" to her breakthrough in "Dil," she has consistently delivered exceptional performances.
Films like "Hum Aapke Hain Koun..!" and "Dil To Pagal Hai" further solidified her status as one of the Hindi language's most celebrated performers.
She also ventured into art films with "Gaja Gamini" and made a remarkable comeback in "Aaja Nachle."
Madhuri's career has been marked by box office successes, award-winning performances, and her ability to captivate audiences with her dance skills and on-screen presence.
Classically trained in Indian dance, she has captivated the audience for over 40 years, affectionately dubbed as the "Dhak Dhak Girl" (in reference to one of her dance hits).
In this guide, I will walk you through 10 of Madhuri's films you must see in your travels in India.
So, if you love Bollywood's dancing and sing-along numbers, get ready to cheer.
VIDEO – Madhuri Dixit Movies
Madhuri Dixit is a timeless Indian actress who has graced the silver screen with her incredible talent and charm in 40 years.
They affectionately call her the "Dhak Dhak" girl, and her movies epitomize elegance and versatility.
With memorable performances in films like "Hum Aapke Hain Koun..!," "Dil To Pagal Hai," and "Devdas," Madhuri has captivated audiences with her expressive eyes and graceful dance moves.
Her filmography spans various genres, showcasing her ability to portray diverse characters with finesse.
Even to this day, Madhuri Dixit continues to be an icon in the country's largest film industry, leaving a lasting impact on Hindi cinema.
Abodh (1984)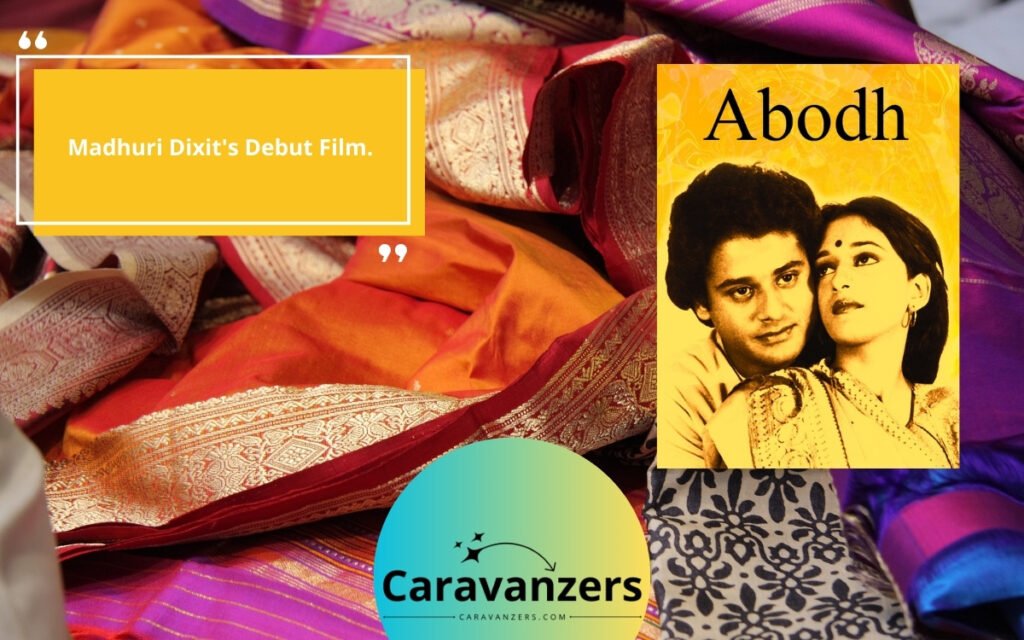 "Abodh" ("Innocence" in Hindi) is a film that highlights the natural talent of Madhuri Dixit, even at a young age.
In her debut performance, Madhuri captivates audiences with her raw and innate abilities as an actress.
Madhuri's presence on screen exudes grace, charm, and a captivating aura that foreshadows her future success as one of Bollywood's most celebrated and talented performers.
Her portrayal in this film showcases her exceptional acting skills, demonstrating maturity and command over her craft beyond her years.
Madhuri's performance in "Abodh" serves as a testament to her early promise and sets the stage for her illustrious career in the film industry.
I do think marriage is a big part of Hindu culture, and travelers can gain some ideas about Indian beliefs.
Definitely one of the best Madhuri Dixit movies.
The plot is…
Gauri, a naive girl from a small town, argues with Shankar at a fair.
Surprisingly, Shankar's grandmother supports Gauri and decides they should marry.
Though disappointed initially, Gauri eventually accepts.
In Shankar's house, Gauri befriends his little brother, but their relationship lacks intimacy.
Gauri's sister Ratna enlightens her on marriage, prompting Gauri to visit her in-laws when Shankar leaves for college.
Months pass with no news of Shankar until he meets Ratna, who informs him of Gauri's maturity and love.
Shankar realizes his mistake, rushes back, and they reconcile happily.
>> Watch "Abodhe" on Rajshri's YouTube channel.
Dil (1990)
"Dil" ("Heart" in Hindi) is a 1990 Bollywood romantic drama starring Aamir Khan and Madhuri Dixit as the lead.
So, "Dil" went on to become the highest-grossing film of the year, and Madhuri won her first Best Actress award for her role in the film at the 36th Filmfare.
Meanwhile, the success of "Dil" led to its remakes in various languages, and it remained one of the most popular Bollywood films of the 1990s.
The story goes like this…
Hazari Prasad, a miser, desires a wealthy bride for his extravagant son Raja.
Raja meets the stunning yet arrogant Madhu Mehra and plays a prank on her by feigning blindness, but their initial animosity transforms into affection.
Hazari aims to secure a wealthy alliance for Raja and befriends Madhu's father, but their disagreement arises when the truth emerges.
Raja's reputation suffers due to misunderstandings, but Madhu realizes her mistake and falls deeply in love with him.
Despite objections from their fathers, they face numerous obstacles, including Raja's injury and financial hardships.
Eventually, truth triumphs and Raja and Madhu reunite while their fathers regret their actions.
>> Want to watch "Dil"? Head over to the Shemaroo YouTube channel.
Hum Aapke Hain Koun..! (1994)
"Hum Aapke Hain Koun..!" ("Who Am I To You..!" in Hindi) is a 1994 musical family drama starring Madhuri Dixit and Salman Khan.
This is one of those Madhuri Dixit movies you cannot miss! I love the food from this film.
Basically, the film depicts Indian wedding traditions and explores the relationship between two families.
This film was a huge success, and it ended up becoming the biggest commercial film in Bollywood history.
It won several awards and had a significant cultural impact, influencing wedding celebrations and revolutionizing film distribution in India.
Once again, Madhuri won the Best Actress award at Filmfare, and the film was pretty important in her career.
It was the first time an actress was paid more than an equally-famous male lead.
Anyway, the story goes like this…
Prem and Rajesh, who have lost their parents, reside with their uncle Kailashnath.
Rajesh is engaged to Pooja, the daughter of Kailashnath's old friend.
During the wedding preparations, Prem and Pooja's sister Nisha develop a playful bond.
While Pooja and Rajesh confess their love, Nisha and Prem quietly fall for each other.
Tragedy strikes when Pooja passes away, and Nisha takes on the responsibility of caring for her child.
A misunderstanding leads Nisha to agree to marry Rajesh instead of Prem.
However, a letter reveals the truth, and eventually, Nisha and Prem unite in marriage with the blessings of their families.
>> Watch "Hum Aapke Hain Koun..!" on YouTube here.
Dil To Pagal Hai (1997)
Directed by Yash Chopra and featuring his Switzerland throughout, "Dil To Pagal Hai" ("The Heart Is Crazy" in Hindi) is a 1997 Bollywood love triangle romance starting Madhuri Dixit, Shah Rukh Khan, and Karisma Kapoor.
The film was highly acclaimed and became the highest-grossing film of the year.
It garnered numerous awards, and Madhuri snagged Best Actress once again at the Filmfare Awards.
The plot goes like this…
In a dance troupe, Rahul and Nisha share a friendship, but Nisha harbors secret feelings for Rahul.
Rahul plans a new musical called Maya and selects Nisha for the lead role.
Pooja, an orphan raised by family friends, joins the troupe and befriends Rahul.
When Nisha gets injured, Rahul chooses Pooja as her replacement, causing Nisha to become jealous and decide to leave for London.
As Rahul and Pooja develop romantic feelings for each other, Pooja is already engaged to Ajay.
However, during the premiere, Pooja realizes her true love for Rahul, and they confess their feelings on stage.
The play ends happily, and backstage, Ajay shows interest in Nisha.
Gaja Gamini (2001)
"Gaja Gamini" ("Elephant Gait" in Hindi) is a 2000 art film by M.F. Husain starring Madhuri Dixit.
In my opinion, this is one of the best Madhuri Dixit movies you could ever watch.
M.F. Hussein, who is arguably the most important Indian artist of the 20th Century, believed Madhuri represents the epitome of an Indian woman.
Although the film performed poorly at the box office and became a commercial failure, it garnered a cult status.
It's really more like a painting than a film, and it transcends traditional narrative and plot structures.
The story goes like this…
Gaja Gamini is a mysterious character that both captivates and confuses people.
Through various characters like Sangeeta, Shakuntala, Mona Lisa, and Monika, the characters explore the essence of womanhood and the timeless nature of art.
So, the story is inspiring, bold, and real, and the use of color, music, and symbolism adds a thinking depth that you definitely don't find in Bollywood movies.
The film predominantly tells a story through dance and heavily relies on the artistic quality of Madhuri.
>> Watch "Gaja Gamini" from YouTube.
Devdas (2002)
"Devdas" ("God Servant" in Sanskrit) is a 2002 period romantic drama starring Madhuri Dixit, Shah Rukh Khan, and Aishwarya Rai in lead roles.
The film is based on a Bengali novel by Sarat Chandra Chattopadhyay.
Although it started out with lukewarm reception, "Devdas" ended up earning several awards and becoming the highest-grossing Indian film of the year.
Madhuri snagged another Filmfare Award, this time for Best Supporting Actress.
In the US, the film is available through Amazon Prime.
The story goes like this…
During the early 1900s, Devdas completes his law studies in London and returns home, where he rekindles his deep friendship with Paro, leading to a passionate love affair.
However, their relationship faces opposition from Devdas's family, causing him to descend into a destructive path of alcoholism.
Seeking solace, Devdas turns to courtesan Chandramukhi, but his realization comes too late.
Paro is married off to someone else, and Devdas's life crumbles as he yearns for her.
The story delves into themes of love, societal constraints, and an ultimately tragic destiny.
>> Deep dive into the "Devdas" world by watching the 1955 film.
Aaja Nachle (2007)
"Aaja Nachle" ("Let's Dance" in Hindi) is a 2007 dance film that marked the return of Madhuri Dixit to the big screen after a half-decade hiatus.
Madhuri, who at the time was married and living in the United States, reconstituted her spot as Bollywood's dancing queen.
While the film wasn't a big success at the box office, it was one of the most talked about films of the year due to Madhuri's return.
This film is on my list of best Madhuri Dixit movies because it's a big moment in her career.
It was a milestone, to show even after marriage a woman can still work!
The story goes like this…
After receiving news of her dance teacher's impending death, Dia, a choreographer living in New York with her daughter Radha, returns to her hometown of Shamli.
She learns that her teacher has entrusted her with the task of saving the Ajanta dance theater from being demolished.
Despite facing opposition from the locals, Dia challenges the local MP to organize a successful performance using only the talents of Shamli residents.
With determination and the support of Imran and Anokhi, Dia overcomes obstacles to create a remarkable show, preserving Ajanta and revitalizing the town's passion for dance.
Along the journey, Dia develops a connection with Raja Uday, hinting at a possible romantic relationship.
Dedh Ishqiya (2014)
"Dedh Ishqiya" ("One and a Half Love" in Urdu) is a 2014 black comedy starring Madhuri Dixit, Huma Qureshi, Arshad Warsi, and Naseeruddin Shah.
Actually, this is a sequel to the film Ishqiya (2010). I would say this is a great film to get the vibes for Indian cities.
The film achieved moderate commercial success at the box office and several nominations at the 60th Filmfare Awards, including Best Actress for Madhuri Dixit.
"Dedh Ishqiya" was a bold move for Madhuri because she plays a woman who falls in love with another woman.
The story goes like this…
In the film Dedh Ishqiya, partners in crime Khaalujaan and Babban pose as a Nawab and his attendant to steal a valuable necklace.
During their escape, they get separated, and Babban is accused of betrayal by his boss.
Months later, they reunite at a poetry contest organized by Begum Para.
Babban falls in love with Muniya, while Khaalujaan aims to impress Begum Para and win the contest.
Twists and turns unfold as the true identities and motives of the characters are revealed, leading to a final confrontation.
In the end, the duo receives a letter from Begum and Muniya, leaving them in a familiar situation with their criminal associates.
>> Watch the full "Dedh Ishqiya" movie here.
Bucket List (2018)
"Bucket List" is a 2018 comedy-drama that stars Madhuri Dixit.
The film marks the Marathi debut of Madhuri, who's ethnic Marathi, as well as her first major film production.
"Bucket List" was a commercial success at theaters, and it got a big deal with Netflix.
Madhuri Dixit movies tend to be very Bollywood in general, but this one is really different!
The story goes like this…
Madhura is a dedicated homemaker who undergoes a heart transplant and feels a deep sense of gratitude towards the donor, Sai.
When Madhura visits Sai's family, she discovers Sai's bucket list, which consists of activities she wants to accomplish before turning 21.
Moved by Sai's enthusiasm, Madhura takes it upon herself to complete the list.
This decision sets her on a life-changing expedition of self-exploration, encompassing exhilarating motorcycle races and vibrant disco nights.
Through this remarkable journey, Madhura reconnects with her true self and embraces a fresh perspective on life.
>> Watch the hit song from this movie.
Maja Ma (2022)
"Maja Ma" ( "Having Fun" in Gujurati) is a 2022 drama starring Madhuri Dixit.
Made during the Covid-19 pandemic, the film premiered on Amazon Prime Video.
"Maja Ma" explores love, modern thinking, and traditional values in the backdrop of Madhuri Dixit's dance sequences.
This was definitely another bold movie for Madhuri, who plays a lesbian in a coming-out story about the trend of progressive small-town family dramas.
On Amazon, the film got 4 out of 5 reviews from 143 reviews, and it was the number 1 watched movie in India when it was released.
This is not part of the typical Madhuri Dixit movies, but I believe it shows a different side of her.
The story goes like this…
Pallavi is a dedicated middle-aged housewife known for her dance and cooking skills, but she becomes the center of a rumor that jeopardizes her middle-class family's values.
The rumor surfaces just as her son, Tejas, is about to get engaged to a wealthy NRI girl (non-resident Indian), creating a potential disruption in their lives.
Final Thoughts
There really isn't anyone like Madhuri Dixit. Having appeared in over 65 films, there are several generations of Indians who love her movies.
On YouTube, she's the most streamed Indian actress, and she has nearly 100 million followers on social media, showing she's a woman of the moment, too!
Over the years, she also ventured into commercials, and television hosting, became a musical recording artist, and even started a dance company.
But she will always be remembered as the dancing queen of Bollywood who stole the hearts of billions around the world.
So, I really hope you enjoy this article and watch some of her movies!
AJ Paris is a travel photographer based in New York. He is the editor of Caravanzers.
Follow us on Pinterest.