There is a couple of oceans in Australia, as well as a few seas. Travelers can help by following local rules, supporting organizations on the ground, and more.
Australia is a big island surrounded by water.
So, tourist-favorite destinations like Sydney, Melbourne, and Perth are all on the coasts. It was the reason they were all included in our Australian beaches article.
Of course, like everywhere else in the world, the oceans in Australia are hurting.
Because we gave you a complete guide to the country's beautiful beaches, we wanted to take this time and introduce to you some of the problems. Australians are working hard to make sure their oceans are cleaner. Of course, we also want you to know there are things you can do to be part of the solution.
Therefore, let's learn more about this issue and what you can do about it as a traveler.
Oceans in Australia
As previously noted, Australia has a couple of oceans and a few seas. For example, oceans include the Indian Ocean, which is the third-largest in the world after the Atlantic and Pacific. The Indian Ocean sits on Australia's western coast.
Likewise, there is the Pacific Ocean, which is on the eastern side of the country.
However, Australia has another ocean called the Southern Ocean.
"I never heard of it," admits Michael, an American.
Many people haven't heard of it, which understandable since the Southern Ocean is actually not on the coast. Instead, the Southern Ocean is farther south of Australia.
Meanwhile, Australia also has several seas, including the Timor Sea, Tasman Sea, Coral Sea, and the Arafura Sea.
Yes, Australia has a lot of water around it. In fact, a report from the government gives you more of a perspective:
"Under the United Nations Convention on the Law of the Sea (UNCLOS) Australia has sovereign rights over 11 million square kilometres [4.2 million square miles] of ocean, and up to 15 million square kilometres [5.8 million square miles] when the claimable continental shelf is determined," the report explains.
According to the report, this area is near twice the landmass of Australia.
Indian Ocean
One of the most beautiful roads in the country is the Indian Ocean Drive, a highway in Western Australia.
"It is absolutely beautiful," says Michael, the American tourist, joined by his Australian friend Jack.
The highway is part of Highway 60, but it turns scenic just north of Lancelin, a town about 75 miles (125 km) north of Perth. In the meantime, the highway stays scenic, more or less, until it reaches Highway 1 near Dongora.
Soon, Michael and Jack are back in Perth.
"I want to experience the Polar Bears swim," says Michael.
Each morning, members of the Port Beach Polar Bears go for a swim. The swimming club does this around 5:30 am and will usually gather for tea afterward. The club is in North Fremantle, a suburb of Perth.
Jack tells us that coastal cities and towns here are dealing with erosion. A report by West Australia's government confirms what Jack said.
"Much of the Western Australian coast is subject to coastal erosion and the consequences of inundation from storm events, which have increased with the global rise in sea levels and population growth along the coast," explains the report [PDF]. "A total of 55 locations (15 Perth metropolitan and 40 regional) were identified as 'hotspots', where coastal erosion is expected to impact on public and private physical assets and require management and adaptation action within 25 years."
In other words, this is a global issue that we see around the world.
Southern Ocean
Tasmania is Australia's big island, and it is in the Southern Ocean.
It is a beautiful morning in Southport, the southernmost town in Tasmania.
"What kind of sweet would you like?" asks Sarah, a British friend I'm traveling with.
We are at a pop-up coffee shop. It is a quirky little place called Rocket @ the End of the Road and which actually looks like a rocket. The neighborhood has goats, very few people on the roads, and it just looks really cool.
Soon, we are boarding a boat off to Maatsuyker Island, an island off of Tasmania.
It takes over 3 hours to arrive, and you have to climb for your life to get on this island.
"There is only one couple that lives here," explains Sarah. "No animals, nothing. It is incredibly pristine."
So, to live here, the couple had to forego the Internet. They have no access to the world outside except through the telephone.
Oh, and they are not paid for this at all.
Tasmania is incredibly poor, economically speaking, and lands last on Australian GSP or Gross State Product per capita.
"Around 48% of Tasmanian adults do not have the literacy and numeracy skills they need for life in a technology-rich world," explain the Tasmanian Council of Social Service, better known as TasCOSS.
Tasmania is also dealing with the aftermath of heavy mining in its history. In early 2019, a damning report said that the state's waters were highly polluted.
For example, there are warning signs on some of the rivers stating water is not safe for drinking or swimming.
"Of course, the rivers empty into the ocean," says Sarah.
Pacific Ocean
The Pacific Ocean is the largest in the world, and it is home to many countries, and most of them are islands.
"A few are relatively large island nations like Australia, Papua New Guinea and New Zealand," explains Australia's Department of Agriculture, Water and the Environment. "It is estimated that 310,000 tonnes of waste plastic is generated by Pacific island nations and territories each year."
Yes, the Pacific is the largest ocean, but, unfortunately, it is also most polluted, especially its northern side.
Australian Story
We introduced Monica Pronk previously. She is an internationally published photographer in Sydney. Her latest project is Part of the Whole, an exhibition that celebrates women and their connection to the ocean and nature.
We asked her what her personal relationship with the ocean is, and she said:
Since I was young, I've always felt the call of the ocean. We lived over an hour away, and I remember being so filled with excitement to go to the beach and swim in the waves and play in the sand. As an adult, I am now so drawn to capturing the ocean in my work, because it is an ever-changing source of magic and beauty, and because it's here that I feel the most connected with Mother Earth. It's where I remember that we are intrinsically connected with nature and swimming in the sea feels so healing, regenerative, and free. My series 'Part of the Whole' is about remembering our connection with Mother Earth, and so it was inevitably the ocean and coast that became both the setting and subject, where I wanted to capture the beauty of this interconnection with womankind and nature.
Monica's relationship with the ocean is really clear from her work. Often times, she features the ocean as an essential character in the story. Some of my favorite images taken by her include one she took in Bondi. A woman is in the water, and you only see the lower part of her face. The reflection of the other half of the face in the outside world creates a beautiful big hair-like image in the water. Simply gorgeous.
How You Can Help
So, Australians (both governmental bodies and citizens) are working hard to keep their oceans safe.
We asked Monica Pronk what travelers could do to support oceanic causes in the country.
"There are many ways you can help protect the ocean and beaches when visiting Australia," she says. "Every little action helps."
Monica then shared five ways, and they are:
Beach Clean Up
This is a popular concept in Australia and other countries that have long coasts.
"A beach clean up is essentially a volunteer activity among concerned citizens that takes place regularly along coastlines around the world," explains WaveTribe, a California-based company that makes environmentally friendly surf products. "People pitch in to collect beach trash to make the beach a nicer and safer place for everyone."
So, Monica recommends taking part in this.
"One of the easiest things you can take part in, and that is instantly rewarding is a beach clean up," says Monica. "There are many taking place across all the beaches of Australia. You could join a bigger one, or you could even grab a bag and some friends and host your own."
She recommends two organizations. Tangaroa Blue Foundation and Sea Shepherd Australia.
Tangaroa Blue Foundation is a non-profit organization that works in the removal and prevention of marine debris. They collaborate with Australians all over the country, including individuals, organizations, and even governmental bodies. As a result, they are really good at what they do, which is our friend Monica recommends them.
Sea Shepherd Australia is the local chapter of Sea Shepherd Conservation Society, a non-profit organization working for marine conservation. Although it was initially found in Canada, the organization is now US-based. Sea Shepherd Australia works on many levels, including beach clean up.
Great Barrier Reef
The Great Barrier Reef is, without doubt, the most important reef on our planet. It is in the Coral Sea, which is off of the Australian state of Queensland. With nearly 3,000 reefs, it is the largest reef in the world.
Monica says it has been drastically affected by climate change and pollution.
"There are many ways in which you can help save the reef," she says.
For example, she recommends participating in the work of ReefClean, which is a program of the previously mentioned Tangaroa Blue Foundation.
Monica also recommends another organization, the Great Barrier Reef Legacy, which is focused on research.
"[The people at the Great Barrier Reef legacy] are fighting to save the reef with projects including a Living Coral Biobank," says Monica. "You can support them by following them and sharing their work, donating, and even volunteering."
Great Australian Bight
The Great Australian Bight is an open bay of the Indian Ocean. It is in the southern coast of Australia, shared by states like West Australia and South Australia.
Human activity in the Bight has been extensive and included commercial fishing, oil and gas exploration, etc.
Monica says you can help here, as well.
"The Great Australian Bight Alliance," she says, for example. "[They] are a group of environmental organizations who joined together to protect The Bight from being opened up to oil exploration, which would be catastrophic to its survival."
The Great Australian Bight Alliance includes founding members like Mirning Traditional Owners, Clean Bight Alliance Australia, Oil Free Seas – Australia, Surfrider Foundation Australia, and The Wilderness Society South Australia.
Monica says there are a couple of ways to help.
"You can help by adding your signature to the 'statement of concern,' which is very fast and can be done online," she says. "Also, by spreading the word and you can also join their events, like ocean paddle outs and peaceful gatherings."
Peaceful Protest
We all know by now it is the united effort of everyday people that usually triggers great change. One way to do that, of course, is through peaceful protest.
Monica recommends participating in peaceful protests that demand climate action.
"The climate crisis is affecting our entire planet's biodiversity, including our oceans," she says.
So, she recommends joining organizations like Extinction Rebellion Australia and School Strike 4 Climate Australia.
"[They] hold peaceful rallies and actions all over Australia," explains Monica. "Almost every city and town has a local group."
Ecotourism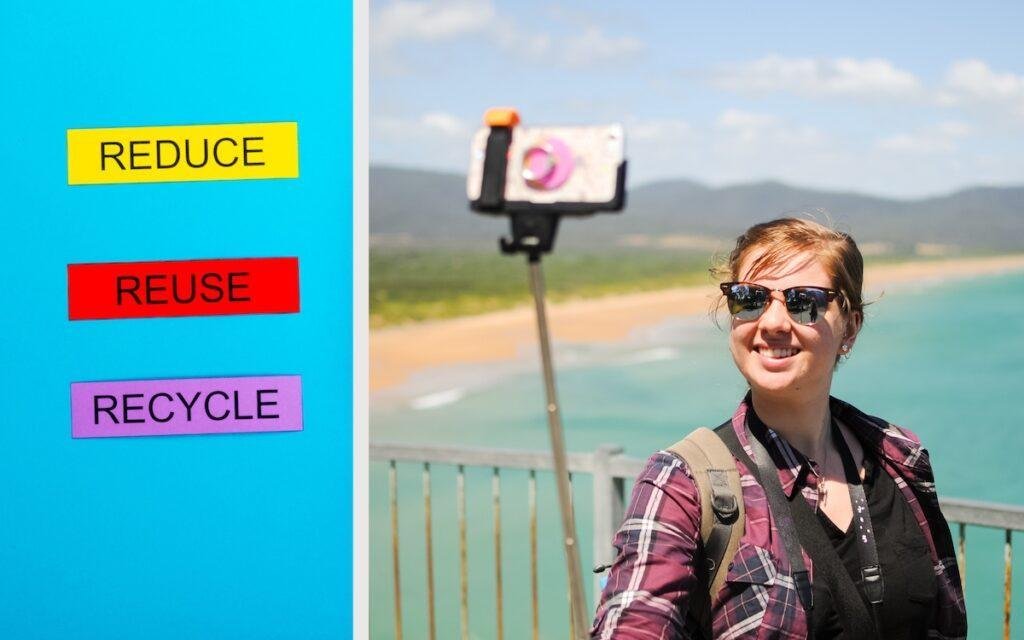 Finally, the most important thing you can really do is being part of ecotourism. In fact, it is what this entire guide has been about.
What does ecotourism mean? Monica explains perfectly.
"Travel in a way that leaves the smallest impact on the earth and ocean," she says.
So, what are some of her tips?
Here they are:
Ecotourism Tips
Choose to bicycle, walk, ferry, or take public transport where possible. Most cities have Lime bikes, which you can hire with an app. Make sure to wear a helmet (it's the law here) 🙂
Say no to single-use plastics!
Australia's tap water is pristine; there's no need to buy bottled water here. Instead, bring a reusable drinking bottle, which you can fill up at cafes/restaurants whom all offer free tap water. You can also find taps or water stations in parks/shopping centers/airports and many public places.
Bring a reusable coffee cup; most cafes will offer a discount when you bring your own too!
Always choose to reuse and recycle wherever possible and buy second hand. Australia has some great op shops (thrift stores) and amazing markets to explore.
Try Australia's delicious vegan and vegetarian food! We have many amazing vegan restaurants – my top 3 in Sydney: Bodhi, Yulli's, and Gigi Pizzeria. And in Melbourne: Smith and Daughters, Purple Peanuts, and Veggie Bar.
Buy local where possible, and support smaller businesses too!
See our amazing beaches with low impact activities like swimming, snorkeling, kayaking, hiking, surfing, and sailing – and remember to use a reef-safe sunscreen!
Conclusion
Australia is an incredibly beautiful country.
Because we previously recommended beaches all around the country, we felt it was also essential to create a guide to the oceans in Australia.
To do this right, we gave you general information and local information from one of our Australian friends.
So, the gist of it is this: just be conscious.
If you travel to Australia, make sure to learn more about the country's beautiful oceans.
The first step is awareness, which gives you a picture of the current state of things. Once you know what is going on, you would want to take steps to be part of the solution.
That is precisely what this guide gave you.
Enjoy Australia!
AJ Paris is a travel photographer based in New York. He is the editor of Caravanzers.