From destinations to planning, to ideas, this road trip basics guide will give you everything you need to make it an epic experience.
A road trip is a fantastic experience that everyone should try at least once in life.
In this guide, we will explore some famous road trip destinations and even give you a few helpful ideas.
Likewise, we will tackle how to plan, what activities to try, and even what to put on your checklist.
So, get ready for a very informative article!
Road Trip Meaning
Different people see the road trip and what it means differently.
A road trip can be defined as a travel experience that takes place over a road journey.
In other words, a road trip is not flying, boating, or any other means of travel.
Of course, a road trip can be enjoyed on foot, on an animal, or in a private, group, or commercial vehicle.
"Let's say you decided to go to your neighboring country by car," says Alex Schmidt, a travel expert in Germany. "Then you are on a road trip to that destination," he adds.
For instance, Maria is a young woman living in Spain's coastal Malaga.
Several months ago, she met Alfonso in Tavira, a small city on Portugal's Algarve coast.
"I was with my parents for a holiday, and he was a waiter at one of the restaurants we visited," says Maria. "Our eyes caught, we talked, and we met later."
During her family's 5-day vacation, Maria and Alfonso met several times.
Then, for Maria, it was time to go back home.
"So, of course, he came to visit me first," says Maria. "He would come over twice per month and stay in our area for the weekend."
After two months like that, Maria decided to return the favor and visit too.
Both Maria and Alfonso have cars.
"It takes about five hours to reach Tavira," says Maria. "I will usually stop every two hours and get out of the car, walk around," she adds. "Often, I use it as an excuse to buy soda."
That means Maria and Alfonso each go on a road trip to meet one another.
Road Trip Destinations
So, now that you know what it means to go on a road trip, the next question would naturally be: where do you go?
"The whole world is not created equal when it comes to road trips," says Schmidt. "For example, there are countries where it is hazardous to go on a road journey."
On the other hand, there are countries where road trips are a fantastic experience.
Best road trip destinations include Western Europe, the United States, Canada, Australia, and New Zealand.
They are all excellent examples of great road trip destinations.
For instance, Western Europe is highly recommended for road trips because each country will offer you something unique.
"The United States is a great destination for road trips," says Schmidt. "Because it is not as northern as Canada, but also not as dangerous as Mexico, you get a good variety."
For non-Europeans, Schmidt has a select group of countries in mind.
In Western Europe, Schmidt recommends road trips from Portugal, through Spain, then France, then through Switzerland, and finally ending in Italy.
"These five countries are beautiful experiences, especially in May or October," he says.
For instance, May is still not too hot, and October is still not too cold, says Schmidt.
Australia is another destination recommended by Schmidt.
"It is a big country, and you experience very different environments," he says. "Of course, the ultimate experience is known as The Big Lap," he adds.
For instance, The Big Lap, a memorable road trip, can take from 2 weeks to 24 months to finish.
Australia's Highway One is the road that connects all of the major capitals on the country's mainland.
Road Trip Planner
Some people go with the flow, and others want to plan every aspect of their road trip.
A road trip planner is a document that helps you to prepare for your road trip.
Road trip planners, therefore, can help you see the big picture of your travel.
As a result, a road trip planner can generally save you time, money, and energy!
"I'm the stereotypical German because, for me, it is a must to have a road trip planner," says Schmidt.
So, Schmidt says the essentials your road trip planner must have include a budget, activities, and a timeline.
We will cover activities in a different section, but let us explore the budget and timeline.
"Budget is very important, as you don't want to be far from home and run out of money," says Schmidt. "How much will the entire trip cost? Include travel expenses, food expenses, and the likes."
Basically, know everything it will cost you.
Then, of course, there is the timeline.
"A timeline will help you cut back or add more time to your road trip," says Schmidt. "You will be able to see the whole trip. It is a big picture material."
So, your timeline must accommodate what it is you want to accomplish.
For instance, Michael is an American man who went to Australia to explore Australian Beaches.
Because he did a timeline in his planning, Michael realized he could only make road trips in regions.
"My time was limited to just a few weeks," he said. "When I did the timeline, it would have taken at least seven weeks to do the same things I did."
So, a timeline will save you a headache!
Road Trip Ideas
There are many incredible road trips across the world.
So, what are some of the best road trip ideas?
For example, make a Highway 66 road trip. Start your Route 66 journey from Chicago, ending your trip in Los Angeles.
U.S. Highway 66, better known as Route 66, is a historic road that gives one a glimpse of American life.
According to the National Park Service, it goes through states like Illinois, Texas, and Arizona, which means many parks.
For instance, the famous Grand Canyon National Park in Arizona!
"I fell in love with this park," says Emily, a traveler from Canada. "Even though I originally only planned for less, I stayed in the park for days. I experienced amazing things."
For example, Emily went on the famous Bright Angel Trail, which is a rim-to-river hike.
Likewise, she says she loved Havasu Falls, which is on a reservation.
"I met American travelers, and we ended up camping together," she says.
Another popular road trip is through the Alps, says Schmidt.
The Alps are the highest and most extensive mountain range in Europe and go through several countries.
For instance, France, Germany, Austria, Switzerland, and Italy all share mountains.
"So, the road in the Alps are some of the most gorgeous you will ever see," says Schmidt.
Likewise, there are some beautiful areas, including the famous Lauterbrunnen Valley.
Keep in mind that the next big road trip idea might be around the corner.
Travel experts like Schmidt say to first experience road tripping in your home area.
Road Trip Activities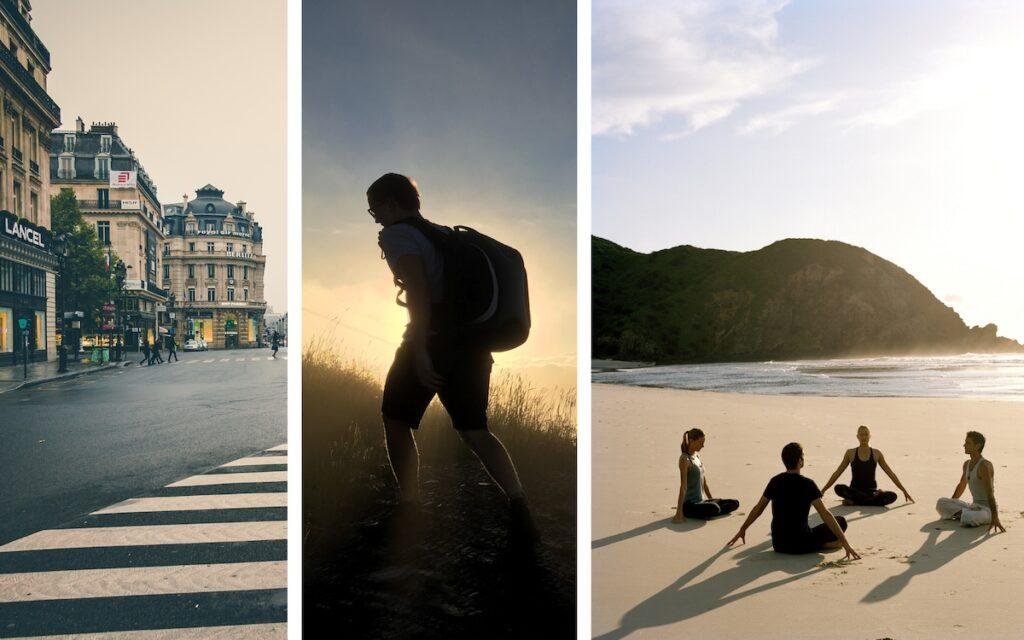 Many people assume that road trips are all about just driving across roads, which is the end of it.
No, of course not.
Road trip activities are plentiful, but they generally include sightseeing in various cities along the way.
Similarly, a road trip activity can be getting off the road and stepping into nature and exploring.
Likewise, going to special events or activities is also great!
Every road will ultimately give you a chance to get off and explore.
For instance, Juan is a Mexican national who has visited all of his country's national parks.
"As of now, I have been to all of the 67 national parks," he says.
Although the parks, called parques nacionales in Spanish, represent less than 1% of the country's land, they are fantastic!
When Juan was growing up, he visited his grandmother in Iztapalapa, in eastern Mexico City.
"So, we would go there at least once per month," says Juan, who lived with his mother in the center.
Juan says his grandmother introduced him to Cerro de la Estrella, one of the national parks.
"I loved it so much that I started to ask her to take me there on every visit," he says.
So, that is how Juan's love affair with the parks started, and now he drives through the country visiting them.
Meanwhile, Giulia loves to explore a small town in her native country of Italy.
"After so many years, I'm still exploring," she says.
Giulia, who lives in Rome, has been to all of Italy's 20 regions.
"I have even been to Sardinia," she says, speaking of the large island off the mainland.
Unlike Juna, Giulia is obsessed with towns and cities.
In other words, a road trip can be for any reason!
Road Trip Car Rental
Of course, one of the concerns many people have about road trips is the vehicle.
After all, many are afraid their old cars will break down somewhere, and they will be stranded.
Others don't want to put so many miles on their own car.
Road trip car rental is a good idea. For example, car rentals come with insurance and other guarantees, such as roadside service. And, best of all, you won't have to worry about damaging your car!
However, it may not be practical for some.
For instance, if you are planning to drive on U.S. Highway 66, you might have considerations.
For example, you could fly into Chicago and rent a car from there and then drop that car in Los Angeles.
If you're an American, that is easy.
However, non-Americans do have to make sure their driver's licenses are valid for use in the United States.
For instance, some states need you to have both your driver's license and an International Driving Permit or IDP.
"The United States does not issue IDPs to foreign visitors," says the U.S. Government. "To get an IDP, contact the motor vehicle department of the country that issued your driver's license."
Meanwhile, the U.S. Government warns of scams related to international driver licenses.
Of course, a traveler will encounter other types of issues in different countries.
So, make sure to check before you rent a car!
Road Trip Checklist
Another essential item to have before you get on your road trip is a checklist.
No, it is not the same as a road trip planner.
A road trip checklist is a list that has everything you will need on your trip.
A road trip checklist is different from a road trip planner. For example, a road trip checklist will remind you of your responsibilities to have vehicles and health insurance!
For instance, if the location you're going to drive through has changing climates, be prepared for that.
"At the foot of the Alps in France might be warm, but you might encounter freezing conditions at the top in Switzerland," says Schmidt.
So, you might decide to put "coat" or "sweater" on your list!
Tarek is an Egyptian traveler who went to Florida for a holiday one September.
"A few days into my trip, and I heard there was a hurricane coming," he says.
It was Hurricane Irma, which hit Florida on September 10, 2017!
That is, you might make sure to put "check the news" on your list!
In Tarek's case, the good news was that he was able to drive to safety.
However, are you going to be as lucky?
Don't take chances.
Another essential element is food.
For example, Schmidt suggests bringing some snacks with you on your road trip.
"I would say use dry and packaged stuff," he says. "And, of course, don't forget the water. You want to bring enough for an emergency!"
Yes, indeed.
So, a checklist is an essential part of your planning.
What you put on it will depend on your destination, the time of the year, and many other factors.
Schmidt suggests starting to keep a checklist from your earliest research stage.
Road Trip Safety
It is essential to recognize that road trip safety is something to take seriously.
For example, you want to make sure your health, body, and car are all secure.
In terms of health, make sure you have the necessary vaccines to stay healthy.
Likewise, don't travel on the road if you have an illness, even if it is not severe.
Similarly, don't drive if you don't have enough sleep.
"Sleep related crashes are most common in young people, especially men, adults with children and shift workers," says the National Sleep Foundation.
The American Red Cross has apps you can download to stay safe, including ones that alert you to unexpected dangers.
"Most of all, use caution with other humans," says Schmidt.
This especially applies to women!
For example, the New York Times recently had an article that said "amid Instagram-worthy escapades are tales of violence and death, raising questions about how the world is greeting women who travel alone."
So, please, be safe!
Final Thoughts 
In this article, we started with the meaning of a road trip and then explored some famous destinations.
Likewise, we covered why it is vital to have a road trip planner.
Similarly, we described some activities to put on your bucket list.
And, of course, we also talked about why one should rent a car!
Finally, we described the importance of having a checklist, what are some things to put on there, and how to protect yourself on the road.
In other words, we gave you everything you need to make an incredible journey.
Have fun on the open roads!
AJ Paris is a travel photographer based in New York. He is the editor of Caravanzers.
Follow us on Pinterest.