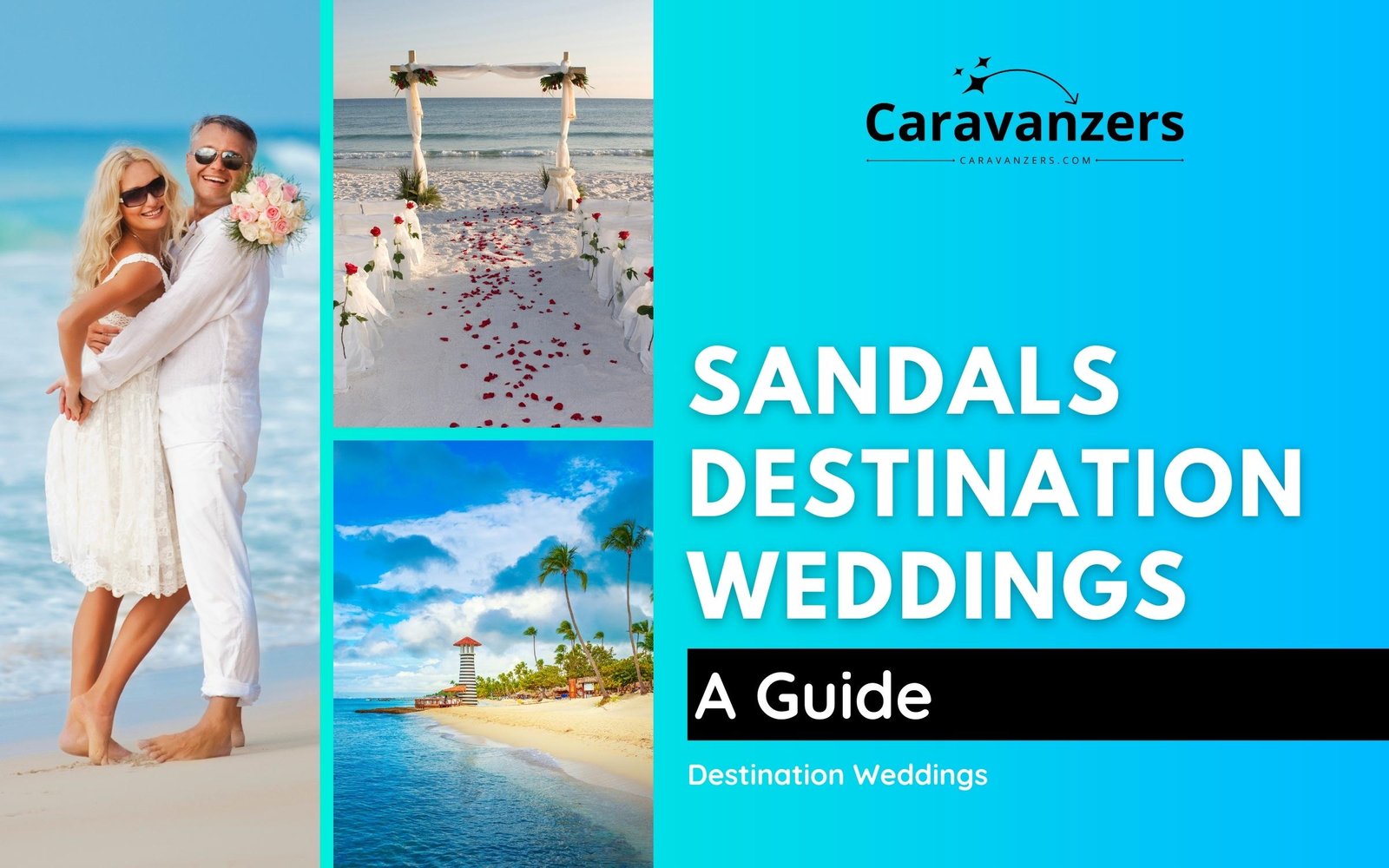 Sandals destination weddings are a chance to get married in one of the most beautiful regions of our world, and this guide has the details.
This is one of the most popular ways to get married, and Sandals Resorts has got it down to science.
In this guide, I cover important things like Sandals' locations, packages, and more.
I also guide you through the process of getting married on islands, what it takes, and if it's even for you.
So, if you've been thinking about tying the knot in the Caribbean, get ready to take a ton of notes.
Let's get started now.
This post features affiliate links at no cost to you. Commissions from these programs help us build our content. Thank you for your support!
Sandals Destination Wedding
Gordon "Butch" Stewart founded Sandals Resorts International in 1981, and the company has headquarters in Jamaica.
Sandals leads the Caribbean all-inclusive industry with luxury resorts in sought-after locations.
The company is famous for romantic getaways and family-friendly vacations.
With visionary leaders at the helm, Sandals emphasizes corporate social responsibility and has actually received numerous awards for its business and social activities.
Of course, I'm focused on their destination wedding offers in this guide.
Generally speaking, Sandals Resorts' destination wedding packages include amazing things to make your big day an unforgettable experience.
For example, expect a 1-hour cocktail reception with premium spirits and hors d'oeuvres, a signature cocktail for the Bride and Groom, and a reception at a resort location of your choice.
Plus, these weddings come with themed décor, pre-recorded music for the ceremony, and a honeymoon dinner for the couple in a specialty restaurant with white-glove service.
Likewise, you will get a honeymoon mimosa breakfast in bed, a romantic turndown service on the first night of the honeymoon, and a personal Wedding Planning Team to assist with all details.
Meanwhile, the package also includes the preparation of marriage documents, a picturesque wedding location, and white Chiavari chairs with white cushions.
Finally, your wedding will get a lovely treatment with a 15% discount on Red Lane Spa services for the couple, free Sandals Wedding and Honeymoon Gift Registry, and a complimentary 5″ x 7″ wedding photograph.
So, yes, this is definitely the best way to get married in the Caribbean.
Sandals Wedding Locations
Sandals Resorts is a prominent player in the Caribbean, with an extensive presence in various destinations.
The company offers luxurious and romantic experiences in Antigua, the Bahamas, Barbados, Curaçao, and Grenada, and seven resorts in Jamaica and Saint Lucia.
In Antigua, couples can enjoy a luxurious and romantic experience at Sandals' exclusive resort.
The Bahamas boasts two Sandals resorts, offering guests the ultimate all-inclusive experience in picturesque beachfront locations.
In Barbados, visitors can indulge in luxury amenities at Sandals' two resorts while immersing themselves in the island's beauty.
Curaçao offers a unique and enchanting experience at Sandals' resort in this vibrant Caribbean destination.
Grenada's Sandals Resort allows guests to luxuriate in the island's natural splendor.
With an impressive seven resorts in Jamaica, Sandals caters to a range of preferences, from secluded romantic getaways to family-friendly vacations.
In Saint Lucia, guests can bask in breathtaking landscapes and a romantic ambiance at Sandals' three resorts, experiencing the perfect blend of natural beauty and opulent hospitality.
Choose Sandals Resorts for your destination wedding and experience unparalleled luxury and romance.
With stunning locations across the Caribbean, personalized wedding planning teams, picturesque settings, exquisite amenities, and a commitment to excellence, Sandals destination weddings offers the perfect backdrop for your dream wedding, creating memories that will last a lifetime.
Caribbean Island Weddings
A Caribbean destination wedding is a wedding ceremony and celebration that takes place on one of the beautiful islands in the Caribbean region.
People choose to get married in the Caribbean for several reasons.
I would have to say that the incredibly beautiful nature makes this part of the world an amazing place to get married.
With pristine beaches, turquoise waters, and lush landscapes, the Caribbean is a picturesque backdrop for a romantic and memorable wedding.
The Caribbean also offers a variety of luxurious resorts and venues that cater specifically to destination weddings, providing top-notch services and amenities for couples and their guests.
Meanwhile, the Caribbean's warm tropical climate, year-round sunshine, and relaxed atmosphere contribute to the appeal of having a wedding in this region.
Many couples envision a romantic and intimate beach wedding or a tropical garden ceremony, and the Caribbean offers the perfect setting for such dreams to come true.
Of course, if you don't live in this region, planning is an important aspect.
The amount of time required for planning a Caribbean destination wedding from different parts of the world can vary.
From the United States, planning a destination wedding in the Caribbean only requires several months.
Naturally, this depends on factors like the complexity of the event, availability of venues, and desired wedding dates.
However, the US truly is the closest to this part of the world.
Couples from Europe may need more time frames for planning, considering the logistics of travel and coordinating with vendors in different time zone.
Likewise, Asian and Africans may require additional time due to longer travel distances and potential visa requirements.
My advice is to begin the planning process well in advance to ensure a smooth and stress-free wedding experience and consider Sandals destination weddings.
Sandals Free Wedding
Sandals offers free destination weddings at their all-inclusive resorts.
When you book a stay of 3 nights or more, they provide a complimentary wedding package that includes a ceremony venue, bouquet, boutonniere, wedding cake, and more.
The package also includes pre-wedding planning, a customizable wedding website, and discounts on spa services.
Additional enhancements are available for customization.
The longer you stay, the more perks you receive, and booking multiple rooms brings added benefits.
Sandals offers a range of wedding décor items and an interactive mood board to help plan your dream destination wedding.
Guests have left positive reviews, praising the stunning settings and excellent service at Sandals Resorts.
Sandals offers free weddings as a part of their all-inclusive resort experience and to attract couples who are looking for a destination wedding.
By providing a complimentary wedding package, Sandals aims to make the wedding planning process easier and more affordable for couples.
This offer allows them to showcase their resorts as ideal wedding venues and demonstrate the quality of their services.
Recognizing the importance of weddings as significant life events, Sandals aims to foster enduring connections with their guests by offering a complimentary wedding package that strives to craft unforgettable experiences.
Additionally, by offering free weddings, Sandals can generate positive word-of-mouth, attract more guests to their resorts, and potentially lead to additional bookings and revenue from wedding guests and future return visits.
How Much is a Sandals Destination Wedding?
Did you know that Sandals offers some incredible deals and packages for weddings and special occasions?
If you stay for 3 nights or longer, you can enjoy their Free Wedding Package!
This includes a beautiful fuchsia Dendrobium orchid bouquet and boutonniere, a lovely table set up with crisp linens, and a charming white cake.
It's the perfect choice for an intimate and unforgettable celebration.
If you're planning a longer stay, like 7 nights or more, you can take advantage of their Premium Perks.
These perks give you access to additional special benefits during your stay.
Are you planning a group trip?
Sandals has you covered with their Free Room for Groups offer.
Starting from the 6th room, you'll get a free room, plus a complimentary upgrade to a Butler Level Suite.
It's a fantastic deal for larger parties!
For those who want to test drive their dream wedding and honeymoon at the resort, Sandals offers the Test Drive Your Wedding package.
You can be their guest for up to 3 nights, starting at a rate of $275 per couple per night.
It's a great way to experience the magic before your big day.
If you're looking for a truly romantic and special ceremony, the Kiss Me at Twilight package is perfect for you.
For just $600, you can exchange your vows during the Caribbean's romantic twilight hour.
It's a magical setting that will create memories to last a lifetime.
To learn more about these amazing offers and packages, you can get in touch with them.
Don't miss out on these incredible opportunities to make your special occasion even more unforgettable!
Sandals Wedding Catalog
Sandals used to do Wedding Guides, but nowadays, they digitized this whole process on their website.
For example, with their Wedding Wishlists, you can create a storyboard for your dream destination wedding, encompassing everything from the ceremony to the reception.
Explore a wide range of options, including décor, menu items, photography and videography choices, entertainment enhancements, and more.
You can easily add your favorite selections to your wishlist, helping you plan and personalize your perfect wedding experience.
Likewise, their Wedding Inspirations are designed to spark your creativity and help you bring your dream wedding to life.
Whether you envision a storybook romance, breezy island chic, avant-garde, or refined coastal luxury, their inspirations offer a range of styles to suit your preferences.
Mix and match tasteful décor options to reflect your personal style and create a unique atmosphere for your special day.
From colors and flowers to finishing touches, these inspirations will guide you through the planning journey and help transform your vision into a memorable reality.
So, yeah, you really don't need a catalog anymore.
Sandals Destination Wedding Booking
Sandals destination weddings are easy to book, and the company offers a five-step plan for couples to plan their wedding in the Caribbean.
The steps include booking a room or Love Nest Butler Suite and selecting a wedding date and time with the assistance of a Wedding Concierge Agent.
Likewise, it will include customizing the wedding with options such as colors, flowers, and cake design.
Similarly, it includes utilizing the virtual wedding design experience to plan from home and handling the necessary documentation and legal requirements.
The package also includes services like photography, videography, and bridal services.
Finally, couples meet with an Event Coordinator to confirm the final details before their dream wedding takes place.
Meanwhile, contacting Sandals for wedding planning offers expert guidance, customizable options, virtual design experience, dedicated wedding planners, simplified documentation, and additional services.
Their knowledgeable agents help select the perfect date while you personalize every aspect of your dream wedding.
Explore decor options, discuss details via video chat, and have a dedicated planner handle all arrangements.
Sandals simplifies the documentation process and offers professional photography, videography, and bridal services.
Benefit from their expertise, convenience, and personalized approach, making your wedding planning journey enjoyable.
Everything can be started on their website.
Sandals Wedding Reviews
What can I say, I love Sandals Resorts and their approach to destination weddings.
I'm saying that off the bat, so you know my review is going to be positive!
Seriously, what is not to like?
This company has an incredible package for a wedding, and I don't mean costs or whatever.
I mean, this is the Caribbean we're talking about, people!
By far, the most important thing about Sandals and destination weddings is the fact that you get married on the beach.
A beachfront wedding offers a picturesque setting with breathtaking views of the Caribbean Sea.
The pristine white-sand beaches provide a beautiful backdrop for your destination wedding.
This wedding option is available at all Sandals Resorts, ensuring you can choose the perfect location for your special day.
Another one of my favorite things about Sandals weddings is the way they think about things.
The Over-The-Water Wedding Chapel, for example, is a one-of-a-kind venue that offers breathtaking views of water from all angles.
It includes a glass floor aisle, creating the illusion of walking on water during your wedding ceremony.
This unique experience is available at various Sandals resorts, including Sandals South Coast, Sandals Grande St.
Lucian, Sandals Montego Bay, and Sandals Ochi.
Meanwhile, don't take my word for it. They have high reviews on Wedding Wire, TripAdvisor, and more.
So, yeah, this is an awesome company to partner with for your memorable day.
Other Celebrations at Sandals Resorts
Sandals also offers unique opportunities for diverse celebrations, including engagements, honeymoons, anniversaries, vow renewals, elopements, and more.
Engagements mark the beginning of a lifelong commitment.
Couples can celebrate this special milestone in any of the Sandals Resorts by exchanging rings, making promises, and sharing their joyous news with loved ones.
Honeymoons are romantic getaways taken by newly married couples to Sandals Resorts in the Caribbean region to celebrate their union.
These trips offer an opportunity to relax, unwind, and create cherished memories in a beautiful and idyllic setting.
Anniversaries commemorate the milestones of a couple's enduring love and commitment, and Sandals Resorts offer great locations to do so.
Whether it's the first, tenth, or fiftieth anniversary, couples often choose to celebrate this occasion by renewing their vows, reflecting on their journey together, and reaffirming their love.
At Sandals Resorts, renewal of vow ceremonies are special celebrations where couples recommit to their marriage.
These ceremonies can take place after a significant period of marriage or to mark a fresh chapter in their relationship.
It is an opportunity for couples to reaffirm their commitment and celebrate their enduring love.
Finally, elopements at Sandals Resorts are intimate weddings where couples choose to have a private and secret ceremony, often without the presence of family and friends.
Elopements allow couples to focus solely on their love and commitment, embracing simplicity and spontaneity in their union.
So, it isn't just a destination wedding.
This company can partner with you on many beautiful occasions.
Prepare for a Destination Wedding
Preparing for Sandals destination weddings require careful planning and organization, and I have some steps to help you prepare for your special day.
First and foremost, determine your overall wedding budget and allocate funds specifically for the destination wedding expenses.
Likewise, research and select a destination that aligns with your vision for the wedding.
Consider factors such as the climate, local attractions, legal requirements for getting married, and accessibility for you and your guests.
Similarly, destination weddings often require longer planning timelines.
Start organizing the wedding as early as possible to secure venues, vendors, and accommodations.
Aim to give your guests ample notice to make travel arrangements and book their accommodations.
Meanwhile, if feasible, plan a trip to the destination before the wedding to scout venues, meet with vendors, and finalize details.
This will help you gain firsthand knowledge of the location and ensure that your vision aligns with reality.
Keep your guests informed about the destination, travel arrangements, and accommodations.
Plan additional activities or outings for your guests to enjoy during their stay.
Provide suggestions for local attractions, excursions, or group activities that can enhance the overall experience for your guests.
Create a checklist of essential items to pack for your destination wedding, including your wedding attire, accessories, and any necessary legal documents.
Consider any specific items you may need for the destination, such as adapters or travel essentials.
Keep all your wedding documents, contracts, and correspondence in one place.
Use spreadsheets, checklists, and a wedding planning timeline to stay organized and ensure that nothing is overlooked.
By following these steps, you can effectively prepare for your destination wedding and make the process smoother and more enjoyable.
Is Destination Wedding for You?
Deciding on a destination wedding requires careful thought and reflection.
Several factors can help you determine if it aligns with your preferences and priorities.
First, assess your budget to see if you can cover the costs associated with travel, accommodations, and logistics.
Consider your guest list and whether your desired destination is accessible and convenient for most attendees.
Destination weddings often offer intimacy and privacy, so if you prefer a smaller gathering with close family and friends, it could be an ideal choice.
If you and your partner enjoy adventure and exploring new places, a destination wedding can combine your celebration with a memorable travel experience.
Reflect on your organizational skills and availability to handle the additional planning responsibilities that come with a destination wedding.
Consider if embracing a different culture's customs, traditions, and cuisine appeals to you.
Research the weather patterns and potential challenges during the time of your wedding.
Familiarize yourself with the legal requirements in your chosen destination.
Ultimately, reflect on your personal desires and vision for your wedding day.
Discuss your thoughts with your partner and seek advice from experienced wedding planners.
By weighing these factors carefully, you can determine if a destination wedding is the right choice for you.
Don't Forget to Protect Your Trip
Getting travel protection for a destination wedding is crucial for several reasons.
Travel insurance provides financial coverage in case of unforeseen circumstances that may disrupt your wedding plans.
It typically includes coverage for trip cancellation or interruption, which can help reimburse non-refundable deposits and expenses if you need to cancel or postpone the wedding due to reasons such as illness, injury, or natural disasters.
Likewise, travel insurance can help with things like flight delays, cancellations, or other travel-related issues that may affect your arrival or departure for the wedding.
It can cover additional accommodation expenses, alternative transportation arrangements, or rescheduling fees.
Similarly, traveling to your wedding destination means a chance that your baggage may be lost or delayed.
In that case, your travel insurance will replace things like wedding attire, accessories, or any other important belongings you may need for your special day.
Meanwhile, travel insurance often includes coverage for medical emergencies abroad.
This is particularly important when getting married in a foreign country with different healthcare systems and potentially high medical expenses.
Destination weddings often involve various activities and events.
Travel insurance can offer personal liability coverage in case someone is injured, or property is damaged during the wedding festivities, protecting you from potential legal and financial consequences.
Finally, in some cases, travel insurance can provide coverage for vendor or venue mishaps.
For example, if a vendor goes out of business or fails to deliver services as agreed, travel insurance may reimburse you for the financial loss.
I would say carefully review the terms and conditions of the travel insurance policy to understand the coverage it offers for your specific needs.
Sandals Destination Weddings – Final Thoughts
I love weddings, and I'm always the one crying. For me, a wedding represents a beautiful moment when two people come together.
With Sandals Resorts, you get to do that in beautiful places across the Caribbean.
In this guide, I went through essential details such as Sandals' locations, the wedding packages they offer, and more.
I also guided you through the process of actually getting married on an island, as well as what it takes and if it's even for you in the first place.
So, consider this guide as your answer to planning your Caribbean destination wedding today.
Enjoy your big day!
Lena Wilson writes about fashion, beauty, and more for Caravanzers.
Follow us on Pinterest.