Senegal travel is an experience you will definitely never forget. This destination has a rich and safe tourism culture.
It has it all. From cultural delights to gorgeous beaches, and from diverse wildlife.
In this guide, I will take you on a journey to discover the best of Senegal. From when to visit and to what to do, I got you all you need to plan an amazing trip.
So, pack your bags and get ready for an unforgettable adventure.
Senegal Travel Basics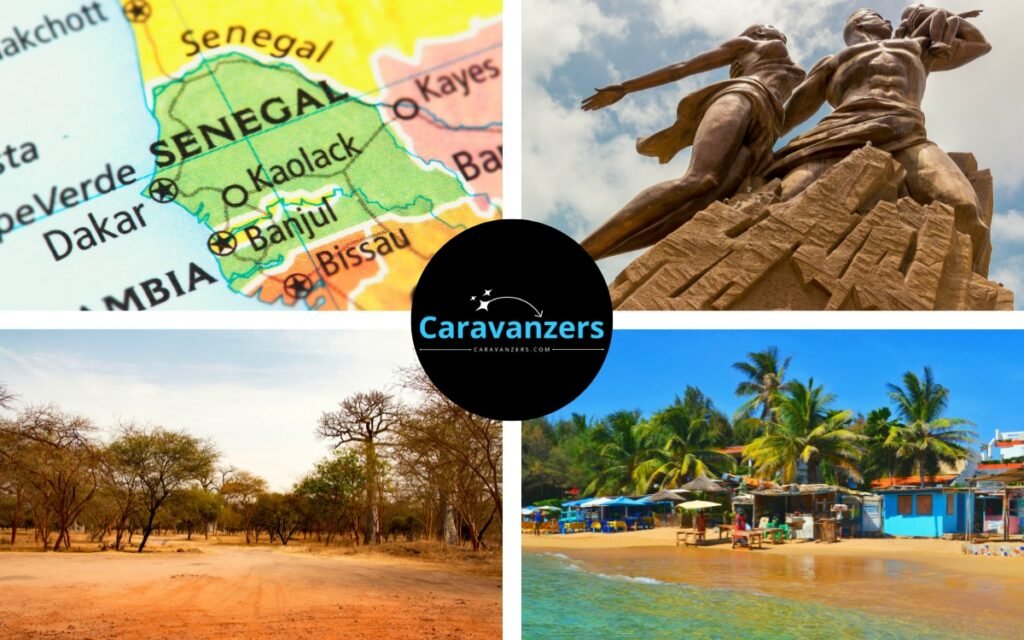 As a traveler to Senegal, there are several important things to know to make your trip enjoyable and smooth.
For example, Senegal requires visas for most foreign visitors, which can be obtained prior to arrival or upon arrival at the airport.
Make sure to check the visa requirements based on your nationality and obtain the necessary visa before your trip.
Senegal's largest airport is in Dakar, the capital. Blaise Diagne International Airport is about an hour away from the city center.
The official currency in Senegal is the West African CFA franc (XOF). Cash is widely used, so it's important to have enough local currency on hand. ATMs are available in major cities but may be limited when in smaller towns, so it's advisable to carry some cash.
Meanwhile, the official language of Senegal is French, although Wolof is widely spoken. English may be spoken in tourist areas, but it's helpful to learn a few basic French or Wolof phrases to communicate with locals.
Finally, it's also important to take precautions for your health and safety when traveling to Senegal.
Make sure to drink bottled or purified water, use insect repellent to prevent mosquito-borne diseases, and take necessary vaccinations, such as yellow fever and malaria, before your trip.
Keep your belongings secure and be aware of your surroundings, especially in crowded areas.
Senegal Travel Advisory
Travelers want to know the safety of Senegal, naturally.
Is Senegal safe for tourism? Although it is important to exercise caution and take appropriate safety measures when visiting, Senegal is considered to be a relatively safe destination for tourists. The country has a stable political situation, and Senegalese people are known for their warmth and hospitality towards tourists.
Sadly, as in many other tourist destinations, petty theft, such as pickpocketing and bag snatching, is your biggest threat.
Petty theft generally occurs in crowded areas, markets, and public transportation. As a result, travelers should take precautions by keeping their belongings secure.
You should also use money belts or hidden pouches and be aware of your surroundings. Trust me; this will save you from headaches.
Likewise, tourists encounter scams or fraudulent schemes here. I would say be cautious with unsolicited help. Also, be wary of deals that seem too good to be true.
When you plan to hire someone, use reputable services and official sources for bookings, transportation, and tours.
Road safety is another issue because conditions vary, and traffic can be chaotic. So, be cautious and follow the rules when driving or crossing roads.
Meanwhile, Senegal is a tropical country, so mosquito-borne diseases such as malaria are common in many areas. I can't stress enough the importance of using insect repellent. You should also sleep under mosquito nets.
Cultural sensitivity is another area of concern. Senegal has a diverse cultural landscape, which means that travelers should be respectful of local customs, traditions, and religious practices.
My top recommendations are to dress modestly in religious or conservative areas and to ask for permission before taking photos of people or places.
So, yeah, those things are a must.
When to Go to Senegal
As you will see, the best time to visit Senegal depends on a lot. For example, your preferences and the type of activities you plan to do.
Senegal has a tropical climate with distinct dry and rainy seasons. Temperatures remain relatively warm throughout the year.
The dry season is from November to April. This is also the peak tourist season and is a great time to visit if you plan to explore the country.
Those of you planning to go to the beaches and birdwatching should consider visiting in the dry season.
That said, the dry season is a must for those who enjoy outdoor activities such as hiking and wildlife viewing.
The months of December to February are particularly popular for tourists as they are cooler with minimal rainfall.
Meanwhile, the rainy season is from May to October. This season brings high temperatures and humidity, as well as regular rainfall. July to September have the most rain.
While the landscape becomes lush and green during this time, travel can be challenging. This season is famous for muddy roads and tons of mosquitoes.
That said, the rainy season also gives you unique opportunities to witness the local agriculture practices. You can also enjoy cultural festivities such as traditional ceremonies and music events.
So, yeah, decide when to go on your Senegal travel!
Where to Stay in Senegal
Senegal has a variety of accommodation options to suit different travel styles and budgets. For example, you can find hotels ranging from international luxury chains to mid-range and budget options.
Hotels typically offer amenities like restaurants, bars, swimming pools, and various services for tourists.
If you're looking for a more intimate and local experience, you can consider staying at guesthouses or bed & breakfasts.
For a more authentic cultural experience, you can consider staying with a local family through a homestay. Some local families offer a chance to experience their daily life, learn about their culture, and share meals with them.
If you're looking for beach accommodations, Senegal has resorts that offer a range of facilities and services, including beach access, restaurants, bars, swimming pools, and entertainment options.
No matter what, it's really important to research and book accommodations in advance, especially during the peak tourist season.
Getting Around in Senegal
Senegal is a fun country to get around. Although transportation may vary from cities to rural areas, there are still a lot of choices.
Public transportation options include buses, taxis, and car rentals.
That said, it's important to exercise caution and choose reliable transportation options. Senegal is a developing country with tons of poor people who turn to crime.
Traffic can be congested in urban areas, so plan your itinerary accordingly.
Popular rideshare companies are also available here. You will find Uber, Heetch, Yango, and Yassir, as well as tons of others.
So, getting around in Senegal isn't an issue at all.
What to Eat in Senegal
You will absolutely love the food here. Senegalese cuisine has flavorful dishes.
Make sure to try local specialties like thieboudienne, which is rice and fish stew. This is such a delicious meal!
Also, try yassa, which is marinated grilled meat or fish, and ceebu jen, a rice dish and vegetables with fish.
Street food is also popular in Senegal. However, be cautious and choose clean food vendors.
Of course, you will also find other African foods in big cities like Dakar.
Likewise, there are tons of non-African cuisines, with French being a top one.
Senegal Tourism
Senegal tourism is awesome. This country truly has a rich cultural heritage, beautiful beaches, diverse wildlife, and vibrant arts scene.
For example, you can explore local markets, attend music and dance performances, and engage with communities.
Likewise, Senegal also has beautiful beaches along its coastline. Popular beaches include Petite Côte, Cap Skirring, and N'Gor Island.
Similarly, Senegal has several national parks and nature reserves. The Djoudj National Bird Sanctuary is a paradise for birdwatchers. There are also unique pink lakes, as well as the scenic Senegal River Delta.
Senegal also has a vibrant music and arts scene. Traditional and contemporary music styles such as mbalax, Afrobeat, and reggae are popular.
You could also visit art galleries and craft markets and learn about local traditional arts and crafts.
Meanwhile, Senegal also offers opportunities for adventure tourism. Hiking, surfing, and fishing are all available.
The diverse landscape of Senegal, including the Sahara Desert in the north and the Casamance region in the south, provide options for outdoor activities.
Finally, Senegal hosts a range of colorful festivals and events throughout the year. They showcase rich culture and traditions. The Dakar Biennale, the Dakar Fashion Week, and the Saint Louis Jazz Festival are among the notable events that attract visitors.
Day Senegal Itinerary
If you're planning a 7-day itinerary in Senegal, get ready for an exciting journey filled with cultural immersion, beach adventures, wildlife encounters, and vibrant arts experiences!
Start your trip in Dakar, the capital city of Senegal. Spend your first day exploring the city's highlights, such as the Dakar Corniche, a picturesque waterfront promenade with stunning ocean views.
Dive into Senegal's rich art scene by visiting local art galleries and craft markets, and don't miss the chance to catch a live music performance to groove to the rhythms of mbalax, Afrobeat, or reggae.
On day two, take a ferry to Gorée Island. It has historical significance in the slave trade. Explore the island's museums, historic sites, and vibrant local culture to gain insights into Senegal's past.
Days three and four can be beaches. Go to Petite Côte Beach, and don't forget to visit N'Gor Island for its pristine beaches and opportunities for surfing.
A visit to Djoudj National Bird Sanctuary on day five is a must. Take a boat tour to explore the sanctuary's wetlands and observe the diverse bird species.
You could also visit the unique pink lakes of Retba and learn about the local salt harvesting process.
Days six and seven can be devoted to cultural immersion and outdoor adventures. Visit local communities and villages to learn about Senegal's diverse ethnic groups.
If you're an adventure seeker, head to the Sahara Desert in the north for thrilling experiences like dune bashing and camel riding.
That will give you a good overall experience in Senegal travel!
Frequently Asked Questions about Senegal
Although I covered a lot in this guide, I want to make sure I answer some questions, too. Travelers ask a bunch of questions, and I got you some answers.
Sometimes, a travel guide like this will miss some things, as I realized after answering the questions.
Anyway, enough about that… let's get to it.
First question…
Is Senegal Worth Visiting?
Is Senegal worth visiting? Yes, Senegal is worth visiting. This county has a rich cultural heritage, beautiful beaches, diverse wildlife, a vibrant arts scene, and a unique blend of tradition and modernity. This is an amazing country to visit on a short or long-term basis! Prepare to be wowed.
Is Senegal Tourist Friendly?
Is Senegal tourist friendly? Senegal is generally tourist-friendly. It has a warm hospitality culture with people who love visitors. English is widely spoken within the tourist industry. That means you won't have trouble at hotels, restaurants, or other places tourists might frequent. Likewise, staff at tourist attractions speak English.
Is Senegal Cheap or Expensive?
Is Senegal cheap or expensive? Both. I would say that Senegal is mostly affordable. The country has a range of accommodation and dining options to suit different budgets. For example, there are tons of luxury spaces and also inexpensive ones. So, no matter what, you will find your crowd.
Is Senegal Safe for Female Tourists?
Is Senegal safe for female tourists? Senegal is generally safe for female tourists. That said, it is important to exercise usual precautions and be aware of local customs and cultural norms. Senegal is predominately Muslim, which means it tends to be more conservative than not. For sure, dress modestly.
Senegal Travel – Final Thoughts
A trip to Senegal promises to be an experience you will never forget.
One of the best aspects of Senegal travel is that the country is safe and welcoming tourism culture, where visitors can feel at ease as they explore this beautiful country.
Throughout this guide, I covered everything you need to plan an amazing trip to Senegal.
So, what are you waiting for? Pack your bags, bring your sense of adventure, and get ready to create unforgettable memories in Senegal!
AJ Paris is a travel photographer based in New York. He is the editor of Caravanzers.
More Senegal
Here are more articles for you…