Where to stay in Delhi. This super busy capital city of India has a multitude of options for travelers seeking accommodation.
From luxurious hotels to budget-friendly stays and serviced apartments, Delhi caters to diverse preferences and interests.
Whether you're traveling with family, as a couple, or solo, Delhi has suitable areas to stay.
Delhi also offers a range of luxury hotels, budget accommodations, and serviced apartments to cater to different budgets and preferences.
Explore the diverse neighborhoods of Delhi and discover the perfect place to stay during your visit.
If you're ready to find where you will stay in Delhi, then let's get started!
Mapping Delhi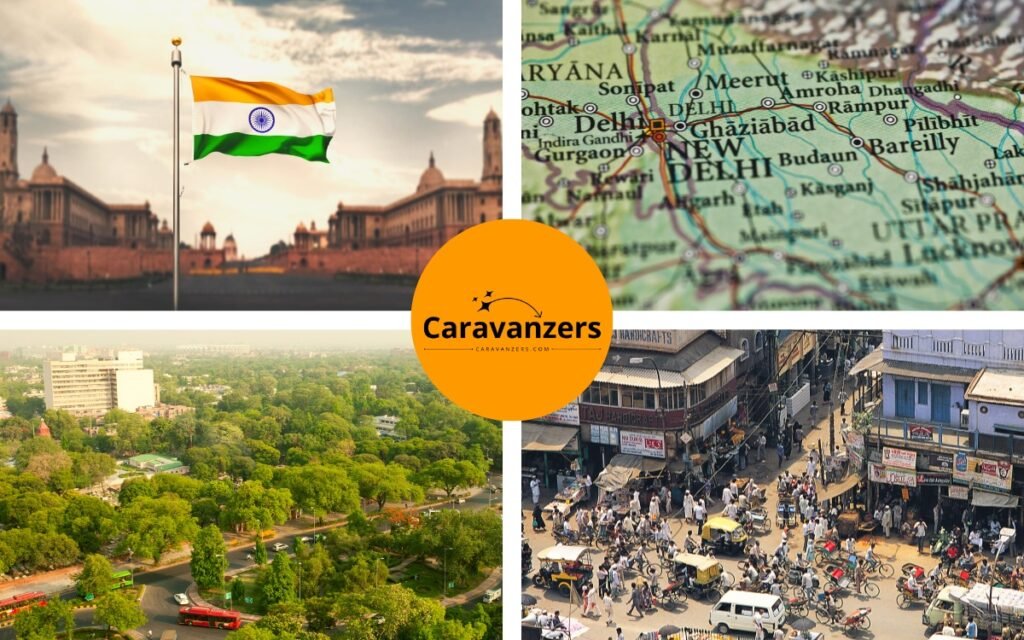 Delhi has a lot for travelers. In terms of where to say, the city has areas where travelers can choose to stay depending on their preferences and interests.
I would divide Delhi into Central Delhi, Old Delhi, South Delhi, West Delhi, and the suburbs.
Central Delhi
Central Delhi is where a really interesting area because it has a ton of five-star hotels, but it also actually has some of the cheapest in the city.
There are also some really nice restaurants to sample Indian food, too.
Some notable neighborhoods in Central Delhi include Connaught Place (often referred to as CP), which is a major shopping and commercial hub, and Paharganj, known for its budget accommodations and vibrant street markets.
Central Delhi is well-connected by public transportation and offers easy access to popular attractions like India Gate, Rashtrapati Bhavan (the President's residence), and various museums and art galleries.
Old Delhi
Old Delhi is a historic neighborhood that showcases the city's rich cultural heritage.
It is characterized by narrow lanes, bustling bazaars, and ancient monuments.
The massive Jama Masjid is the heartbeat of this place, and you will feel like everything is built around it.
It's by far one of the largest mosques in the world.
Staying in Old Delhi has huge benefits. For example, it gives travelers a chance to immerse themselves in the traditional Delhi charm.
Old buildings, unique culture, and interesting faces.
South Delhi
South Delhi is known for its upscale residential areas, green spaces, and modern infrastructure.
It offers a mix of residential neighborhoods, commercial districts, and cultural attractions.
Some popular neighborhoods in South Delhi include Hauz Khas, known for its trendy cafes, art galleries, and historical Hauz Khas Complex; Greater Kailash, a posh area with upscale shopping and dining options; and Saket, which houses the famous Select Citywalk mall.
South Delhi also has several parks and gardens, such as Lodhi Gardens and Deer Park, where visitors can relax and enjoy nature.
West Delhi
West Delhi has seen rapid development in recent years, and this is an area of residential, commercial, and industrial zones.
Some prominent neighborhoods in West Delhi include Janakpuri, a residential area with shopping centers and parks; Rajouri Garden, known for its lively markets and restaurants; and Punjabi Bagh, a posh locality with upscale residential colonies and shopping complexes.
West Delhi is well-connected to other parts of the city and offers a relatively quieter and more relaxed atmosphere compared to Central or Old Delhi.
Delhi Suburbs
The suburbs of Delhi offer a quieter and more residential environment compared to the bustling city center.
These areas provide a retreat from the hectic city life while still offering convenient access to the main attractions.
One notable suburb of Delhi is Gurgaon in the neighboring state of Haryana.
Gurgaon has witnessed significant growth and development over the years and is now considered a major corporate and commercial hub.
It is home to numerous multinational companies, modern shopping malls, and upscale residential complexes.
Many travelers who visit Delhi for business purposes or seek a more modern and luxurious experience choose to stay in Gurgaon.
Another prominent suburb is Noida, situated in the neighboring state of Uttar Pradesh.
Noida has emerged as a thriving residential and commercial area with a well-planned infrastructure.
Noida is particularly popular among those seeking a balance between a residential lifestyle and access to amenities and facilities.
Faridabad is another suburb of Delhi located in Haryana.
It is known for its industrial areas, but it also offers residential pockets with a mix of apartments and independent houses.
Faridabad has several shopping complexes, parks, and recreational areas, making it a suitable choice for those looking for a suburban setting with relatively affordable housing options.
These suburbs provide a peaceful and relaxed atmosphere compared to the more crowded and bustling areas of Delhi.
They offer a respite from the city's hustle and bustle while still being well-connected through highways and public transportation to the main city and its attractions.
Travelers looking for a quieter and more suburban experience can consider staying in these areas while visiting Delhi.
Family Stays in Delhi
The best area to stay in Delhi with family depends on your preferences, budget, and the type of experience you're seeking.
There are a few areas in Delhi that are generally considered family-friendly, including Greater Kailash, Dwarka, and Rajouri Garden.
South Delhi offers a mix of upscale residential areas, green spaces, and modern amenities.
It is known for its cleaner and quieter neighborhoods, making it a popular choice for families.
Areas like Greater Kailash, Vasant Kunj, and Saket offer a range of accommodation options, including hotels and serviced apartments.
South Delhi also has several parks, shopping malls, and entertainment centers suitable for families.
Dwarka is a planned residential area with wide roads, spacious apartments, and well-maintained parks.
It is known for its clean and safe environment, making it a preferred choice for families.
Dwarka has a range of hotels and guesthouses catering to different budgets and offers easy access to the airport and other parts of the city.
Rajouri Garden is a bustling residential and commercial area with a mix of shopping complexes, restaurants, and entertainment options.
It is known for its vibrant markets, including the famous Rajouri Garden Main Market.
Rajouri Garden offers various accommodation options and is well-connected to other parts of Delhi through the metro and road networks.
Honestly, I feel like all of Delhi is pretty good for a family.
India is very different from a lot of Western countries.
For example, there really aren't nightclubs in residential areas to keep the kids up all night.
Couple Stays in Delhi
When it comes to choosing the best area to stay in Delhi for couples, there are several neighborhoods that offer a romantic and enjoyable experience.
Hauz Khas Village, Lodhi Colony, and Khan Market are all popular for couples.
Hauz Khas Village, located in South Delhi, is known for its bohemian charm, trendy cafes, and art galleries.
It has a vibrant nightlife scene and a romantic atmosphere.
The area is dotted with historic structures, a beautiful lake, and a deer park, providing ample opportunities for leisurely walks and cozy moments.
Hauz Khas Village offers a range of boutique hotels and guesthouses that cater to couples.
Lodhi Colony is a well-known area in South Delhi that has transformed into an open-air art gallery.
It is adorned with colorful and artistic murals on the walls of its buildings.
The neighborhood exudes a creative and contemporary vibe, and couples can enjoy exploring the vibrant street art together.
Lodhi Colony is also home to Lodhi Gardens, a historical park with beautifully landscaped gardens and historical monuments, providing a serene setting for romantic walks.
Meanwhile, Khan Market is a popular shopping and dining area that has upscale boutiques, bookstores, and restaurants.
There is a sophisticated and lively atmosphere, making it an ideal place for couples who enjoy shopping, exploring culinary delights, and spending quality time together.
Khan Market is conveniently located near several attractions, including India Gate and Lodhi Gardens.
These areas offer a mix of ambiance, attractions, and convenient access to various facilities, making them popular choices for couples visiting Delhi.
Solo Travel Stays in Delhi
For solo travelers visiting Delhi, several neighborhoods offer convenience, safety, and a vibrant atmosphere that cater to their needs.
There are some areas for solo travelers to stay in Delhi, including Paharganj, Karol Bagh, and Connaught Place.
Paharganj is near New Delhi Railway Station and is a popular choice for solo travelers.
It has a lot of budget accommodations, backpacker hostels, and lively street markets.
Karol Bagh is another neighborhood that has a range of accommodation options for solo travelers.
It has a mix of budget and mid-range hotels, along with bustling markets and street food stalls.
Karol Bagh is well-connected by metro and road networks, allowing easy access to various parts of the city.
Connaught Place (CP) is a commercial and entertainment hub in Central Delhi.
Solo travelers can enjoy the lively atmosphere, indulge in shopping, try different cuisines, and explore nearby attractions such as India Gate.
CP is well-connected by the metro and has a range of accommodation options.
These areas provide a mix of convenience, safety, and opportunities for solo travelers to meet fellow travelers or locals.
Luxury Hotels
Delhi always seems to attract a large number of high-net-worth travelers from around the world.
Part of it has to do with its place as the capital of the country, but it's also because of its gateway status to the Taj Mahal.
The most luxurious hotels are the Taj Mahal Hotel, the Oberoi, Leela Palace, the Imperial, and the Lalit.
So, the Taj Mahal Hotel is a landmark luxury hotel with a timeless elegance.
The hotel features opulent rooms and suites, world-class restaurants serving diverse cuisines, a lavish spa, and exquisite event spaces.
The Oberoi, New Delhi, is a renowned luxury hotel that epitomizes sophistication and impeccable hospitality.
So, the Oberoi's attention to detail, personalized service, and exceptional dining options make it a favorite among travelers seeking refined luxury and a convenient location.
The Leela Palace New Delhi is a luxurious palace-style hotel that exudes grandeur and opulence.
So, the hotel features spacious and beautifully appointed rooms, indulgent dining options, an award-winning spa, and majestic event venues.
The Imperial New Delhi is a historic landmark and a luxury hotel that reflects the colonial-era charm of the city.
Guests can indulge in rejuvenating spa treatments, take a dip in the outdoor pool, or explore the hotel's extensive art collection, showcasing India's artistic heritage.
The Lalit New Delhi is a contemporary luxury hotel renowned for its elegant design and world-class amenities.
Naturally, they are all expensive to the average traveler. That said, though, these luxury hotels are also so much cheaper than ones of the same caliber in other parts of the world.
Budget Hotels
Delhi has a lot of budget hotels, but if you're willing to pay just a little bit, you get way better amenities.
Park Inn by Radisson New Delhi Lajpat Nagar is a great budget-friendly hotel.
Popular amenities include free WiFi, a restaurant, parking, a gym, and business services.
With a bar, laundry services, room service, and housekeeping, this hotel aims to provide a comfortable and enjoyable stay for all guests.
You will pay around $100 per night.
Another great hotel is the Hilton Garden Inn New Delhi/Saket.
This hotel provides family-friendly amenities, including soundproof rooms and extra beds/cribs, as well as a 24/7 front desk that ensures convenience, and the hotel offers internet access in all rooms.
The hotel also offers conveniences like laundry facilities and luggage storage.
Accessibility features such as accessible bathrooms and elevators are provided for guests with specific needs.
When there isn't a huge festival, it will cost you $100 per night.
Finally, the ITC Maurya is actually a luxury hotel that doesn't cost an arm and a leg.
This hotel has popular amenities, including a pool, spa, and a restaurant.
Guests can enjoy breakfast at the hotel's buffet and dine at various on-site restaurants and bars.
So, yeah, all of these are pretty affordable, especially if you're in Delhi during the off-season, meaning far from Diwali, Eid, or Independence Day.
Serviced Apartments
Unlike the typical Booking.com and Airbnb, there are a few India-specific websites where you can rent vacation apartments.
Generally speaking, these are serviced apartments in a good building, but you will find all kinds.
Start with OYO Home. OYO Home is a division of OYO Rooms, a leading hospitality company in India.
They offer vacation rentals, including apartments and holiday homes, in popular tourist destinations across the country.
SaffronStays is a platform that specializes in vacation homes and private villas in various locations in India.
Finally, MakeMyTrip is a prominent online travel company in India.
With user-friendly interfaces and a vast inventory, MakeMyTrip helps travelers plan and book their trips conveniently, making it a go-to platform for travel needs.
I would definitely encourage you to read reviews, check property details, and communicate with the hosts or owners before making any bookings to ensure a smooth and reliable rental experience.
Final Thoughts
Delhi truly does offer a wide range of accommodation options to suit every traveler's needs.
The city has specific areas that cater to different preferences, whether you're traveling with family, as a couple, or solo.
From bustling central Delhi to historic Old Delhi, upscale South Delhi, dynamic West Delhi, and peaceful suburbs, each neighborhood offers its own unique charm.
With its multitude of options, Delhi ensures that you can find accommodation that matches your budget and preferences.
Begin your search for the ideal stay and embark on a memorable journey in this bustling capital city of India.
AJ Paris is a travel photographer based in New York. He is the editor of Caravanzers.
Follow us on Pinterest.