Old Delhi travel guide to walk you through some of the area most important sites. Come check out the oldest part India's capital.
Old Delhi is home to a number of political, spiritual, artistic, and functional attractions.
Even when they sound like the mundane, they are anything but.
From its historical epicenter of the Red Fort to its many gates, this walled city has a lot to share.
Walk in its ancient lanes and try to get a whiff of its past.
No matter what type of tourism you're into, the chances are that Old Delhi has something specifically for you.
It really is that powerful.
So, let's jump into this unique place.
Old Delhi Background
Old Delhi started out as Shahjahanabad, a city that was completed in 1648.
The Red Fort was the official residence of the emperor, and Shah Jahan was the first emperor to live there.
Shah Jahan was the Muslim ruler who moved his capital from Agra to this walled city in 1639.
Shahjahanabad was a beautiful city with gardens, palaces, and temples.
Today, Old Delhi is purana dilli ("Old Delhi" in the local Hindi dialect) and is a bustling metropolis with a rich history and culture.
Red Fort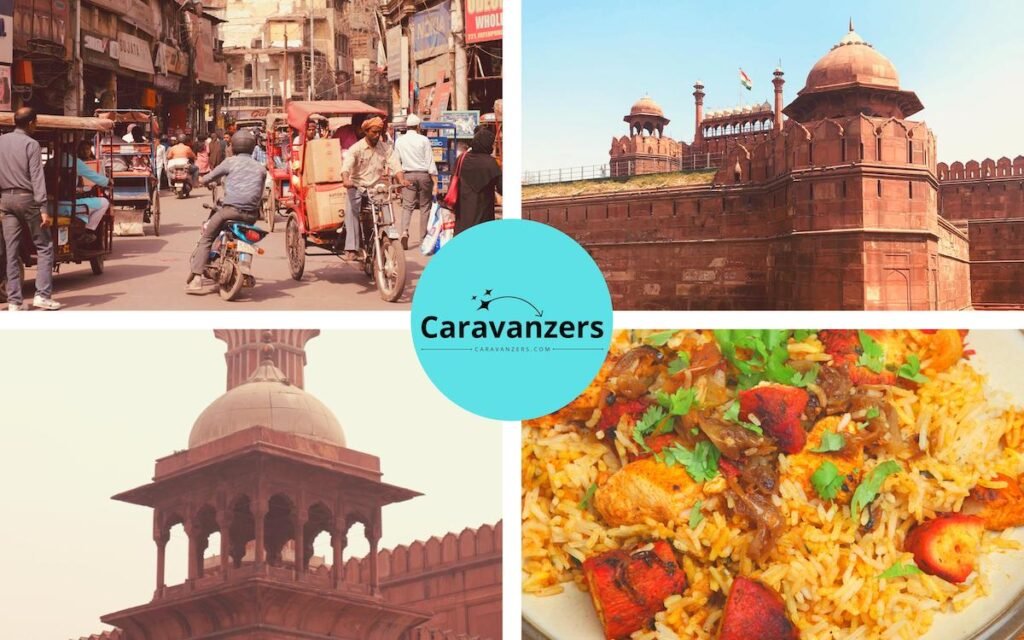 Delhi is the capital of the political infrastructure in India, and Old Delhi is in the heart of it.
The Old Delhi Red Fort was the traditional residence of the Mughal Emperors. And it has since held a very historical significance, even after the British colonialism and modern nation.
The fort is built of red sandstone and is surrounded by a moat. It has many rooms, courtyards, and gardens.
Today, it is a UNESCO World Heritage site, attracting millions of Indian and foreign tourists.
Meanwhile, the Prime Minister of India hoists the national flag here and will often give a speech.
This Old Delhi travel guide could never give you the amount of stuff that's inside in this complex. You just have to visit.
The Gates
The Old Delhi Gates were originally 14 in number, but today none are in operation. Delhites go around them, and generally, they're locked up.
That said, there are some you should visit and take pictures of. These are the Ajmeri Gate, the Delhi Gate, and the Kashmiri Gate.
All three are worth visiting for their historical significance. Each of these gates originally led to another town or area.
Razia Sultan Tomb
Razia Sultan was a Turkic-Indian woman who was the only female Muslim ruler of Delhi.
She was known for her beauty, intelligence, and bravery. She died in 1240, but her tomb is still standing today.
Several Bollywood films contributed to her rise in the modern consciousness. Hema Malini was at the height of her fame when she played Razia in 1983.
In that film, Razia finds herself in controversy and loses her power because she falls in love with a Black man.
Today her tomb is a popular tourist destination.
Jama Masjid
Although Delhi is popular as a political city, its spiritual history is just as important.
Jama Masjid is a mosque in this area that was commissioned by Shah Jahan in the 1600s.
It took thousands of workers to build it, and today it is an important holy space for Muslims.
Every year, millions of Muslims visit Jama Masjid to pray and pay their respects.
For its historical and cultural significance, the site is part of the UNESCO World Heritage Site.
When you visit, don't forget to get a taste of the mutton biryani (rice dish made with lamb) that people are selling in front of it.
Fatehpuri Masjid
Fatehpuri Masjid is another mosque in this area that was commissioned by Fatehpuri Begum, one of the wives of Shah Jahan.
The mosque was built in the 1600s and got its name from the woman's hometown of Fatehpur, Uttar Pradesh.
When Shah Jahan moved his court from Agra to Delhi, he took his wife with him, and she decided to build the mosque there.
An interesting fact is that there's a Jama Masjid in her hometown, too!
Turkman Dargah
The Turkman Dargah is a Sufi burial ground that is believed to be the oldest in all of Delhi.
Like those in other parts of the city, the site is considered sacred by many Muslims, and people from all over come to pay their respects at the tomb of Hazrat Shah Turkman Bayabani, who is buried there.
According to tradition, the man died in 1240, giving his tomb historical relevance.
The dargah is also a popular spot for tourists, who come to see the beautiful architecture and learn more about the Sufi tradition.
Lal Mandir
This is another spiritual site that one should visit. Shri Digambar Jain Lal Mandir is a Jain temple dating back to the 1600s.
Shah Jahan wanted Agrawal Jain to populate his city and needed to build them a holy space.
The result was the construction of this beautiful temple.
Lal Mandir is made of red sandstone and is adorned with intricate carvings. It is the oldest and most important Jain temple in Delhi.
Yamuna Ghat
Yet another spiritual site. Hindus have ghats (steps), which are usually temples that have steps that descend down into a river.
Generally speaking, such a river is usually holy. Yamuna River is such a river. For Hindus, it's the personification of the goddess Yamuna.
Yamuna Ghat is also known as Ganesha 24. It was one of the many ghats around Delhi. Hindus believe that these sites have been around for thousands of years.
Today, the site is very tourist. It brings a lot of young Indians from all over the country, taking pictures and videos.
Very beautiful place to be around sunrise when the Siberian seagulls are all over the place.
St. James Church
Here is one more spiritual attraction. This church has its roots in British colonialism.
Its construction has been attributed to Colonel James Skinner in the early 1800s, easily making it one of the oldest churches in the city.
Queen Elizabeth II visited the site in the early 1960s, adding its allure as a tourist attraction.
The church is part of the Church of North India diocese of Delhi.
Haveli Mirza Ghalib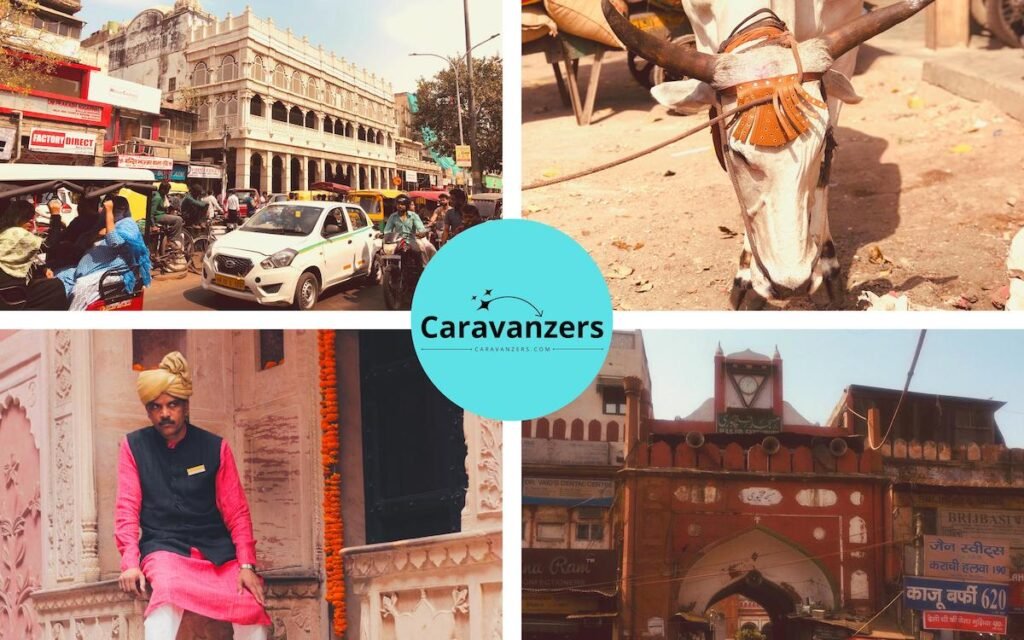 Although Old Delhi has a lot of political and spiritual sites, the area is also home to some artistic attractions.
One such space is the Haveli Mirza Ghalib.
A haveli is a traditional townhouse in Delhi. They were homes passed down from generation to generation.
Mirza Ghalib was a poet who died in 1869. He wrote his poetry in Urdu and Persian, and he chronicled his country's changes from the Mughal to the British colonial and to Revolution.
The haveli is somewhat of a museum, showcasing his life and work.
Delite Cinema
Here's another artistic site. Delite Cinema is one of the most popular movie theaters in the city.
Indians love their films, and Delhi is in the north, meaning its Hindi cinema or Bollywood is probably the largest.
The cinema has been around since the mid-1950s. When it first opened, it kicked off with Raj Kapoor, who was practically even more famous than the prime minister.
"Angarey" set Delite as a cool place to go see the latest flick.
That was in 1954, and it hasn't looked back since.
Great place to take a selfie.
Chandni Chowk
While Delhi has political, spiritual, and artistic sites, it also has functional spaces that have, over time, become tourist places!
No Old Delhi travel guide is complete without Chandni Chowk.
Chandni Chowk is a mega-popular market in Old Delhi.
"Moonlight Square" is its name in Urdu, and the market was hand designed by Jahanara Begum.
She was the daughter of the emperor, and the market opened to fanfare in the early 1650s.
Get lost in the thousands of shops in this crazy market, and make sure to grab some sweets!
Khari Baoli
While Chandni Chowk is your everything market, Khari Baoli is the place to get the best spices.
In fact, this market is the biggest spice market in the world.
Its name translates to "Salty Step Well" in Urdu, but there's nothing but sweet spices here.
Make sure to blow your nose before you go here so that you can take in all the delicious spicy smells.
Delhi Junction Train Station
Continuing with our functional attractions, next is Delhi Junction.
Indians travel between cities and states by trains, and the country's railway systems literally move nearly 25 million people every single day.
Although the newer and cooler train is the New Delhi Railway Station, a few miles away, I recommend heading to this one.
Delhi Junction is simply gorgeous. If you ever have the time to be there in the middle of the night, you might be able to hear whispers of its past passengers.
Bus Stand
The trains are awesome, but the bus is cheaper.
Some 100+ million Indians take the bus each day, and some travel nearby and others to destinations several states away.
To witness the madness, visit the bus stand or station.
Wow!
Old Delhi Travel Final Thoughts
Old Delhi is a very interesting place, nestled in the space between the past and the present.
Although it's incredibly impossible to tell you what it's like, I hope you got a glimpse of its massive historical appeal.
Just think of it this way: Old Delhi has buildings in use that are older than the United States.
Enough said!
AJ Paris is a travel photographer based in New York. He is the editor of Caravanzers.
More India
You want more India? Check out these articles:
Old Delhi Travel Guide – Resources
Here are more resources for your trip:
Incredible India! – This is the official tourism information from the Government of India.
India Tales – Anuradha Goyal is an Indian travel blogger.