Egypt has always been a fascinating place for travelers, and Cairo tour guides are the best way to see its most exciting city.
With a history that dates back thousands of years, Cairo has been an important place for different empires, including ancient ones such as Egypt, Greece, and even Rome.
Today, Cairo is a powerful Muslim city and is home to Al-Azhar, which is probably the most influential Islamic institution in the world.
Meanwhile, Cairo is a great place to see human achievements because it's where you can check out Giza, which is home to the great pyramids of Ancient Egypt.
This article will introduce you to local guides you can hire, as well as give you an overall understanding of this remarkable destination!
Cairo Basics
Cairo is in northern Egypt, and this mega city is on the famous Nile River.
With an international airport, busy adjacent port, and countless land transportation, it makes it easy to visit.
This African country follows the Eastern European Standard Time, which is GMT+2.
The area code is +20, and the country uses the Egyptian Pound, which can divide into 1,000 milliemes.
The US dollar is about 0.05 to the Egyptian currency.
Cairo is a developed city for the most part, which means that banking is easy. There are a lot of international banks here, including some that you may already be familiar with.
All that to say, you won't have to worry about finding a good ATM. Just make sure it works for you because, yes, there are fees in Cairo, too.
Because of its location in both the Northern Hemisphere and the Sahara Desert, Cairo's metropolitan area has a subtropical desert.
This means it can be scorching in the summer and very cold in the winter.
Cairo is home to a diverse community, including Muslims, Christians, and Jews––and in that order.
So, what are some of the tourist places?
Let's check it out!
Tourist Attractions
Although there are many tourist attractions in Cairo, the most important sites are ancient ones.
Cairo tour guides are unanimous that the Great Pyramid of Giza is the most visited site in Egypt.
This site is by far the largest Egyptian pyramid. Built as the forever home of Khufu, a Fourth Dynasty pharaoh, the tomb in this pyramid is fascinating.
Called the Giza Necropolis, the area is home to other pyramids and the Great Sphinx.
Another popular Cairo tourist attraction is the Egyptian Museum, which houses ancient artifacts, including tombs.
If you're into museums, however, the one you don't want to miss is the National Museum of Egyptian Civilization. This one has mummies!
Cairo's Islamic empires left their own historical footprints. The Saladin Castle is an important fortress to visit. Until the 19th century, this site was the official palace of Egypt's Muslim rulers for 700 years.
Another important historical residency is the Manial Palace, which was home to Mohamed Ali, the founder of the Alawiyya dynasty.
Al-Azhar Mosque is another Islamic must-see tourist attraction. This mosque and its university are considered the top scholarship place for Sunni Muslims, the largest denomination of Islam.
One of the must-see spiritual spaces is the Hanging Church. This Coptic Orthodox church has things that date back to the 5th century. Very old and beautiful.
Khan el-Khalili is an ancient market that straddles the past and the present. It's a great place to visit to transition into the city's modern world. You can find anything here, but be careful.
For some modern marvels, visit Gezira Island. There you find the Cairo Tower, the country's tallest building. This place has incredible views that will wow you!
In Cairo's downtown, the one place to visit is Tahrir Square, the spot that launched this country's revolution during the Arab Spring of 2011.
In other words, from historical to political, there's so much to see in this city!
Tarek and Cairo Private Tours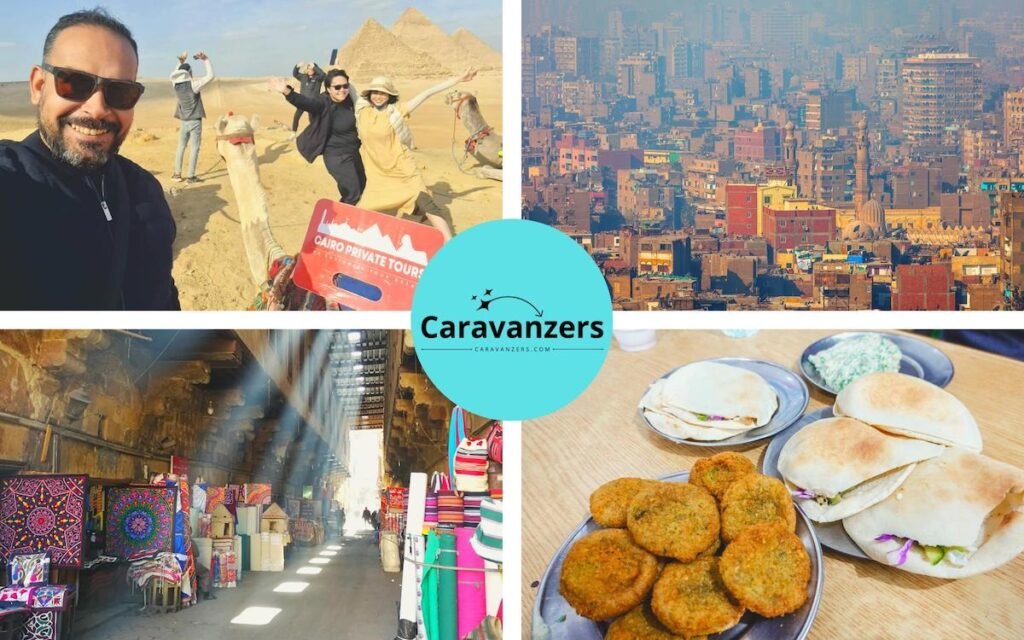 Now that you have some basic information about the city, including some of its many must-see tourist attractions, it's time to get specific support.
I want to point out that we were not paid by the following guides.
Meet Tarek Kouta and Cairo Private Tours. This digital travel solution helps you to plan your perfect Cairo trip, from airport pickups to sightseeing.
"I have been working as a tour guide since 2011," says Tarek, a graduate of Alexandria University with a master's degree in archeology and history. "Then I started to work with the largest travel companies in Egypt," he adds.
What is really great about Tarek and his team is that they arrange for you the best tourism has to offer.
For example, they can arrange for you a Nile cruise, which is definitely one of the best ways to see Cairo.
If you ever get the chance to check out this company's reviews from travelers, you will see why people love them.
They help you craft an unforgettable experience!
On their website, they list email, WhatsApp, and phone, and Tarek says they're even available for last-minute inquiries.
More Cairo Tour Guides
Cairo is a vast city, and you might want to have more than one contact.
When you arrive at the airport, if you don't have a point of contact in place, you will definitely attract hassles.
So, some of our other favorite tour guides include both individuals and groups.
Abir Eldaba is a Cairo-based private tour guide. She got her license in 1988 and has been working as a tour guide ever since.
Like Tarek, Abir was working with other companies until she went solo, providing private tours.
Another recommended tour guide is Mohamed El-esnawy. Mohamed has been guiding travelers in Cairo since 1998. This licensed tour guide is an excellent one.
If you're into food, you will love Laila Hassaballa and Mariam Nezar. They're the duo behind Bellies En-Route.
"We started this business because food was (and still remains to be) our favorite way to explore a new place authentically," says Laila.
So, follow along with them for the best tastes this ancient city has to offer!
How to Prepare for Egypt
When it comes to preparations, Cairo beats plans. This is a mega city, and that often means what you planned may not work out.
"My suggestion is to leave expectations home and enjoy the hassle and bustle of Egypt," explains Tarek.
That said, there are a few things you can do to limit the number of culture shocks you might encounter.
One thing Tarek recommends is to decide what you want before you arrive.
For example, he says that you can create an itinerary combination of ancient and modern sites.
However, he also says not to be afraid of adding a relaxing angle. All you need to do is add a resort side trip like Sharm El-Sheikh or Hurghada.
For Americans, we recommend getting travel insurance before going to Egypt. This should include health, especially medical evacuation.
Likewise, we suggest western tourists register with their embassies. For example, Americans should use the Smart Traveler Enrollment Program or STEP.
Similarly, make sure you're up to date with your vaccinations. Just talk to your doctor at least a couple of months before you go.
Finally, make sure to shop for modest clothes. Cairo is a modern city with historically significant spiritual places.
Tarek recommends bringing along a scarf and dresses with long sleeves.
Best Time to Visit
Because Egypt is a top destination, the best time to visit Cairo is usually what is called shoulder months.
"September, October, and November," says Tarek. "And then April, May, and beginning of June."
Generally speaking, those are the periods of the year when the weather is cooler, but the tourists of summer and winter holidays aren't an issue.
Expect to pay less for hotels during the shoulder months, as well as not have to deal with significant crowds at sites.
For Christians, the Christmas Season is truly a magical time. Jesus was in Egypt, which makes it a wonderful experience for the faithful.
Muslim tourists will definitely enjoy Cairo during any major Islamic holy periods such as Ramadan, Eid, and Mawlid.
In reality, though, any time of the year is perfect to visit Cairo!
Expert Tips for Cairo
Tarek isn't only one one of our favorite Cairo tour guides, but he's also very friendly. He has put together a few dos and don'ts.
First of all, keep in mind that this is a holy city for a lot of people. So, when you go to tourist sites that are of spiritual value, make sure you're dressed modestly.
That includes mosques, churches, and synagogues.
"Taking pictures of people is mostly welcome, but better to ask first," says Tarek.
Egyptians are really friendly people, so just be respectful.
"Also, keep in mind trying the Egyptian food, especially the local dishes," says Tarek.
Egyptian food is really diverse and delicious. Try things like molokhiya ( jute soup), foul (fava beans dish), and ta'meya (Egyptian falafel).
However, be careful to eat at places that use good sanitation. Your guide will tell you where you should eat and where to avoid it.
Tarek also suggests only taking approved taxis and going with guides to sites to avoid the hassle.
Example Cairo Tourist Experience
After arriving at the Cairo International Airport, Sarah goes through customs and all of that.
Soon, she's leaving the airport and meets her tour guide Fatma.
Sarah hired Fatma because she learned women are part of the Cairo tour guides scene.
"I honestly didn't expect that," Sarah admits.
Fatma had already prepared a car, and she whisks her client to Maadi, a beautiful neighborhood by the Nile.
Sarah checks into her hotel, which has exceptional views of the town.
The Holiday Inn in Maadi has excellent rooms, including suites that have lovely balconies.
"I can see a view of the river from bed," says Sarah.
Sarah, an American tourist, loves beer. And she's in luck because soon, the room service delivers a Sakara Gold (a local beer) to her room along with a delicious lamb meal.
That evening, the young woman meets friends––an Italian and American couple that have been in the city for a few days.
The next day, she and Fatma meet once again, and Sarah starts a whirlwind tour of Cairo.
After spending a few more days in Cairo to catch her breath, Sarah heads south on a Nile cruise.
It takes 13 days, but Sarah sees and stops at various temples and pyramids all the way to Luxor.
When Sarah finally leaves Egypt, she says she feels fulfilled on a deep level.
"It's an incomparable experience," she says. "I feel like I've taken a journey back to the past, and I guess I have."
And Sarah has a warning for tourists.
"Don't attempt Egypt on your own," she says. "There are a thousand things you will miss if you don't have someone who knows what a tour guide in this country knows."
Amen!
Final Thoughts
Cairo is a fantastic city.
Truly, this is one of the destinations in this world that will leave you feeling like you haven't seen anything yet.
Although Egypt is a modern nation that you can navigate on your own, what Cairo tour guides do for you is give you insider info.
They will keep you informed, entertained, and, most importantly, safe!
AJ Paris is a travel photographer based in New York. He is the editor of Caravanzers.
More Africa
Love Africa? Here are some more articles:
Follow us on Pinterest.