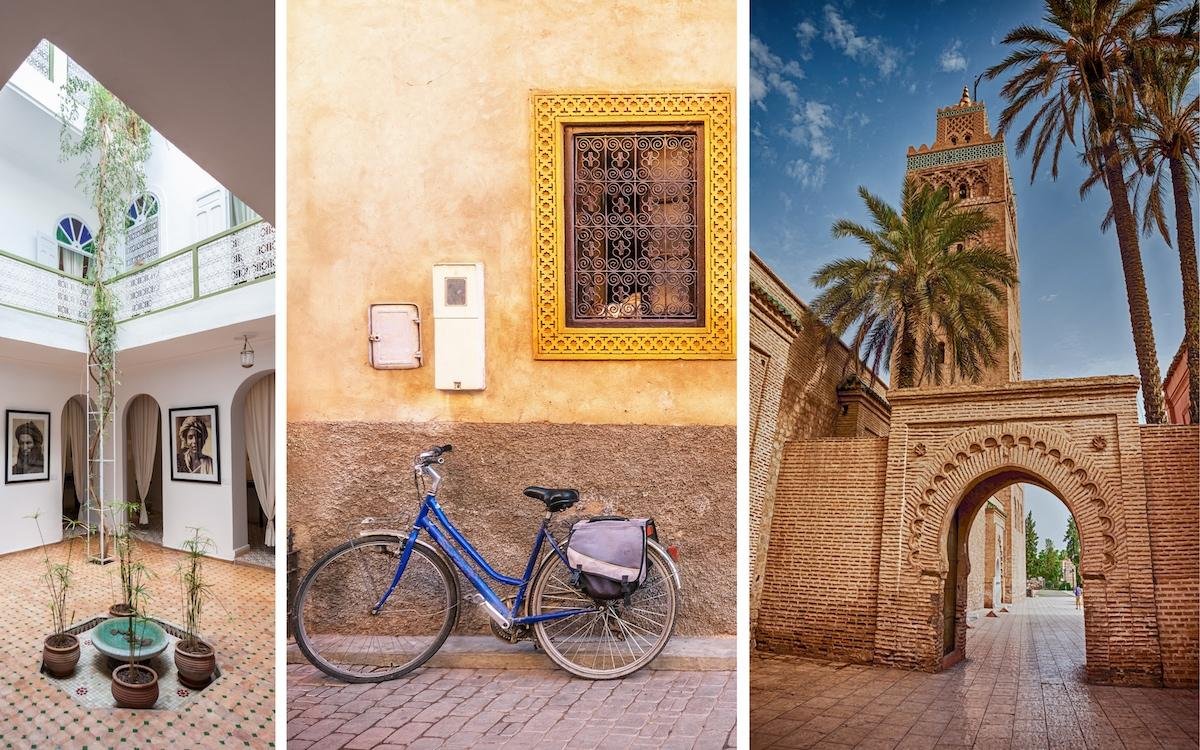 Because this is the top tourist destination in Africa, Marrakesh travel has a lot of things to do and see. A guide for travelers by a traveler.
Morocco is the top tourist destination in Africa.
Why shouldn't it be?
This is a country that has it all—the Sahara Desert, the Atlas Mountains, the diverse people, the melting pot of cultures, and more!
So, it should come no surprise that its top tourist city is also a marvelous place to visit.
So, let's explore this destination.
VIDEO – Marrakesh Travel
Marrakesh Tourism – The Basics
Marrakesh is an incredible destination, but before you go, there are a few things to know. First things first, let's talk about the visa situation.
Most citizens from Western countries do not have to have a visa in advance. However, I would say it is best to check your country's Moroccan embassy to know for sure.
Regardless, you will need a passport and empty pages, and you want your passport to expire at least 6 months after your visit.
Marrakesh follows the Western European Time Zone (UTC+1) and the Western European Summer Time Zone during daylight saving time (UTC+2).
The city has an international airport called Marrakesh Menara Airport (RAK). That said, many tourists choose to come through Casablanca, which is about 3 hours or so on a train ride away.
Once you arrive, you'll need some local currency to get around. The currency in the country is the Moroccan dirham (MAD). You'll find ATMs in Marrakesh, so withdrawing cash won't be a problem.
Now, let's talk about transportation in Marrakesh. Although there is public transportation, I recommend taxis, which are also plentiful, and you'll find them easily recognizable with their distinctive color—bright red!
Negotiate the fare before hopping in. To the city center or Medina, you shouldn't have to pay more than $10 (100 MAD)!
There are a ton of things to do in Marrakesh, but we will explore that in a minute.
Marrakesh Things to Do and See
Marrakesh is definitely a standout among the popular destinations in Morocco. It had to distinguish itself by not being on the coast, making it an unconventional tourist town.
Instead, this captivating city captivates visitors with its rich history, captivating art, and vibrant culture.
A testament to its historical significance, the city's ancient walls trace their origins back to the 1100s. The walls enclose the enchanting Medina within their protective embrace.
At the heart of this historic district lies the bustling Jama El F'na square, a hub of activity. We're talking about everything from stalls to dancers, snake charmers, and more.
Prepare to go on a captivating exploration of Marrakesh, diving into its fascinating heritage, remarkable artistic expressions, and the vibrant tapestry of its cultural spirit.
There is so much more to discover beyond these highlights, ensuring an unforgettable journey awaits you.
Marrakech or Marrakesh
So, one thing that the traveler immediately finds out is that in English the name of this city has two spellings.
There is marrakech, which is a French-influenced spelling, as the name of the city is spelled as such in French.
"From 1907 to 1956, the French occupied parts or all of Morocco," explains Hamza, a tour guide in Marrakesh. "Because of this association, the French had a lot of interest in Morocco and wrote about us," he adds.
As a result, the Western societies knew much of Morocco through France.
"There was a time when you could find most interesting travel expeditions in French or Arabic only," says Hamza.
For instance, Ibn Battuta, a famous travel writer from historical Morocco, wrote only in Arabic.
"And, of course, his books were translated in French," explains Hamza.
On the other hand, the English spelling of marrakesh came out of the relationship between Britain and Arabia.
The Arabs of Arabia did not have much relationship with France, explains Hamza.
So, their spelling of Arabic words in English is different.
Meanwhile, the word is spelled one way in Arabic and another in Berber languages.
Arabic and Berber are the languages most locals speak natively.
So, as you can see, this is a city with diverse spellings.
Marrakesh Walls
Because of its place in history, Marrakesh is full of things that you must see.
For instance, there are walls around the city that date back to the 12th century.
"It was the Almoravids who built them," explains Hamza. "They protected the city from invaders," he adds.
So, they used orange-red clay and chalk to make them, which made the use of these material popular overtime.
"And that is why the city is called the Red City," explains Hamza.
Meanwhile, there are gates and towers along the walls.
"For example, there are 19 historical gates," says Hamza. "The most famous and most beautiful is, of course, Bab Agnaou. The royals used it to enter the medina (old city). So, it is decorated nicely!"
However, explains Hamza, the main gate is the less attractive Bab Er-Robb.
There are also 200 towers along the wall.
Medina of Marrakesh
So, this is the old city of Marrakesh, and today it is a UNESCO World Heritage Site.
"It is the most important part of Marrakesh," explains Hamza.
The medina occupies the original fortified quarter from which everything else grew.
And, there is a lot to do and see here.
For instance, its cobblestoned alleys will get you wandering through a maze of unique lanes.
There are many riad or residences with ornate courtyards.
"Of course, there are also a lot of masjid (mosques or places of Muslim worship), too," says Hamza.
Likewise, there are hammam or bathhouses, and some of which are very historical.
Similarly, there are souk or markets, which bring everyone together.
However, these alleyways always bring you back to the center.
"Of course, the Jama El F'na is the center of it all," says Hamza.
So, let's explore this center a little more.
Jama El F'na
Jama El F'na, sometimes spelled as jemaa el-fnaa or jamâa el-fnna, is a very popular square in Marrakesh.
Because it acts as the center of everything, the square is open all the time.
"So, there is morning, afternoon, and evening crowds," explains Hamza.
The morning is when the locals go to the market, to buy their daily things or to shop in general.
For instance, the locals won't go out in the middle of the day when it is hot.
"However, a lot of travelers spend the morning at their riad or hotel," says Hamza. "A lot of the hotels offer breakfast included with the price, for instance," he adds. "So, the travelers may not get to the square until mid morning or even lunchtime."
Meanwhile, there are many tourist friendly eateries in and around the square that serve all day.
For example, Argana café, a popular spot here, is open from 8am to midnight.
Then, the market is also very active in the late afternoon and evening with both locals and tourists.
"We Moroccans like to go out, especially the men," says Hamza. "The center has many local places to hang out with friends and family," he adds.
Likewise, there are entertainment in and around the square, which are tailored to both locals and tourists.
For example, there are snake charmers, belly dancers, and even b-boys breakdancing away!
The square is also a great place to eat dinner, for both locals and tourists.
"You can find locally made food," says Hamza.
So, what type of food is there?
Marrakesh Food
Marrakesh, as previously noted, is a place where diverse cultures meet.
As a result, there Arab, Berber, and French foods.
"Because being Arab or Berber is very diverse already, the food is also diverse," says Nina Walker, our food writer. "For example, there are dark-skinned Berbers from southern Morocco as well as fair-skinned Berbers from the north."
In other words, the foods are diverse, as well.
A very popular breakfast with Arabs is eating bread called khobz, says Walker.
"You can find this type of bread all over Arab countries," she says.
So, a khobz is enjoyed in diverse ways, including eating it with condiments or dairy items.
"Of course, with mint tea, which is stable here in North Africa," says Walker.
Meanwhile, Walker says a popular way of cooking for Berbers is to use a tagine, which is a clay pot.
"Without hesitation my favorite Moroccan lunch is a marrakshi tangia," says Hamza.
Marrakshi tangia is a lamb dish made in the clay pot that originated in Marrakesh.
"So, anything made in the tagine will have 'tangia' at the end," explains Walker.
A popular grain is the couscous, which is made from semolina.
"We combine two types of semolina to make couscous," explains Hamza.
Walker says couscous has very little fat and is a good source of carbohydrates.
Moroccans can enjoy couscous in variety of ways, such as in place of rice, quinoa, or oatmeal.
Top Sights in Marrakesh
So, Hamza says the most recognized site in Marrakesh is the Koutoubia,sometimes styled as kutubiyya, a 12th-century mosque.
"It is historic and has beautiful garden," says Hamza. "As a result, many tourists want to see it," he adds.
Meanwhile, its minaret tower (pictured), which is 253 feet (or 77 meters) in height, is the tallest structure here.
Another popular tourist spot is the Jardin Majorelle, which is a beautiful place that has a garden.
"French-born Jacques Majorelle created it, and it has exotic plants, gorgeous fountains, and a gorgeous blue-colored walls," says Hamza.
There is also a Cubist villa at the gardens, which Paul Sinoir designed in the 1930s.
Likewise, another amazing location is Bahia Palace, which is from the 19th century and has Islamic-Moroccan vibe to it.
Similarly, the Saadien's Tombs is a very popular site.
"This where the Saadian dynasty rulers were buried," explains Hamza. "They have been open since early 1900s, but the tombs date back to the 1500s."
So, these tombs are really beautiful, as they have Islamic designs on the tiled walls.
Final Thoughts
Because it is the most popular destination in Morocco, the top tourist country in Africa, Marrakesh is a must see!
As a result, we covered several things in this article.
For example, we explored the old city, its famous square, and interesting walls.
Likewise, we looked at top tourist attractions like the famous mosque, palace, and garden.
In other words, you got a taste of the Jewel of the Sahara Desert!
Therefore, to get the real taste, you will have to plan a visit.
Enjoy Marrakesh!
AJ Paris is a travel photographer based in New York. He is the editor of Caravanzers.
Follow us on Pinterest.