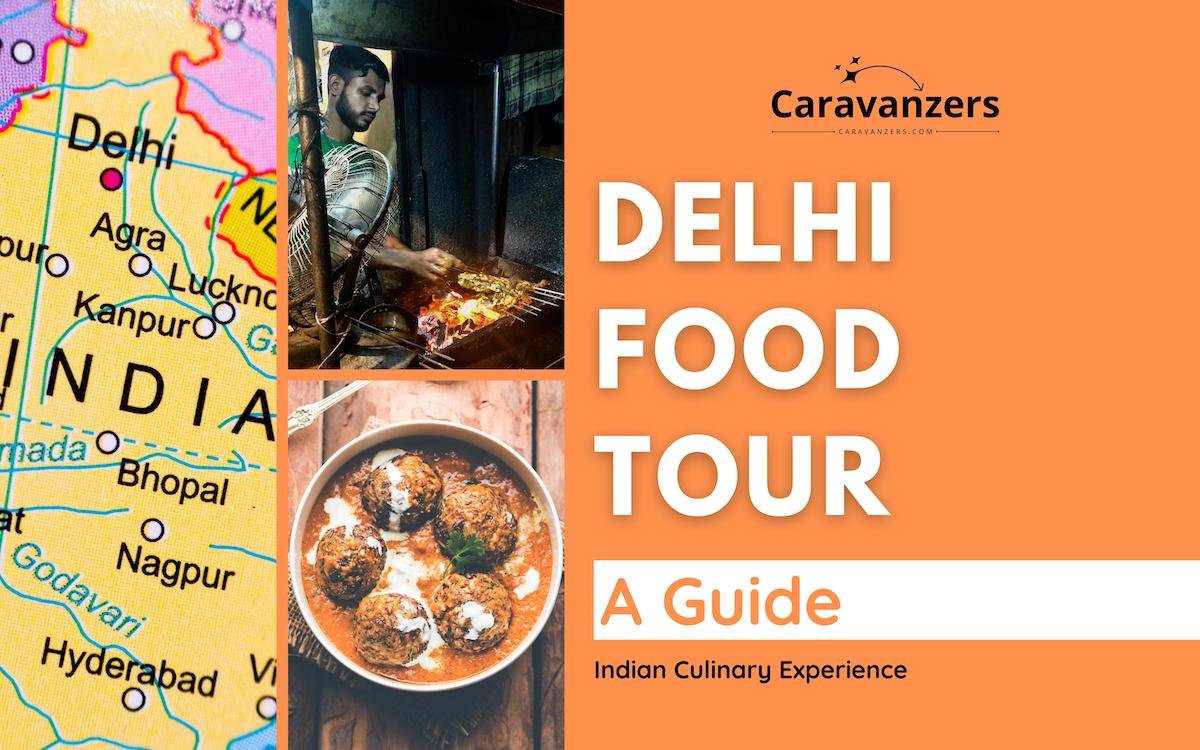 India's capital has a lot going for it with incredible attractions, but this Delhi food tour will show it's a great place to eat, too.
Delhi is a food lover's paradise, with traditional dishes, world-class restaurants, and mouth-watering street food.
The city's traditional cuisine is a melting pot of influences from across India and features iconic North Indian dishes.
For those looking for a more fine dining experience, Delhi has no shortage of options, with top-rated restaurants serving up creative takes on Indian cuisine.
And, of course, no visit to Delhi would be complete without sampling the city's legendary street food.
This article will present everything you need to have a culinary experience.
Authentic Food in Delhi
The food in Delhi is a reflection of the city's diversity, as well as its place in the world. Delhi food is local, national, and international levels.
There are traditional Delhi dishes, all Indian foods in general because Delhi is the capital, and international cuisine because it is a global city.
The traditional Delhi food is a blend of Mughal and Punjabi cuisine, but the cuisine is unmistakably North Indian.
Traditional Delhi food is characterized by rich, creamy dishes with lots of spices. Famous dishes include purani biryani, dilli chole bhature, and of course, the famous Delhi thali.
Remember, this was a Muslim city for many centuries, and it's a very meaty city, especially with chicken and lamb!
Indian food from many states is also very popular in Delhi. There are many different regional cuisines represented, as well as vegetarian and vegan options.
As India's capital, Delhi is home to a large number of nationals that come for work in all sectors. So, whatever Indian food you like, you will find here.
Finally, international food is plentiful in the city's many restaurants and hotels.
Once again, it's because Delhi is a global city that has many foreigners.
Delhi Hotel Food
Delhi hotel food is not typically the best. You can usually find a watered-down version of Indian food and more international items, and it is typically overpriced.
However, there are some exceptions to this rule. If you know where to look, you can find some really great places to stay with good food options.
Just be sure to do your research before you go!
Delhi hotel food is also dependent on what type of hotel. If you stay in a traditional Indian hotel, then the chances are that you will have good Indian food.
Many of the hotels you find in Old Delhi fall under this country, and you will definitely enjoy amazing food.
The same is true for international hotels. If you stay in a high-end global hotel, the food will be excellent.
Hotels in New Delhi fall under this category, and you will find that many of them have great restaurants.
So, just be on the lookout.
Delhi Restaurants
Delhi offers a variety of restaurants to choose from. From traditional to modern and to global, this city has plenty of eateries.
Traditional Delhi restaurants serve classic North Indian dishes. Some restaurants are famous for special items.
For example, Karim's in Old Delhi is known for its biryani bahishti gosht. This is a dish that's mouth-watering good. Its meat is tender, the rice aromatic, and all-around yum.
Modern Delhi restaurants offer a more contemporary take on Indian cuisine. A good place to find these are in the malls and shopping areas.
Indian restaurants serve foods outside of Delhi. A famous one is Andhra Bhawan, which serves food from Andhra Pradesh, including the famous Hyderabadi foods.
International restaurants can be found in all areas of Delhi and offer a wide variety of cuisines from all over the world.
A good example of a global restaurant is Shang Palace, where you can enjoy a Beijinger duck roast just like they do back home.
Delhi Street Food
Delhi street food offers a variety of options for the daring traveler. Whether you're looking to try something new or find a rendition of a snack you're familiar with, Delhi has got you covered.
Traditional Delhi street food includes things like kebabs, paranthas, and even sweets. Who doesn't like to have a cooling kulfi on the road?
Likewise, Delhi has familiar Indian foods on its streets. You can find them all over the city, with vendors selling popular items like samosas and even dosas.
Modern Delhi street food has a more international flair, with things like pizzas and dumplings.
So, what are you in the mood for?
To check out some street food, head to popular places like the markets. My favorite place to sample street food is the Old Delhi neighborhood!
Don't worry; Delhi street food will be in your face, no matter where you go!
Delhi Food Tour Example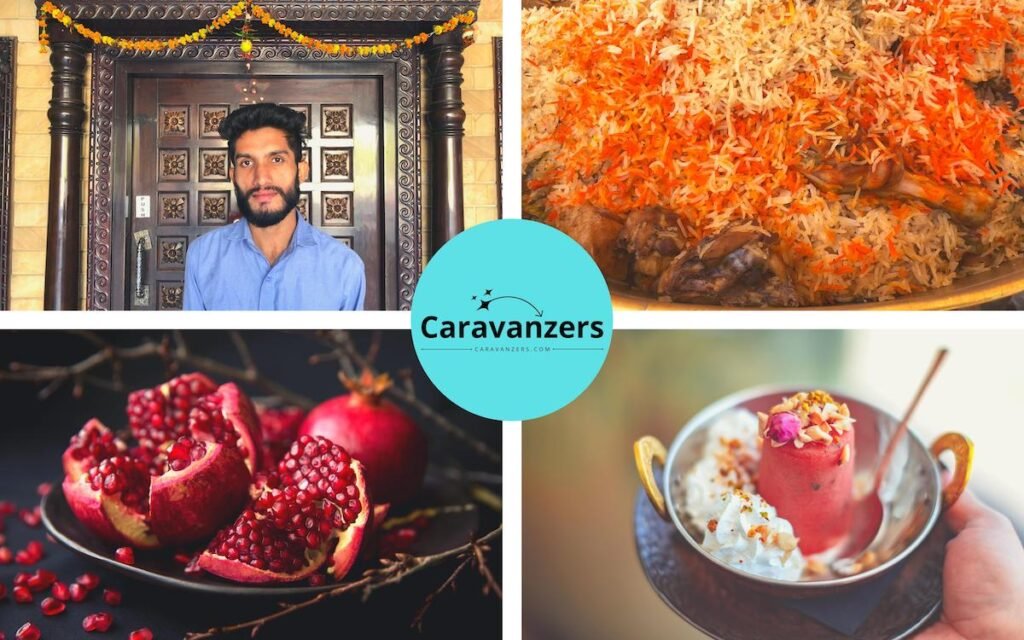 While I was traveling through India, I met a young man named Richu. Later, he visited me in the Indian capital, and we went on a Delhi food tour.
Richu is a Muslim from Kerala, in southern India, but I knew he didn't mind trying Hindu and international foods.
We were staying in Karol Bagh and jumped into a taxi for an Old Delhi food tour.
The area around Jama Masjid is really where you want to sample traditional Delhi foods. Some of the families here have been living in the same area for centuries, and they're friendly.
"It's a lot heavier," Richu said when he tried a traditional dish called dilli anarkali murgh. "And what is that taste?"
Richu is talking about the "anarkali" aspect of this dish, which is pomegranate, especially its flowers.
Old Delhi chefs have many ways to do this, although the most common is to marinate the chicken in its juices or seed powder.
Something Richu wanted to try was the Delhi street kebab. So, on several evenings, we would go and eat them.
Delhi street food is delicious in general, but the kebabs are really out of this world. They are spiced, tender, and hot.
These hot skewers are perfect on a chilly evening!
Finally, before he went back home, Richu and I went to Faridabad for some NCR deliciousness.
NCR, or the National Capital Region, is the name for Delhi's metropolitan area, which includes urban areas from nearby states.
Rajasthan, Haryana, and Uttar Pradesh are all in this area.
Old Faridabad has many restaurants, and we went to one where the food was clearly of Punjabi background.
"It's delicious," Richu declared, digging into an Amritsari fish.
Amritsar is the ancestral hometown of the Punjabis, and this is a battered fish.
Yum.
Final Thoughts
This mega city is everything you would want for an incredible trip. And when it comes to food, Delhi doesn't disappoint.
Delhi has a wide variety of traditional food, restaurants, and street food. There are many different types of cuisine to choose from, so there is something for everyone.
One final thought I want to leave you with is to remember the layers of its cuisines. If you ever feel a little unsure, talk to the locals.
For example, if you're staying in a hotel, talk to the staff. They will help you figure out what to try and what to avoid.
And if you happen to hire Delhi tour guides, then you will have everything you need through them.
Enjoy Delhi!
AJ Paris is a travel photographer based in New York. He is the editor of Caravanzers.
More Delhi
Love Delhi? Check out more articles:
Amar Sirohi – This Indian flood blogger is awesome. Follow him on YouTube.