Essaouria travel offers you an opportunity to immerse yourself in the enchanting allure of a Moroccan destination that seamlessly blends history, culture, and coastal beauty.
Although it isn't the most popular city in Morocco, I truly love Essaouria. I find this town to be a wholesome experience without being inundated with the hassle that comes with the larger destinations in this country.
This guide can help with your upcoming visit. Dive into the intricacies of Essaouira tourism as I give you valuable insights and essential information.
From setting your expectations to navigating transportation and selecting accommodations, I've got you covered.
If you're eager to plan your trip and seek the confidence to go on this unforgettable adventure, then look no further.
Essaouira Tourism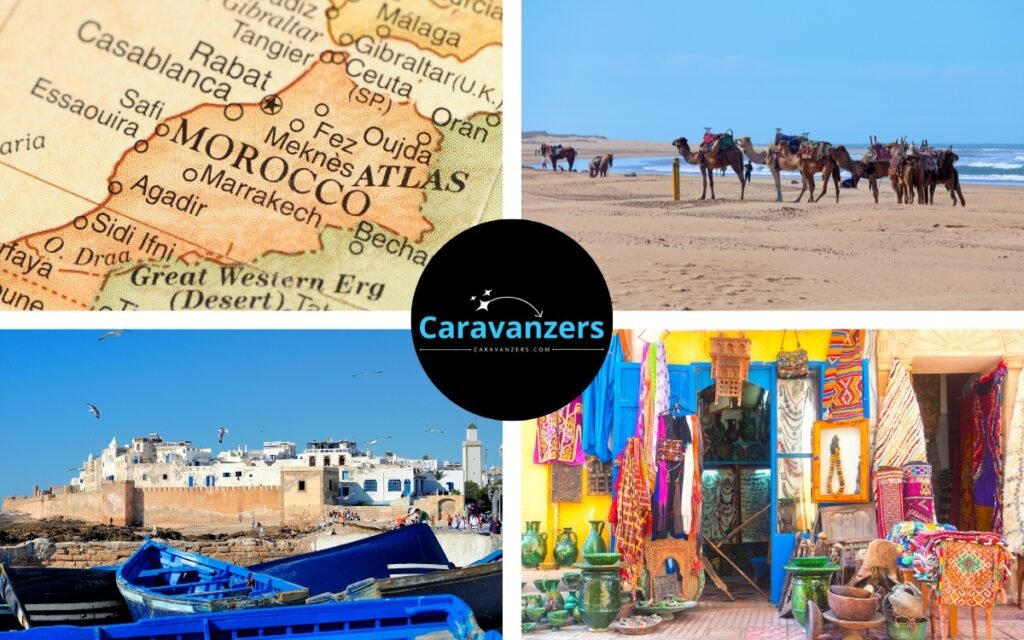 Essaouira is a charming coastal city in Morocco that's definitely worth a visit. I warn you it is a bit of a hassle to go there, but you won't regret it.
If you're flying directly, you'll need to have your passport handy. Make sure it's valid for at least six months beyond your intended stay, as that's a common requirement for most international travel.
Now, let's talk about getting there. Essaouira has its own airport (Essaouira-Mogador Airport), which is convenient only if you fly from London or Paris.
Yeah, it sucks for the rest.
If you're coming from elsewhere, I recommend flying to Marrakesh and then either hiring your own taxi or going on a comfortable shuttle.
Essaouira is in the Western European Time Zone (UTC+0) or Greenwich Mean Time (GMT+0).
Finally, language. Moroccans in this city speak Arabic and French, but those in the tourist industry also speak English.
Generally speaking, the poorer people, especially those working in minuscule jobs, won't speak French or English.
Moroccan Arabic is a dialect of the language, and it has its now unique twist on things, including European and African loan words. If you can, try to learn a few words, like how to say hello, thank you, and so on.
So, if you're looking for a captivating destination in Morocco with a mix of history, culture, and coastal charm, Essaouira is definitely worth considering.
When to Go to Essaouira
The best time to visit Essaouira really depends on what kind of experience you're looking for. Let's start with the weather.
The city has a Mediterranean climate, so it's generally pleasant throughout the year. If you love the warmth of summer and are seeking a beach experience, then summer might be your ideal time to visit. From June to August, Essaouira experiences its peak tourist season.
That said, keep in mind that it will get quite crowded during this time. A lot of Europeans make their way to this charming place.
Now, if you prefer milder temperatures and fewer crowds, the spring and fall months are fantastic. It won't get hot, but it won't get too cold, either, and the crowds aren't an issue.
Winter isn't my favorite time to be there, but if you're coming from super cold regions, then it makes sense. However, don't expect that Christmas vibe or anything like that.
Finally, I want to talk about when to avoid it. In my opinion, Ramadan time isn't a fun experience for Non-Muslims.
Ramadan is when Muslims fast for an entire month, and this changes every year because it's based on the Islamic calendar.
Generally speaking, restaurants will be closed, and you will feel bad being served by people who are fasting. So, yeah, reconsider travel during that time.
Otherwise, Essaouira really is a lovely town to visit any time of the year!
Where to Stay in Essaouira
Essaouira is a city that has a limited number of neighborhoods and districts, and where you choose to stay depends on what kind of experience you're seeking.
One popular area is the Medina, the heart and soul of Essaouira. This is a UNESCO Heritage Site that is the ancient part of town, and staying within its walls immerses you in the rich history and vibrant atmosphere of this popular city.
There are traditional riads (guesthouses) and boutique hotels tucked away in its narrow streets, and it really does feel like an authentic Moroccan experience.
From here, you'll have easy access to the bustling souks, historic landmarks, and delightful local eateries. So, for most tourists, the Medina is a great choice.
If you prefer a more relaxed setting that's away from the hustle and bustle of the Media, then the beachfront area (in and around Plage d'Essaouira) is a great option.
What I like about this area is that this is a beautiful sandy beach, and there are several modern hotels and resorts along the coast that offer stunning views of the Atlantic Ocean.
For those of you who have been in Morocco long and are kind of tired of all the authentic experiences, a relaxing stay at a modern hotel near the beach is, well, great.
Another alternative is the newer parts of Essaouira, such as the residential district known as the new town. These areas offer a more modern atmosphere with wider streets, contemporary cafes, and a range of amenities.
Honestly, I'm not a big fan of these areas. So, I would recommend choosing the historical area or the beachfront.
What to Eat in Essaouira
This coastal town is a paradise for food lovers because it has a tantalizing array of flavors and dishes that will make your mouth water.
When it comes to seafood in Morocco, Essaouira is unbeatable. From grilled sardines and fried calamari to succulent shrimp and aromatic fish sauces, the options are endless.
Naturally, Moroccan cuisine wouldn't be complete without its famous tagines, and Essaouira is no exception. These slow-cooked stews, traditionally prepared in a clay pot, are a symphony of flavors. What I think makes this area unique is the fish tagines!
If you have a sweet tooth, Essaouira has a variety of traditional Moroccan pastries. Indulge in delicate almond-based treats like chebakia, a deep-fried honey-dipped pastry, or gazelle horns, crescent-shaped cookies filled with almond paste.
These sweet items are perfect for pairing with a cup of aromatic Moroccan mint tea.
Of course, the city also has some international cuisines, especially French. So, if you want to get away from the local food for a minute, you will find global stuff, too, including fast food.
Mactoob, for example, is a local fast-food company that makes American-style burgers with fries.
Yup.
Bon appétit!
What to Do in Essaouira
Essaouira stands out from the larger cities in Morocco by offering a unique but limited blend of cultural, historical, and coastal experiences.
If you're interested in immersing yourself in the local culture, the Medina is the place to be. It's one of the top attractions in Essaouira, featuring UNESCO-listed streets that are teeming with colorful markets, artisan workshops, and historical landmarks.
For beach lovers, Essaouira is a dream come true. Its beautiful beaches are perfect for soaking up the sun or taking part in water sports.
History buffs shouldn't miss the chance to visit the Sidi Mohammed ben Abdallah Museum, housed in a French colonial building. This museum is an excellent resource for learning about the city's rich history.
Foodies will be in heaven in Essaouira. This town is famous for its seafood. The local menus are packed with delectable items that will tantalize your taste buds.
Adventurers opt for a camel ride along the beach or venture into the scenic countryside on horseback.
If you're in the city in the summer, don't miss the Gnaoua World Music Festival, which is a vibrant celebration of diverse musical traditions, fusing Gnaoua rhythms with global sounds in a captivating cultural experience.
Finally, shopping in Essaouira is a delightfully unique experience. The vibrant markets offer a wide range of items, from textiles and ceramics to jewelry and traditional Moroccan handicrafts.
So, yeah, Essaouira is a well-rounded destination, but take your time, relax in the laid-back atmosphere, and enjoy the range of experiences.
Essaouira Travel – Final Thoughts
I really hope you feel inspired and confident to go on an unforgettable trip to this Moroccan gem.
Essaouria offers a unique experience, blending history, culture, and coastal beauty, all without the overwhelming crowds of larger destinations.
Whether you enjoy the pleasant weather and vibrant atmosphere, the bustling markets, or take a stroll along the picturesque beach, Essaouira has an immersive wholesome experience that any traveler will find they like.
So, don't hesitate to plan your trip and prepare for an enchanting journey through this coastal Moroccan town.
Enjoy your tip!
AJ Paris is a travel photographer based in New York. He is the editor of Caravanzers.
Follow us on Pinterest.