Las Vegas travel guide. Learn everything you will need to plan an awesome trip to America's desert Star City, including attractions.
Nearly 100,000 people visit this city every single day, and Vegas is popular for several reasons.
Its world-famous casinos and gambling scene attract people seeking excitement and fun.
The city's extravagant entertainment options, including shows by renowned performers, add to its allure.
Finally, there's a decadence to this town you will find anywhere else in the United States, which naturally gained Vegas its "Sin City" nickname.
So, the famous phrase "What happens in Vegas stays in Vegas" is a reference to all of that.
In this guide, I will have you decide how to arrive, which area to stay in, what to eat, and what to do.
If you have been thinking about a trip to Las Vegas, take this guide as your cue to plan that immediately.
Las Vegas Tourism
Las Vegas is a lively, dazzling city in the desert with extravagant hotels, world-class entertainment, and endless nightlife.
It offers a unique experience with its iconic casinos, themed resorts, and various attractions.
The city's energy and excitement make it an unforgettable destination for many travelers.
So, the city of Las Vegas (and Clark County in general) takes tourism seriously by investing heavily in its entertainment industry, creating a wide array of attractions to cater to diverse travelers.
The city continuously develops innovative resorts, hosts renowned shows, and events, and ensures excellent hospitality.
The dedication to providing an exceptional experience makes Las Vegas a top global tourist destination.
Over the past five years, a significant number of people have migrated from nearby states like California.
Naturally, many of these are seeking a lower cost of living and a business-friendly environment.
Unfortunately, though, this influx has made the city busier than ever, resulting in increased housing demand, which means vacation rentals in Vegas are now far more expensive.
Likewise, a thriving job market and a surge in economic activity have transformed Las Vegas into a bustling metropolis.
In other words, expect a lot of traffic in your Las Vegas travel, even if you're in a ridesharing situation.
Meanwhile, the rest of the guide will focus on the specific interests of your trip planning to Las Vegas.
Before You Go
Before heading on your Las Vegas travel adventure, there are several important things to be aware of.
Trust me, knowing these in advance will ensure you have a safe and enjoyable experience.
Let's start with the insane summer weather in Vegas. Expect extreme temperatures, especially in the summer when it can reach well over 100°F (37°C).
Be prepared for the heat and stay hydrated.
Another thing to know is that the casinos weren't built for your profit.
The odds are in favor of the house, and gambling should be viewed as entertainment, not a reliable source of income.
So, if you plan to gamble, set a budget beforehand to avoid overspending.
Meanwhile, the city allows open containers of alcohol on the Strip and on Fremont Street (and will fine you heavily in residential areas, just for your information), but public intoxication can lead to problems.
So, make sure to drink responsibly and know your limits during your Las Vegas travel.
Be cautious of street performers, ticket scalpers, and people offering "free" services or products.
Always read the fine print and be aware of potential scams.
Many hotels charge mandatory resort fees on top of the advertised room rates.
Be aware of these additional charges when booking accommodation.
The Las Vegas Strip is longer than it appears, and walking from one end to the other can be tiring.
So, wear comfortable shoes and consider using the monorail or rideshare services for longer distances.
While Las Vegas travel is generally safe for tourists, you really need to be aware of your surroundings.
If you decide to venture to the desert, which you definitely should, just be cautious of creatures like scorpions and rattlesnakes when venturing into natural areas.
So, yeah, that's about it, really.
When to Go to Las Vegas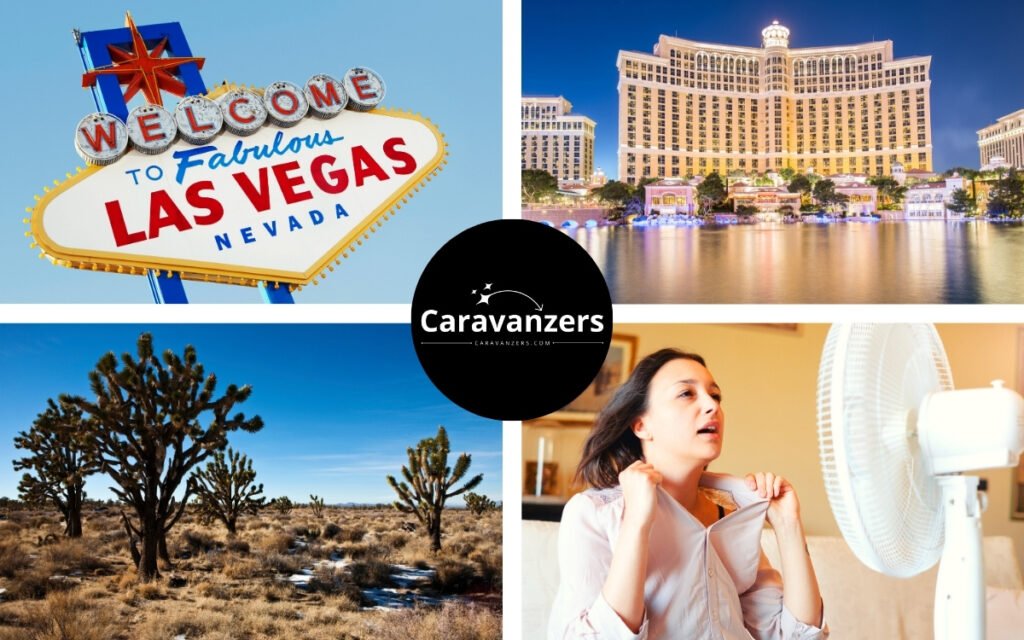 A Las Vegas travel has something unique across the year, but there are specific seasons that I think are best to visit.
Spring and fall are by far the best times to visit because of their milder and more comfortable weather conditions.
During spring, which runs from March to May, and fall, from September to November, the scorching summer heat and winter chill are absent.
So, this means outdoor activities and exploring the city are more enjoyable.
With average temperatures ranging from the 70s to the 80s Fahrenheit (20s to 30s Celsius), the spring is perfect for pleasant days and cool evenings.
Likewise, this season is perfect for strolling along the iconic Las Vegas Strip or enjoying outdoor attractions.
In spring, the city comes alive with various events, festivals, and pool parties, all of which provide a lively atmosphere for visitors.
The blooming desert landscapes and gardens add a touch of natural beauty to the urban landscape.
If you're a photographer visiting Las Vegas, this is definitely the best season.
In the fall, Las Vegas hosts numerous conventions and expos, making it an exciting time for business and leisure travelers alike.
Additionally, the city gears up for Halloween celebrations, transforming into a playground for costume parties and themed events.
Winter, particularly around the New Year, is another fantastic time to visit Las Vegas.
While the weather may be cooler, it's generally mild compared to many other parts of the country.
However, I warn you; winter nights in the desert are super cold!
The city is beautifully adorned with festive decorations, dazzling lights, and elaborate holiday displays.
So, yeah, consider those periods for your trip.
Finally, please make sure to have a travel insurance since this is an expensive city to get sick!
How to Get There
Reaching Las Vegas is relatively straightforward, as the city is well-connected through various transportation options.
Most of you from far distances will probably fly, so Harry Reid Airport (LAS) serves the city and is one of the busiest airports in the United States.
You will find direct flights from major cities around the world, making it convenient for international and domestic travelers.
Once at the airport, visitors can easily access the Strip and downtown area through taxis, rideshare services, or airport shuttles.
While there is no direct train service to Las Vegas, Amtrak operates the Southwest Chief and California Zephyr routes, which stop in nearby cities like Kingman, Arizona, and Needles, California.
Greyhound, Megabus, and FlixBus are some of the major bus operators with routes to Las Vegas.
Buses from all over the United States converge in downtown, which is home to the city's bus terminal.
For those of you hitting the road, Las Vegas is so accessible via major highways.
For instance, you will find Interstate 15 from Los Angeles and Salt Lake City, Interstate 40 from the east, and US Route 95 from the north.
Driving to Las Vegas allows for flexibility and the opportunity to explore nearby attractions, such as the Hoover Dam and Red Rock Canyon.
Before choosing a transportation method for your Las Vegas travel, consider factors like cost, convenience, and trip time.
Airplane travel is the quickest option for distant travelers while driving offers more flexibility and the chance to enjoy scenic road trips.
Buses and trains are viable alternatives for those seeking budget-friendly options or who prefer to leave the driving to someone else.
Where to Stay in Las Vegas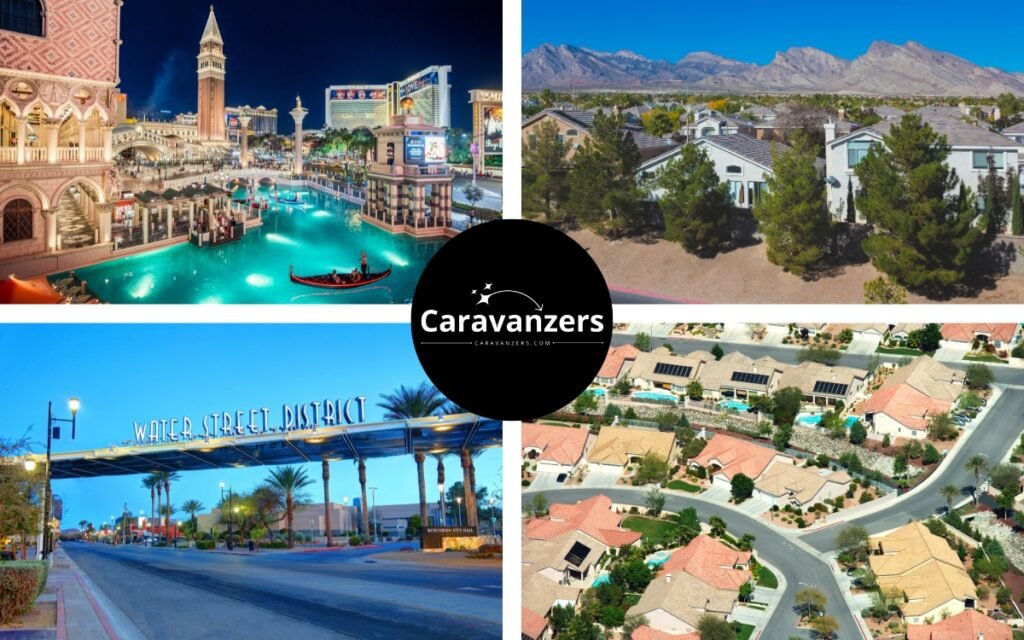 As a traveler visiting Las Vegas, the best areas to stay largely depend on your preferences and the kind of experience you seek.
At least once in your life, you really must stay on the Las Vegas Strip. This is the most iconic and lively area in the city, known for its world-famous hotels, casinos, and entertainment venues.
Staying on or near the Strip puts you right in the heart of the action, with easy access to numerous attractions, restaurants, and nightlife options.
Downtown is in the historic part of the city and has a different vibe with its vintage casinos, Fremont Street Experience, and various street performances. It's a great option for those seeking a more old-school Las Vegas experience.
Summerlin is on the western outskirts of the city and has a quieter and more suburban setting.
It's an excellent choice for those looking for upscale accommodations and a chance to explore Red Rock Canyon and nearby hiking trails.
Henderson is southeast of the Strip and has a family-friendly area with beautiful parks, shopping centers, and a less hectic atmosphere.
It's ideal for a more relaxed vacation away from the bustling crowds.
Meanwhile, many hotels and resorts are just off the Strip, offering a more budget-friendly option while still providing easy access to the main attractions.
So, when choosing an area for your Las Vegas travel, consider factors like proximity to the attractions you want to visit, the atmosphere you prefer, and your budget.
Keep in mind that Las Vegas has an extensive transportation system, making it relatively easy to get around regardless of where you stay.
Food in Las Vegas
Believe it or not, Las Vegas is actually a foodie paradise, which is so not what people associate with this town.
So, Vegas has a wide range of food options that will satisfy diverse tastes and preferences from Southwestern Americana to authentic Chinese and everything else in between!
As a gateway to the American Southwest, Las Vegas has an abundance of restaurants that serve authentic regional dishes.
Expect dishes infused with bold flavors and ingredients like chili peppers, corn, beans, and cactus.
Popular options include green and red chili dishes, enchiladas, tacos, and tamales.
Several restaurants in the city specialize in traditional Mexican cuisine, Tex-Mex, and New Mexican dishes.
Meanwhile, as a popular destination for all Americans, Las Vegas caters to traditional American tastes with a wide array of eateries.
You will easily find classic dishes like burgers, steaks, and comfort foods.
Likewise, you will find iconic diners, upscale steakhouses, and family-friendly restaurants that celebrate the best of American cuisine.
Buffets are also a quintessential Las Vegas experience, featuring a vast selection of American dishes.
Similarly, the city's food scene is incredibly diverse, featuring an impressive range of international cuisines.
From Italian trattorias to Ethiopian spots, Japanese sushi bars to Thai street food, and Indian curry houses to Mediterranean eateries, you can embark on a culinary journey around the world without leaving Las Vegas.
The city's emphasis on global flavors ensures that tourists can enjoy a taste of virtually any cuisine they desire.
Furthermore, Las Vegas hosts numerous celebrity chef restaurants, including establishments by Gordon Ramsay, Wolfgang Puck, and many others, offering elevated dining experiences that combine international influences with modern culinary techniques.
So, yeah, the food is awesome in Vegas!
Las Vegas Attractions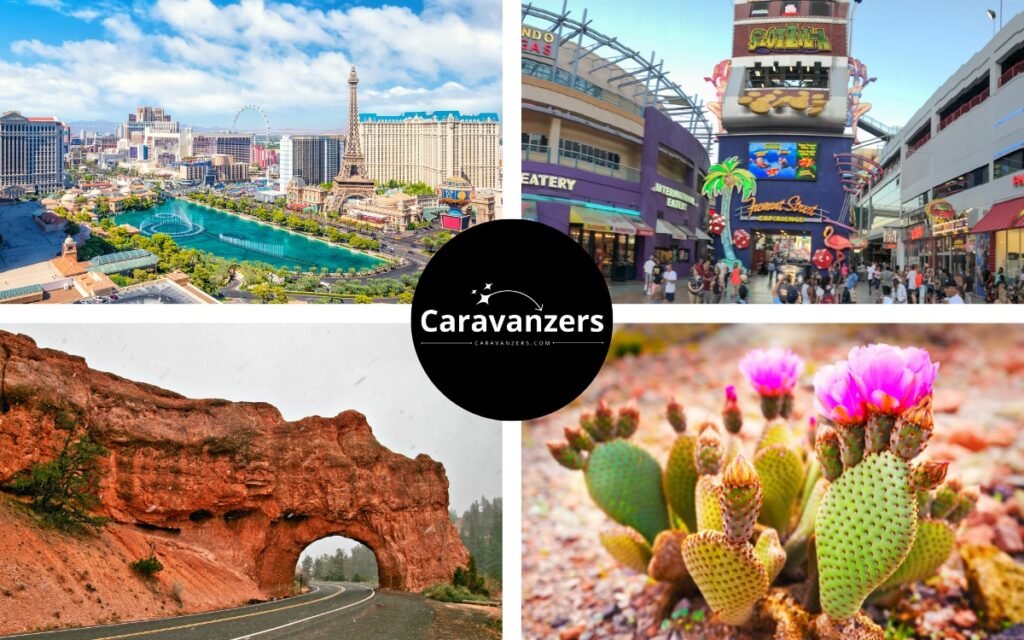 Las Vegas has many tourist attractions due to its status as a major entertainment and hospitality hub.
The city's dedication to offering an exceptional and varied experience has drawn in millions of visitors from all corners of the world, leading to a flourishing tourism sector.
So, your Las Vegas travel offers an abundance of thrilling tourist spots.
Start at the famous Las Vegas Strip, a 4.2-mile stretch with renowned hotels and casinos.
Explore landmarks like the Bellagio Fountains, The Venetian's Grand Canal, and the Paris Las Vegas Eiffel Tower replica.
Downtown's Fremont Experience features nightly light shows and live performances, while Red Rock Canyon and Hoover Dam provide natural wonders.
Enjoy history at the Mob Museum and Neon Boneyard and nature at Springs Preserve.
With so much to offer, Las Vegas guarantees an unforgettable journey for all travelers.
Las Vegas Strip
Start your trip at the Las Vegas Strip. This iconic 4.2-mile stretch is lined with world-famous hotels, casinos, and resorts, each offering unique themes and attractions.
Explore famous landmarks like the Bellagio Fountains, The Venetian's Grand Canal, and the High Roller Observation Wheel.
Experience a taste of Paris with a trip to the replica Eiffel Tower at Paris Las Vegas, offering stunning views of the Strip.
The Las Vegas Strip showcases the city's dazzling allure through its glamour and excitement, offering captivating attractions, dazzling lights, and a vibrant atmosphere.
Fremont Experience
Likewise, head to the Fremont Experience. It's in downtown Las Vegas, and so Fremont Street is a pedestrian mall covered by a massive LED canopy.
It hosts nightly light shows and live performances, making it a lively spot for entertainment and people-watching.
Tourists go to the Fremont Experience to experience the lively and nostalgic Americana atmosphere of downtown Las Vegas.
Red Rock Canyon
Similarly, Red Rock Canyon National Conservation Area is a short drive from the Strip, and this stunning natural wonder offers hiking trails, rock climbing, and scenic drives amidst colorful rock formations.
Red Rock Canyon is a stunning natural wonder characterized by its striking red rock formations, sandstone cliffs, and rugged desert landscape.
It features vibrant hues of red, orange, and brown, contrasting with the blue sky, and this is really a great place for selfies and photos.
The canyon offers scenic drives and hiking trails, providing breathtaking views of the picturesque terrain.
Hoover Dam
Meanwhile, the nearby Hoover Dam is just southeast of Las Vegas. This is an impressive engineering marvel, providing breathtaking views and educational tours.
Hoover Dam was originally called Boulder Dam, and it was constructed during the Great Depression and completed in 1935.
It's on the Colorado River between Nevada and Arizona, and it was built to provide hydroelectric power, control flooding, and supply water to the surrounding region.
So, tourists visit because its engineering brilliance and impact on the region's development are significant milestones in American history.
Mob Museum
Back in the city, visit the Mob Museum to learn about the history of organized crime in America and its impact on Las Vegas at this interactive museum.
The history of mobs in Las Vegas is intertwined with the city's early development.
In the mid-20th century, organized crime figures, such as the Mafia, controlled many casinos and businesses on the Strip.
This influence began to decline in the 1980s with increased government crackdowns and corporate control of the industry.
So, a great place to deep dive into history for your Las Vegas travel.
Neon Boneyard
Neon Boneyard is a unique attraction showcasing retired neon signs from iconic Las Vegas establishments, giving visitors a glimpse into the city's history.
So, yes, Neon Boneyard is a great place for selfies because the vintage signs create an eye-catching backdrop, providing visitors with an opportunity to capture memorable and artistic selfies in a colorful and historically significant setting.
Definitely, another place to add to your list for your Las Vegas travel.
Spring Preserve
Springs Preserve is perfect for nature enthusiasts. Explore botanical gardens, wildlife exhibits, and interactive museums that highlight the region's natural and cultural heritage.
These attractions are just the beginning of your Las Vegas travel, whether you're seeking entertainment, nature, history, or adventure.
Shopping in Las Vegas
As a traveler in Las Vegas, you will find a wide range of shopping options.
Honestly, as you will see, they also suit various tastes and budgets.
So, here are some popular shopping destinations in the city.
The Forum Shops at Caesars Palace is an upscale shopping mall that is a luxurious experience.
You will definitely notice high-end brands like Gucci, Louis Vuitton, and Versace, as well as unique boutiques and restaurants.
The mall's Roman-inspired architecture adds to the ambiance.
The Grand Canal Shoppes at The Venetian is designed to resemble the streets of Venice, and this shopping area features a mix of luxury and mid-range retailers, along with charming gondola rides on indoor canals.
Likewise, the Miracle Mile Shops at Planet Hollywood is a vast shopping complex that offers a diverse mix of shops, ranging from fashion and accessories to souvenirs and electronics.
Meanwhile, you might decide to head to Downtown Container Park.
This is a unique shopping experience with boutiques housed in repurposed shipping containers.
It also has a playground for kids and various entertainment options.
Back on the Strip, visit Fashion Show Mall.
It's right across from Wynn Las Vegas, and this large shopping center houses popular fashion brands, department stores, and a runway for live fashion shows.
Las Vegas North Premium Outlets is an outlet mall offering discounted prices on designer and brand-name goods, making it a great option for bargain shoppers.
Town Square Las Vegas is a vibrant outdoor shopping area with a mix of stores, restaurants, and entertainment options, making it a family-friendly destination.
These shopping venues provide a diverse selection of products, from luxury goods to budget-friendly finds, ensuring that you will have plenty of options to indulge in retail therapy while visiting Las Vegas.
Day Trips from Las Vegas
Las Vegas serves as an excellent base for day trips to various natural wonders and attractions within the region.
Here are some popular day trips you can take from Las Vegas.
One of the world's most iconic destinations is the Grand Canyon, and it's approximately a 4-5 hour drive from Las Vegas.
If you wake up at 3am, you will be there by 9am, and you can head back at 3pm to arrive at 9pm.
Take a day tour to the South Rim for breathtaking panoramic views and scenic overlooks.
Meanwhile, Valley of Fire State Park is about an hour's drive from Las Vegas, and this park features striking red sandstone formations, petroglyphs, and scenic drives.
Similarly, Lake Mead is another short drive from Las Vegas, and it gives you opportunities for water sports, boating, fishing, and scenic cruises.
Death Valley National Park is approximately a 2-hour drive away, and this is popular for its extreme temperatures and unique landscapes, including Badwater Basin and Zabriskie Point.
Mount Charleston is less than an hour's drive, and it provides a refreshing escape with hiking trails and cooler temperatures compared to the desert below.
Finally, visit nearby ghost towns like Rhyolite and Nelson's Landing to glimpse into the region's mining past.
These day trips from Las Vegas offer a diverse range of experiences, from natural wonders to historic sites, allowing you to explore the rich and unique landscapes of the Southwest.
7-Day Las Vegas Itinerary
During your 7-day Las Vegas itinerary, you will experience the city's vibrant energy and diverse attractions.
On Day 1, immerse yourself in the glitz and glamour of the Las Vegas Strip.
Explore its iconic hotels, casinos, and mesmerizing attractions, but make sure you don't lose all of your money.
Day 2 takes you to downtown Las Vegas for the Fremont Experience.
This is a great experience for your Las Vegas travel adventure, and you will love the nightly light shows and live performances, adding a touch of nostalgia to your trip.
On Day 3, venture on a day trip to Red Rock Canyon National Conservation Area and Hoover Dam, where you'll be awed by the stunning natural landscapes and engineering marvels.
Day 4 offers a shopping spree at one of Las Vegas's premier shopping destinations, where you can indulge in luxury or find unique treasures.
Explore the city's history on Day 5 with visits to the Mob Museum and the Neon Boneyard, gaining insights into Las Vegas' intriguing past.
On Day 6, go on an unforgettable day trip to the Grand Canyon.
So, you will have a chance to witness one of the world's most breathtaking natural wonders.
Finally, on Day 7, enjoy a more relaxed day at Mount Charleston or Lake Mead, basking in the serene beauty and cooler temperatures.
With this well-rounded itinerary, your Las Vegas travel promises to be an unforgettable journey filled with entertainment, history, nature, and relaxation.
Las Vegas Frequently Asked Questions
As you begin to research your Las Vegas travel, you will notice that others are asking a ton of questions.
Travelers ask many questions about Vegas due to its popularity as a premier destination for entertainment, gambling, and nightlife.
So, for example, they seek information on the best time to visit, travel costs, attractions, and overall experiences.
Likewise, with its diverse offerings, travelers want to ensure they make the most of their Vegas trip.
While I have answered a lot of questions in the guide, I decided to respond to specific ones here.
So, the following are questions and responses to some frequently asked ones.
Why is Vegas so popular?
Vegas is popular for its vibrant nightlife, world-class entertainment, luxurious resorts, and diverse attractions like casinos and shows.
It's a hub for excitement and a playground for adults, drawing millions of visitors each year seeking entertainment, gambling, and unforgettable experiences.
What is the best month to go to Vegas?
The best month to visit Vegas depends on personal preferences.
Spring (March to May) and fall (September to November) offer milder weather and fewer crowds, making it ideal for outdoor activities.
However, Vegas is a year-round destination, and each season offers unique events and experiences.
Is Vegas a good place to travel?
Yes, Vegas is a fantastic place to travel for those seeking a lively and thrilling experience.
It's known for its iconic Las Vegas Strip, a variety of entertainment options, numerous dining establishments, and opportunities to try your luck at casinos.
However, it's essential to budget wisely and set limits for gambling.
How much would a Las Vegas trip cost?
The cost of a Las Vegas trip varies widely depending on factors like accommodation, dining choices, entertainment preferences, and duration of stay.
On average, a moderate budget for a 3-4 day trip might range from $800 to $1500, but it can be significantly higher for those seeking luxury experiences.
Is $2000 enough for Vegas?
Yes, $2000 can be enough for a Vegas trip, depending on your travel style and the number of days you plan to stay.
With careful budgeting, you can cover accommodation, meals, entertainment, and some gambling.
However, high-end experiences and excessive gambling may quickly deplete your funds, so it's essential to plan wisely.
Final Thoughts – Las Vegas Travel
Your Las Vegas travel is an exhilarating experience.
The city's iconic Las Vegas Strip dazzles with its bright lights and extravagant resorts.
Visitors can enjoy world-class entertainment, try their luck at casinos, savor delicious cuisine, and explore various attractions.
The vibrant energy and non-stop excitement make it a memorable and unique journey.
So, in this guide, you learned where to stay, what to do, and what to eat.
Likewise, you found out about great places to shop, planned day trips, and created a 7-day itinerary.
I believe you are so ready for your trip, and I can say is enjoy Vegas!
AJ Paris is a travel photographer based in New York. He is the editor of Caravanzers.
Follow us on Pinterest.