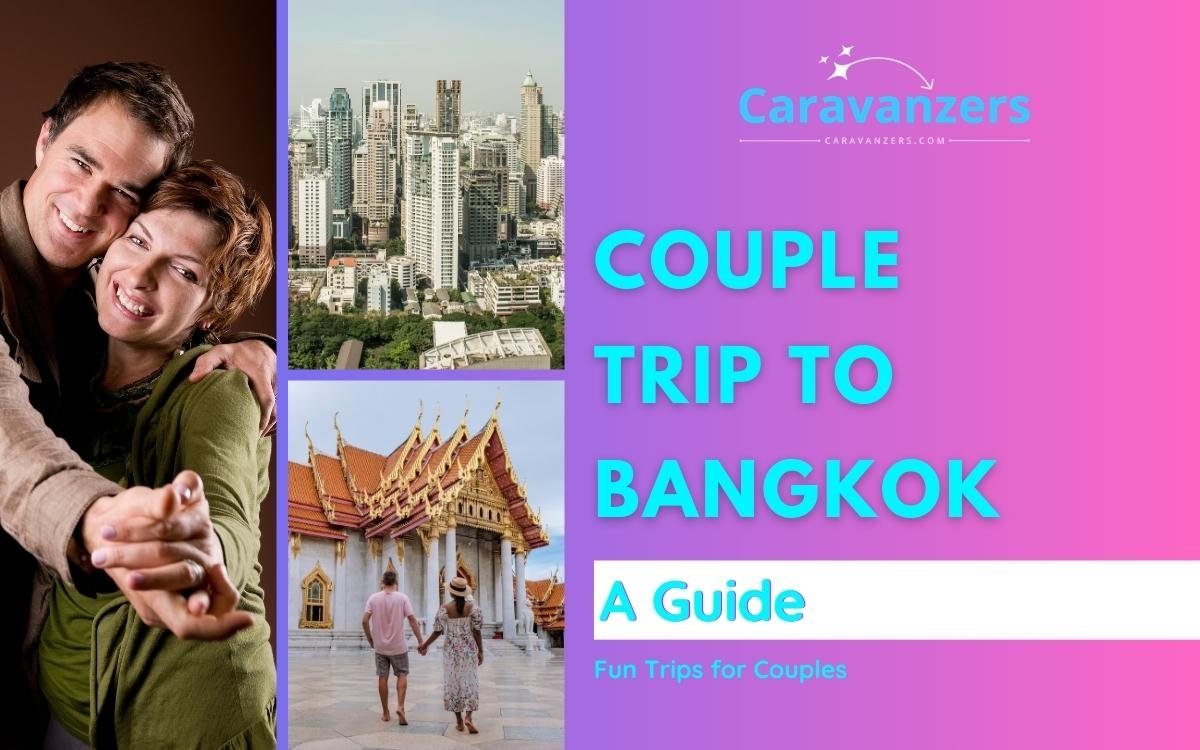 Places to visit in Bangkok for couples can mean a plethora of options, from thrilling adventures to incredibly romantic settings.
Although it may seem overwhelming at first, there's no need to fret because Bangkok offers a wealth of enjoyable experiences.
This guide covers accommodations suited for couples, must-see attractions for first-time visitors, budget-friendly yet intimate dining destinations and the city's nightlife scene for couples.
So, grab your bags, and let's get started on planning your next Bangkok adventure.
Where to Stay in Bangkok for Couples
If you're a couple looking for the best place to stay in Bangkok, there are several options to consider based on your preferences.
For those who want to be in the city's tourist center, the area around Khao San Road is a popular choice.
You'll find affordable accommodations here, along with a vibrant atmosphere filled with street food vendors, bars, and nightlife.
Alternatively, if you're seeking a more peaceful setting, the Sukhumvit neighborhood is a great option.
With its modern amenities, restaurants, and bars, as well as green spaces like Benjasiri Park, you can relax in a quieter atmosphere while still being well-connected to public transportation.
For the ultimate romantic escape, consider staying around the Chao Phraya River. This area offers breathtaking views of the river and skyline, as well as luxurious hotels featuring rooftop bars and restaurants.
To make your stay even more special, take a romantic sunset cruise along the river for a unique perspective of the city.
Of course, the best place for you as a couple to stay in Bangkok will depend on your personal preferences and what you're looking for in your trip.
Whether you want to be in the heart of the action or a quieter area, Bangkok offers plenty of options to choose from to make your trip memorable.
Places to Visit in Bangkok for First Timers
If you're a first-time visitor to Bangkok, you'll want to make sure you see some of the Thai capital's most famous tourist attractions.
One must-see spot is the Grand Palace, which is home to some of Thailand's most stunning temples, including the famous Temple of the Emerald Buddha.
Another popular attraction is Wat Pho, a temple complex known for its impressive reclining Buddha statue. But Bangkok offers much more than just its famous temples.
For a cultural experience, visit the Jim Thompson House, a museum dedicated to the life of the American entrepreneur who helped revitalize Thailand's silk industry.
You can take a guided tour of the house and learn about traditional Thai architecture and art.
If you want to explore some hidden gems in Bangkok, head to the Talat Rot Fai night market. Located outside of the city center, this market is a great place to try some local street food and shop for vintage clothing and other unique items.
Another off-the-beaten-path destination is the Bangkok Art and Culture Centre, which showcases contemporary art exhibitions and performances.
Naturally, Bangkok has something for every type of traveler, whether you're interested in the city's famous landmarks or seeking out hidden cultural gems.
As a first-time visitor, make sure to include a mix of popular attractions and lesser-known destinations to get a well-rounded experience of this vibrant city.
Affordable Romantic Dinner in Bangkok
Bangkok is such a foodie town. If you're looking for an affordable and romantic dinner in Bangkok, there are plenty of options to choose from.
For a sit-down meal, head to Baan Khanitha, a restaurant known for its traditional Thai cuisine served in a charming setting with lush gardens.
Another option is Soul Food Mahanakorn, which offers delicious Thai fusion dishes in a cozy, intimate atmosphere.
If you're up for a more casual dining experience, try taking your loved one on a street food adventure.
Chinatown's Yaowarat Road is a great spot for street food, and you can find plenty of vendors selling local favorites like pad thai and mango sticky rice.
For a romantic night out, grab some food and find a spot by the Chao Phraya River to enjoy the scenery, and for a more elevated experience, check out one of Bangkok's many rooftop bars and restaurants.
A great rooftop option is Red Sky Bar on the 55th floor of the Centara Grand at CentralWorld. Here you can enjoy panoramic views of the city skyline while sipping on a cocktail and indulging in some tasty tapas.
If you want to take your romantic dinner to the next level, consider a dinner cruise along the Chao Phraya River.
Many companies offer dinner cruises with stunning views of Bangkok's landmarks, including the Grand Palace and Wat Arun.
This is a great way to experience the city's sights while enjoying a romantic meal with your partner.
Whether you're looking for a sit-down dinner, street food adventure, rooftop bar, or dinner cruise, Bangkok offers plenty of affordable and romantic dining options for couples on a budget.
Bangkok Nightlife for Couples
Bangkok is a bustling metropolis renowned for its vibrant nightlife, offering couples an abundance of options for an unforgettable evening.
For those looking for a more culturally immersive experience, Bangkok has several venues, such as the Sala Chalermkrung Royal Theatre, Joe Louis Puppet Theatre, and Thailand Cultural Center, that showcase traditional Thai dance performances.
The captivating costumes, intricate movements, and enchanting music make for an unforgettable experience.
On the other hand, if you're in the mood for dancing, Bangkok's thriving club scene has popular hotspots like Route 66, Insanity Nightclub, and Levels Club & Lounge that attract both locals and tourists alike.
The music and atmosphere are sure to get you grooving.
Bangkok's nightlife caters to everyone's preferences, making it an ideal destination for couples seeking adventure, culture, and romance.
Additionally, the city has options for senior couples and those in the LGBTQ+ community.
Gay couples can revel in the vibrant LGBTQ+ scene in the Silom district, while senior couples can enjoy low-key options such as a scenic dinner cruise on the Chao Phraya River, a leisurely stroll around the city's night markets, or a relaxing Thai massage.
Bangkok offers something for everyone, whether you're interested in rooftop bars, street food, dancing the night away, or taking in cultural performances.
Unique Places to Visit in Bangkok
Bangkok is a city that offers a plethora of unique destinations to explore, ranging from ancient temples to contemporary shopping centers.
One of the top attractions in Bangkok is the Jim Thompson House, which was once the residence of American businessman Jim Thompson and now serves as a museum.
Inside, visitors can marvel at the exquisite antiques and artwork on display and take a guided tour to learn about Thompson's fascinating life and legacy.
For those seeking a more contemporary experience, the Siam Paragon shopping center is a must-see destination. This enormous complex boasts high-end shops, a cinema, and a large aquarium housing an array of exotic marine life.
If you're looking to immerse yourself in Bangkok's vibrant street culture, make sure to visit the Chatuchak Weekend Market.
With thousands of vendors selling everything from jewelry and clothing to street food and live animals, this bustling market is a great place to explore and find unique souvenirs.
Last but not least, no visit to Bangkok would be complete without indulging in the city's famous street food scene.
From classic dishes like pad Thai and green curry to more unconventional fare, such as insects and fried scorpions, Bangkok's street food vendors offer a one-of-a-kind culinary experience that should not be missed.
Final Thoughts
Bangkok is a city that truly has something to offer for every type of couple.
Whether you're looking for heart-pumping adventures or quiet, romantic moments, Bangkok has it all.
With the guide's helpful information on accommodations, attractions, dining, and nightlife, planning your next trip to Bangkok will be a breeze.
So, pack your bags and get ready to create unforgettable memories with your loved one in this vibrant and exciting city.
AJ Paris is a travel photographer based in New York. He is the editor of Caravanzers.
Follow us on Pinterest.