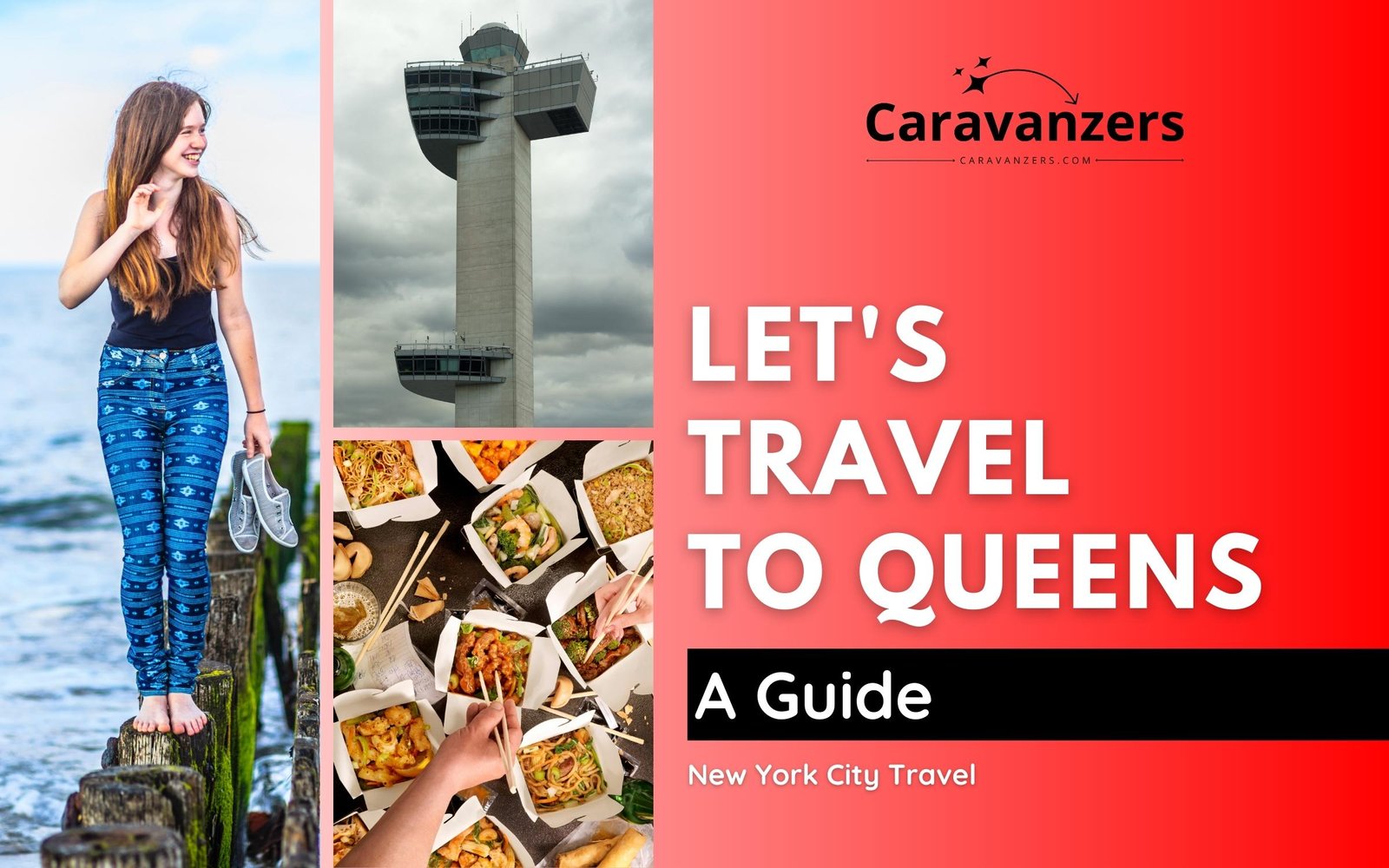 Queens travel. Here's your guide to experiencing diverse cultures, lively neighborhoods, and prominent attractions.
From exploring Flushing's buzzing Asian community to enjoying the scenic waterfront in Long Island City, you can expect a Queens travel to be a rich experience.
This borough differs from Manhattan in terms of its diverse neighborhoods, more residential feel, larger green spaces, and rich cultural tapestry that reflects its immigrant communities.
Likewise, Queens and Brooklyn are two distinct boroughs of New York City.
Queens is full of diverse communities, while Brooklyn has trendy neighborhoods and a vibrant arts scene.
That is, Queens is a unique experience that you shouldn't miss in New York City.
In this guide, I will take you through the neighborhoods, where to eat, and what to do.
You will also get a sample 1-day itinerary to this metropolis that's often referred to as "The World's Borough."
So, if you're looking to experience this awesome borough, come along.
Queens Diversity
Queens is indeed considered the world's borough because it's the most diverse county in the entire United States.
About 60% of Queens are multilingual, and this fact further extends to its cultural events, festivals, and celebrations, showcasing the traditions and customs of its diverse population.
Chinese alone comprises approximately 10% of the population in Queens, making it the largest Chinese community outside of Asia.
This significant demographic presence showcases the borough's status as a hub for the Chinese diaspora, contributing to its cultural vibrancy and global significance.
In fact, there are several Chinatowns in Queens.
But there are also sizeable communities of Jamaican, Indian, and Colombian.
Queens is renowned for its diversity due to several key factors.
First of all, there is a history of Queens as a destination for immigrants from around the world, and this has contributed to its multicultural fabric.
For example, in China, Flushing or "Fǎlā shèng huá bù" (法拉盛華埠) is actually a thing.
Another reason is that affordable housing options attract individuals and families from different socioeconomic backgrounds, fostering diversity.
Queens has a tradition of cultural acceptance, promoting an inclusive environment.
Economic opportunities in various industries attract people from diverse backgrounds.
Esteemed educational institutions draw students and faculty from around the globe, valuing global perspectives.
The well-developed infrastructure and transportation system facilitate cultural exchange and mobility.
I would say these factors collectively make Queens one of the most diverse places in the entire world.
Queens Neighborhoods
Queens is a borough that has diverse and vibrant neighborhoods which collectively contribute to its rich cultural fabric.
From the bustling streets of Flushing to the dynamic ambiance of Jamaica, the multicultural atmosphere of Jackson Heights, the energetic vibe of Astoria, and the coastal allure of Rockaway Beach, Queens offer a unique and captivating experience for residents and visitors alike.
What these neighborhoods showcase is a lively fusion of cultures.
Since about half of them are foreign-born, you really can't overlook the fact that these residents come together to create a diverse and inclusive community unlike anywhere else in the world.
Each neighborhood has its own distinct personality, yet they collectively contribute to the eclectic and cosmopolitan atmosphere that defines Queens.
From culinary delights that span the globe to lively street scenes, cultural events, and recreational opportunities, Queens neighborhoods offer a wealth of experiences.
So, whether you're exploring the Chinese eateries of Flushing, immersing yourself in the Caribbean influences of Jamaica, or basking in the coastal charm of Rockaway Beach, Queens neighborhoods provide a dynamic and captivating unit that showcases the diverse spirit of New York City.
Let me expand on some of these so you can better plan your Queens travel.
Flushing
Flushing is actually pretty large and vibrant, and this neighborhood is home to a lot of cool things.
It's a melting pot of cultures and a bustling commercial center.
The neighborhood has a large Asian community, particularly Chinese and Korean.
The largest Chinatown in the United States is here.
As a result, it offers a diverse range of culinary experiences, from authentic dim sum to sizzling Korean barbecue.
I would say this is really what makes Queens a great neighborhood for foodies.
It's also bustling with markets, shops, and restaurants, creating a lively and energetic atmosphere.
Flushing is also home to Flushing Meadows-Corona Park, a vast green space with iconic landmarks like the Unisphere and the Queens Museum.
Oh, and the New York Hall of Science, and the Queens Botanical Garden, and, well, you get the picture.
Flushing is awesome!
Jamaica
Jamaica is a dynamic and culturally diverse neighborhood in the eastern part of Queens.
This is a neighborhood with a lively ambiance and rich historical background, and it has a fusion of residential, commercial, and cultural attractions.
The community represents a diverse population, notably with a prominent Caribbean presence, and celebrates its cultural heritage through vibrant events, music, and cuisine.
Jamaica Avenue stands as the bustling commercial heart, adorned with shops, restaurants, and street vendors offering an array of goods and delectable treats.
Visitors can delve into Jamaica's colonial past at the King Manor Museum or relish the green spaces of Rufus King Park.
With its lively streets, diverse culinary scene, and significant landmarks, Jamaica Queens provides an authentic New York City experience.
Of course, we can't miss the fact that Jamaica is home to one of the world's busiest airports, John F. Kennedy International Airport (JFK).
Serving as a vital transportation hub, JFK connects New York City with destinations worldwide.
With its expansive terminals and extensive flight options, JFK caters to millions of passengers annually.
The airport's presence has also influenced the development of the Jamaica neighborhood, fostering an array of hotels, restaurants, and services tailored to travelers and airport personnel.
Whether arriving or departing, Jamaica serves as a gateway to the city due to its close proximity to JFK Airport.
Jackson Heights
No Queens travel would be complete without Jackson Heights!
Jackson Heights has a rich multicultural atmosphere because this neighborhood has a unique blend of communities from around the world.
From South Asian to Latin American, Jackson Heights is a culinary paradise where visitors can indulge in authentic dishes from different parts of the globe.
In addition to its vibrant street life, Jackson Heights hosts colorful cultural festivals and events that showcase the traditions and customs of its diverse residents.
The community's architectural landscape is equally diverse, featuring a mix of historic residential buildings, apartment complexes, and charming tree-lined streets.
Overall, Jackson Heights offers a vibrant and inclusive atmosphere, making it a fascinating destination for locals and tourists alike.
Astoria
Astoria is in the northwestern part of Queens and is an energetic and culturally vibrant neighborhood.
Its diverse population and thriving arts scene create a unique fusion of tradition and modernity.
For example, the Greek community has a strong presence here.
You will find an abundance of Greek restaurants, bakeries, and cultural establishments.
Explore the captivating Museum of the Moving Image, showcasing the interesting history of film and television.
Meanwhile, I would definitely encourage you to make your way to Astoria Park.
Their park has a panoramic view of the East River and Manhattan skyline that will definitely make you take selfies.
This neighborhood is also a hub for creativity.
You will definitely find a ton of art galleries, theaters, and music venues.
I would say that Astoria is just a lively place.
The diverse array of shops, cafes, and boutiques gives it a certain cosmopolitan charm.
Delight in its rich cultural heritage, artistic ambiance, and culinary landscape brimming with diverse flavors.
Astoria warmly welcomes both locals and tourists, offering a vibrant and unforgettable experience.
Rockaway Beach
Rockaway Beach is on the southern shore of Queens, and this neighborhood is a bustling coastal destination.
With its exquisite sandy shores, lively boardwalk, and vibrant beach culture, Rockaway Beach presents a distinctive seaside experience within New York City.
I mean, think about it, do you even associate beaches with New York City?
Stretching for miles, the beach offers ample space for sun-worshipping, picnicking, and engaging in recreational pursuits.
Surfers flock to Rockaway Beach for its consistent waves, establishing it as a renowned surf spot in the region.
The boardwalk is full of activities, including restaurants, cafes, and shops.
It has a California vibe, and you will find a lot of beach-themed merchandise.
Adding to its energetic and festive ambiance, Rockaway Beach hosts live music events, festivals, and outdoor activities.
I would say head to Rockaway Beach for the laid-back coastal vibe, panoramic ocean vistas, and the wealth of recreational opportunities.
Queens Hotels
From sleek boutique accommodations with stunning skyline views to reliable airport hotels and budget-friendly options, you'll find a diverse selection of places to stay in Queens.
Immerse yourself in the energetic atmosphere of Flushing, explore the bustling neighborhoods of Long Island City, or enjoy convenient access to JFK Airport.
With comfortable rooms, modern amenities, and warm hospitality, the hotels in Queens provide a comfortable and memorable experience during your stay in the "World's Borough."
So, what are some of the popular hotels in this gorgeous place?
Let's start with uniqueness.
The Collective Paper Factory Hotel is in a converted paper factory, and this unique spot features an industrial-chic design, spacious rooms, and an on-site restaurant.
It will cost you around $150 per night.
The Parc Hotel is in Flushing, and this sleek spot has modern rooms.
You will also get a fitness center and convenient access to shopping and dining options in this lovely area.
I think this hotel is really great for single travelers.
This will cost you around $250 a night.
Holiday Inn Express Queens – Maspeth is more of a budget-friendly choice.
This hotel has clean rooms, complimentary breakfast, and easy access to Manhattan via public transportation.
You will get a nice room for $150.
Wyndham Garden LaGuardia South, on the other hand, is all about contemporary stay.
This hotel has comfortable accommodations, complimentary airport shuttle service, and a fitness center.
You will pay around $200 per night.
Hilton Garden Inn Queens/JFK Airport is one of those reliable options.
It's near JFK Airport and has comfortable rooms, an on-site restaurant, and a complimentary airport shuttle.
This will cost you around $350 per night.
I think these seven hotels will give you a lot of choices, but just keep in mind that this is still New York City.
Places to Eat in Queens
Queens is a culinary paradise with incredible diversity and a vibrant food scene.
From authentic ethnic eateries to trendy restaurants, Queens is a melting pot of flavors that caters to every palate.
Start your Queens food tour at Loukoumi Taverna.
This place is in Astoria and is a culinary treasure for Greek cuisine enthusiasts.
Don't miss their irresistible Calamari Platter, which will definitely leave you craving for more.
Experience authentic Greek flavors that will transport you to the Mediterranean.
Nan Xiang Xiao Long Bao in Flushing is a Shanghainese gem.
The soup dumplings here are exquisite.
Indulge in the delicate, flavorful fillings and thin, steamed wrappers that burst with savory goodness.
A Queens travel wouldn't be so without a stop at a Jamaican joint.
Yah Suh Nyce in the Jamaica neighborhood of Queens is a must, and this delightful Jamaican restaurant satisfies all your cravings.
From succulent chicken and beef to mouthwatering fish and pork dishes, their menu is a foodie's heaven.
Samudra in Jackson Heights is a paradise for South Indian cuisine enthusiasts.
Take a trip to the diverse array of vegetarian dishes bursting with aromatic spices and bold flavors.
From crispy dosas to flavorful curries, each bite transports you to the vibrant streets of South India.
A must-visit for vegetarian food lovers.
If you want to try some American stuff, head to Burger Spot in Forest Hill.
Their burgers are so juicy!
And, oh, it's also kosher.
So, yeah, Queens is a great place to go for food touring.
What to Do in Queens
Queens is a fun borough that captivates visitors with its rich array of activities and attractions.
From the sprawling greenery and historical significance of Flushing Meadows-Corona Park to the enchanting themed gardens of the Queens Botanical Garden, there is no shortage of natural beauty and recreational opportunities.
The Museum of the Moving Image is a great place where visitors experience the evolution of the moving image, while Rockaway Beach is a sun-kissed destination with a shoreline and a lively boardwalk for beach lovers.
Delve into the life and legacy of jazz legend Louis Armstrong at the Louis Armstrong House Museum, or satisfy your culinary cravings at the Queens Night Market, where international street food delights await.
The Socrates Sculpture Park seamlessly blends art, nature, and breathtaking views, while Queens' diverse culinary scene tantalizes taste buds with flavors from around the world.
Whether you're seeking cultural immersion, artistic inspiration, outdoor adventures, or culinary delights, Queens invites you to embrace its vibrant and captivating offerings.
I'm going to go ahead and dive more into each of these for a richer Queens travel.
Visit the Louis Armstrong House Museum
Step into the preserved home of one of the most influential figures in jazz history, Louis Armstrong, by visiting the Louis Armstrong House Museum.
This museum is in the lovely neighborhood of Corona and has a unique opportunity to dive into the life and legacy of the legendary musician.
Guided tours take you through the rooms where Armstrong and his wife, Lucille, resided for over three decades.
Immerse yourself in the personal artifacts of this jazz icon, including his trumpet, handwritten notes, and a collection of his recordings.
Although the house itself is a modest brick building, you will definitely leave thinking it gave you a glimpse into the lifestyle of one of the greatest musicians in history.
As you explore the museum, you'll gain insights into Armstrong's impact on jazz and his profound contributions to American music.
To keep his spirit alive, the museum hosts special events, concerts, and educational programs, ensuring that the magic and music of Louis Armstrong continue to resonate with audiences.
Go Eat at the Queens Night Market
If you're a food lover, the vibrant and diverse Queens Night Market is a must-visit destination.
Held in Flushing Meadows-Corona Park, this nighttime culinary extravaganza offers an unforgettable experience for your taste buds.
As the sun sets, the market comes alive with a plethora of international street food vendors, live performances, and a bustling atmosphere.
Go on a gastronomic adventure and sample dishes from around the world.
You will find a ton, ranging from delicious Asian items to Latin American treats and everything in between.
The array of mouthwatering options includes dumplings, tacos, kebabs, exotic desserts, and much more.
Beyond the delectable food, the Queens Night Market celebrates the borough's cultural diversity with performances by local artists, musicians, and dancers representing various traditions and styles.
The lively atmosphere, amazing aromas, and vivid colors create an immersive experience that will linger in your memory.
Whether you're a seasoned foodie seeking new flavors or simply curious to explore the culinary wonders of Queens, the Queens Night Market promises a delectable journey that will leave you craving for more.
Spend time in Flushing Meadows-Corona Park
Flushing Meadows-Corona Park beckons visitors with its sprawling expanse of greenery and a wealth of activities to partake in.
As the site of the renowned 1964 World's Fair, this park holds immense historical significance and boasts iconic structures that have become symbols of Queens, such as the towering Unisphere and the distinctive New York State Pavilion.
Its extensive network of walking paths meanders through lush landscapes, providing a serene retreat from the bustling city.
For a more leisurely experience, the park has tranquil picnic areas where visitors bask in nature's beauty and enjoy a relaxing meal.
Moreover, the Queens Museum, nestled within the park's premises, showcases the remarkable Panorama of the City of New York, a detailed scale model that offers a captivating exploration of the city's architecture and layout.
Go to the Queens Botanical Garden
The Queens Botanical Garden is a verdant oasis spanning 39 acres and boasting an array of themed gardens that enchant and inspire visitors.
As you wander through this botanical haven, you'll encounter captivating displays such as the Fragrance Walk, where aromatic blooms perfume the air, the Rose Garden, bursting with vibrant colors and intoxicating scents, and the Woodland Garden, a tranquil escape offering shade and serenity.
The garden serves as an educational platform, providing guided tours and interactive exhibits that offer insights into various plants and ecosystems.
Throughout the year, you will find the garden hosting all types of events and workshops.
My favorite ones include gardening demonstrations, cultural festivals, and nature-inspired art exhibitions.
What I love about this garden is that you don't have to be an avid horticulture enthusiast.
You could simply seek a serene sanctuary to recharge.
So, yeah, the Queens Botanical Garden is a mesmerizing and rejuvenating experience where you can immerse yourself in the beauty and tranquility of nature.
Go Beaching at Rockaway Beach
Rockaway Beach, located in Queens, is a beach lover's paradise that offers a delightful escape from the bustling city.
This sandy shoreline, stretching along the Atlantic Ocean, allures visitors with its sun-kissed expanses, crashing waves, and vibrant ambiance.
As the only official surfing beach in the city, it attracts surfers of all levels who flock here to catch a wave or partake in lessons.
Meanwhile, for those of you for whom surfing isn't a favorite activity, the good thing about Rockaway Beach is that you can do other ways to spend your time here.
For example, you could relax on the beach.
You could definitely also have a refreshing swim in the ocean.
If you just want to hang out and enjoy the scenery, spend time in the cool ocean breeze while strolling along the shoreline.
The lively boardwalk provides a plethora of activities, from biking and rollerblading to people-watching and soaking in the lively atmosphere.
Numerous eateries and food stands line the boardwalk, offering an array of mouthwatering treats, including fresh seafood and beloved beachside favorites.
Rockaway Beach is the perfect destination for getting some sun, embracing the water, and or even enjoying the laid-back vibes of a quintessential beach experience.
Visit the Museum of the Moving Image
The awesome Museum of the Moving Image is in the heart of the cool neighborhood of Astoria.
As you explore, you will immerse yourself in all things pictures.
I would say this is a great place to appreciate the art, history, and technology of moving images.
Regardless of your affection for film, television, or digital media, this museum is a way for visitors to go on an interactive journey.
Expect to learn about the interesting evolution of the moving image, from its earliest origins to the cutting-edge advancements of today.
Dive into the filmmaking process, experiment with special effects, and even create your own stop-motion animations through engaging exhibits.
Meanwhile, the museum showcases screenings of classic and contemporary films.
Iconic movie props, costumes, and vintage equipment make up its collection of artifacts, offering a tangible link to the rich heritage of the moving image.
Passionate cinephiles, technology enthusiasts, or even the curious will find plenty to appreciate about the world of entertainment.
I would say the Museum of the Moving Image provides an immersive and enlightening experience that celebrates the magic of visual storytelling.
Hangout in the Socrates Sculpture Park
The Socrates Sculpture Park is on the waterfront in Long Island City, seamlessly merging contemporary art, nature, and breathtaking views of the Manhattan skyline.
As you meander through the park, you should expect to encounter local and international artists.
So, these artists create an ever-changing collection of large-scale art installations and sculptures.
These sculptures actively engage with the surrounding landscape, inviting you to interact and explore.
The park's expansive green lawns are great for several things.
For example, I think it gives you ample space for leisurely walks, picnics, and gatherings.
Meanwhile, the park hosts exhibitions throughout the year.
There are artist residencies, workshops, and performances that celebrate art in its various forms.
Whether you seek inspiration as an art enthusiast or simply desire a tranquil outdoor setting infused with creativity, the Socrates Sculpture Park offers a unique blend of art, nature, and awe-inspiring visit.
A Day in Queens
If you have nothing but one day to spend in Queens, here's what I would suggest.
The best way to start your day is to visit the Flushing Meadows-Corona Park.
Explore its beautiful landscapes, gardens, and iconic landmarks like the Unisphere and the New York State Pavilion.
Head to the Queens Museum, located in Flushing Meadows-Corona Park.
This museum features rotating exhibitions and permanent collections, including the renowned Panorama of the City of New York, a large-scale model of the entire city.
Grab a delicious brunch in Flushing, known for its diverse culinary scene.
You'll find a wide variety of Asian cuisine options, particularly Chinese and Korean, offering everything from dim sum to Korean barbecue.
In the afternoon, make your way to the lively neighborhood of Astoria to explore the Museum of the Moving Image.
Don't forget to check their schedule for any special screenings or exhibitions.
Visit the Noguchi Museum, dedicated to the renowned artist Isamu Noguchi.
It showcases his sculptures, furniture designs, and architectural models within a tranquil garden setting.
Head to Long Island City for a stunning view of the Manhattan skyline from Gantry Plaza State Park.
You can find everything from Mexican to Thai food, along with craft beers and creative cocktails.
If you have extra time and are interested in art, consider visiting MoMA PS1 in Long Island City, an innovative contemporary art center showcasing cutting-edge exhibitions and installations.
Adjust the plan based on your interests and preferences, and be sure to check the opening hours and any special requirements for each destination.
Queens Travel – Final Thoughts
The aim of this Queens travel was to help you plan a great trip to this awesome borough of New York City.
I included things like exploration in Flushing's cool Asian community to enjoying the scenic beach of Rockaway.
And while clearly this borough differs from other ones like Manhattan and Brooklyn, I think it's a unique experience that you shouldn't miss.
As a result, I helped you visit some of the neighborhoods, went through hotels to figure out where to eat, and even took on attractions to plan what to do.
Plus, you got a 1-day itinerary to base your trip off of.
So, yeah, I think you get more than enough to plan a cool trip, and I wish you all the best.
Enjoy Queens!
AJ Paris is a travel photographer based in New York. He is the editor of Caravanzers.
Follow us on Pinterest.