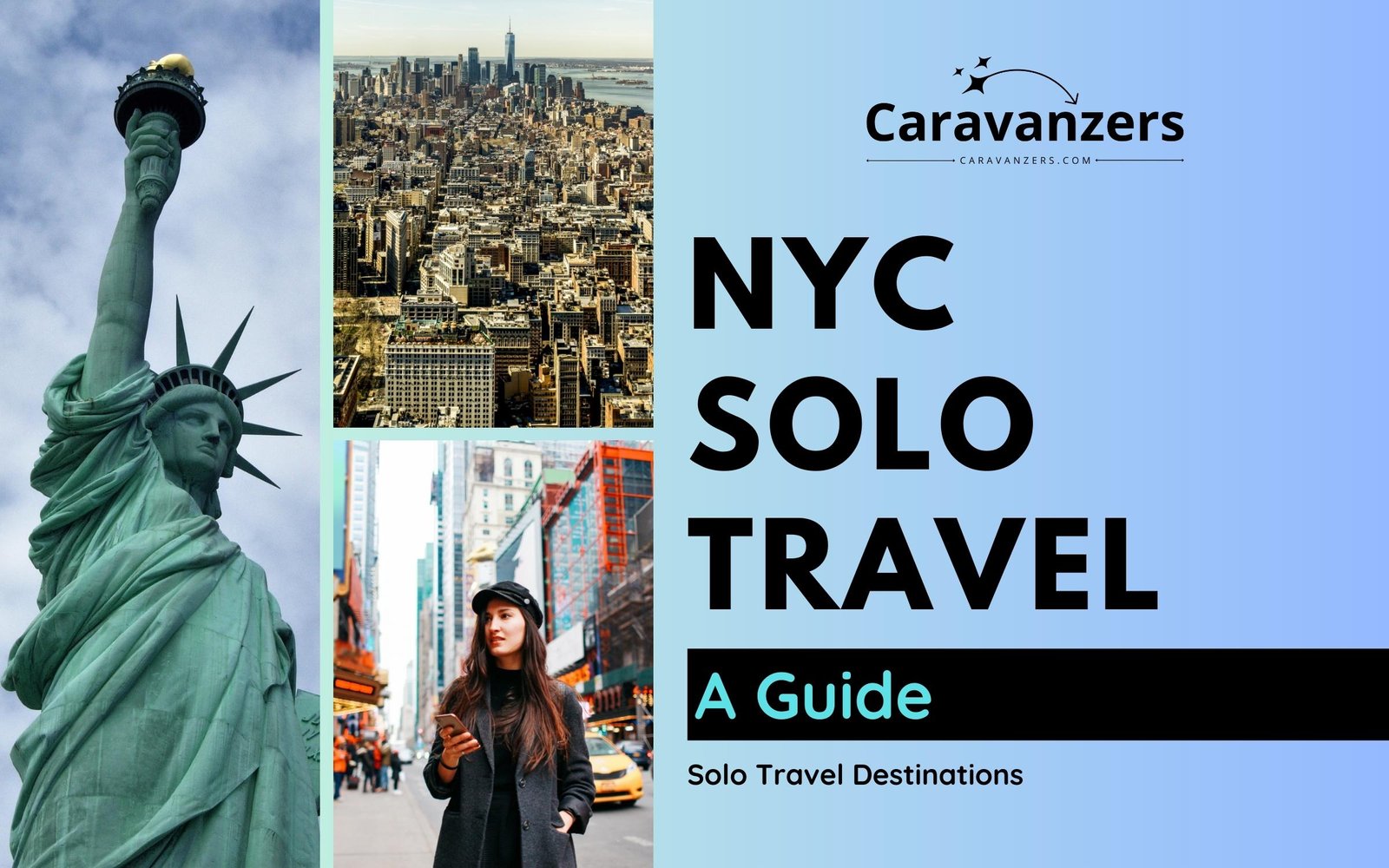 Solo travel to New York City means a chance to really experience one of the greatest metropolises on our planet.
Consider this your ultimate guide for solo travel in the Big Apple!
This vibrant city is a playground for adventurers seeking thrilling experiences, cultural immersion, and the freedom to explore at their own pace.
In this guide, I will walk you through the city. Learn more about its diverse attractions, culinary adventures, and vibrant arts scene, along with iconic attractions.
Discover the best day trips, solo-friendly activities, and tips for navigating the city with confidence.
So, get ready to go on an experience that will leave you with unforgettable memories in the city that never sleeps!
Solo Trips to New York
Are you ready to go on an exciting solo trip to the concrete jungle, New York City?
From the iconic yellow taxis to the extensive subway network, you'll find it easy to explore the city's five boroughs and its countless attractions.
While New York can be expensive, solo travel doesn't have to break the bank.
This is really a city where you can find affordable accommodation options, delicious street food, and budget-friendly activities.
So, how many days should you spend in the city?
Ideally, plan for at least five days to immerse yourself in NYC. Check out the diverse neighborhoods, soak up the city's energy, and explore its iconic landmarks.
But even a shorter trip can be filled with unforgettable experiences.
Of course, there's a myriad of things to do alone in NYC.
Stroll through the dazzling lights of Times Square, lose yourself in the serenity of Central Park, wander along the elevated park of the Highline, ferry over to the Statue of Liberty, or delve into the rich cultural heritage of Harlem.
The city's possibilities are as vast as your imagination.
If you're wondering how to spend your evenings alone in NYC, fear not!
From catching a Broadway show to exploring the vibrant bar scene, there's something for everyone.
And if you're craving a change of scenery, consider taking day trips from NYC.
From the picturesque Hudson Valley to the charming towns of the Hamptons, or even the historical landmarks of Philadelphia, you can venture beyond the city limits and discover the treasures of the surrounding areas.
Ready to create your New York solo trip itinerary?
Keep on reading.
Traveling to NYC Alone As a Woman
If you've made plans for a solo trip as a woman to NYC, I want to emphasize that this can be an immensely empowering and liberating adventure.
Having resided in this city, I can confidently assert that it is a genuine haven where you can freely express your true self.
You will realize quickly that it's actually easy to indulge in your interests, find your trip, and discover new sides of yourself.
That said, though, I don't want to sugarcoat the fact that there are advantages and disadvantages here, too.
One of the advantages is that it's a chance to embrace independence and create lifelong memories.
Another advantage is the flexibility to design your own itinerary.
But, of course, there are also some disadvantages to traveling alone to New York City.
One disadvantage is the need for heightened awareness of personal safety.
While New York City is generally safe, as a woman traveling alone, it's essential to be cautious, particularly at night and in less crowded areas.
Stay in well-lit and populated areas, trust your instincts, and avoid walking alone in unfamiliar neighborhoods late at night.
Navigating public transportation can be both a blessing and a challenge.
For example, while it's true that the subway (metro) is extensive here, it's honestly overwhelming for first-time visitors, too.
Another potential challenge is the occasional street harassment that some women may experience.
While it's unfortunate, it's important to stay composed. I would say ignore unwanted attention, and seek help or report incidents if necessary.
Don't let such instances overshadow your overall experience, but remain vigilant and prioritize your safety.
In my opinion, with the right mindset, preparation, and awareness, you can create unforgettable solo travel to New York City memories.
Solo Travel to New York City Neighborhoods
New York City is a haven for solo travelers, offering a wide array of neighborhoods that cater to different interests and preferences.
Here are some neighborhoods that are particularly appealing for solo adventurers.
Williamsburg in Brooklyn has a hipster vibe and is a popular destination for solo travelers seeking a vibrant arts scene, trendy shops, and a diverse culinary landscape.
Greenwich Village is nestled in Lower Manhattan and exudes charm and character.
Solo travelers can enjoy the independent bookshops, cozy coffee shops, and iconic jazz clubs that have made the Village a hub for artists and creatives.
If you love TV shows set in the city, this is a great neighborhood, too.
Lower East Side is bursting with energy and history.
Stroll through the neighborhood's iconic streets, visit art galleries, and delve into its rich immigrant history at the Tenement Museum.
For a taste of diverse cultures and cuisines, I would say head to Astoria in Queens.
This is a great place to say for foodies, too.
Each neighborhood has its own distinct character for your solo travel to New York City, ensuring a rewarding and enjoyable solo adventure in the city that never fails to captivate.
Solo Travel to New York Food Itinerary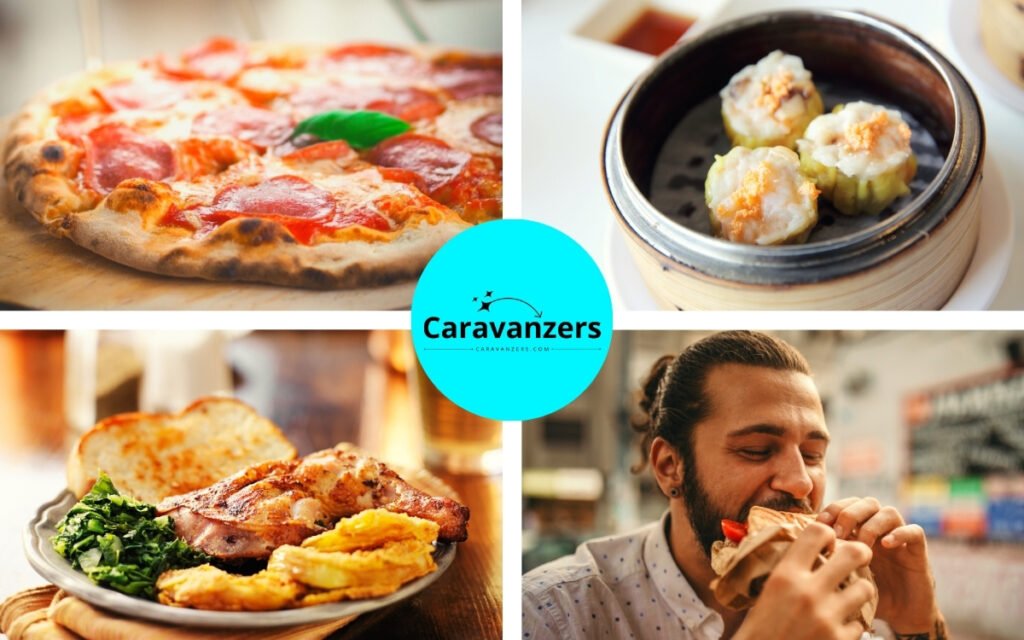 With its fast-paced energy and bustling streets, this is a city designed for quick grabs and on-the-go experiences.
This dynamic nature of the city extends to its culinary scene, offering numerous opportunities for solo dining that perfectly align with the city's rhythm.
But don't be mistaken – New York City is not just about fast food and casual bites.
From cozy cafes and trendy eateries to upscale restaurants and hidden gems, you can embark on a culinary adventure that suits your preferences.
Dive into the diverse flavors of international cuisines, indulge in gourmet creations, or savor comfort food classics with a New York twist.
As a solo traveler, you have the advantage of being able to explore these culinary trends and hidden gems without the need for group consensus.
You can be spontaneous, try out the latest food craze, or seek out the recommendations of locals to discover off-the-beaten-path dining experiences.
So, yeah, this is a solo foodie haven.
When visiting New York City, there are a few iconic food experiences that every traveler must try.
Satisfy your sweet tooth with a freshly baked bagel topped with cream cheese and lox.
Jewish immigrants brought this delicious item to the city in the 1800s, and you will find it everywhere.
Likewise, a classic New York-style pizza is really something you shouldn't miss.
Thin crust, gooey cheese, and yummy toppings make this a delicious experience.
Similarly, indulge in a juicy pastrami sandwich from a legendary deli piled high with flavorful meat.
And, of course, a hot dog from a street vendor will immediately put you into that unmistakable New York City mood.
Don't forget to complete it with mustard and sauerkraut!
These quintessential dishes are perfect for your solo travel to New York City.
Solo Dining in Manhattan
Manhattan has one of the most vibrant melting pots of cultures you will ever find in any city on this beautiful planet.
Rich culinary tapestry here includes Italian, Chinese, and African American cuisines.
Start your Manhattan solo foodie experience in Little Italy.
This is a historical neighborhood where you can enjoy a creamy pasta carbonara.
Buona Notte, on 120 Mulberry Street, is the spot for this.
Then, head to Chinatown and dive into the full, fragrant culture of dim sum.
It makes a great stop in the afternoon, and the tea will give you that little surge of energy you need by then, anyhow.
Dim Sum Go Go, on 5 East Broadway, is a great place for this.
Finally, venture north to Harlem, where soul food takes center stage, treating you to mouthwatering fried chicken, tender collard greens, and comforting cornbread.
Jacob Soul Food Restaurant, on 373 Malcolm X Boulevard, is a great way to sample soul food!
In Manhattan, these diverse flavors intertwine into a gastronomic journey that celebrates the culinary traditions of these three distinct cultures.
Solo Dining in the Bronx
In the Bronx, a Latin culinary adventure awaits with a vibrant tapestry of Puerto Rican, Dominican, and Mexican flavors.
Indulge in Puerto Rican cuisine and savor aromatic dishes like arroz con gandules (rice with pigeon peas).
La Cocina Boricua, on 2245 Westchester Avenue, is a fun place for this!
Meanwhile, explore the rich Dominican food scene with mouthwatering sancocho (hearty stew).
Dominican Valle, on 3815 White Plains Road, is perfect for this.
And, finally, don't miss out on authentic Mexican fare like the tantalizing al pastor tacos.
Tortilleria y Taqueria Lenchita, on 618 East 183rd Street, is perfect.
In the Bronx, these three vibrant cultures come together, offering a delectable fusion that will ignite your taste buds and leave you craving more.
Your solo travel to New York City wouldn't be complete without this, so definitely make sure not to miss it.
Solo Dining in Queens
When it comes to culinary diversity, Queens reigns as the capital of international foods in New York City.
This borough is a treasure trove for food enthusiasts, offering a plethora of flavors from around the world.
If you have a fondness for authentic Indian cuisine, Queens has you covered. Discover aromatic curries and flavorful biryanis scattered throughout the borough.
Tadka Indian Cuisine, on 13-05 43rd Avenue, is a great spot for this.
Craving a taste of the Caribbean? Jamaican joints in Queens serve up a vibrant array of dishes. You must have a jerk chicken.
Mento Caribbean Cuisine, on 8958 164th Street, is where you want to go.
And last but not least, let's not forget the Ukrainian food scene, which thrives in Queens. Dive into pierogies bursting with fillings like potato, cheese, or savory meats.
Varenyk House, on 67-14 Fresh Pond Road, is definitely the spot for this.
So, if you're a global food lover seeking diverse feasts, Queens should be at the top of your list.
Fun Things to Do Alone in NYC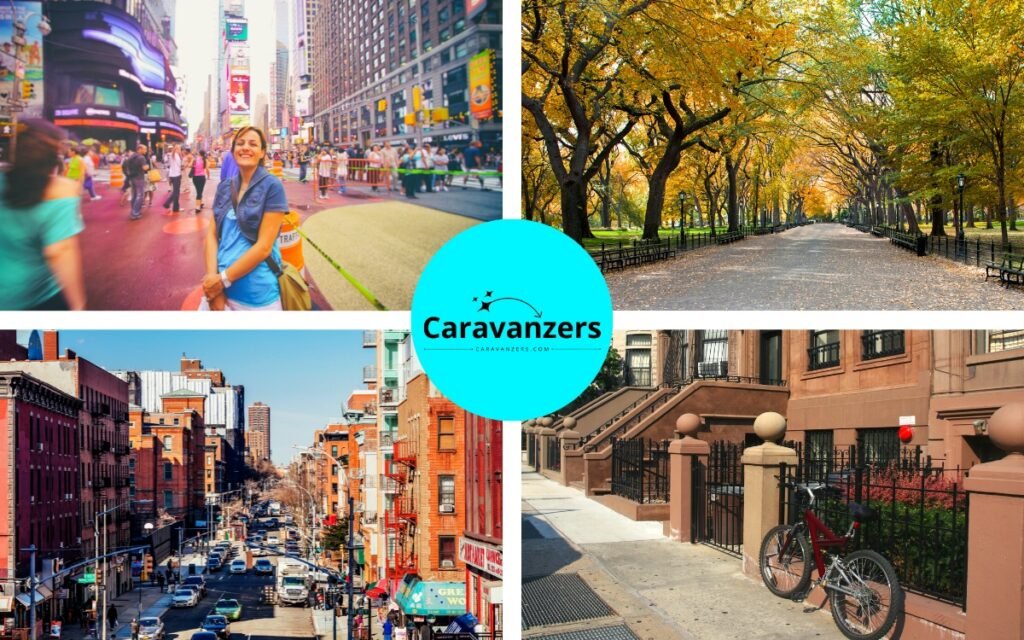 Solo travelers are drawn to New York City for a multitude of reasons when it comes to enjoying fun activities.
The city's appeal stems from several factors that contribute to the love for solo adventures.
First and foremost is the diversity of activities available.
Solo travelers appreciate the abundance of options that allow them to tailor their experiences to their liking.
Moreover, the city's vibrant energy is infectious.
The constant buzz and excitement that permeate the streets create an invigorating and stimulating environment that solo travelers find captivating.
Solo travel in New York City also provides a sense of freedom and empowerment.
The city embraces individuality, allowing travelers to explore at their own pace, indulge in their interests, and make spontaneous decisions without having to consider others' preferences.
Meanwhile, the city's multiculturalism enhances the richness of experiences, providing new encounters and perspectives for solo adventurers.
Safety and accessibility are crucial considerations, and New York City is generally regarded as a safe destination for travelers, including those exploring alone.
The well-developed public transportation system makes it easy to navigate and reach various attractions.
Finally, the city's reputation for pushing boundaries and breaking conventions appeals to solo travelers seeking a sense of adventure.
New York City offers limitless opportunities to step outside comfort zones, whether it's through trying new foods, attending off-Broadway shows, discovering hidden gems, or participating in unconventional activities.
Solo travelers to New York City is wonderful because of the city's perfect blend of diversity, energy, freedom, cultural immersion, and adventure.
Times Square
A solo adventure to Times Square is an unforgettable experience.
As you navigate the vibrant streets teeming with towering billboards and bustling crowds, you'll feel the pulsating energy of this iconic New York City landmark.
The dazzling lights, street performers, and bustling atmosphere create a sense of awe and excitement that is truly unique.
Solo travel in Central Park provides a serene escape from the urban hustle and bustle.
Take a leisurely stroll or rent a bike to explore the park's diverse landscapes, from the iconic Bethesda Terrace to the peaceful Strawberry Fields.
The Highline
The Highline offers a unique and captivating solo travel experience.
This elevated park, built on an abandoned railway track, stretches above the bustling streets of Manhattan's West Side.
So, the Highline's distinct blend of urban design and natural beauty creates a space where solo travelers can appreciate the city from a new perspective, indulge in people-watching, or simply find a quiet spot to soak in the ambiance.
Statue of Liberty
As you approach Liberty Island by ferry, you'll witness the iconic statue standing tall, symbolizing freedom and democracy.
Exploring the grounds and climbing to the crown or pedestal offer a chance to learn about the history and significance of this iconic monument.
From the observation deck, you'll be treated to breathtaking views of the New York City skyline and the surrounding harbor.
Solo travelers can embrace the powerful symbolism of the Statue of Liberty and reflect on the values it represents.
Harlem
Solo travel in Harlem offers a vibrant and culturally rich experience.
Known for its rich history, soulful music, and diverse community, Harlem provides a unique perspective on New York City.
Take a stroll along the streets lined with historic brownstones, visit legendary jazz clubs, and sample delicious soul food at local eateries.
Harlem's energetic atmosphere, street art, and cultural institutions like the Apollo Theater create an immersive experience that celebrates the neighborhood's artistic and cultural contributions.
Solo travelers can connect with the spirit of Harlem, engage with its vibrant community, and embrace the rich tapestry of African-American history and culture.
Day Trips from NYC for Solo Travelers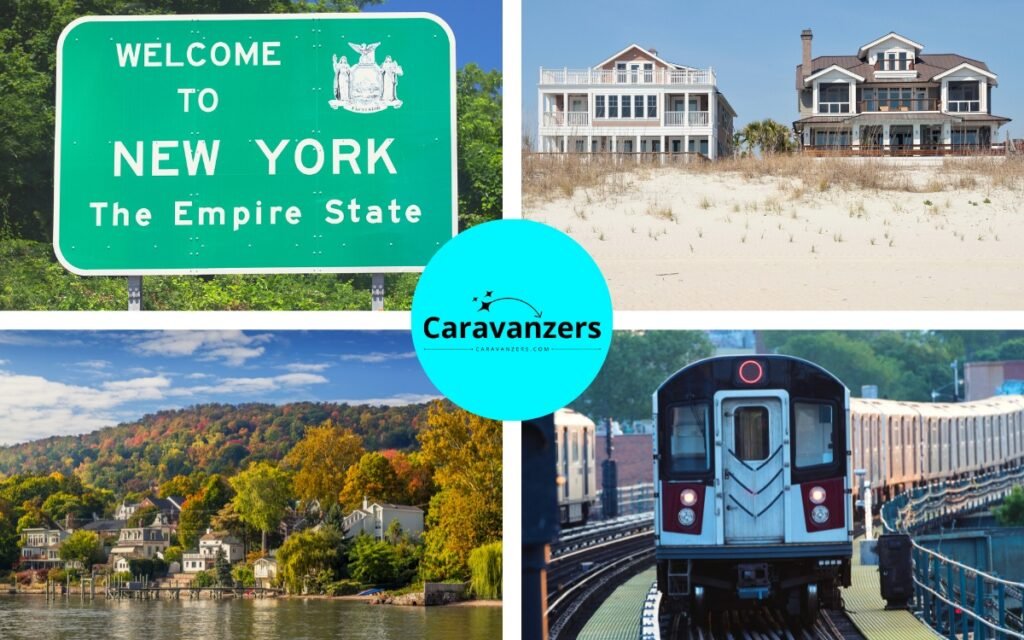 New York City serves as a fantastic base for solo travelers to embark on day trips to nearby destinations.
Here are some day trip ideas that may be of interest.
The Hudson Valley is just a short distance north of the city, and it has a picturesque escape from the urban hustle.
Solo travelers can explore charming towns such as Beacon, Cold Spring, or Hudson, known for their art galleries, antique shops, and scenic riverfronts.
The Hamptons mean a chance to enjoy the pristine beaches, browse boutique shops, and indulge in delicious seafood.
Solo travelers can explore the charming villages of East Hampton, Southampton, or Montauk, each with its unique character and beautiful scenery.
For a tranquil beach getaway, Fire Island is an idyllic choice.
Accessible by ferry, this barrier island offers pristine sandy beaches, nature trails, and charming communities such as Ocean Beach and Cherry Grove.
Bear Mountain State Park has a chance to hike scenic trails, enjoy picnicking by the lake, or visit the Bear Mountain Zoo.
These day trips provide solo travelers with opportunities to explore beyond the city's borders, experience different landscapes, and create memorable adventures while still enjoying the convenience of returning to the vibrant atmosphere of New York City.
7-Day New York Solo Trip Itinerary
Of course, New York is one of those cities where you really can't see everything in one trip.
That said, you can do a lot in 7 days.
For your 7-day solo trip to New York, I've crafted an exciting itinerary that combines the best of the city's iconic attractions with some memorable day trips.
Let's dive into your adventure!
Day 1 – Welcome to the Big Apple!
Arrive in New York City and settle into your accommodation.
Start your exploration with a leisurely stroll through Central Park, relishing the tranquility and natural beauty amidst the bustling city.
Stop by Bethesda Terrace, known for its stunning architecture and famous Bethesda Fountain.
In the evening, head to Times Square to experience the dazzling lights and vibrant energy that define the heart of Manhattan.
Day 2 – Discovering Manhattan's Landmarks
Begin your day by taking a ferry to the Statue of Liberty and Ellis Island.
Explore the rich history and symbolism of Lady Liberty, and don't forget to climb up to the crown or pedestal for breathtaking views of the city skyline.
Afterward, wander through the historic streets of Lower Manhattan, visiting landmarks like Wall Street, the 9/11 Memorial, and One World Trade Center.
Day 3 – Cultural Immersion in Brooklyn
Cross the iconic Brooklyn Bridge on foot and explore Brooklyn's diverse neighborhoods.
Start in DUMBO (Down Under the Manhattan Bridge Overpass), known for its trendy art galleries and picturesque waterfront views.
Indulge in some delicious food at Brooklyn's foodie havens like Smorgasburg or explore the lively streets of Williamsburg, with its unique shops, street art, and vibrant nightlife.
Day 4 – Escape to the Hudson Valley
Embark on a day trip to the scenic Hudson Valley.
Take a train or rent a car to visit charming towns like Beacon or Cold Spring.
Explore art galleries, visit the Dia Beacon Museum, or hike along the Hudson Highlands for breathtaking views.
Don't forget to savor some local cuisine and soak in the serene natural beauty before returning to the city in the evening.
Day 5 – Cultural Delights in Harlem
Head uptown to Harlem and immerse yourself in its rich history and vibrant culture.
Visit the iconic Apollo Theater, known for its legendary performances, and explore the Studio Museum in Harlem, showcasing contemporary African-American art.
Indulge in soul food at one of the local eateries, and if it's a Sunday, catch a gospel choir performance for a truly authentic Harlem experience.
Day 6 – Day Trip to Fire Island
Escape the city again for a day trip to Fire Island.
Take a ferry to this beautiful barrier island known for its pristine beaches and relaxed atmosphere.
Enjoy a day of sun, sand, and sea, whether it's swimming, sunbathing, or leisurely beachcombing.
Disconnect from the hustle of city life and soak in the peacefulness of the island before returning to New York City in the evening.
Day 7 – Art and Culture Extravaganza
Dedicate your final day to exploring New York City's renowned art and cultural institutions.
Visit the Metropolitan Museum of Art (MET) to immerse yourself in its vast collection spanning centuries and cultures.
Afterward, venture to the Museum of Modern Art (MoMA) to discover iconic works of modern and contemporary art.
Wrap up your trip with a Broadway show in the evening, indulging in the magic of live theater before bidding farewell to the city.
With this itinerary, you'll experience the best of New York City's iconic landmarks, cultural enclaves, and nearby destinations, immersing yourself in the vibrant energy and diverse offerings of the Big Apple.
Safe travels, and enjoy your solo adventure!
Solo Travel to New York City – Final Thoughts
There really isn't any place like the Big Apple, and solo travel to New York City can be an awesome trip.
In this guide, I went through the many fun things you can do, where you can stay, what you can eat, and so on.
I also included the best day trips, as well as a 7-day itinerary to mimic for your own solo travel.
So, I hope you got a ton of value out of this and are ready to plan your incredible trip!
AJ Paris is a travel photographer based in New York. He is the editor of Caravanzers.
Follow us on Pinterest.