Ethnic parades in New York City give a chance to dive into other cultures. From Chinatown to Harlem, follow along with our complete guide.
I love New York.
The city is a global metropolis.
Literally, you can find any kind of ethnic group here.
There are many ways to enjoy the city's diverse ethnic communities.
For instance, one could sample the diverse foods at many restaurants. My favorite international foods, like Indian, Ethiopian, and Italian, are all over the place.
Likewise, you could go on an art trip such as a film festival and get a glimpse of that culture. There are galleries, museums, and more!
However, New York gives you a chance to see a culture up-close and personal with its many parades!
My advice? Go to the parades and then hit up the restaurants for some authentic feeling! So, keep your eyes out for those throughout the guide.
Let's travel from January to December and see what we discover along the way.
VIDEO – NYC Parades
Welcome to New York parades. This article discusses ethnic parades in New York City and provides a guide to experiencing different cultures through these parades.
We highlight various parades throughout the year, starting from the Chinese Day Parade (Lunar New Year) in the spring to the African American Day Parade in the fall.
Each parade is described briefly, including the significance, dates, and locations., and we also mention popular restaurants where travelers can enjoy authentic ethnic cuisines related to each parade.
Finally, we emphasize the diversity of New York City and encourages travelers to explore and engage with different cultures through these parades.
Chinese Day Parade (Lunar New Year)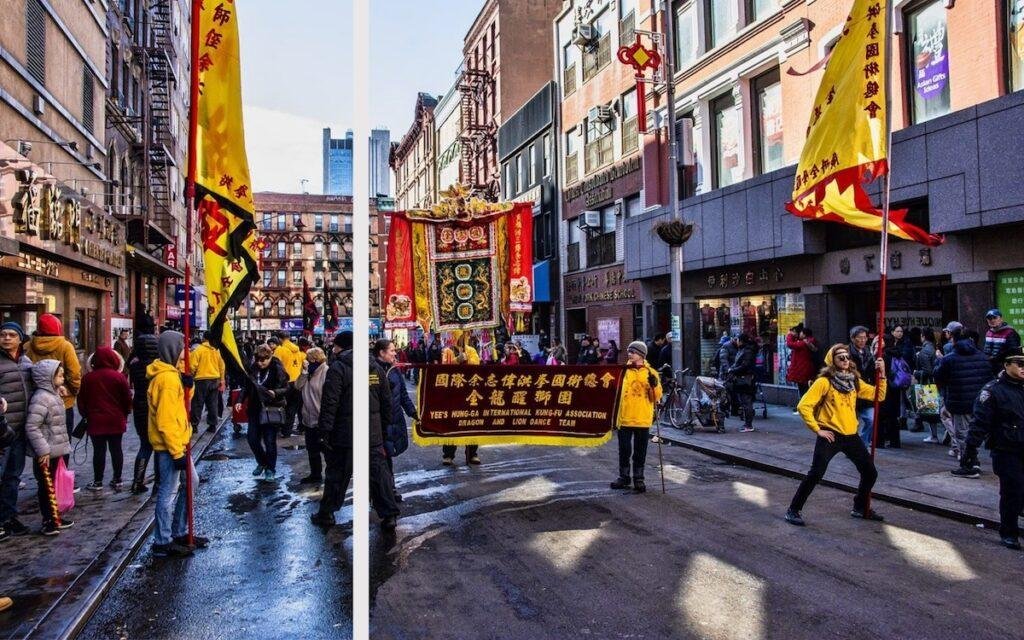 The Chinese Day Parade is officially known as the Lunar New Year Parade & Festival.
Because the parade follows the Chinese calendar, dates change from year to year on the Gregorian calendar.
"Of course, it is always on the same date in the Chinese calendar," says Li Xiu Ying, our writer on China.
However, the parade is a compromise: it usually takes place on the Sunday following nónglì xīnnián or Chinese Spring Festival.
In New York, the events start on Chinese New Year's Day with the Firecracker Ceremony and Cultural Festival.
Likewise, various events are celebrated across the city's diverse Chinese neighborhoods. Chinatowns in New York City include Manhattan's Chinatown, Brooklyn's Sunset Park, and Flushing in Queens.
"It's a lot of fun," says Norah, who brought her children to Chinatown in Manhattan to celebrate. "The kids love it, and it's probably because it's the most Chinese thing they see all year."
Norah, who is Chinese, says the festival allows her to let her kids connect to the Chinese culture.
Despite the cold weather, people eat, drink, and enjoy.
You will see men running around in red dragon outfits, confetti everywhere, and women dressed in traditional costumes.
For great Chinese food in Manhattan, there are too many to mention. For example, check out the Peking Duck House in Chinatown for northern dishes.
Likewise, Dim Sum Palace in Midtown West is an excellent choice for southern cuisines.
Similarly, another great one is Wa Jeal Sichuan Chili House in the Upper East Side for western dishes.
Enjoy the Chinese New Year parade.
Irish Day Parade (Saint Patrick's)
The Irish Day Parade is widely known as Saint Patrick's Day Parade.
It jumps into gear on March 17th.
So, this has become a mainstream holiday.
In fact, I would argue there are even some New Yorkers who may not be aware of this being an Irish holiday.
St. Patrick was a missionary to Ireland and later became a bishop there.
Because he is recognized for bringing Christianity to parts of Ireland, he is the country's patron saint.
As a result, Irish people everywhere revere the man and his story.
"This little island at the westernmost edge of Europe is where it all began, and it's at the heart of global celebrations that honor our patron saint," explains the Irish tourist office.
St. Patrick's Day Parade participants stroll on 5th Avenue, between 44th Street and 79th Street.
Meanwhile, expect to drink a lot because there is so much beer celebration during this holiday.
It is a sight to see!
Persian Day Parade (New Year)
The Persian Day Parade, officially known as NY Persian Day, is celebrated during the nowruz or Persian Spring Festival.
It is a parade that celebrates the Persian New Year.
Much like the Chinese Spring Festival, the Persian holiday changes dates.
In 2019, for example, it was on the second Sunday in April.
What can you expect from the Persian parade?
"We are happy and like to share our culture," says Alireza, who immigrated to New York from Iran. "We are celebrating the Persian New Year," he adds. "We dance, we eat, and we are happy."
Persian music is playing, women in colorful outfits are dancing, and a statue of Cyprus the Great goes by.
Persepolis in the Upper East Side, Miraj in Midtown, and Ravagh in Lower Manhattan are all busy restaurants during Nowruz.
They serve delicious Persian dishes.
Israeli Day Parade (Celebrate Israel)
The Israeli Day Parade is officially known as the Celebrate Israel Parade.
It is usually on the first Sunday of June.
New York City is home to the largest community of Jews outside of Israel.
"About 15 percent of the city is Jewish," says David, an American who also travels to Israel often.
David says the parade celebrates the creation of Israel as a Jewish state.
The parade is typically on Fifth Avenue, from 57th Street to 74th Street.
Miznon in the Upper West Side, Nish Nush in Tribeca, and Local 92 are all Israeli restaurants in Manhattan.
"Israeli food is Middle Eastern but with a twist," explains David.
Basically, it has to do with Jewish experiences in living in different parts of the world.
For example, Miznon has typical Middle Eastern items like hummus on the menu, but they also have Italian carpaccio!
Filipino Day Parade (Philippine Independence)
The Filipino Day Parade is officially known as the Philippine Independence Day Parade.
It is held on the first Sunday in June.
With over 250,000 Filipino-Americans living in the New York Metro, this parade pulls out many people!
"I came from New Jersey," says Gloria, a Filipino-American who came with her husband and kids.
The parade is about the independence of the Philippines.
For example, young men are dressed in red pants and white shirts, representing the revolutionary men against Spain.
Restaurants in Manhattan include Bilao in Upper East Side, Meryenda in Midtown, and Maharlika in East Village.
The parade travels south on Madison Avenue, from 38th St to 23rd.
Puerto Rican Day Parade
The Puerto Rican Day Parade is held on the second Sunday in June.
Until the 1990s, Puerto Ricans represented as much as 85 percent of the city's Hispanic community.
By 2010, that number dwindled down to about 35 percent.
However, the city still has a strong presence of Puerto Ricans.
Over a million people come out to show their Puerto Rican pride, waving flags and dancing on Fifth Avenue.
"I was born and grew up in the Bronx, but I love this parade," says Angela. "It is like a trip back to the island," she smiles.
The parade is like a carnival, with tons of colors, music, and dancers in island gear.
"So much life!" exclaims Angela.
Restaurants include La Fonda Boricua in Upper East Side, Soralie in Midtown West, and Casa Adela in Lower East Side.
The parade travels north on Fifth Avenue from Midtown to the 70s.
Dominican Day Parade
The Dominican Day Parade is held on the first Sunday in August.
Unlike the Puerto Ricans, the Dominicans have grown extensively in recent decades.
Today, America's Dominican community is centered on the Manhattan neighborhood of Washington Heights, where they are a majority.
As the fifth-largest Hispanic group in the United States, the Dominicans number in the millions.
"We come out and we party!" says Jose, a young man in full costume.
Therefore, the Dominican parade is very energetic. Expect great music, dancers, costumes, and atmosphere.
German Day Parade (Steuben)
The German Day Parade is officially known as German-American Steuben Parade.
So, this parade actually celebrates the birthday of a man named Friedrich Wilhelm von Steuben. Steuben was a German that ended up in the US military.
On the third Saturday in September, the parade travels north on Fifth Avenue, from 68th to 86th.
For the parade, German-Americans come out and show their pride in their culture, waving both American and German flags.
You will see Guggenmusik bands, German outfits like dirndl and lederhosen, and folks saying, "Halo!" ("Hi!" in German).
Because the man was in the military, all types of soldiers will march—in German uniforms, of course.
Likewise, local law enforcement groups like the police, firefighters, and so on also join in the fun.
The parade also brings out German language enthusiasts.
"I'm studying German, but I'm not German," says Natasha, a spectator who turned out to be Russian.
Another spectator named Michael said he came out to enjoy the beer.
So, after the parade, people head to Central Park, where a beer fest takes place.
"I love beer and pretzels," says Michael, having both in his hands. "What is not to like?"
Of course, the official Oktoberfest in the city uses the parade as an opportunity to organize one, as well.
Typically, there is an actual event for the famous festival in October, but organizers figured why not.
"It makes sense to me," says Thomas, who is German on both sides of his family.
Therefore, this is a fun parade!
African American Day Parade
The African American Day Parade is held on the third Sunday in September.
New York is home to the largest community of Blacks, which is why this is a parade you should not miss!
At the parade, you will encounter colorfully dressed people, politicians, dancers, and more.
The parade takes place in Harlem, a neighborhood in Uptown Manhattan.
"The African-American parade is very important," says Earl Davis, a Harlem local and musician. "I look forward to it every year. It's a parade that reflects my community, it reflects me, and it reflects the people that are near and dear to me."
Of course, the attendees come far beyond Harlem, as well.
"I have been coming to the parade for years; it always inspires me," says Cynthia, a woman who came from Queens. "It took almost 2 hours to get here," she laughs. "But I would do it even if it took five hours."
Well, five hours is how long it took for Tony to drive from the Nation's Capitol. He said he was so excited, would stay for the night, and go back the next day.
"I wouldn't miss this for the world," says Tony. "Nothing like it anywhere else."
Yes, Black people come from all over to attend this parade. The African American Day Parade travels north on Adam Clayton Powell, from 110th to 145th St.
Restaurants to visit are Harlem's Sylvia's on Malcolm X Boulevard, Melba's on West 114th, and Amy Ruth's on West 116th.
This is definitely one not to miss!
Korean Day Parade
The Korean Day Parade takes place on the first Saturday in October.
So, this parade is very colorful!
Expect to see women wearing traditional Korean outfits, holding big red fans, and exquisite makeup on faces.
Likewise, there are tons of traditional music and singing.
For great Korean food, visit Gonbae in Tribeca, ATOMIX in Midtown, and Mokja in Upper West Side.
Polish Day Parade
The Polish Day Parade is officially known as the Pulaski Day Parade.
It takes place on the first Sunday in October.
The parade celebrates the life of the Polish-born Kazimierz Pulaski, a hero from the American Revolutionary War.
"I'm proud to be Polish-American," says Peter, who has been coming to the parade for years. "This is one of the oldest parades in the city," he adds, correctly.
So, this parade travels north on Fifth Avenue, from 35th St to 54th.
Polish-Americans come out to celebrate the life of a hero, as well as showcase their exciting culture.
Many people are wearing red and white (the Polish flag colors), singing and waving to the crowds.
For some Polish food, head to Little Poland in the East Village and Old Traditional Polish Cuisine Food Truck in Midtown.
The food truck has really delicious Polish stuff like grilled kielbasa and pierogi!
Other Parades
Believe it or not, but there are even more parades!
So, what are some of the ones that I didn't include (the article was getting too long!)?
Martin Luther King, Jr. Parade
This parade takes place on the third Monday of January and celebrates the Civil Rights icon's life.
A lot of people who value Civil Rights come out and march.
Greek Independence Day Parade
This parade celebrates the independence of Greece from the Ottoman Empire.
Greek Americans come from all over the area to show off their beautiful culture.
It is in March.
National Tartan Day Parade
This parade celebrates the contribution of Scottish people to the United States.
As a result, Scottish-Americans will come out and show off their culture, including the famous pipers!
It takes place in April.
Cinco de Mayo Parade
This parade celebrates the independence of Mexico from Spain.
Mexican-Americans come out and show off their colorful culture, and there is a lot to enjoy, including delicious food!
It takes place on May 5th.
India Day Parade
This parade celebrates the independence of India from the United Kingdom.
As a result, Indian-Americans come from all over the area and celebrate their culture.
It takes place in August.
Final Thoughts
New York City is one of the most diverse cities in the world.
Because of its diversity, the city encourages the celebrations of its major ethnic groups.
As a result, you will often see the mayor or other political leaders showing up in some of these parades!
For travelers to the city, this is an excellent opportunity to get to know diverse cultures.
If you want to go beyond enjoying the parade and hitting up on the restaurants, talk to the organizers.
They are usually very friendly and will tell you what other cultural events might be going on.
In any case, the parades are plenty, but just see if you can find more!
Enjoy New York City!
AJ Paris is a travel photographer based in New York. He is the editor of Caravanzers.
Follow us on Pinterest.