The Big Apple, as it is called, is the city that never sleeps, but, actually, what are some of the things to do in New York City?
For instance, starting the year with with a dip in the cold waters of the Atlantic!
You didn't expect that, huh?
So, let's go!
Welcome to New York City
For those who have an affection for this city, New York truly does have a multitude of activities and attractions that visitors can delight in all year round.
From renowned landmarks to world-class museums and captivating Broadway shows, the Big Apple truly has something to offer for everyone.
And, of course, in terms of where to stay, this is one of those cities that definitely won't disappoint.
The city has a wide selection of hotels that accommodate different budgets and preferences, and it's surrounded by a few major cities to offset the peek seasons.
Meanwhile, New York City has a vibrant culinary scene with numerous restaurants that serve amazing dishes from around the globe.
Whether one seeks fine dining, street food, or international flavors, food enthusiasts will find an array of options to satiate their cravings.
A journey to New York undeniably guarantees an unforgettable experience for any traveler.
Tourist Things
So, New York City is probably the most iconic city in the world.
After countless years on the road as a photographer, visiting countless countries, I never met anyone who doesn't know New York City.
As a result, there are ton of places you probably already know from movies and television.
So, what should you see as a tourist?
For example, Times Square, the Statue of Liberty, the Brooklyn Bridge, and more!
Of course, when you land at the airport, you will be able to grab a city guide.
If you don't, you will find one when you get off the subway, ride-share, or taxi.
So, instead, I'm going to give you specific things to add to your list.
And I will list them in the order they happen.
---
Atlantic Plunge
Because New York City is super cold in the winter, the members of the Coney Island Polar Bear Club know bathing in the winter is, well, crazy!
But, it works.
Nothing can jilt the sluggishness of winter faster than a dip in the cold Atlantic Ocean.
That is exactly something New Yorkers do on New Year's Day.
The above photo, taken on New Year's Day by Ran Zwigenberg, shows jumping into the water.
Ouch!
---
Broadway Week
Manhattan's Theater District, known as Broadway, is home to professional theaters that showcase the best in live acting.
So, if you a theater lover, then you want to come during the last week of January or second week of September during Broadway Week.
However, it is actually longer than a week. For example, for 2020, the first Broadway Week is January 21-February 9.
That is, it is two weeks!
Generally speaking, you will get up to 50% off on the shows (through a two-for-one deal) during these weeks.
Even if you're not into live theater, you really should check it out, because it is a big part of what makes New York City what it is.
Valentine's Day Fireworks Dinner Cruise
What is better than celebrating with a loved one on Valentine's Day?
Celebrating with a loved one on a dinner cruise, watching the fireworks of love!
Because dinner cruises are not something one can do every week, it is perfect for an occasion like Valentine's Day.
"Take in the Manhattan skyline as you and your date enjoy champagne, a four course meal, and an end of the night fireworks display," says Leah Silverman of Town & Country.
Oh, yes!
---
St. Patrick's Day Parade
Hey, who doesn't love to party?
Although this is actually a religious day for Catholics, because it celebrates the Death Anniversary of Saint Patrick, it has nevertheless become a cultural tradition in the United States, and especially in New York.
Anyway, since 1762 the city has been having its annual parade on March 17.
The parade marches on 5th Avenue over a five-hour procession, starting at 44th Street.
Generally speaking, retail shops will have discounts, and there is a lot of green beer drinking (and other types of alcoholic drinks in general), which is why many New Yorkers avoid driving that day.
---
Tribeca Film Festival
So, the Tribeca Film Festival was founded in 2002 by actor Robert De Niro, his film-producing partner Jane Rosenthal, and Rosenthal's then-husband Craig Hatkoff.
Needless to say, it immediately grew into a prominent event in the city and around the world.
Because it is one of the leading film festivals for the film industry worldwide, receiving thousands of submissions each year, it is an excellent event to be part of during your visit to the city.
It usually takes place in mid-to-late April. For example, in 2020 it is happening from April 15 to 26.
---
The Met Gala
The Met Gala, which is officially known as the Metropolitan Museum of Art's Costume Institute Gala, is fashion's biggest night.
Literally, anyone who is anyone in the fashion industry will be there and the most important fashion houses will be represented by the top names in the entertainment industry.
So, it is a night where reality stars like the Kardashians can rub elbows with serious actors like Meryl Streep.
For example, Street will co-chair the event in 2020.
In other words, you're probably not going to be invited, but you can go there and get a glimpse of your favorite stars.
The Met Gala takes place on the first Monday in May.
---
SummerStage
SummerStage is a free outdoor performing arts festival that takes place all summer long in Central Park, as well as other parts of the city.
Because there are a lot of top artists who live in the city, SummerStage can bring out big names.
So, even though most associate it with music, the festival actually also does spoken word, dance, et cetera.
SummerStage usually starts in June and is located off the 5th Avenue and 72nd Street entrance.
However, keep in mind that because the events are free, they can get really crowded.
So, arrive early!
---
Pride Parade
The LGBT community celebrates and promotes self acceptance, achievements, and legal rights during NYC Pride.
For some, it is a huge party! For others, it is a time to fight for LGBT Rights, even if New York City is one of the most LGBT-friendly cities in the world.
Because it is composed of several events (such as New York City Pride March, Rally, PrideFest, and Pride Island), NYC Pride attracts a lot of visitors.
For example, in 2019 the NYC Pride events brought around 5 million visitors to the city during the weekend of Pride, with an estimated 4 million attending the Pride March.
It is a welcoming event where non-LGBT people can support community, marvel at the strength of its members, or simply party with them!
The Pride Parade is usually the last Sunday of June.
---
4th of July
Celebrating Independence Day, New Yorkers get festive for this day.
So, there are tons of things to do during America's biggest holiday.
However, New Yorkers love their night activities, including the famous Macy's 4th of July Fireworks, an event has been around for over 40 years.
Because the fireworks are shot from the water (sometimes on the Brookly Bridge and other times from the piers), you will see many people do a cruise or hangout at the piers.
Meanwhile, don't be shocked if you see a lot of people dressed up as the Statue of Liberty on this day.
The fireworks start at 9:20pm.
---
Bryant Park Movies
The "HBO Monday Night Movies in Bryant Park" is a fun event that takes place throughout the summer.
Located in the heart of Manhattan, just couple of blocks away from Times Square, it is an experience one must have at least once in their lives!
Because the event is popular, it is a first-come first-serve kind of a thing, as the Lawn part of the park opens at 5pm for pick-nicks and seating.
Meanwhile, the movie starts playing at sunset, which in the summer can be as late as 9pm.
Lower East Side-favorite Hester Street provides some of their top vendors for the events, meaning delicious foods and drinks are right there.
To learn more about Movies Nights in Bryant Park, visit the park website.
---
Ethnic Parades
New York City is home to some diverse people.
As a result, there are many cool parades to participate!
For example, the African American Day Parade, which has been going on for over 50 years and celebrates African American culture and contribution. This usually takes place in mid September.
Likewise, the Dominican Day Parade celebrates the culture and contribution of this Caribbean community, especially since New York City is home to the largest community out of their country of origin. It usually takes place in mid August.
Meanwhile, the Columbus Day Parade, even though it sounds generic American parade, is actually a celebration of Italian culture and contribution because Columbus was Italian. It is usually in mid October.
Of course, there are also several others.
---
Halloween in NYC
so, Halloween is a big holiday for all Americans, but as you will see below New Yorkers go all out for this!
For example, the New York Botanical Garden puts together its Spooky Pumpkin Garden, which brings the holiday to life in a scary way.
Meanwhile, there is the Greenwich Village Halloween Parade, which is totally cool and allows you to feel festive with the city.
Of course, it is also fun to go some neighborhoods and walk around, watching all the trick-or-treat things happening.
For instance, the Upper East Side is happening!
---
Thanksgiving Parade
What's better than having turkey for dinner?
Going to the Macy's Thanksgiving Day Parade, which has been going since the 1920s!
Because it is one of the oldest and largest parades in the world, it is a definite one to add to your list!
The parade takes place from Central Park to Macy's Herald Square.
Along the way, colorful pops of the festive season, larger-than-life character balloons, and millions of viewers from all over the world on television.
So, say "Hi!" to the camera.
---
Black Friday
You have participated in the Macy's parade the day before, you're exhausted!
However, Black Friday, which is the day after Thanksgiving, is an important day for the city.
Because New York City, as the center of global shopping, has huge discounts to offer you, you really can't afford to miss it!
Places to shop?
For instance, Westfield World Trade Center, The Shops at Columbus Circle, and Manhattan Mall to name a few!
Things that may never be on sale are on sale that day.
So, go get it!
---
Christmas in NYC
From watching the Rockefeller Center Christmas Tree lighting to strolling in the decorated streets, New York City has plenty for Christmas lovers.
For instance, the window displays at Fifth Avenue are simply gorgeous!
Bloomingdale's has a lot to offer. For example, they have an amazing Salvation Army Bell Ringers show, window displays to die for at their Lexington and 3rd Ave store, and incredible variety of things to shop as gifts.
However, Barneys, Macy's, Saks Fifth Avenue, and Bergdorf Goodman are all wonderful places to visit during the Holidays!
Of course, the city has more to offer such as Broadway shows, Wollman Rink in Central Park, as well as the amazing Union Square Holiday Market.
Just get out there and enjoy!
---
New Year's Eve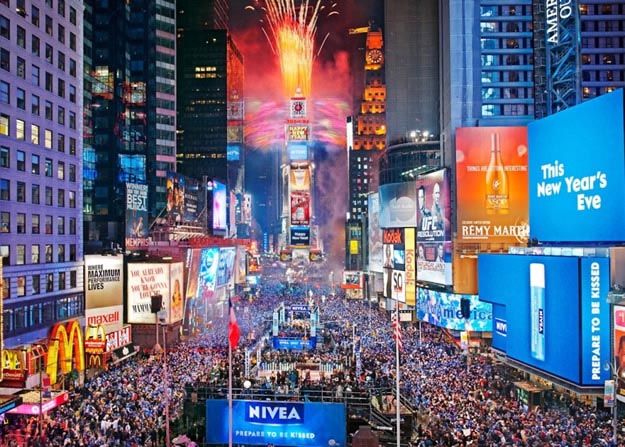 Hands down, New York City is home to the best New Year's Eve experience you will ever have.
Because everyone wants to be at the Balldrop, which is the famous count down and ball dropping experience everyone should have once in their lifetime, you really should arrive in the early afternoon.
In other words, because the event is free but on a first-come, first-serve basis, it means there will be a ton of people there!
Aside from the whole ball dropping thing, there are live events in the area and there are musical performances, for example.
If you can't make it to the best locations, bring binoculars to enjoy the shows!
---
Final Thoughts
So, there you have it – a year in the city!
Of course, I don't expect you to be there for a whole year, which is great if you can, but it is just that I want you to be able to plan for somethings!
Therefore, plan wisely!
Enjoy New York City!
AJ Paris is a travel photographer based in New York. He is the editor of Caravanzers.
Follow us on Pinterest.