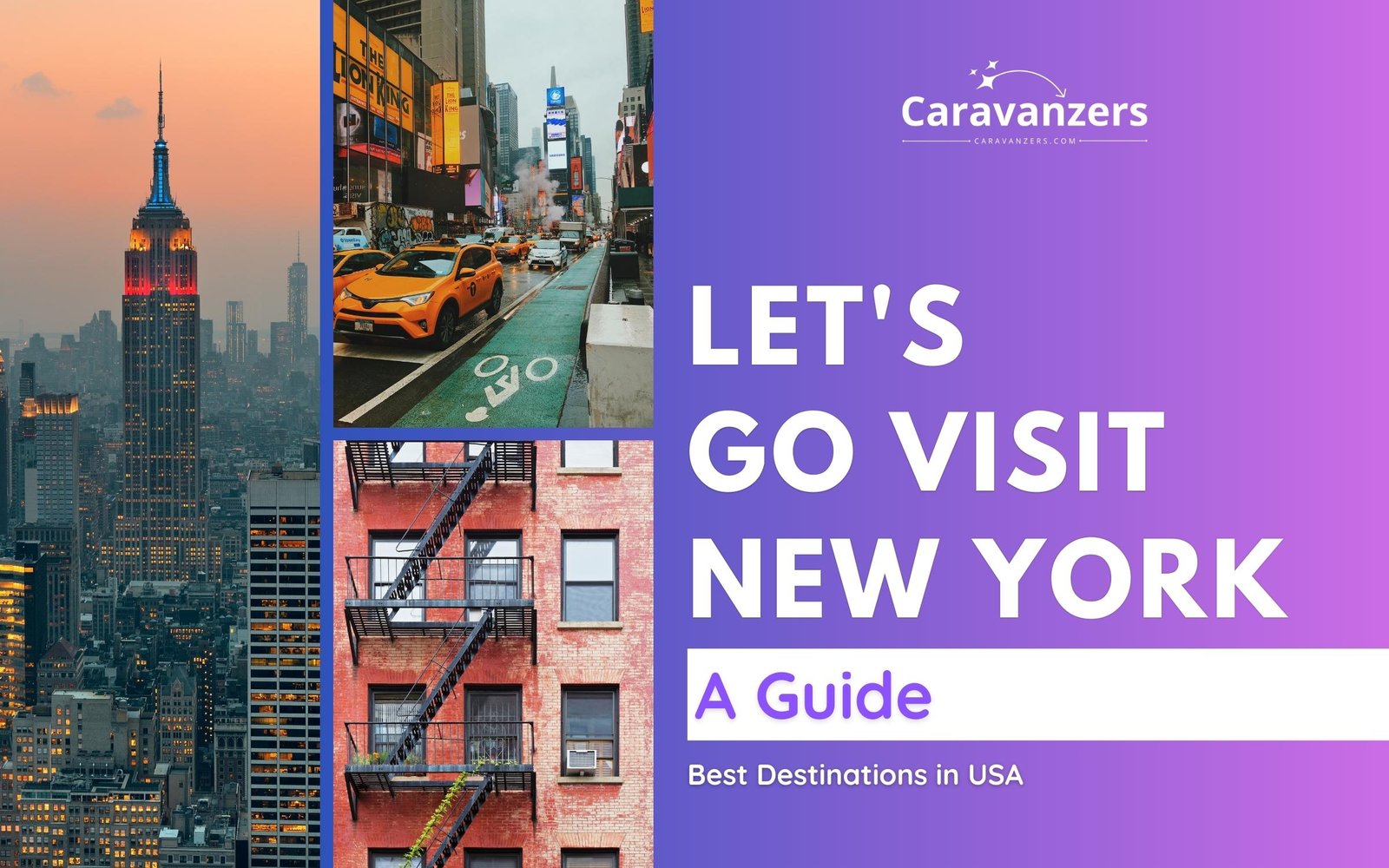 New York travel. Here's a guide to one of the most unique destinations you will ever visit from someone who has lived here.
This bustling urban hub embodies the essence of a fast-paced lifestyle. It offers a diverse tapestry of cultures, attractions, and experiences.
From towering skyscrapers reaching for the sky to the constant hum of yellow taxis on the streets below, the city exudes an exhilarating and relentless energy.
It is a place where dreams are pursued, and art, music, and food thrive in countless forms.
With its three major airports, the city welcomes travelers from around the globe.
While some may enter visa-free, most visitors must obtain the necessary documentation from a US embassy or consulate.
New York City experiences a humid subtropical climate characterized by hot summers and cold winters.
As for transportation, various airport options are available, ensuring convenient access to different parts of the city.
So, get ready to explore and embrace the endless possibilities that await in the city that never sleeps.
Welcome to New York City
New York City, the epitome of urban energy, is a bustling metropolis with diverse cultures, iconic landmarks, and relentless activity.
Skyscrapers pierce the sky while yellow taxis navigate the streets below.
The city never sleeps, offering a vibrant blend of art, music, food, and dreams that captivate millions.
New York City metro area has three major airports.
JFK is the largest and busiest, known for international flights.
LGA primarily serves domestic flights, while EWR is located in New Jersey but serves the New York metropolitan area, providing a range of domestic and international connections.
Meanwhile, unless you qualify for the Visa Waiver Program (VWP), you will likely require a visa to visit this city.
And so, some travelers can enter the US visa-free for tourism or business for a maximum of 90 days, including citizens of the European Union.
On the other hand, most of everyone else must obtain a non-immigrant visa from a US embassy or consulate before their trip.
New York City experiences a humid subtropical climate with hot summers and cold winters.
Other information to know include the fact that the city is in the Eastern Time Zone (ET).
So, that basically means it follows Eastern Standard Time (EST) during the non-daylight saving period and Eastern Daylight Time (EDT) when daylight saving is in effect.
Travelers have multiple transportation options from New York City airports to parts of the city, such as Manhattan.
JFK and Newark airports offer AirTrain services connecting to subway or train lines, while LaGuardia has bus services.
Taxis, rideshares, and car services are also available, providing convenient and direct transfers to Manhattan.
What to Know Before Going
Like many major cities around the world, New York can be a bit intimidating for first-time travelers, but it doesn't have to be.
If you follow these tips, you won't be overwhelmed.
Plan your accommodation in advance.
Familiarize yourself with public transportation.
Familiarize yourself with the subway map and consider purchasing a MetroCard to save money on fares.
Use ride-sharing services wisely.
Be cautious with street vendors.
NYC is known for its street vendors, but exercise caution when purchasing.
Ensure the vendor has a valid permit, and be aware of pickpockets in crowded areas.
Prepare for a lot of walking.
New Yorkers walk a lot, so be prepared with comfortable walking shoes.
Be mindful of rush hour.
Stay safe.
While NYC is generally safe, it's always good to be cautious.
Stick to well-lit and crowded areas, and keep your belongings secure.
Try the local cuisine.
New York City is a melting pot of cultures, offering a diverse food scene.
Don't miss the opportunity to try iconic NYC dishes like pizza, bagels, and food from different cultures.
Be open to art and culture.
Explore different neighborhoods.
Each neighborhood in NYC has its own unique charm and atmosphere.
Keep cash handy.
Tipping culture.
Tipping is customary in NYC, particularly in restaurants and for service providers like taxi drivers and hotel staff.
It's customary to tip around 15-20% in restaurants.
Stay flexible with plans.
New York City is bustling, and things can change quickly.
Be prepared to adjust your plans and explore unexpected opportunities.
Have a basic itinerary.
Enjoy the city.
Films Set in the City
Throughout film history, there have been numerous major movies set in New York City throughout the years.
Here are five iconic and notable examples to put you in the mood for your upcoming trip.
"Breakfast at Tiffany's" (1961) is a film where Audrey Hepburn stars and showcases the glamorous side of New York City, particularly around Fifth Avenue.
"Manhattan" (1979) is directed by Woody Allen. It is a romantic comedy-drama that captures New York City's essence through its stunning black-and-white cinematography.
"Ghostbusters" (1984) is a supernatural comedy featuring scientists battling paranormal activity in New York City, showcasing iconic landmarks such as the New York Public Library and the Firehouse headquarters.
"Home Alone 2: Lost in New York" (1992) is a sequel to the popular family film. This movie follows Kevin McCallister (Macaulay Culkin) as he explores New York City alone, creating mischief and encountering hilarious situations.
"The Wolf of Wall Street" (2013) is directed by Martin Scorsese and is based on a true story. This dark comedy-drama depicts the excesses of the stockbroker world in 1990s New York City.
So, these films will definitely make you fall in love with the city ahead of your trip.
Where to Stay in New York
New York City is a pretty big area that includes the city and areas around it, including nearby cities in states like New Jersey and Connecticut.
Within the city itself, though, there are five parts or boroughs, much like mini-cities.
So, these boroughs are Manhattan, Brooklyn, Queens, the Bronx, and Staten Island.
Start with Manhattan, which is the oldest.
Manhattan is an exhilarating experience, with towering skyscrapers, bustling streets, and a vibrant energy that never sleeps.
From iconic landmarks like Times Square to world-class dining and cultural offerings, the cityscape pulsates with diversity, ambition, and an undeniable sense of possibility.
Staying in Brooklyn is an eclectic experience, blending urban charm with diverse cultures.
Brownstones line tree-dappled streets, offering trendy eateries, vintage shops, and vibrant street art.
Bustling neighborhoods like Williamsburg and Park Slope provide a captivating mix of hipster havens and family-friendly vibes, creating an unforgettable city escape.
Staying in Queens is a vibrant experience, blending diverse cultures, delicious cuisine, and an energetic atmosphere.
The borough pulsates with the rhythm of daily life, offering a rich tapestry of neighborhoods, parks, museums, and endless culinary delights.
Queens embraces you with warmth and welcomes you into its bustling embrace.
Staying in the Bronx is vibrant and diverse.
From Yankee Stadium's energetic atmosphere to the Bronx Zoo's rich history, it's an urban adventure that never fails to captivate.
Staying in Staten Island is a delightful blend of suburban tranquility and urban charm.
You'll discover picturesque waterfront views, tight-knit communities, and abundant green spaces.
Easy access to Manhattan via the Staten Island Ferry offers a unique escape from the bustling city while still being connected.
So, yeah, plenty of areas to choose from.
Hotels in New York
New York City is truly a unique place to visit because you will find all types of places to stay. I recommend looking into historic Manhattan.
With about two-thirds of the city's hotels located here, Manhattan offers a range of options to suit different preferences.
The Four Seasons New York combines luxury with convenience, located near popular attractions.
Moving to Brooklyn, a diverse borough with attractions such as the Brooklyn Bridge and Coney Island, you'll find various hotels primarily concentrated in Downtown Brooklyn.
The Ace Hotel Brooklyn Bridge, founded in 1991, is popular and trendy, offering modern and stylish rooms with captivating river views.
The Tillary Hotel provides modern design and top-of-the-line facilities for those seeking a luxurious stay.
Queens, known for its diversity and popular destinations like Flushing Meadows-Corona Park, offers several hotels.
The Parc Hotel, situated next to the Queens Botanical Garden, has a beautiful setting and excellent amenities.
In the Bronx, another borough with a diverse population and attractions, you'll find hotels like The Regency Hotel, which offers excellent services and a range of modern amenities, including an on-site restaurant and luxurious spa.
The Grand Concourse Hotel offers a luxurious stay and easy access to nearby dining and shopping options.
Lastly, Staten Island, located on the south shore of Lower Manhattan, offers several hotel options.
The Victorian Bed & Breakfast of Staten Island provides a romantic getaway with its historical setting, period furniture, and gardens.
So, whether you're seeking luxury, unique experiences, or more affordable options, New York City has them all.
What to Eat in New York
Discover the diverse and delicious foods of New York City with this compact food guide tailored for travelers.
From iconic NYC originals to immigrant-inspired dishes and global cuisines, the Big Apple offers a gastronomic experience.
The city's food can be divided into NYC originals, immigrant delicacies, and global flavors.
New York-style pizza, hand-rolled bagels, and pastrami sandwiches represent local favorites.
Authentic Italian dishes flourish in neighborhoods like Little Italy, while Chinatown and Flushing offer a plethora of Chinese delights.
Jewish communities contribute with knishes and matzo ball soup, and there are also Mexican, Indian, Middle Eastern and African American cuisines to savor.
New York's unique delicacies include the cronut, black and white cookies, egg creams, and oversized salted pretzels from street carts.
Halal cart chicken, rice, rainbow bagels, and pickleback shots showcase the city's creativity.
For budget-conscious travelers, New York City offers affordable options.
Explore food trucks in Midtown, SoHo, and Union Square during lunch hours.
Ethnic neighborhoods like Chinatown, Jackson Heights, and Flushing host affordable eateries.
Delis and bodegas provide quick and reasonably priced meals. At the same time, New York-style pizza by the slice is both quintessential and affordable.
Don't miss out on classic New York street food, including hot dogs, falafel, gyros, and Sabich, reflecting a fusion of cultures and flavors.
Japanese street food is also available.
From local favorites to international delights and affordable eats, prepare for a culinary journey in the city that never sleeps.
African, Caribbean, and African-American Food
There are many cultures in New York City, but the Black community does stand out.
Around 25% of the city is African American, and their unique culture has shaped it in many ways.
It draws influence from various African, Caribbean, and Southern American cooking styles, resulting in unique and flavorful cuisine.
Soul food is a prominent aspect of African American cuisine in New York City.
It encompasses a range of dishes deeply rooted in African American history and traditions.
So, traditional soul food dishes are very diverse. Still, they include popular items such as collard greens, cornbread, and fried catfish.
In addition to soul food, African American cuisine in New York City embraces a variety of other influences.
Caribbean flavors play a significant role, thanks to the large Caribbean community in the city.
Dishes like jerk chicken, oxtail stew, and curry goat reflect the fusion of African, Indian, and European culinary traditions.
Harlem, a neighborhood in New York City, is particularly known for its African American food scene.
It has numerous restaurants and eateries specializing in soul food, serving traditional dishes and innovative reinterpretations.
These establishments often celebrate the history and cultural significance of African American cuisine.
Beyond traditional restaurants, street food vendors and food trucks also contribute to the African American food culture in New York City.
They offer quick and delicious options like fried chicken sandwiches, BBQ ribs, and soul food-inspired burgers.
So, yeah, definitely try to have some Black food in the city!
Restaurants in New York
Every borough of New York City is full of amazing restaurants.
So, here are some well-known and iconic restaurants in Manhattan.
Katz's Delicatessen is in the Lower East Side, and it's a famous establishment in the city for its traditional Jewish foods.
Le Bernardin is a Michelin three-star seafood restaurant in Midtown with refined French cuisine and impeccable service.
Carbone is a retro Italian-American spot that serves classic dishes like spaghetti and meatballs, veal parmesan, and clam casino.
Shake Shack started as a small kiosk in Madison Square Park, and it's a popular fast-casual chain known for its burgers, fries, and shakes.
Momofuku Noodle Bar is Chef David Chang's first restaurant and offers a creative fusion of Asian and American flavors, with a focus on ramen and small plates.
Definitely add these to your list so that you get to taste some of New York City's iconic foods!
What to Do in New York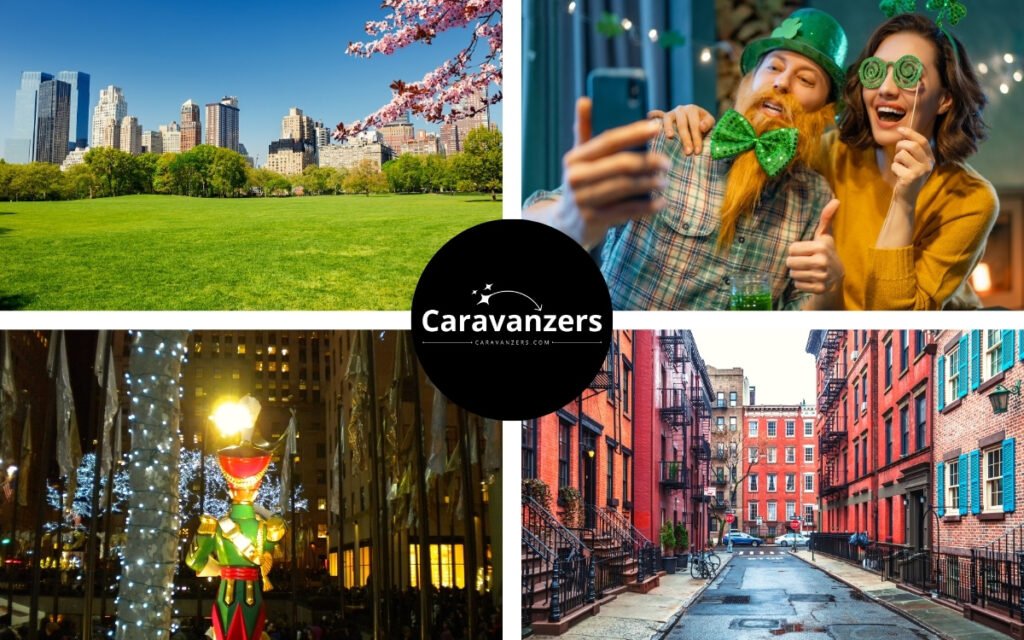 Welcome to the iconic city of New York!
New York City offers an abundance of activities and attractions catering to all interests.
From iconic landmarks, world-class museums, and Broadway shows to diverse culinary experiences, cultural festivals, and seasonal events, there is an endless array of things to see, do, and explore in the vibrant city.
Broadway Week in January and September offers discounted tickets to renowned theater shows.
Celebrate Valentine's Day with a romantic dinner cruise and fireworks display.
You can participate in the festive Saint Patrick's Day Parade in March and immerse yourself in films at the Tribeca Film Festival in April.
The glamorous Met Gala takes place on the first Monday in May, and throughout the summer, you can enjoy free outdoor performances at SummerStage.
June brings the vibrant and inclusive Pride Parade, celebrating the LGBTQ+ community.
On the 4th of July, you can enjoy the famous Macy's fireworks and experience the city's patriotic spirit.
Bryant Park Movies presents outdoor film screenings in a picturesque setting, and ethnic parades throughout the year showcase the diverse cultures of New York City.
Exploring the city's spooky side during Halloween is an exhilarating experience, and the Macy's Thanksgiving Day Parade is a cherished tradition.
Don't miss the fantastic deals on Black Friday for a memorable shopping experience.
Christmas in NYC is a magical time, with dazzling decorations, holiday markets, and festive window displays.
Finally, you can ring in the new year with the iconic Times Square Ball Drop.
Major Events in New York
New York City is known for its vibrant events and cultural happenings throughout the year.
Here are some major events that typically take place in New York City:
New Year's Eve in Times Square takes place on December 31.
The iconic celebration attracts millions of people who gather to watch the ball drop at midnight.
Macy's Thanksgiving Day Parade is usually on the Fourth Thursday in November.
This annual parade features giant floats, marching bands, and performances, marking the beginning of the holiday season.
Saint Patrick's Day Parade is on March 17 or the nearest weekend.
The oldest and largest of its kind takes place along Fifth Avenue, featuring marching bands, bagpipers, and cultural performances.
Tribeca Film Festival is in April. So, this renowned film festival showcases a diverse range of independent films, documentaries, and premieres.
NYC Pride March is usually at the end of June. It's one of the largest LGBTQ+ pride celebrations in the world, featuring a parade that runs through Manhattan and various related events.
The Fourth of July Fireworks is on July 4. A spectacular fireworks display illuminates the sky above the East River, attracting crowds from all over the city.
New York Fashion Week takes place in February and September. This is an event where fashion designers showcase their latest collections through runway shows and presentations.
Christmas in Rockefeller Center is in December. The lighting ceremony of the enormous Christmas tree in Rockefeller Center marks the start of the holiday season, accompanied by musical performances.
So, yeah, these are just some of the major events you will encounter here.
Where to Shop in New York
New York shopping offers a vibrant and diverse experience.
So, from the historical department stores like Macy's and Bloomingdale's to trendy boutiques in SoHo, the city truly does cater to every taste and budget.
With a vast array of fashion, electronics, and specialty stores, it's a shopaholic's paradise in the city that never sleeps.
New York shopping is a captivating and exhilarating experience that captures the essence of the city's bustling energy.
For those seeking a more unique and trendy shopping experience, the chic boutiques of SoHo beckon.
It's a haven for fashion enthusiasts looking to curate their individual style.
Moreover, the city's street markets, such as the Union Square Greenmarket and Chelsea Market, offer a sensory delight with their vibrant displays of fresh produce, artisanal goods, and culinary delights.
Exploring these markets is an immersive experience that immerses you in the diverse cultural aspects of the city.
New York's shopping scene isn't just limited to Manhattan, though.
For instance, the boroughs of Brooklyn and Queens are also home to unique shops and local boutiques that cater to different tastes and budgets.
These areas provide an opportunity to explore emerging designers, vintage treasures, and eclectic goods.
In conclusion, New York shopping is an adventure that never disappoints.
It encompasses luxury, fashion-forward trends, specialty items, and local charm.
Whether you're a tourist seeking souvenirs or a local indulging in retail therapy, the city's shopping landscape offers an unmatched variety that truly makes it a shopper's paradise.
NYC Solo Travel
New York City is a playground for solo adventurers seeking thrilling experiences, cultural immersion, and the freedom to explore at their own pace.
To fully experience New York City, I would recommend planning for at least five days, allowing ample time to explore its neighborhoods, soak up its energy, and visit its famous landmarks.
However, even a shorter trip can be filled with unforgettable experiences.
While personal safety is essential, keep in mind practical safety, such as staying in well-lit and populated areas, trusting instincts, and being cautious when navigating public transportation.
I also encourage you to prioritize their safety without letting it overshadow their overall experience.
Food enthusiasts will find a lot to explore in the culinary delights of New York City.
Try iconic dishes like bagels with cream cheese and lox, New York-style pizza, pastrami sandwiches, and hot dogs from street vendors.
I would also suggest exploring the diverse food scenes in Manhattan, the Bronx, and Queens, each offering a unique culinary experience reflecting the cultural fabric of these neighborhoods.
When it comes to fun things to do alone in NYC, there is a lot that appeals to solo travelers, such as the diverse range of activities, vibrant energy, sense of freedom, cultural immersion, and adventure.
I recommend checking out must-visit attractions like Times Square, Central Park, the Highline, and the Statue of Liberty.
Also, explore the rich cultural heritage of Harlem, with its historic streets, jazz clubs, and soul food restaurants.
So, yeah, a solo trip to New York City will definitely be great if you follow these tips.
Day Trips from New York
New York City has a lot of day trip options to nearby destinations within New York, as well as those in New Jersey and Connecticut.
In the state of New York, one has the opportunity to discover the enchanting Hudson Valley's natural marvels, visit quaint historical towns like Sleepy Hollow, or embark on a delightful journey to the picturesque seaside village of Montauk.
In neighboring New Jersey, a short trip across the Hudson River, visitors can discover the vibrant boardwalk of Atlantic City, explore the historical sites of Princeton, or relax on the beautiful beaches of the Jersey Shore.
Connecticut, to the east of New York City, beckons with its picturesque towns like Mystic, famous for its seaport and aquarium, and New Haven, home to Yale University and renowned pizza joints.
In New York, the Hudson Valley provides a scenic escape with its breathtaking landscapes, wineries, and the iconic Walkway Over the Hudson.
New Jersey's proximity offers diverse options like the Liberty State Park with stunning views of the Manhattan skyline or the immersive adventure of Six Flags Great Adventure amusement park.
Connecticut's Mystic Seaport Museum offers a glimpse into the maritime history of the region, while the Connecticut Science Center in Hartford appeals to science enthusiasts of all ages.
Whether it's a historical site, an amusement park, a scenic drive, or a cultural experience, these day trips offer something for everyone seeking to expand their New York City adventure.
7-Day New York City Itinerary
On Day 1, you'll be exploring Manhattan.
You can stay in a hotel right in Manhattan, like the Four Seasons New York.
Start your day by visiting famous landmarks such as Times Square and Central Park.
Day 2 is all about discovering Brooklyn.
Visit attractions such as the iconic Brooklyn Bridge, the Brooklyn Museum, and the beautiful Prospect Park.
On Day 3, it's time to experience Queens.
Queens is known for its diverse cultures, so take the opportunity to immerse yourself in neighborhoods like Flushing and Jackson Heights.
And don't forget to sample the delicious culinary delights offered in Queens, from international cuisines to local favorites.
Day 4 is all about exploring the Bronx.
Experience the energetic atmosphere of Yankee Stadium or spend time exploring the Bronx Zoo.
And, of course, enjoy a meal at a local restaurant offering Bronx specialties.
On Day 5, take a trip to Staten Island.
Take the Staten Island Ferry and enjoy picturesque waterfront views of Manhattan.
Explore Staten Island's green spaces and parks, such as Snug Harbor Cultural Center and Botanical Garden.
Day 6 is perfect for a day trip from New York City.
You can explore nearby destinations like the enchanting Hudson Valley, the historical town of Sleepy Hollow, or the seaside village of Montauk in New York state.
If you want to venture a bit further, you can check out the vibrant boardwalk of Atlantic City or the historic sites of Princeton in New Jersey.
You can also discover picturesque towns like Mystic and New Haven in Connecticut.
And on your last day, Day 7, you can spend some time shopping and enjoy a farewell dinner.
Explore the department stores and boutiques in Manhattan, like Macy's, and the trendy boutiques in SoHo.
NYC Frequently Asked Questions
So, I literally counted over 100 questions about New York City.
Mainly, I feel like travelers ask these questions because it is a world-famous and diverse metropolis with countless attractions, landmarks, and cultural experiences.
I guess they seek information about iconic sites like Times Square and the Statue of Liberty, transportation options, dining recommendations, and tips to make the most of their visit.
Of course, I've answered so many of the questions throughout the guide, but I still feel like there are some that should be addressed directly.
Anyway, I'm tackling some of these questions, and I hope you benefit from them.
Does NY have travel restrictions?
Yes, New York City requires travelers to have a visa, health insurance, and more. Make sure to check the city's website for the latest requirements since they change often.
How many days do I need in New York City?
So, it really all depends on you. New York City trips depend on your interests and the experiences you want to have because this is a busy metropolis with a ton of attractions, cultural sites, and diverse neighborhoods to visit.
I would say you will need about 7 days to have enough time to visit popular landmarks, enjoy the local cuisine, and immerse yourself in the city's unique atmosphere.
Is visiting NYC expensive?
New York City can be an expensive destination, but it is possible to visit on a variety of budgets.
The cost of your trip will depend on factors such as accommodation, dining choices, activities, and transportation.
It's important to plan and budget accordingly.
There are options available for every budget, including affordable accommodations, inexpensive dining choices, and free or low-cost attractions and activities throughout the city.
With careful planning and research, you can have a memorable visit to NYC without breaking the bank.
How much money do you need for 3 days in NYC?
On average, a moderate budget for a 3-day trip to NYC can range from $500 to $1000 per person.
This should cover expenses such as accommodation, food, transportation, attractions, and a modest amount for shopping or souvenirs.
However, it's important to keep in mind that New York City can be an expensive destination, and costs can vary greatly depending on your choices.
To manage your budget effectively, consider researching and pre-planning your itinerary, looking for affordable dining options, utilizing public transportation, and taking advantage of free or discounted attractions and activities.
Tourist-Friendly Hospitals in New York
I know no one wants to think about hospitals in travel destinations, but I always believe one has to have options… just in case.
So, here are some notable hospitals in New York City that tourists can visit.
NewYork-Presbyterian is one of the largest and most renowned hospitals in the city.
It consists of several campuses, including the Columbia University Irving Medical Center and the Weill Cornell Medical Center.
The hospital offers comprehensive services across numerous specialties and has a reputation for providing top-quality care.
Mount Sinai is another prestigious hospital in New York City, known for its expertise in medical research and treatment.
It has multiple locations throughout the city, including the Mount Sinai Hospital in Manhattan and Mount Sinai Queens.
The hospital has a vast network of specialists covering various fields of medicine.
NYU Langone is an academic medical center offering comprehensive healthcare services.
It has several facilities, including the Tisch Hospital, Kimmel Pavilion, and NYU Langone Orthopedic Hospital.
The medical center is known for its advanced technology, research programs, and specialized care in various disciplines.
Bellevue is a historic hospital and the oldest public hospital in the United States.
Located in Manhattan, it serves as a major referral center for emergency and trauma care.
Bellevue also provides a range of general medical services and has a reputation for its expertise in psychiatric care.
Finally, I would say contact your embassy or travel insurance provider for guidance on healthcare options in New York, as well as insurance coverage and other necessary arrangements before visiting a hospital.
New York Travel – Final Thoughts
Millions of travelers visit New York City for its iconic landmarks, history, and culture.
From Times Square to the Statue of Liberty, as well as world-class museums like the Metropolitan Museum of Art, the city has a ton to do for tourism.
Whether you jump into the vibrant arts and entertainment scene, diverse culinary options, high-end shopping, or Broadway shows, the city has a unique energy and excitement.
In this guide, I took you to the best areas to stay, went through some of the major things to do, and even talked about what to eat.
Likewise, I had you go through day trips and even got a chance to share my favorite 1-week itinerary.
So, if you're ready to plan your incredible trip to the Big Apple, just use all the trip ideas I've given you.
Enjoy New York City!
AJ Paris is a travel photographer based in New York. He is the editor of Caravanzers.
Follow us on Pinterest.